Drinking the right meal replacement shake for women's weight loss is the foundation you need to lose weight, build muscle and maintain good health.
There are many protein shakes to lose weight for women, but I am going to share with you the one that worked for me – and I'm still drinking it 8 years later!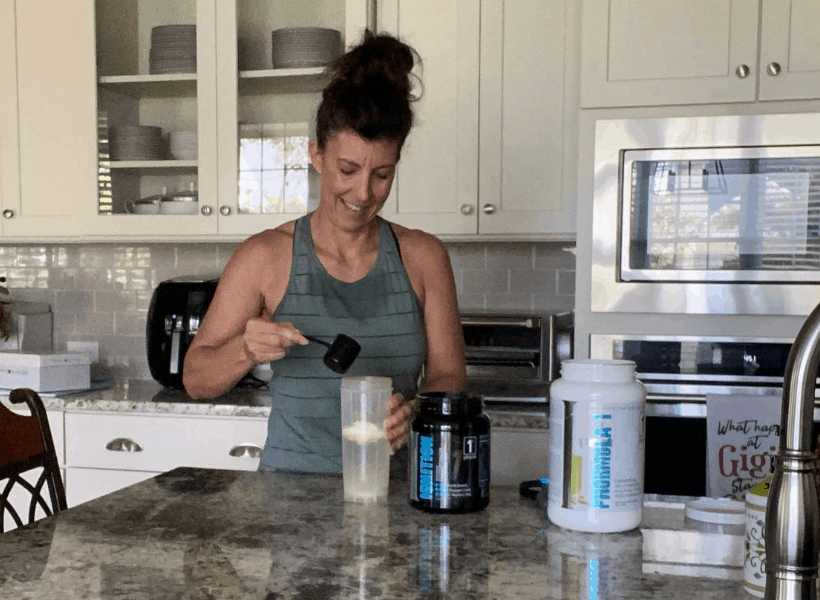 Several years ago I would have never imagined my decision to drink a meal replacement shake to lose weight would lead me to this point in my life.
Perhaps like you, I wasn't sure I could be satisfied with a meal replacement shake instead of a cheeseburger from Sonic.
However, looking back, I can credit meal replacement shakes 100% with my weight loss. Had I not had the jumpstart and motivation, I can't say for sure I would be doing what I am today.
My Decision to Use a Protein Shake to Lose Weight
I never had to work very hard at losing weight… until after age 40. After my hysterectomy, my weight began to increase rapidly.
As an overweight, 41-year-old woman, I made the decision to lose weight. I knew my eating habits had to change. The frequent fast food stops, processed food, and desserts needed to be traded for healthy meals.
At the time, I only knew how to cook foods high in calories and I knew time spent in the kitchen would only lead me to eat those foods I had come to love but not need.
My go-to foods were almost all simple carbs that would not support weight loss goals.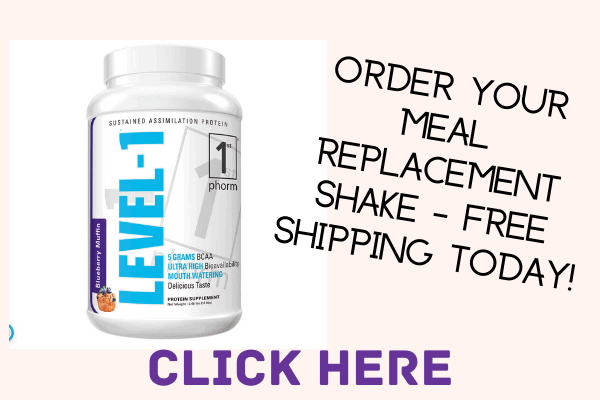 I had never tried losing weight with a meal replacement shake before. Knowing how much I loved eating, I have to admit I was a bit skeptical.
It took a couple of weeks to transition to satisfy my hunger with a drinkable shake, but once I did, a domino effect began to happen.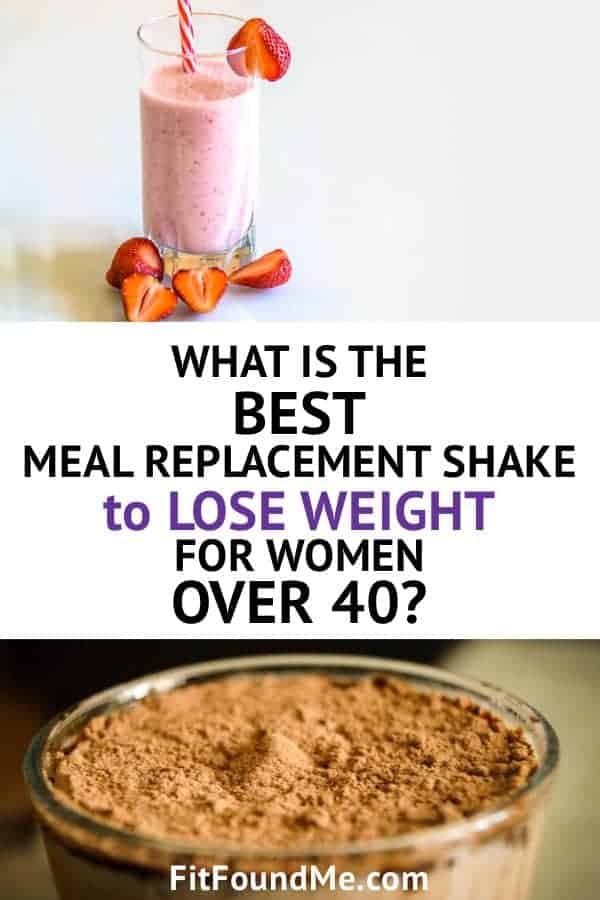 What is the Best Meal Replacement Shake for Weight Loss?
There are a lot of good quality protein shakes available, but I believe the best meal replacement protein powders are Level-1 from 1st Phorm.
These meal replacement protein shakes are loaded with fiber and other nutrients we need.
Fiber fills us up and satisfies our hunger for longer periods of time, which is perfect for replacing a meal. Once you feel more comfortable with smaller meal portions, the 8 grams of fiber may not be needed to fill you up as it did in the beginning.
Another bonus is that the shake is high in protein – 25 grams! Protein is essential for rebuilding and toning muscles that we have lost over the years. When we tone our muscles, metabolism increases, therefore we burn more calories throughout the day.
1st Phorm Level-1 meal replacement powders come in the following delicious flavors:
Blueberry Muffin
Red Velvet Cake
Caramel Latte
Ice Cream Sandwich
Mint Ice Cream Sandwich
Milk Chocolate
Vanilla Ice Cream
Chocolate Banana
Cinnamon Cookie Batter
German Chocolate Cake
Strawberry Milkshake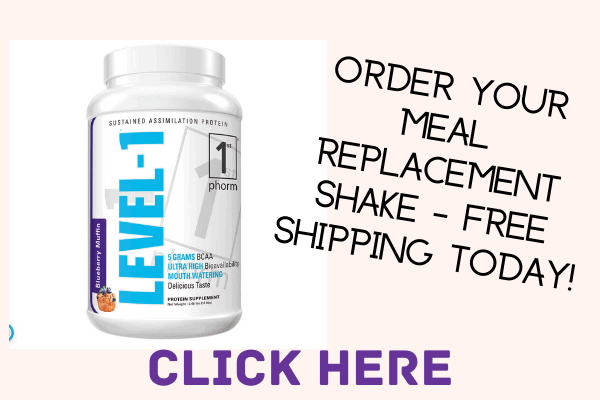 When choosing the best weight loss shakes for women, you can feel good about drinking 1st Phorm because it is packed with vitamins and minerals your body needs daily.
This truly is not an ordinary meal replacement shake. I have stayed on these meal replacement shakes for over 8 years.
There are some great meal replacements on the market, but for weight loss, the 1st Phorm Protein Shake is the entire package needed by women over 40.
Healthy protein shakes are the foundation for millions of people wanting to live a healthy life today. What used to be a bodybuilder's supplement has become a household standard for people of all ages and goals.
My teenage daughter was so concerned for me when I began drinking meal replacement shakes for weight loss instead of eating what she considered real food. But my meal replacement drinks were so much healthier than the food she was eating!
How to Use Meal Replacement Shakes for Weight Loss
The key to losing weight after 40 is cutting back the snacking on junk food (ie: sugar and other simple carbs) we have become accustomed to eating.
Plus, somewhere along the way, we started the emotional eating which is a really hard habit to break.
Using a meal replacement shake for women's weight loss is an excellent way to help you get started. First of all, these weight loss shakes taste great – which always helps you stick to a new eating plan!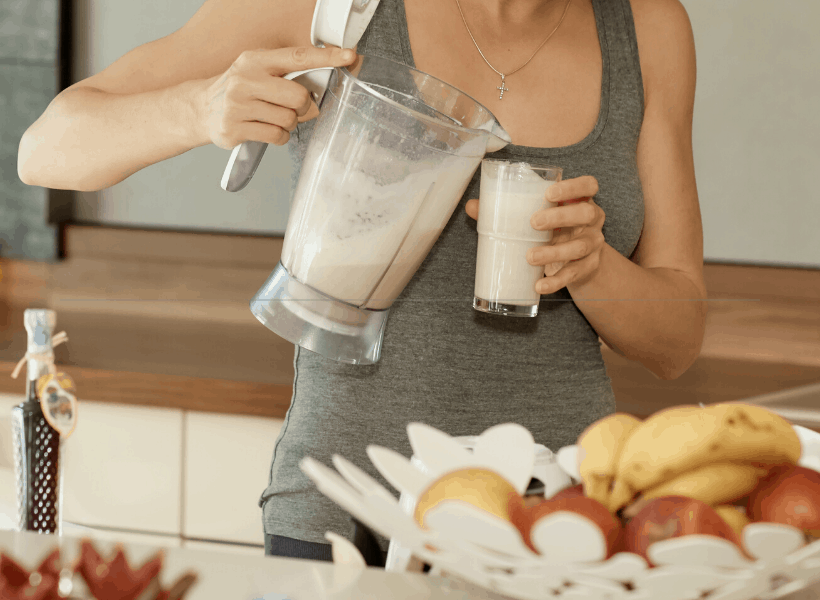 I have always loved chocolate, and the Level-1 chocolate flavor is like drinking a treat. The shake quickly replaced my need for a daily sweet treat and I was happily having 2 – 3 shakes a day.
The shake has tons of fiber, making it extremely filling. Sometimes I would have it alongside a little bit of food as I transitioned to only having the shake for a meal.
It's true, sometimes you just need to chew on food to feel like you're eating in the early transition period.
In the evening, during my usual after dinner, dessert or snack time, I would instead have a shake. I allowed myself some of what I craved but also worked in a shake, helping me to reduce my food portion size.
The transition to full meal replacements and healthy eating was driven by both my goals and my cravings. Meaning, I didn't force myself too hard to change overnight.
This kind of slower transition led to more success than if I had stopped everything I was accustomed to eating overnight.
I never felt like I was forcing myself to drink meal replacements instead of a plate of food. I think that is really important to note.
I had meal replacement shakes for weight loss because I wanted to put good, healthy nutrients in my body. At the time, a protein supplement loaded with vitamins and fiber was the way to do it.
How Many Calories Are In A Meal Replacement Shake?
Using water, these meal replacement shakes contain about 150 calories.
Sometimes I create a smoothie with them (see recipe below!), but most of the time it's a grab and go with a little crushed ice and water. The shakes taste so good, they don't need anything added!
Are Meal Replacement Shakes Good for Weight Loss?
So many women tell me drinking shakes aren't satisfying; the need for eating and chewing is still there.
I totally understand. It was an adjustment period for me too. There were days in the beginning when I would have my shake with a little bit of food. It's okay to add a shake to a small meal as you learn to adapt.
The meal replacements should never be the only thing you have during the day. Protein shakes are beneficial for weight loss, toning muscles and improving health.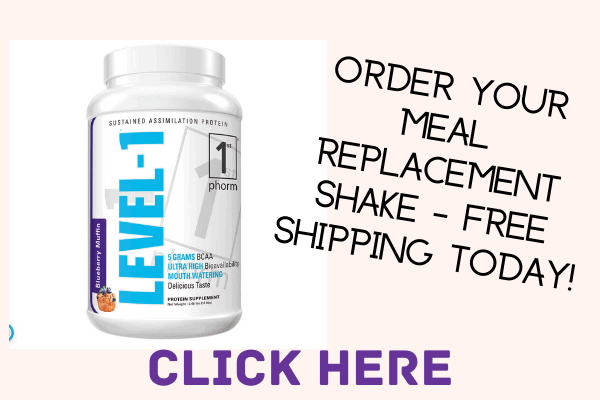 The average person doesn't eat enough lean protein, especially when trying to lose weight and tone muscles. It can be difficult to eat enough lean protein without adding too many calories – which is where a protein shake or meal replacement shake is needed.
For more information on drinking protein shakes regularly for weight loss, make sure to read this post on Protein for Weight Loss. The difference between this meal replacement shake and other protein powder is mainly the amount of fiber.
You can even use the meal replacement for snacks! Snacks and eating ENOUGH is important to better health including losing weight.
Chances are, your snacks often end up being more than 200 calories, and empty calories even! Isn't it better to have a snack loaded with vitamins, protein, and fiber?
I think yes!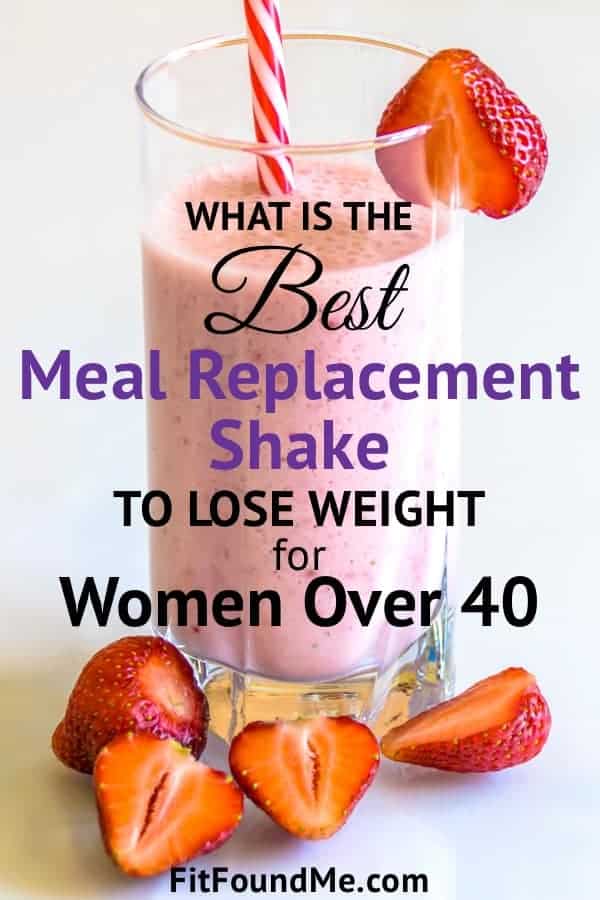 Once I became accustomed to drinking a shake for a meal, I usually had one for breakfast, lunch and sometimes a snack. Dinner would be healthy with protein and vegetables.
After I was able to kick start my weight loss with meal replacement shakes, it motivated me to work harder. I worked out harder, made better choices with food, and stayed consistent.
What I am Drinking Now
I highly recommend all of the members of the Fit Found Me Weight Loss Challenges to supplement with protein powder daily to meet their protein goals. Without a good quality supplement, it would be very difficult to eat the right amount of protein our body needs.
Even if it's only as a snack or post-workout protein drink, the fiber and protein are great for good health and will help you reach your goals.
Protein shakes are still a regular part of my nutrition. Making sure to meet my protein macros every day helps maintain muscle tone.
Now, I prefer the 1st Phorm protein supplements because of the quality of the processing and manufacturing retains a higher quality protein. It is processed in a low heat which holds more nutrients, therefore it is better for digestion and usage.
Have you tried a meal replacement shake to lose weight before?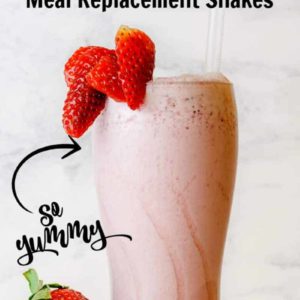 Meal Replacement Shake for Women's Weight Loss
This was my go-to for a meal replacement shake for a long time. It's easy to substitute your favorite fruits and play around with the different combination of flavors.
Ingredients
1

scoop

Level-1, Vanilla

½

cup

ice

6

oz

water

1

cup

strawberries

½

cup

blueberries

1

cup

Kale
Instructions
Put all ingredients into blender.
Nutrition
Serving:
1
glass
Calories:
261
kcal
Carbohydrates:
35
g
Protein:
28
g
Fat:
3
g
Saturated Fat:
1
g
Sodium:
42
mg
Potassium:
606
mg
Fiber:
5
g
Sugar:
17
g
Vitamin A:
6693
IU
Vitamin C:
172
mg
Calcium:
124
mg
Iron:
2
mg
Tried this recipe?
Tag me on Facebook @fitfoundme with a pic and let me know what you thought of this recipe in the comments below!
---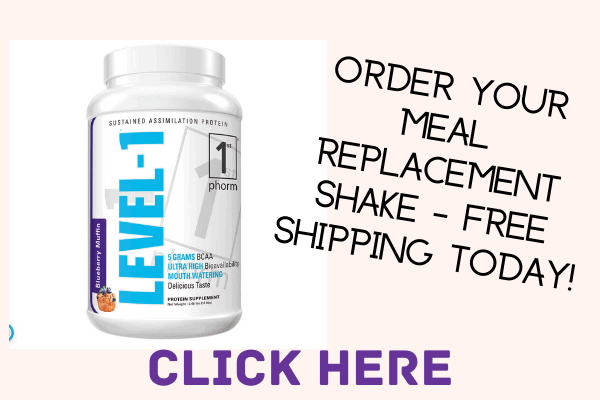 Additional Shake Info
Everything You Need to Know to Effectively Use Protein for Weight Loss
Nutrition for weight loss can be a tricky thing to learn when transitioning to a healthy lifestyle. Eating enough lean protein for weight loss can be the trickiest. Consuming too little can lead to a weight loss plateau.
No doubt, protein for weight loss could, in fact, be the link you've been missing. As women over 40 embarking on our first real journey of sustainable weight loss, fitness and overall good health, there can be a lot to learn.
For a Vegan Shake to Lose Weight
Trying to Lose Weight? You Should Be Drinking This Protein Shake Even If You Aren't Vegan
Call me crazy, but this whey protein loving girl is going vegan! Okay, well, not quite, but I just drank fermented vegan proteins shake… and I liked it! Eeeeek!