Many women ask me: can you lose weight with protein shakes? To that, my answer is an astounding YES! It's pretty common that women want me to reveal the best way to lose weight when they're beginning their weight loss journey. So, questions like this sometimes prompt me to say: I can't work magic, but I can vouch for the fact that shakes are…kind of close.
When I say shakes, I don't mean those caloric ice cream milkshakes (you know, the kind with artificial sweeteners that you'd get at your favorite fast food joint). Instead, I'm referring to meal replacement drinks and protein drinks.
Adding protein shakes into your diet can be the health decision that sets you up for success in your weight loss journey. I know from experience. I lost over 35 lbs after 40 and protein powder was the catalyst that truly changed my life.
So, let's talk about how meal replacements and protein supplements can be an effective way to achieve your weight loss goals. We'll discuss the important nutrients in shakes, the reasons that shakes are a convenient way to help your overall health, and more.
What are Protein Shakes?
Protein drinks are a protein supplement tool, and they are consumed to meet your daily protein intake goals. To put things simply: you're supposed to eat a certain amount of protein a day, and in theory, you'd be consuming all of this protein, through whole foods. However, if you're having hard time getting in enough protein in your regular diet, protein shakes are a great way to reach your higher protein intake goals.
The amount of protein that's right for you is not going to be the amount of protein that's right for me, or your friend, or your partner. But here's a scenario that explains when a protein shake would be useful.
For example, if you're around twenty grams of protein (more or less) away from reaching your daily intake goal, every day, then it makes sense that you'd have one protein shake a day, to reach your macros with the help of the extra protein that comes from a shake.
Are All Protein Shakes Good Meal Replacements?
A meal replacement shake replaces a meal, and protein shakes, usually aren't complete meal replacements. This is because not all protein shakes have all the nutrients of a complete meal.
A good meal replacement includes healthy fats and good carbs along with a generous amount of protein, usually at least 20 grams per serving.
What is the Difference Between Protein Shakes and Meal Replacement Shakes?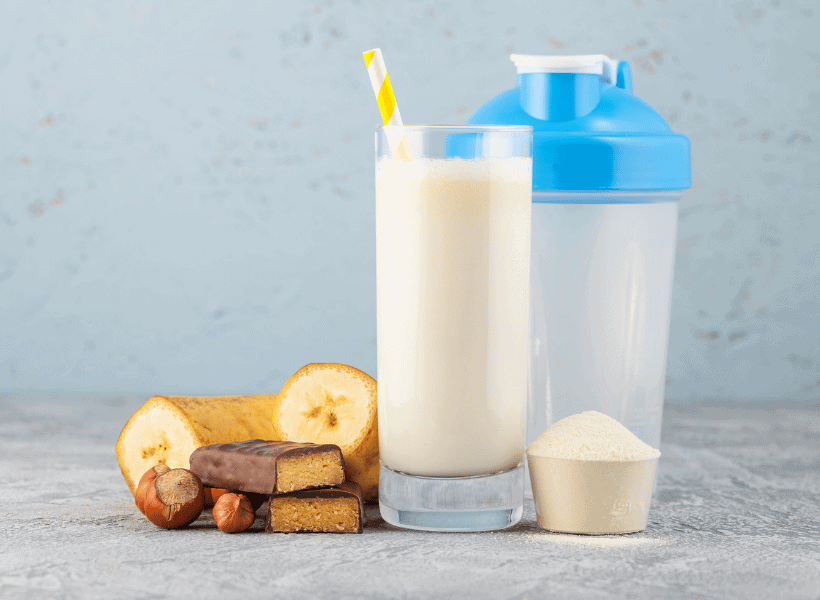 Let's go into more detail, about the difference between a protein shake and a meal replacement shake. Think about it this way: would you consider just one of these protein sources, a piece of chicken breast, a steak, a piece of fish, or a serving of Greek yogurt, a full and balanced meal? Probably not.
Like a single piece of chicken breast, a simple protein shake is not considered an entire meal. However, if you were to pair that chicken breast with other foods (adding healthy fats and carbohydrates) then you'd have a nutrient dense meal.
A meal replacement shake also digests at a slower rate than a good protein shake.
Protein shakes are a thinner consistency and perfect for a post workout supplement. I use Phormula-1 Protein shakes (along with Ignition for better recovery and less soreness) that digests quickly for muscle recovery after a workout.
So, a meal replacement shake, like Level-1, is comparable to a healthy breakfast, lunch, or dinner, because a meal replacement shake comprises enough nutrients to replace an entire meal. In fact, your stomach will digest it like a meal, which is great for overall good health.
How Many Grams of Protein Should I have in a Day?
Remember, like all things, you can have too much protein or not enough protein! There are calculators and apps (like this one that I use – if you sign up with this link I will be your advisor) that help you figure out the specific macro count that's right for you (remember, macros are the details of calories: the amount of protein, carbohydrates, or healthy fats that you consume). But when you're trying to discern what your complete protein macro goal should be, there's an easy way to figure it out.
I typically have at least 40-60 grams of protein supplements every day. A good protein goal every day to lose weight or maintain your weight is 1 gram of protein for every 1 lb of GOAL weight. If your goal weight is 150 lbs, you would have 150 grams of protein every day to lose weight.
How many protein shakes a day will depend on your overall nutrition and workouts for the day.
The biggest mistake I see people do when trying to lose weight is not being consistent with macros and most importantly the amount of protein. Consistency is key and that's where protein shakes come in so handy.
My Favorite Meal Replacement Shake – Level-1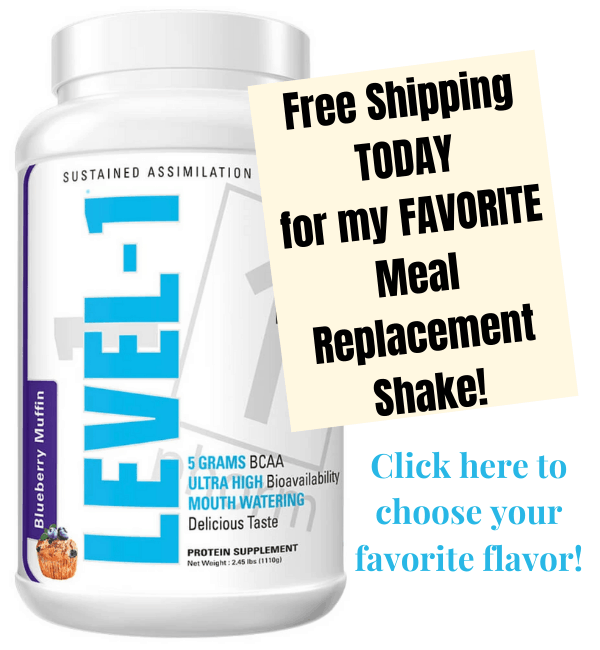 Not all protein and meal replacement shakes are created with the same ingredients or processed the same. Similar to choosing other foods, it's important to know what makes the best quality supplement so you can have the best results.
I'll explain some facts about one kind of meal replacement shake, that I've found particularly good (the shake is sold by 1st Phorm – What is 1st Phorm?).
1st Phorm's Level-1 comprises the Level-1 Matrix, which is a bioavailable, sustained assimilation protein formula.
The shake is meant to deliver premium proteins in a sustained release, this mimics the protein assimilation rates of whole foods.
Level-1 contains 5 grams of naturally occurring Branched Chain Amino Acids that supports muscle tissue repair and muscle mass growth.
There are 2 grams of glutamine and glutamine peptides in each scoop of Level-1.
When is the best time to use a Meal Replacement Shake?
Think about all the times that you've opted for fast food or skipped breakfast. These choices set you up for failure with higher calories or overeating later because you are so hungry. I know, I've done it myself.
When I first started losing weight, I was so used to eating junk, I didn't know what I should be eating. Meal replacement shakes gave my body the nutrients needed while I learned how to eat healthy.
Now, I keep several flavors of meal replacement shakes on hand for a variety of situations when I need a meal replacement shake.
I'm running out the door, but I realize it's time for a snack or a meal.
I just made lunch but I'm short on protein.
It's after dinner, I still need some protein for the day.
I'm craving something sweet.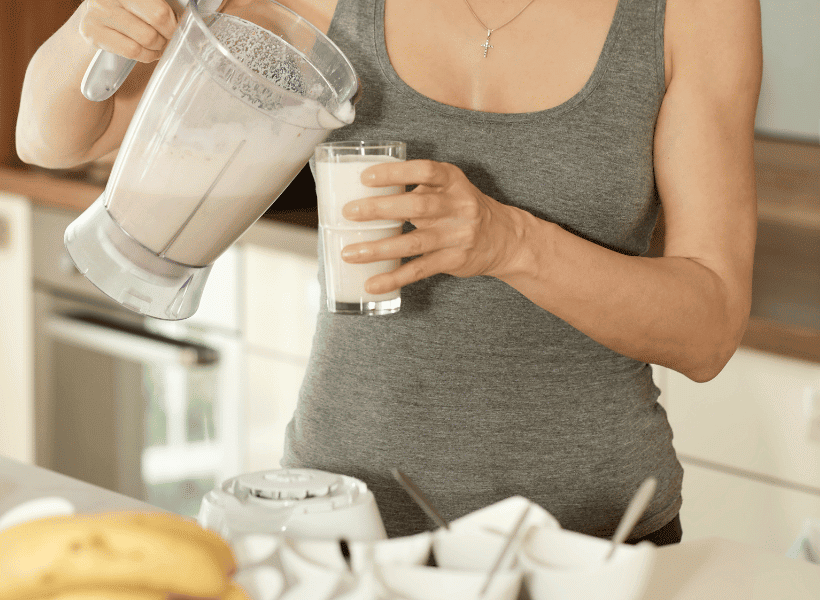 My Review: Level-1 Meal Replacement Shake:
I mentioned 1st Phorm Level-1 Meal Replacement Shakes, earlier. But I can't say enough good things about them, so I wanted to end by describing more reasons that I think that they're one of the best protein powder brands out there.
Sure, there are scientific benefits to these shakes (I talked about these benefits already). And I could hit you with more health and fitness jargon, but let's be real, taste and convenience matter, too.
Why I love 1st Phorm Meal Replacement Shakes
I have tried at least a dozen different brands of shakes over the last many years and now I wouldn't trust my health to any other brand. These are made in the USA in an FDA approved manufacturing plant by a company I've come to trust.
You only need water, to turn it into a delicious shake.
The protein powder dissolves quickly and thoroughly with a few shakes.
It is made to be thick like a traditional shake, however I usually add additional water to thin it out.
The flavors are great for creating other things like smoothies, mug cakes, cookies, etc.
There are some great recipes for Level-1 available.
Speaking of flavors, here's a list Level-1 is available in:
Blueberry muffin
Caramel latte
Chocolate banana – a favorite of mine
Cinnamon cookie butter
German chocolate cake
Ice cream sandwich
Mint ice cream sandwich
Milk chocolate – always a favorite
Red velvet cake
Strawberry milkshake – a favorite of mine
Vanilla ice cream
Lunar Pie
I'll sum things up pretty succinctly: with 1st Phorm, you can reach your daily protein goal (a high protein diet is vital for weight loss and overall better health), and you don't have to compromise taste. That means, indulgent meal replacement shakes, will help with your long term weight loss goals.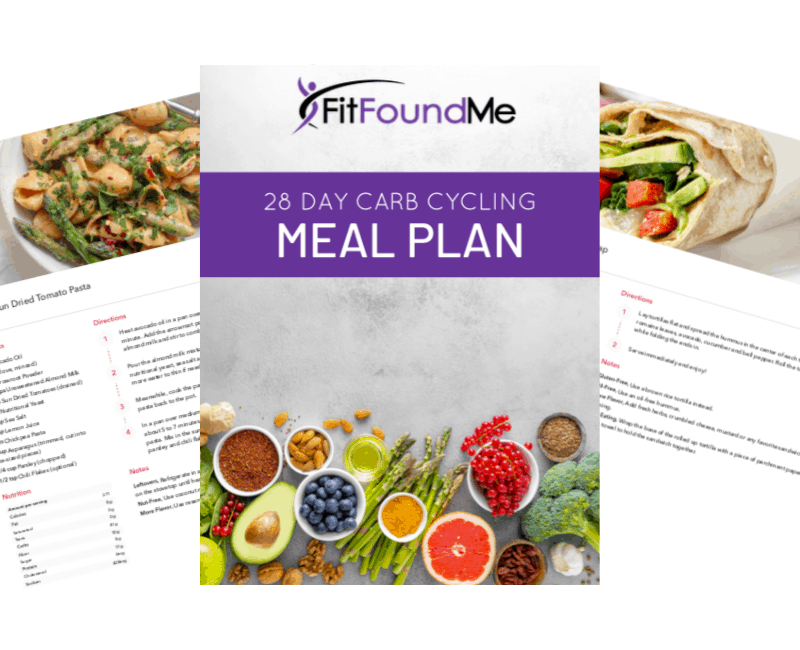 28 Day Carb Cycling Meal Plan: 1200-1500 Calories
Looking to get fit and healthy while still enjoying your favorite foods? Look no further than Fit Found Me's carb cycling meal plan!
Our meal plan is designed to help you achieve your fitness goals by strategically cycling your carbohydrate intake, resulting in increased fat burning and energy levels. Plus, with our delicious and satisfying meals, you'll never feel like you're sacrificing taste for health.
Whether you're a seasoned athlete or just starting your fitness journey, our meal plan is perfect for anyone looking to get in shape and feel great. With a wide variety of meals to choose from, you'll never get bored and will always be on track towards your goals.
So why wait? Join the thousands of satisfied customers who have achieved their dream bodies with Fit Found Me's carb cycling meal plan. Order now and start seeing results today!
See FULL description BELOW
Final Thoughts
Shakes can help you lose weight like they did for me and should be a part of your daily nutrition. Learning to balance macros for weight loss and using protein supplements to hit your macro goals makes weight loss and better health much easier.
I've seen shakes work time and time again for women over 40 struggling to lose weight. It's usually a surprise when finding out how much protein to eat and even more so when realizing how hard it is to eat enough protein in whole foods every day.
Give the meal replacements shakes for weight loss a try. Let me know how it works for you!