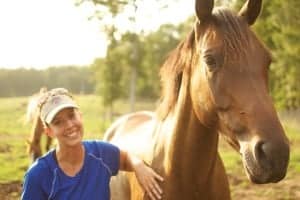 Losing over 35lbs at age 42 motivated me to share my story with you. I've continued to improve and maintain my health now for over 10 years. Now in my 50s, I am able to be much more active than I could be in my 30s.
I am so excited to share my ongoing fitness journey with you, especially if it helps you through your own journey to better health. My journey began in 2012 (42 yrs old) when I made the choice not to relinquish my inner youthful feeling into the stereotypical average middle-aged overweight woman.
I spent years doing a bit of yo-yo dieting myself – only it was more of an on again – off again starvation diet that allowed me to stay about 130-140 lbs, size 8-12 – until I turned 40.
Throughout my life I was a size 8-12 until I reached 40 when I went up to a tight size 14/16 in about 2 years. After thinking I just needed to accept the new me, one day I realized I needed to lose weight to ride horses again.
At the time, I had allowed myself to become sedentary after the illness and death of my husband – not to mention my diet contained too many empty calories – breads and refined sugars. I wasn't happy with the way I looked, felt or the lack of energy I had. It affected my attitude, confidence, and motivation.
Since then, I have learned how to feel healthier and stronger through better eating habits and being active in different ways by discovering a "why" to be fit and healthy. I strongly believe if you want to lose weight and keep it off, you have to discover your "why". Your "why" will be the motivation it takes to stick with a new healthy way of living.
If you have realized you are not feeling your best self, but are ready to make a change, then this is the right place to be!
Bottom line, I am an average mom, and now Gigi, happy to share the ups, downs, and know-how of losing weight and getting in shape through my personal journey. I will share ways to meet your healthy lifestyle goals through everyday living, in between life's busy schedules of work, kids, grandkids dogs and even a couple of horses, in my case!
Being active and healthy doesn't have to be another item on your to-do list, it should conform to your life easily and naturally.
Stick around. Let's do this together. Day by day. Meal by meal. Workout by workout…
Fit will find YOU!
---
Contact Stephanie:
stephanie@fitfoundme.com
Twitter/Instagram: @FitFoundMe
Facebook: fb.com/FitFoundMe
Work with Stephanie:
Send inquiries directly to stephanie@fitfoundme.com.
Advertise with Fit Found Me:
Certified Contributors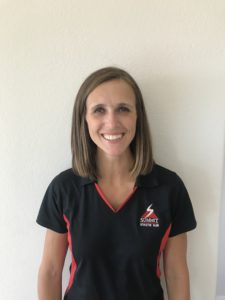 Whitney Harris
Along with her master's and bachelor's degrees, Whitney has years of experience working as a physical therapy technician under a therapist who used a holistic style of therapy. She has worked with clients all along the wellness spectrum, from clients with recent injuries to athletes looking to improve their performance to older adults wanting to maintain healthy lifestyles. She is excited to continue working with residents of St. George, helping them get fit, achieve their goals, and become better versions of themselves.
Exercise has always been an important part of Whitney's life. She started dancing when she was three years old, and after years of dance, running, yoga, and several other physical activities, she decided to put that experience and knowledge to use through training, instructing, and advising. When she's not working, Whitney enjoys spending time with her family, exploring St. George, and indulging in some ice cream.
Whitney's Certifications and Degrees:
MS – Sports Conditioning and Performance
BS – Exercise Science with an emphasis in
Fitness and Wellness management
NASM Certified Personal Trainer
NASM Corrective Exercise
NASM Corrective Exercise Specialist
NASM Senior Fitness Specialist
NASM Integrated Balance Training
NASM Integrated Resistance Training
NASM Integrated Speed Agility & Quickness
NASM Integrated Core Training
TRX Certified
Silver Fit Certified