I love carbs. Especially bread carbs. I've been healthy eating for years now and I still wouldn't trust myself locked in a room of warm bread even today. Thankfully, I can satisfy those carb cravings with healthy delicious foods like these Apple Banana Muffins from 21 Day Fix creator Autumn Calabrese's Fixate Cookbook.

Why You'll Love These Apple Banana Muffins
If you're looking for 21 Day Fix snacks, these muffins will hit the spot. They are gluten-free, dairy-free, refined sugar-free and meet the requirements for the 21 Day Fix and the newer 80 Day Obsession meal plans.
Whether you follow Autumn's 21 day meal plan or not, these almond flour banana muffins are a perfect snack for anyone working on a healthier lifestyle. You don't need to deprive yourself when you have delicious 21 day fix banana recipes like this one!
These healthy apple banana muffins are quick and easy. I made these while dinner was simmering on the stove. With only 7 simple ingredients (I typically have all of them on hand), these muffins could be a weekly treat any time your bananas are getting too ripe.
It took me way too long to discover healthy snack recipes to satisfy my sweet, carb-loving tooth. When I started working so hard to lose weight, I didn't even know about healthy recipes like these so I just did without the comfort foods we all enjoy so much. Now, I never have to push through cravings.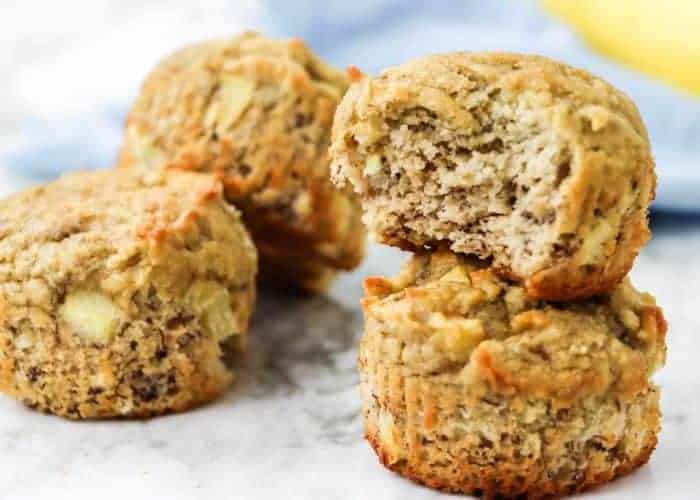 Living a healthy lifestyle and losing weight doesn't mean restricting foods as much as it means finding healthier ways to enjoy your favorite foods. Many years ago I didn't understand that.
My weight loss efforts consisted of eating salads and depriving myself for a time, then going back to eating the high fat, high sugar content foods I did before. We know how that ends.
Now, I enjoy food as much as I did then, and even much more because the foods I eat don't make me feel lousy with a sugar crash.
About the 21 Day Fix
There have been a few different plans or health programs I have tried over the years and many of them gave me valuable insight into learning to eat for fuel rather than cravings. When I learned to feed my body what it needs for fuel, my cravings changed and my body changed both inside and out.
The meal plan used in the 21 Day Fix and 80 Day Obsession was one of the biggest resources for me.
If you aren't familiar with the meal plan, it uses containers to help measure the correct amount of food. It doesn't take long before you get accustomed to the appropriate amount for serving sizes and you can skip the actual measurement with the containers, which of course, saves some time.
I learned a lot about serving sizes and food ratios by using Autumn's plan.
The Fixate Cooking Show is on Beachbody on Demand and features Autumn Calabrese and her chef brother, Bobby Calabrese. If you follow the 21 Day Fix approved meals and recipes, this would be a great show to watch.
New to 21 Day Fix? Here's a little more about meal planning with 21 Day Fix for weight loss and healthier living.
How to Make Apple Banana Muffins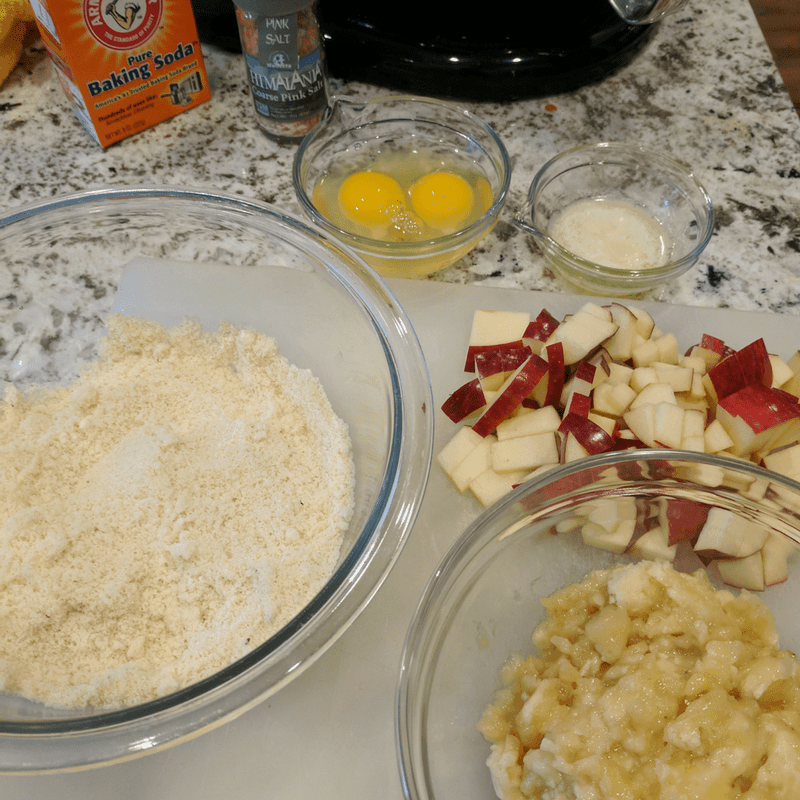 Combine mashed banana and melted butter until thoroughly mixed. I always use real grass-fed butter now. Don't be afraid of the fat, it's not the healthy fats that we need to be concerned with.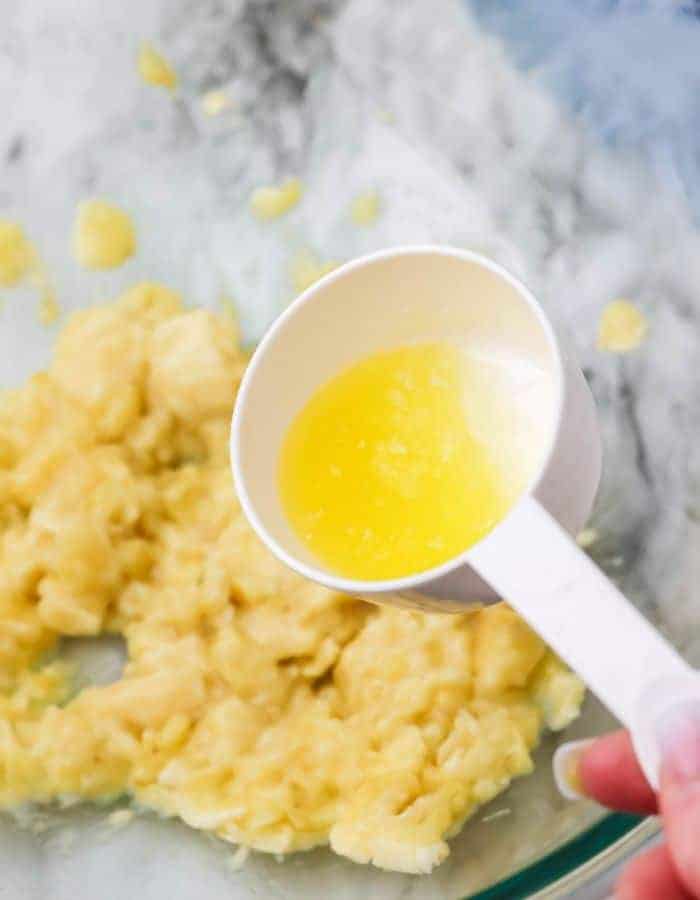 Next, add in the 2 eggs and mix until thoroughly combined.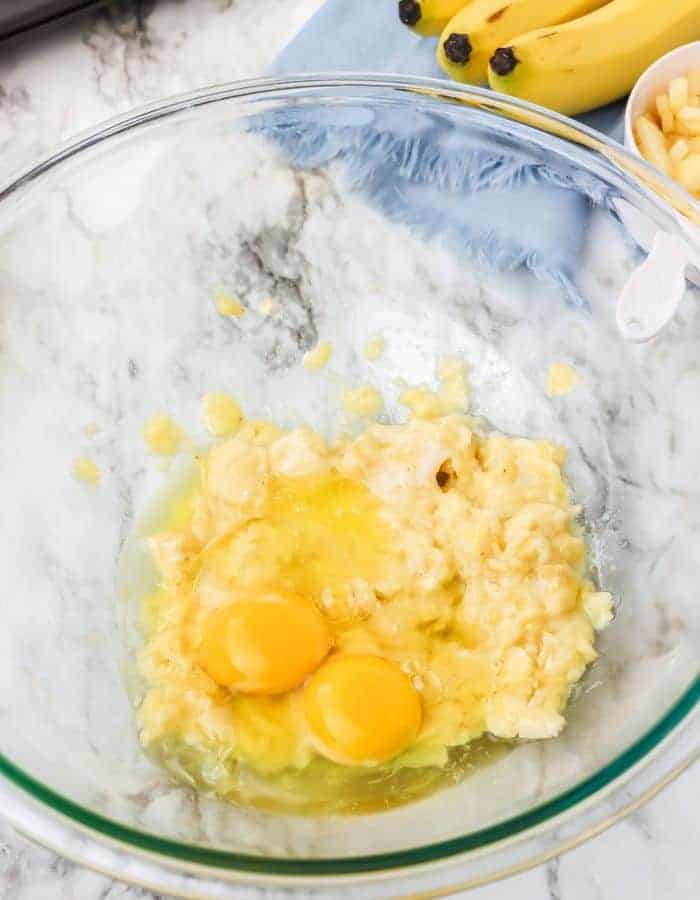 Next, whisk in the almond flour. Almond flour is pretty new to me, and I have found a great place to purchase it is Costco. Costco is actually where I buy the majority of my groceries.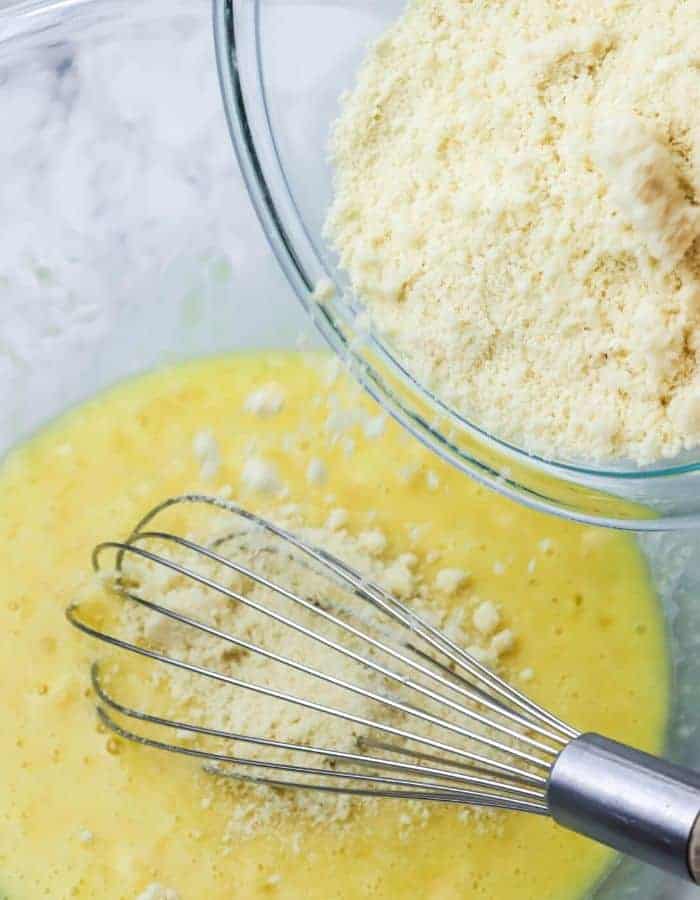 After the almond flour is mixed in well, fold in the diced apple.
Next, scoop into a lightly greased muffin pan or use liners if you choose. Fill the muffins almost full. In these pictures, I filled to about 3/4 full but could have made each muffin a little larger by almost filling the cups.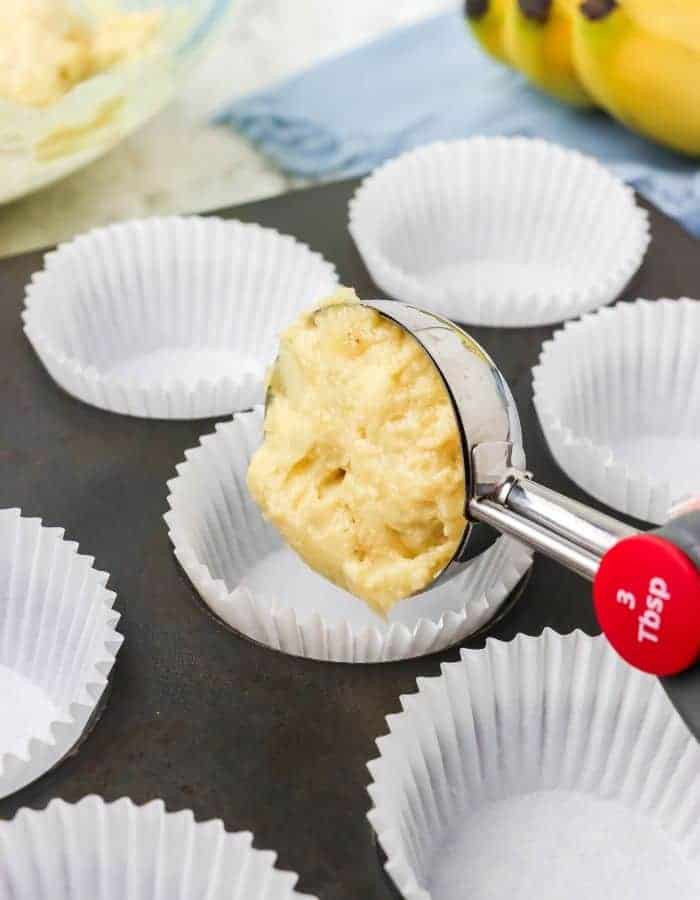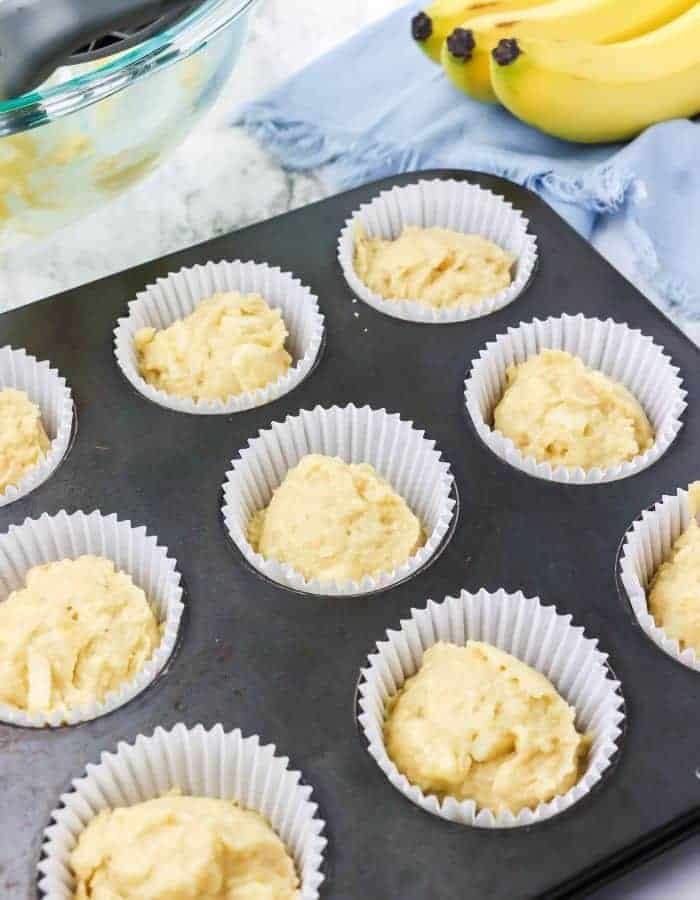 Muffins are ready in about 16-18 min or when lightly browned.
I love having one or two of the muffins right out of the oven while they are still warm and irresistible. They are also great to pack for school lunches or snacks on the go.
One Apple Banana Muffin is a perfect 21 Day Fix snack and counts as 1 purple and 1 blue container.
Other delicious muffins are the Almond Flour Pumpkin Muffins and the Sugar Free Banana Bread muffins!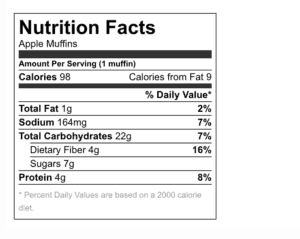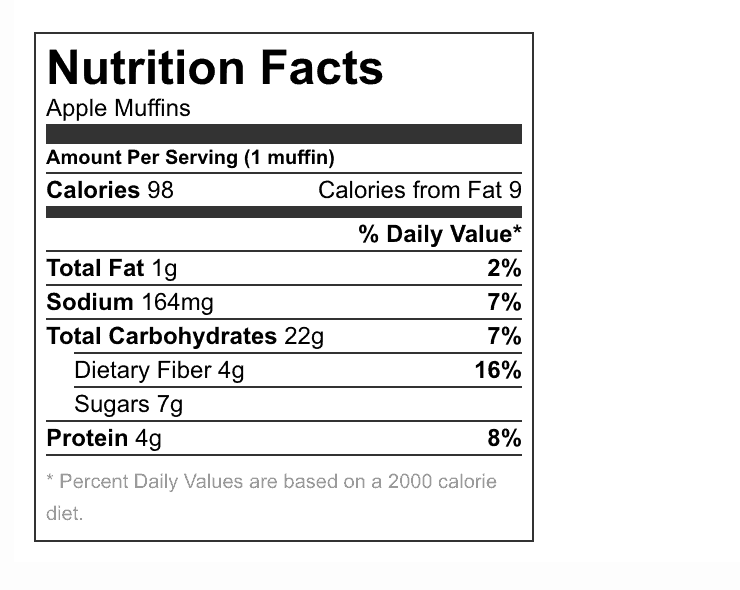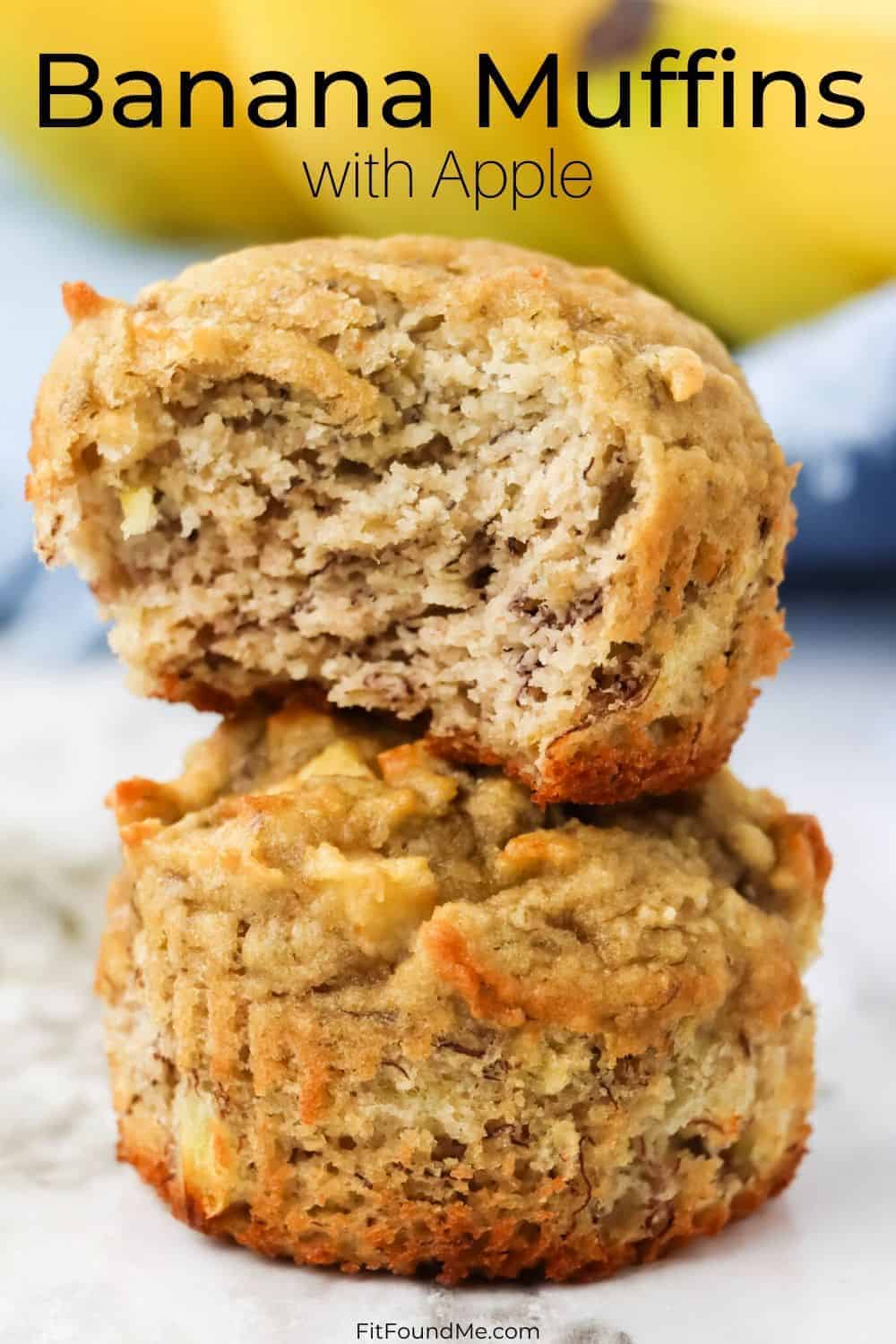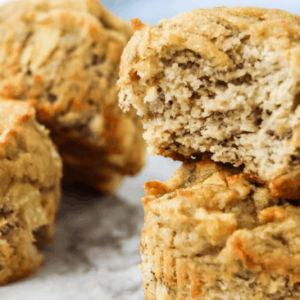 21 Day Fix Apple Banana Muffins
Moist, gluten-free, mouth-watering muffins taste so good, they make you feel like you're cheating. These are 21-Day Fix and 80-Day Obsession by Beachbody approved.
Ingredients
2

eggs

1

cup

mashed ripe banana

about 2 medium bananas

1

tbsp

organic grass-fed butter or coconut oil, melted

1 ½

cup

almond flour

¾

tsp

baking soda

1

dash

sea salt or Himalayan salt

½

cup

apple, peeled & chopped

about ¾ medium apple
Instructions
Prepare nine muffin cups by lining with muffin tin layers or coating with muffin spray.

Combine eggs, banana, and butter in a medium bowl. Mix well and set aside.

Combine dry ingredients – almond flour, baking soda, and salt in a medium bowl.

Add dry mixture to egg mixture. Mix until well blended.

Divide batter evenly among prepared muffin cups. Should be 8-9 cups depending on the size of bananas.

Bake 16 to 18 minutes, or until golden brown and toothpick inserted into the center comes out clean.
Nutrition
Calories:
106
kcal
Carbohydrates:
7
g
Protein:
3
g
Fat:
7
g
Saturated Fat:
2
g
Cholesterol:
36
mg
Sodium:
110
mg
Potassium:
81
mg
Fiber:
2
g
Sugar:
3
g
Vitamin A:
63
IU
Vitamin C:
2
mg
Calcium:
45
mg
Iron:
1
mg
Tried this recipe?
Tag me on Facebook @fitfoundme with a pic and let me know what you thought of this recipe in the comments below!