This delicious yet simple Chocolate Chip Zucchini Bread is made with fresh garden zucchinis, walnuts and warm spices. Brown sugar and chocolate chips give this quick bread a touch of sweetness making it perfect for a healthy breakfast or delicious treat. This bread is as yummy as our healthy version Chocolate Chunk Banana Muffins are.
Summer vegetables are some of our very favorite vegetables. And zucchini is at the top of the list. It is super versatile and can be prepared so many different ways. You can add it to grilled kabobs, to your roasted sheet pan veggies or even add it to your favorite stir-fry. The taste is so subtle that it doesn't compete with other ingredients.
But most people seldom think of using zucchini in baked goods. Once you try his simple zucchini bread recipe, all that will change. It is the BEST zucchini bread you will ever try!
The main purpose of adding zucchini in this recipe is because it makes the bread super moist. Even though you'll see the tiny flecks of green, from the peeling, throughout the bread you can hardly taste it. That is a wonderful thing if you have anti-veggies eaters in your home.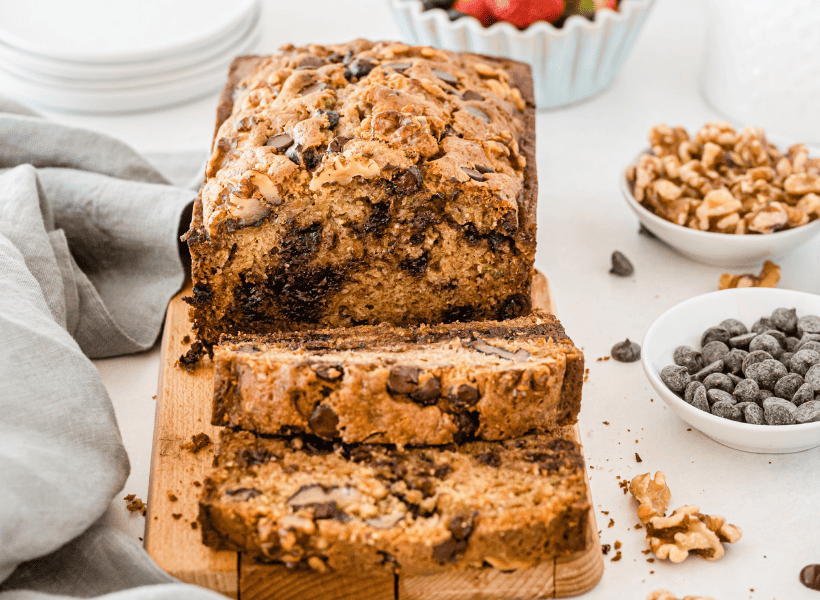 Why We Love this Chocolate Chip Zucchini Bread
Breakfast and snack all in one: It's the best of both worlds! Zucchini makes this bread more nutritious than most quicks breads, but the chocolate chips sweetened it just enough to feel like a snack.
Simple ingredients: All you need are a few pantry staples, fresh zucchini and just a few minutes to whip up the batter for this homemade bread loaf.
Easy recipe: Because this is a quick bread recipe (no rise time required) there is no need for a bread maker or special equipment needed. You don't ever need an electric mixer; you just need a spoon and a mixing bowl.
Kid-approved: Picky eaters? This bread is a great way to get them to eat their green veggies! Because you can't taste it, they'll never know there are 2 whole cups of zucchini hidden inside.
What's Needed to Make Perfect Chocolate Chip Zucchini Bread
1 1/2 cups all-purpose flour
1 teaspoons ground cinnamon
teaspoon ground nutmeg
1 teaspoon baking soda
1/2 teaspoon baking powder
1 teaspoon salt
2 large eggs
1/2 cup granulated sugar
1/2 cup brown sugar, lightly packed
2 cups grated fresh zucchini, around 2 medium sized
3/4 cup avocado oil
1 teaspoons vanilla extract
1 cup chocolate chips
1/2 cup walnuts
How to Make the Best Chocolate Chip Zucchini Bread Recipe
Preheat oven to 325 degrees and grease a 9×5 loaf pan.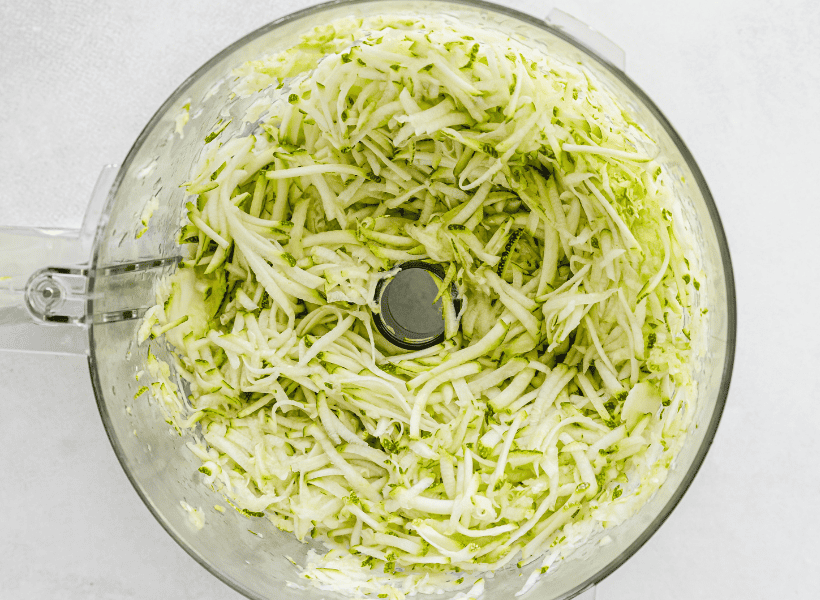 1. Grate zucchinis, I used a food processor with the grate attachment.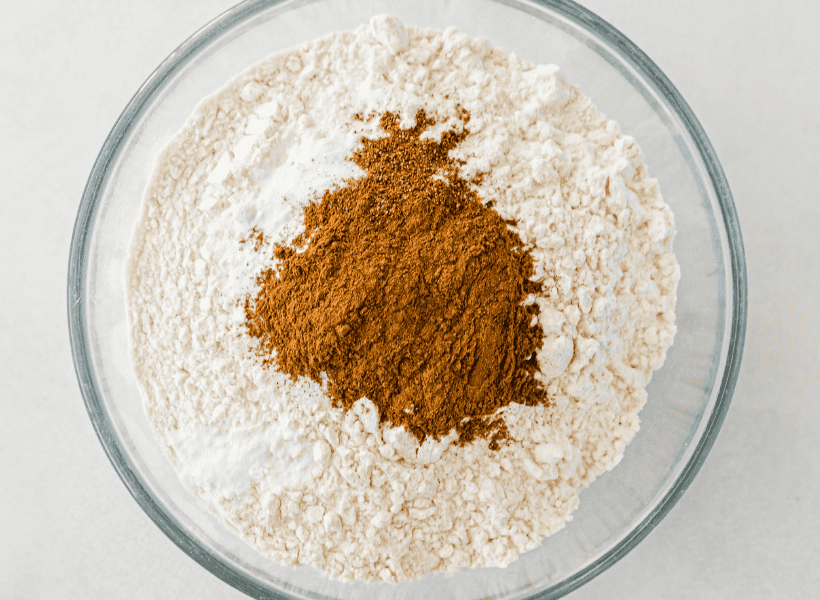 2. In a separate bowl, combine flour, baking powder, baking soda, salt and spices.
3. Whisk the flour mixture together until well combined.
4. In another bowl, add eggs, sugars, oil, and vanilla and mix until fully incorporated.
5. Add dry ingredients to wet ingredients in 2 parts and mix until fully incorporated.
6. Add the zucchini and mix well.
7. Add chocolate chips and nuts reserving a few to drop on the top once the batter is in the pan.
8. Pour batter into the prepared pan, add the chocolate chips and a few walnuts to the top and place in the oven for 60 minutes. Bake time will vary based on individual ovens.
After 45 minutes, check to make sure bread isn't getting too dark on top. If it is dark, cover with foil and continue baking.
9. Bread is done when a knife, cake tester comes out clean.
10. Remove the baked loaf from oven and let cool for 10 minutes before removing from pan. Set on a wire rack to finish cooling. Serve warm.
Healthy Benefits of Zucchini
Zucchini is packed with many important vitamins, minerals, and antioxidants. It has a high fiber content and a low-calorie count. There are many health benefits to including zucchini in your diet. To read all about these benefits, check out this article on Healthline.
How to Make Zucchini Bread Gluten-Free
You can substitute the all-purpose flour in this recipe with a gluten free 1-to-1 baking flour. The texture will be slightly different, but this flour works as a really great gluten-free substitute.
How long does zucchini bread last?
You can store the bread in at room temperature in an airtight container for up to a couple of days. But because this is a super moist bread, keeping it in the fridge will extend its freshness by several days.
Can You Freeze Chocolate Chip Zucchini Bread?
You sure can. In fact, it freezes very well! You could make a double batch of this bread, cut it into individual slices, wrap them well with plastic wrap and you'd have a quick snack anytime the cravings hit. Slip the wrapped slices of bread into a zip lock bag for an extra layer of frost protection.
All you have to do to thaw it is set out on the counter until it comes to room temperature.
Should you peel zucchini for bread?
No, don't peel the zucchini. After grating or spiralizing, the pieces are very small and thin. Once cooked, the zucchini cooks enough that it's not very noticeable.
Does zucchini bread need to be refrigerated?
No need to refrigerate this sweet bread unless you'd like for it to last a bit longer. If you do decide to put it in the fridge, I recommend warming it up a touch in the microwave before eating.
How to Grate Zucchini for the Best Zucchini Bread?
If you don't have a food processor, no worries! You can use a box grater, or a flat cheese grater. If you have a vegetable spiralizer like this, zucchini noodles will work well in this recipe also.
Variations of Homemade Zucchini Bread
Bananas: Zucchini chocolate chip banana bread is fabulous! Just replace 1 cup of the zucchini with one cup of rip mashed bananas. The bread will bake at the same temp and time.
Muffins: This recipe can easily be adapted to make chocolate chips zucchini muffins. Be sure and line your muffin tins with paper liners or you're a silicone muffin pan.
Toppings: To make this bread even sweeter, drizzle the top of the bread with a little bit maple syrup or a drizzle of honey.
Double chocolate zucchini bread: If you really want to intensify the chocolate flavor, add about a tablespoon of cocoa powder to the batter.
Chocolate chips: This recipe calls for regular chocolate chips but feel free to use any of your favorite chocolate chips. Milk chocolate, white chocolate chips or even dark chocolate chips all work perfectly with the other flavors in the delicious quick bread recipe
Zucchini toast: For a breakfast the kids will be asking you for time and time again, put individual slices in the toaster oven then top with a pat of little butter!