For many women in 2020, changes in our diet resulted in packing on a few extra pounds. For some, it went beyond the newly coined phrase, "Quarantine Fifteen" and now you're looking at weight loss blogs.
As we welcome a new year, weight loss and getting healthy is probably on the brain. By now we know how our eating and exercise habits are also intimately tied to our minds.
But the journey is hard, motivation is needed, maybe now more than ever with all the added stress we've experienced this past year. Plus there are so many weight loss blogs out there, it can be hard to know where to turn!
If any of this resonates with you, then this post is totally for you.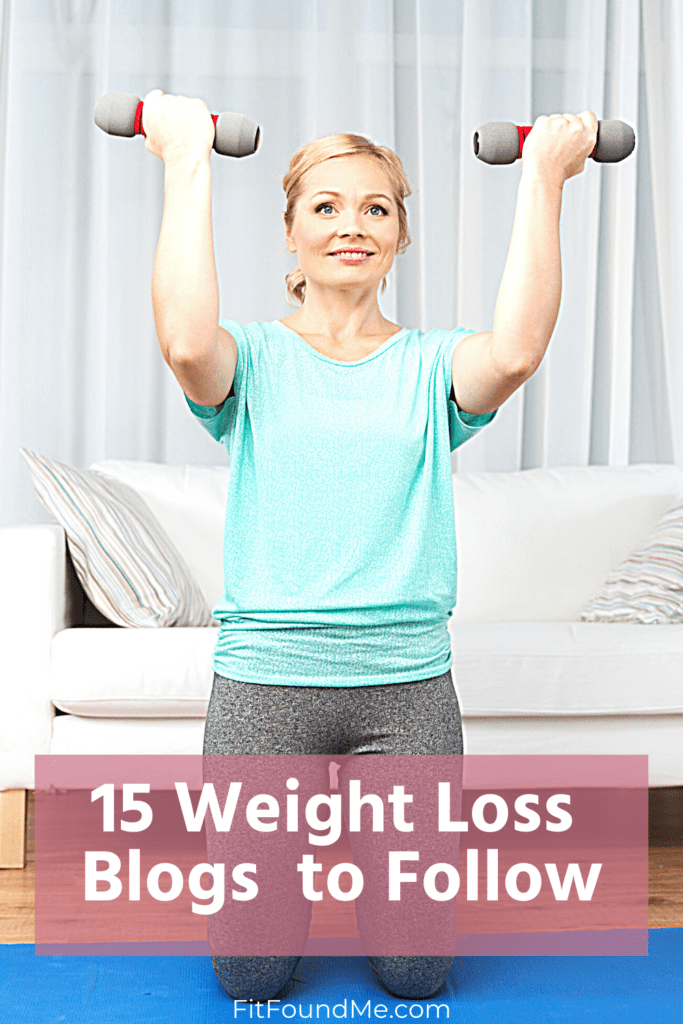 After scouring the 'net, we've put together the 15 best weight loss blogs to follow that'll have a girl waving goodbye at 2020 from a distance as she hops aboard the health Success Express into 2022.
The Best Weight Loss Blogs for Women
In searching for the best weight loss blogs, we looked for those that are currently active, well-written overall, and of course, inspirational.
It was also really important that these sites are either run by or specifically geared toward women. What we did not focus on is any one particular diet as a one-size-fits-all.
From keto recipes to fitness for women over 40 to top ideas on how to lose weight after many failed attempts – these weight loss blogs will cover it all and get your butt in gear for a new you in the new year.
The Fit Mom Project is the one-stop weight loss blog for busy women and moms hitting a dead end on how to lose weight after 40.
It has a weight loss program that includes healthy eating plans, quick and effective metabolism-boosting workouts, and accountability/motivational coaching.
The site also has a blog section that contains articles with a wide variety of topics such as exercise, recipes, mental health, and women's health.
Run by the founder of the Fit Father Project who was hit hard by the sudden death of his 42 year-old dad, The Fit Mom Project is the inspiration you need in 2022.
Flipping Fifty is THE weight loss blog for women who've been struggling with how to lose weight after 50.
Run by fun and fab fitness fanatic Debra Atkinson, there are many free resources like a 5-day challenge that will quickly kickstart your weight-loss success in 2022, an extensive blog section, personal product recommendations, and recipes.
If you're looking for more in-depth guidance, the Flipping 50 Cafe is a membership program that will keep you on the path to feeling great, or you can hop on a call with Debra to see if 1-on-1 coaching is for you.
Losing weight after 50 never was so achievable!
Wondering how to lose weight while balancing faith, family, and fitness in 2022? Sara – a pastor's wife, mom of 5, and triathlon runner – spearheads The Holy Mess.
She openly discusses her success in losing 100 pounds and her main sources for keeping it off for 10 years.
There are food recipes, Bible journaling freebies, parenting and marriage articles, and plenty of weight-loss resources, including a 3 day and a 5 day weight loss challenge.
For a more extensive journey, The Faithful Finish Lines 2.0 helps you overcome emotional eating by focusing on faith, healthy eating, and fitness.
4. Body Rebooted
Going beyond diet and healthy eating, this weight loss blog for women offers much of what you need at 40+ to jump start 2022 with a bang!
You see Christina Russell's face all over the site, and with good reason: she is a personal trainer who empowers women to build a body and overall life they love.
You can even reach out to her personally with any questions you have.
From a healthy-sized blog to lifestyle coaching ideas to a virtual fit club program, Body Rebooted is chief among weight loss blogs to get your body and life recharged.
With plenty of recipes, Bible verses, and weight loss tips and challenges to burn fat, So Very Blessed is one of the best blogs for those who seek to know how to lose weight while keeping the faith in 2022.
Particularly unique is a list of 80+ examples of non-scale victories from real women on their weight loss journeys.
Becky is the forerunner of this weight loss blog for women and is a Jesus-loving wonder who lost 100 pounds and loves helping other women live a healthier lifestyle.
Becky is also one of the leaders of the Faithful Finish Lines Christian weight loss program.
The Balanced Life offers a new approach on how to lose weight.
As founder + CEO, Robin is passionate about helping women transform their relationship with exercise and healthy living by choosing "grace over guilt" and finding a balance that bridges the gap between fitness and self-love.
Her 15 minute Pilates challenge will get you quickly building strength and feeling good in 2022.
There is also a huge blog section that covers a variety of topics, a podcast, an at-home "sisterhood" all-levels Pilates program, and success stories.
Founder Sam Wood is no ordinary guy – he is a husband, father, and founder of Melbourne's #1 at-home fitness and nutrition program.
If your 2022 New Year's Resolution is to burn fat, you can download his New Year's ebook, which is filled with recipes, workouts, and mindset tips.
28 by Sam Wood is a weight loss blog for women that provides a lot of resources such as "I Quit Sugar" recipes, home fitness videos, and healthy eating plans.
There is even a special section devoted to pregnancy fitness as well as a program dedicated to it.
DIY Active Fit. Food. Life is exactly what its name indicates. It's an eclectic mix of articles on workouts and yoga seshes to burn fat, recipes, food tips, nutritional advice as well as lifestyle, wellness, and motivation insight.
It is a weight loss blog for women as its mission of "home fitness for everyone" will easily get you to achieve your 2022 resolution of taking control of your health.
Founder Josh Anderson believes the "how to lose weight" journey won't be sustainable if you don't have fun along the way and do it on your terms.
Andie Mitchell is the best-selling author who shares her journey of growing up big and struggling to find peace and balance with food while shedding 135 pounds.
She shares much of her story on her weight loss blog for women including the entire introduction of her book, It Was Me All Along.
There is also an extensive recipe section that covers several different types of foods and dietary preferences.
Andie Mitchell is the inspiration that will make women's weight loss seem easily achievable in 2022.
10. Wellness Next Step
If anyone knows the struggle with how to lose weight while also coming from a culture whose foundation is enjoying food, it is Guyana-born Vilmos Bond.
Vilmos is a nutritional coach who helps a mom create healthy food habits that can contribute to her own and her family's quality of life.
His e-book is jam-packed with his nutrition philosophy that promises to bring long-term success for a busy mom/woman in 2022.
Beyond being a weight loss blog for women and mothers, Wellness Next Step offers motivation for those who are frustrated with yo-yo dieting or the notion of the "right" way to eat.
Much like its name indicates, mind body green is a robust site that contains many topics and ideas that connect soul and science.
It boasts a 360 degree approach to wellness, as evidenced by sections devoted to mindfulness, parenting, relationships, food, movement, the planet, the home, social good, beauty and even astrology.
Several experts (like Deepak Chopra) contribute to this site.
If mindfulness and the planet are as important to you as how to lose weight, this blog will get you inspired for making an integrative New Year's Resolution like achieving your best self in 2022.
Group fitness instructor, weight-loss specialist, wife and mom Gina Harney makes embarking on the health journey in 2022 seem as effortless as slipping into a pair of yoga pants.
Her quick recipes are perfect for those who wonder what to eat every morning, noon, and night (and everything in-between), and her workouts will get you feeling healthy no matter what you prefer: treadmill, barre, or total body.
Fitnessista.com is much more than just a weight loss blog for women: Gina shares her intimate pregnancy journey and devotes a special area of the blog to postpartum fitness.
After much hardship, Jamie realized that life is sweeter by design and loves having others come along with her in recapturing the joy in life.
She provides a ton of recipes that range from keto/low-carb to cooking with an air fryer, crockpot, and pressure cooker.
There is also a special section on Weight Watchers, including 50+ recipes.
While a weight loss blog for women, Life is Sweeter by Design is also fun and resourceful for 2022 and beyond. It has a variety of resources on various family matters such as parenting, marriage, and saving money as well as a sizable section on crafts/DIY.
Colorado native Kelly is able to say no to cake thanks to the Jenny Craig program and a strong commitment to transforming her body and life.
She juggles her busy lifestyle and love of traveling while maintaining her 70 pound weight loss, and she shares her ups and downs in this weight loss blog.
No Thanks to Cake is a weight loss blog for women that offers a ton of Jenny Craig and other recipes along with a healthy dose of inspiration on how to lose weight in 2022.
Diabetes Strong was inspired by Christel Oerum, who was frustrated over not finding easily accessible exercise and nutritional information for those living with any type of diabetes.
The site grew so popular that it now has contributors from all over the globe.
If you care about how to lose weight while having diabetes, this weight loss blog for women will be your one-stop-shop in 2022.
The site features meal plans, low-carb food reviews, a cookbook, workout videos, and more.
Find Support in a Community of Weight Loss Blogs
Phew – there you have it!
Our tireless search resulted in these top weight loss blogs for women that are sure to jumpstart your health and wellness journey.
Weight loss for women is messy, bumpy, and uniquely our own. It is also a multi-faceted individual journey that is very much YOUR own.
Whether your New Year's Resolution is diet, faith-inspired weight loss, feasible fitness, or a mix of it all – whether you want effective fast and free insight or support from a fab community of like-minded people – we have got you covered!
To get your healthy dose of tips and support in 2022, be sure to subscribe to FitFoundMe. The Fit Found Me Walking Challenge may be especially helpful.