Proper gear is essential for the best workout, and the best treadmill running shoes for women are no exception. If you have any underlying aches and pains, or want to prevent future pains, having the right running shoe is important. This is true whether you are running outdoors or running indoors on your treadmill.
Of course, it's not the same as pavement but treadmill workouts still puts strain on your joints, your feet, your muscles and even your bones. Women over 40 especially need to ensure joints are supported as much as possible.
In addition to making sure you have the right shoes for running, you also need to be sure that you have the right shoes for your build and body type. For instance, different shoes are offered for men and women, so it is important for you to find the best treadmill running shoes for women whether you need shoes as an overweight beginner or a seasoned exercise buff.
Choosing the right shoes is important for many reasons. First of all, you need to be comfortable. Also, the right shoes can help you to prevent injuries. We will go into more details into these reasons but know that they are very strong reasons for you to recognize the importance of the right shoes for even your HIIT treadmill workout.
Treadmill Running for Women
Did you know that the treadmill has been around for literal centuries? It's true! Who would have known? Treadmills are a great tool for maintaining an exercise routine. Rain, wind, sun or shine, with a treadmill you have no excuse not to work out! Again though, running on treadmills is not like running on the pavement or on the track. The difference is not just the surface that we are running on, but also in the experience itself. These differences also mean that there is a difference in what you need to look for in your shoes.
What are the Benefits of Running for Exercise?
Not everyone loves to run and that's okay. Running is a great form of exercise though, so if you are considering giving running a chance, here are the benefits you can expect to receive from it:
Improved Overall Health
Regular exercise has the ability to improve your overall health in a multitude of ways. A regular running routine can help you to:
Lower your blood pressure
Lower your cholesterol
Reduce your risk of multiple diseases such as stroke, cardiovascular disease, diabetes, osteoporosis and even breast cancer.
Weight Loss Potential
If you are working on weight loss, incorporating a regular workout routine is going to be a big part of reaching that goal. If you stick to a treadmill workout plan, such as one of these 5 treadmill workouts for overweight beginners, you'll lose inches, burn fat, and increase metabolism all contributing to weight loss, especially for women over 40!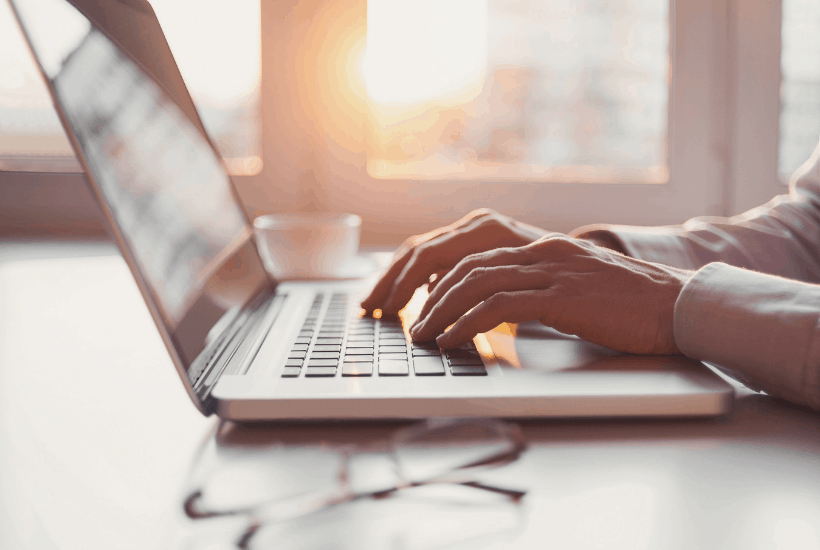 14 Day Bootcamp Challenge to a Healthy Lifestyle
This quickstart challenge is for the women who want to know the right foods to eat, but without a set meal plan to follow. Quickly learn how to put together your own healthy meals and snacks, along with so many other important healthy principles to create a balanced healthy lifestyle. And…all in 14 days!
Through daily emails, I will share some habits and principles you can start tomorrow morning that when used consistently, you WILL lose weight. You'll get assignments along the way to implement immediately along with help from me via email if you have any questions. This is a great way to jump right in to start transforming your life! Read more details below…
Improved Self Esteem
When you exercise regularly you tend to feel better about yourself. It certainly helps with physical changes you see in your body, but don't forget about those mental changes too. Knowing that you can complete a run is a big deal and a big accomplishment! Reaching goals, milestones and accomplishments are a big part of building your self esteem.
Stress Relief and Better Mental Health
When you are struggling with your mental health, it can seem virtually impossible to get up and exercise. After just a few minutes of running though, you will find that your mood will start to improve. Have you ever heard of a runner's high? Yeah, that is our brain secreting hormones that naturally improve our mood. Running is one of the quickest and best ways to improve depression.
Starting a challenge can be a good workout motivator. Give a new challenge a try, something like this 30 day walking challenge that can be done on the treadmill.
You might also find that after your run, you feel more energetic, lighter and overall happier. All of which can help you improve your overall mental health.
The list of health benefits extends far beyond what I have listed here, but I'm sure you can agree that these are some pretty great benefits!
Benefits of Regular Treadmill Use
Treadmill workouts are effective, but if you are trying to figure out if it is the best workout for you, here is a breakdown of some of the great things about this type of fitness.
Treadmills are easy to use, which means you are more likely to stick to an exercise routine.
No matter the weather, you can work out.
No questioning your workout. You can follow custom workouts and programs.
Treadmills are great for burning calories and are helpful in reaching your weight loss goals.
You can stay entertained. If you are the type who gets bored running, you might find it helpful to watch TV or a fitness program while you work out using a tablet, phone or television set up in the space.
Treadmill workouts reduce the impact on your joints.
Exercise benefits mental health. Studies have shown that exercise has significant benefits to mental health.
Heart Health. Regular exercise helps to prevent heart issues and cardiovascular disease.
Treadmills can offer you privacy in that you can work out alone. Many people don't like the idea of a gym because they don't want people to see them.
Helps to increase bone density. Many older adults lose bone density as the years go by, regular low impact exercise, such as working out on a treadmill helps to increase your bone density.
Muscle Building and Toning. Believe it or not, you can actually build and tone muscle while working out on a treadmill.
Sport training. If you have a specific sport or goal that you are working toward, treadmill workouts are a great way to train for them.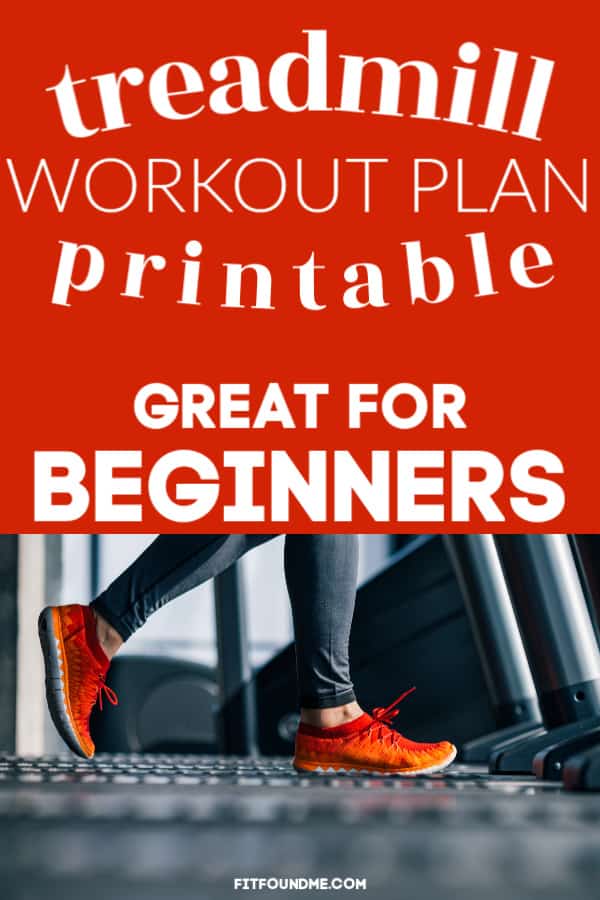 Are There Many Female Runners?
Recent studies have brought out a surprising statistic that many people were surprised by. Over 50% of runners are female! This is the first time in history that women have surprised men in this sport.
With the growth in popularity in running with females, that means we have also seen a growth in clothing, shoes and running gear directed toward women. Where we may have formerly had only a small selection of shoes to choose from, that is no longer the case!
What Type of Shoes Do You Need for the Treadmill?
Some people like to run barefoot (is this you?), so many people wonder if you can run barefoot on the treadmill. Well, yes you can technically run barefoot on a treadmill if you want, but you may find it's better to wear running shoes. This is because you don't have as much space on your treadmill as you would on the open road so you can't be sure to keep the correct form.
Running shoes are going to be the best type of shoes to wear while on a treadmill because of the way that your feet hit as you run. Since a treadmill is a softer surface than pavement, you are able to use lightweight use, even if there is less cushioning. You can use an outdoor running shoe as well though, if that is your preference.
The key here is that you need to wear shoes that are made for running, as long as they are running shoes, you can choose what particular type of running shoe works for you.
What Type of Shoes Should Not Be Worn on a Treadmill?
If you do treadmill running for your choice of exercise, it is best to find the right running shoes for yourself. There are, however, certain types of shoes that you should avoid for your workouts.
Trail Running Shoes
Trail running shoes are designed to run on rugged terrain. These types of shoes should be avoided for your treadmill workout for the following reasons:
A treadmill would not be considered rugged terrain.
Trail running shoes have thicker soles, therefore they are less flexible than needed.
These types of shoes, because of their design, are often heavier than you would need for treadmill running shoes.
Non-Athletic Sneakers
Some sneakers are created for looks and not function. Don't be fooled by an athletic appearance. Make sure that the shoes you choose are an athletic shoe that will provide you the support that you need during your workout. It's also a good idea to avoid shoes that are designed solely as a walking shoe as it won't provide the same amount of support.
Factors to Consider When Looking for the Best Shoes
There are several factors to consider when picking out your new shoes. This includes the following:
Your Individual Feet
We all have different characteristics in our feet. Here are a couple of questions that you should ask yourself before buying shoes:
Do you have wide feet or narrow feet?
Do you have flat feet?
Do you deal with low or high arches?
Do you tend to overpronate or overpronate?
The answers to each of these questions will help you to decide which types of shoes that you should invest in.
If you are unsure of these answers, you can visit a shoe store and get an associate to help evaluate your foot type.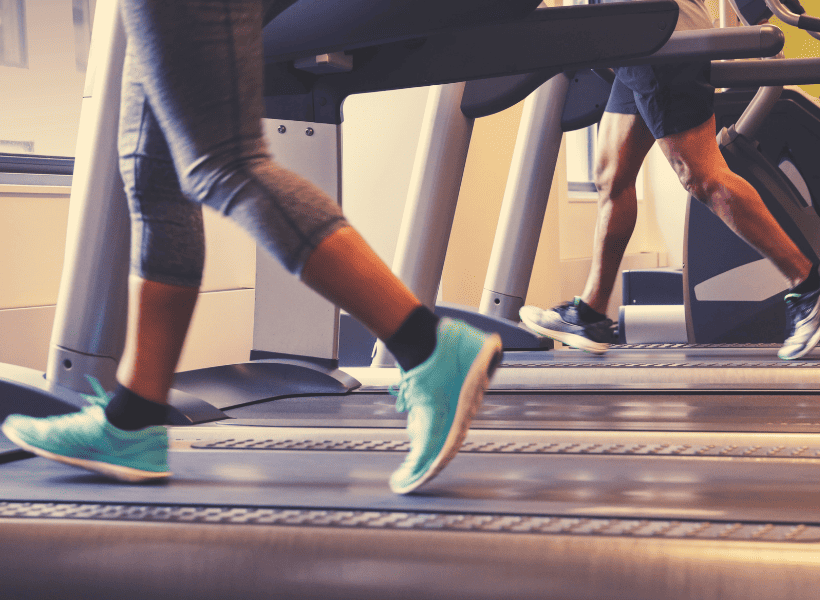 Maximum Comfort
Maybe I should have listed this one first, but comfort is a serious factor to consider when you buy a new pair of shoes for running or walking on the treadmill. Look to make sure that the shoes you choose have a snug fit, but not too tight. Make sure that your feet don't slide in them and that the shoes don't pinch you. Not only can this be uncomfortable, but painful too as these can all cause blisters and pain even when not wearing the shoes.
Good Cushioning and Great Insoles
Running on a treadmill can get pretty tough on the balls of your feet. This means that you need a significant amount of cushioning in the soles of these shoes. The same goes for the insoles themselves. You want comfortable cushioning, but you still want good support.
Shoes that are Lightweight
One important feature of a good pair of running shoes is that they are lightweight. You may think that finding lightweight shoes that are also big on comfort will be difficult (too much cushion gets heavy, after all), but it is doable!
Good Flexibility
Flexibility in shoes is important for many types of exercise, but for running, it is absolutely required. Shin splints can happen easily with running and flexible shoes can help you to prevent that. For running shoes, you want to choose shoes that can easily twist in the right places (look for movement at the ball of your foot as opposed to the arch).
List of the Best Running Shoes for the Treadmill
Now it's time to get down to the nitty gritty and talk about what we came here for. What is that?! That would be the best treadmill running shoes for women, of course! Whether you are looking for shoes that will be ideal for long runs, recovery runs, or maybe you just want to make sure that you have a comfortable run, these shoes will be a good fit for you.
OnRunning Cloudswift "Cloud Shoes"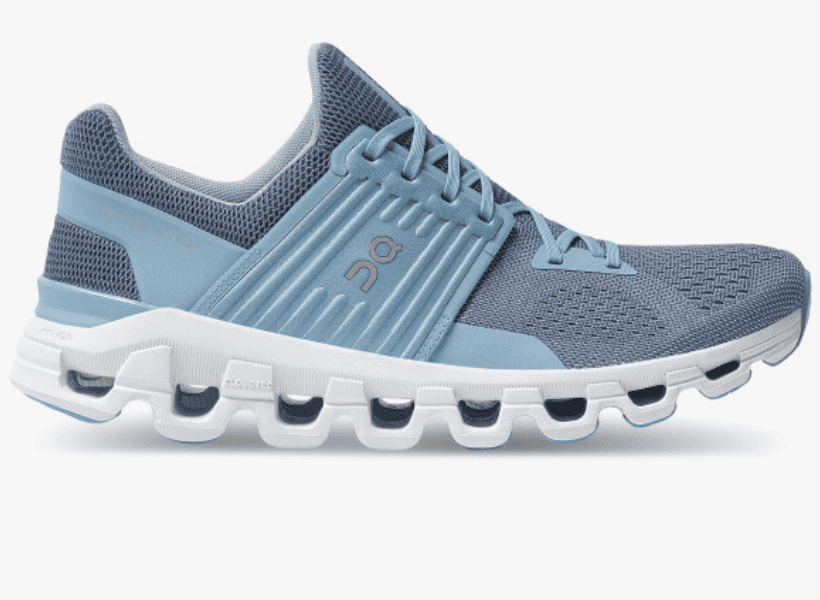 The On Running Cloud shoes are fairly new to the scene but are quickly growing in popularity. This brand and style are the exact shoes that I run in. The cushioned support is perfect for the arthritis and disc issues I have in my back. With no pain in my back, I can run as much as I want with these.
The On Running website has an in depth "", making finding your perfect style easier than ever.
Features of the Cloudswift style:
Light and swift with impact protection
Helion superfoam
Great arch support
Short-medium running distance
Treadmill or outside pavement running
Nike Air Zoom Pegasus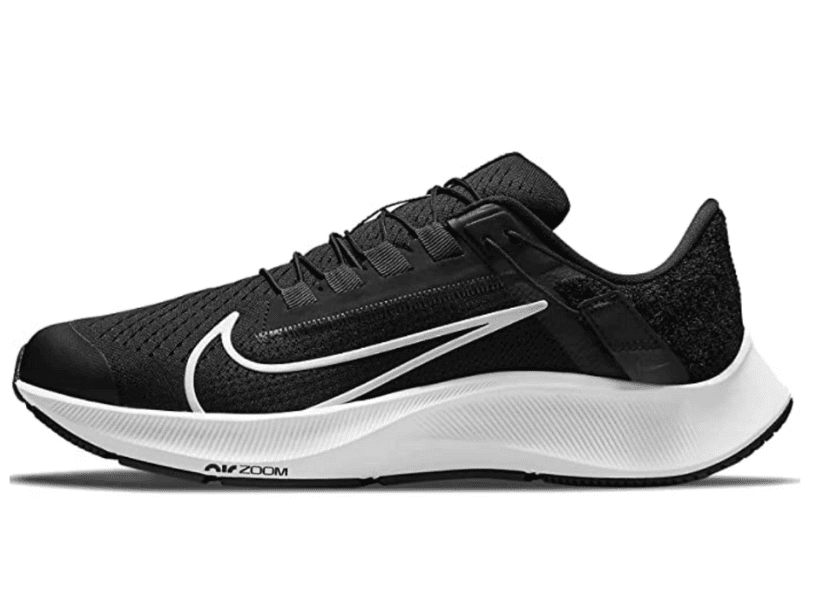 The Nike Air Zoom line of shoes are all pretty great women's runners for the treadmill! Here are some of the features of the Nike Air Zoom that you'll find beneficial for running on a treadmill:
Lightweight
Good cushioning
Flexible
Wide Toe Box
Good Arch Support
Breathable Upper
These are a great shoe for those who prefer a minimalist shoe style, while still getting the support of a stability shoe.
Nike Flex Experience Run 3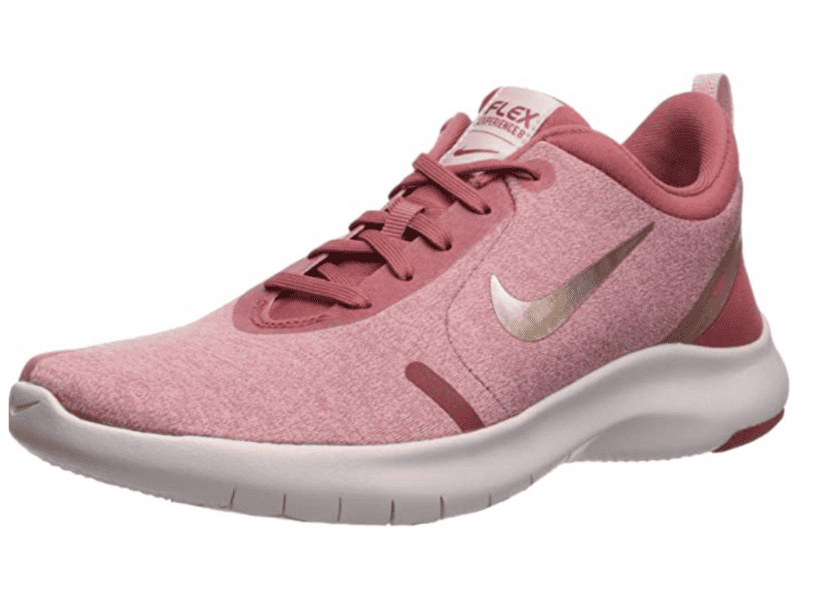 The Nike Flex Experience Run 3 running shoe is a great option for your treadmill workouts because they are very lightweight and flexible. In addition to these benefits, you'll find even more features which make them a good option for your treadmill workouts:
Durable
Flexible Sole
Soft Cushioning
Durable Foam Midsole (great for running)
Molded Sockliner
Supportive Fit
Breathable Fabric Throughout
Asics Gel Nimbus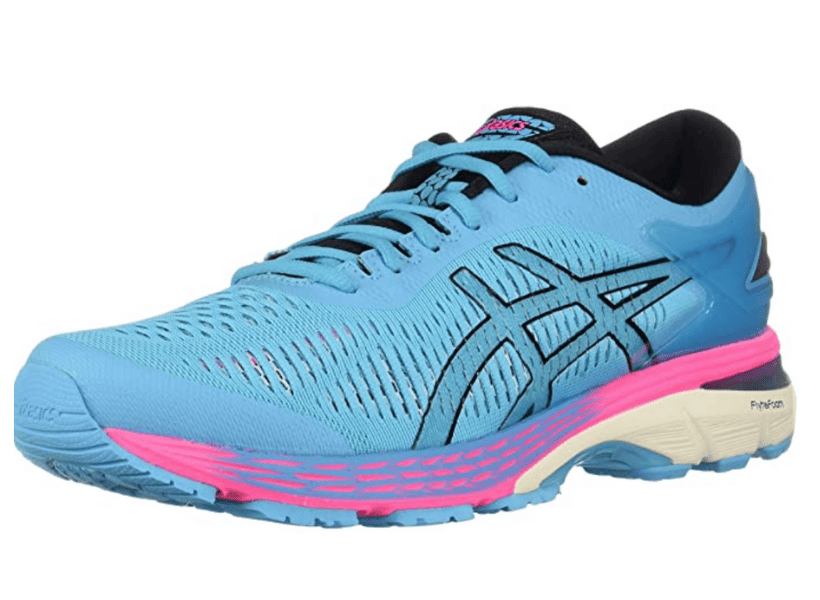 Asics Gel-Nimbus is a great choice for treadmill shoes. This neutral runner shoe will be a secure fit with plenty of other benefits that you'll love in a running shoe:
Extra Cushion
Great for Larger Frame Runners
Lightweight
Strong Stability
If you are looking for a lot of cushioning in your treadmill runners, these are the shoes for you.
Asics Gel Kayano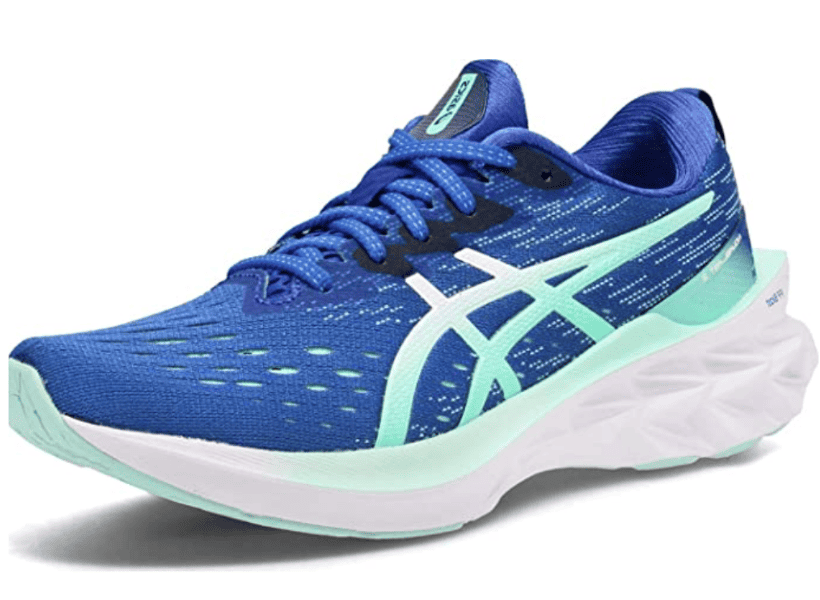 These shoes might be a bit too heavy and bulky for many avid runners, but they do offer some great benefits that others may prefer. Here are some of the strong features of these running shoes:
Strong Stability
Great for Wider Feet
Durable
Flexible
Good Grip
If you want a lightweight shoe, these shoes are not for you, but if you are looking for more support, these are ideal.
Asics NovaBlast 2
The Asics NovaBlast 2 has what many people call a great "energy return." This means that the shoe is manufactured in a way that helps to propel you forward, with a bouncy, springier step. If this sounds like the kind of shoe you would like to try out, check out some of the other benefits:
Heel Stabilizer
Durable Quality
Suitable Cushioning
Flexible Soles
This neutral running shoe is perfect for those quick daily runs as well as long distance runs.
New Balance Women's Fresh Foam 1080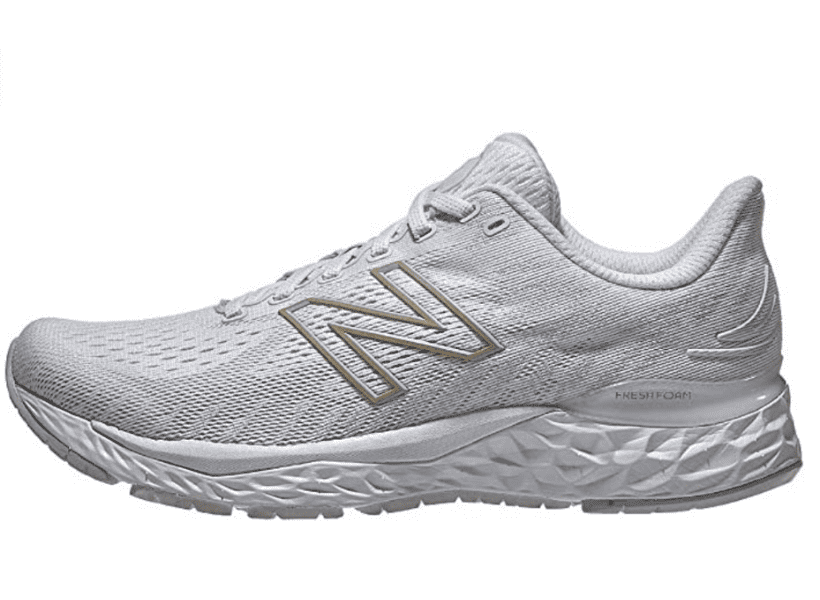 These New Balance Women's Fresh Foam running shoes are great for treadmill workouts. They have great support for tall arches and offer a great amount of cushioning. Here are some of the other features that make this such a great choice for treadmill running shoes:
Good for Wide Feet
Lightweight
Durable
Good Shock Absorption
If you are looking for a neutral shoe with a good amount of cushioning, this shoe may be the one for you.
Brooks Ravenna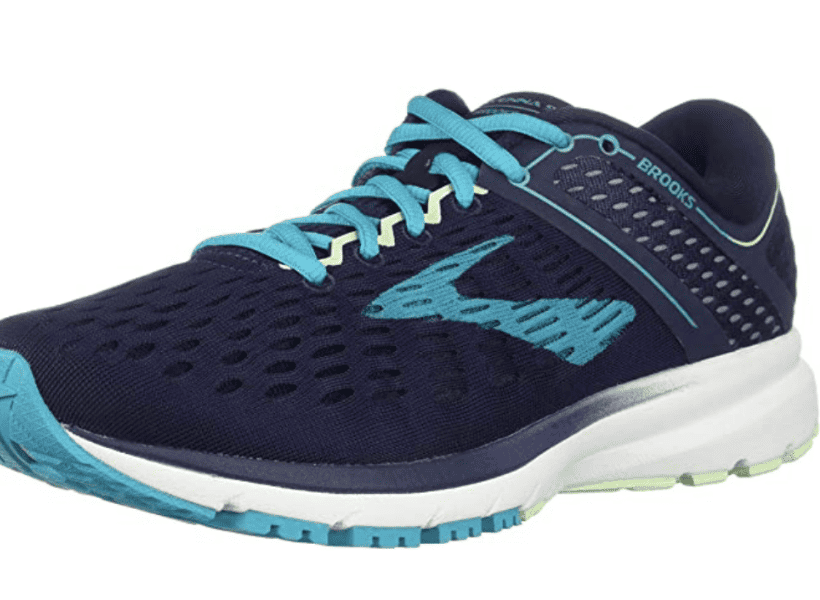 I know several running enthusiasts who are serious about their love of Brooks running shoes. Shoes like the Brooks Ravenna are likely the reason why you find so much brand love. These shoes have great benefits for runners.
Designed for runners with medium arches
Durable
Lightweight
Very cushioned
Responsive
Flexible
Adidas Ultra Boost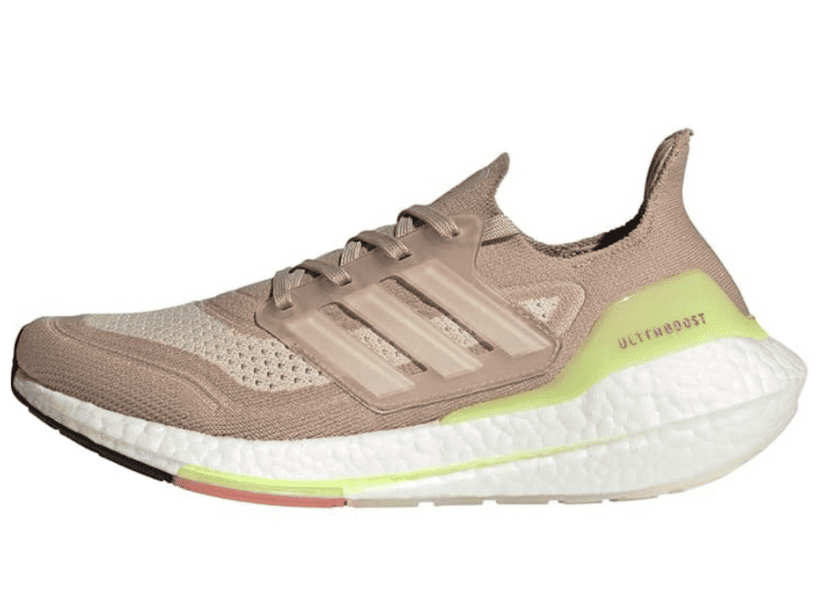 These Adidas Ultra Boost shoes are cute enough to wear casually and durable enough to use for your treadmill running workouts.
Comfortable
Very Cushioned
Good Shock Absorption
Even with the benefits of these shoes, they do tend to run heavy, so if you need a lightweight shoe, they may not be for you. They also tend to be quite pricey, so they are not great for those on a budget.
Adidas Performance Galaxy Elite Running Shoe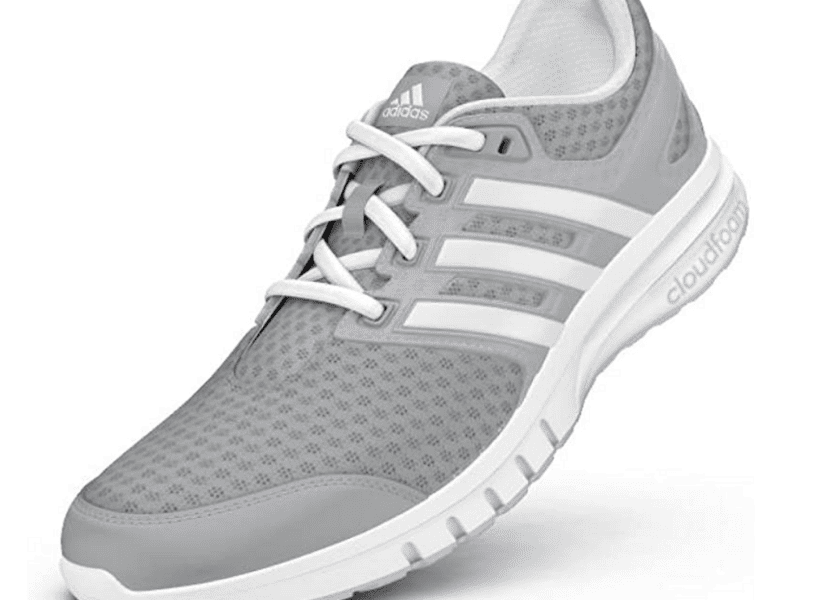 The Adidas Performance Galaxy Elite Running Shoe is a hit among runners for their choice in treadmill running shoes. They have extra cushioning, breathable uppers and a flexible sole. All of these features help to make them cooler and more comfortable. They are exceptionally lightweight as well, which puts them at the top of the running shoes list for many runners.
Here are more of the great features of these shoes:
Designed for speed and comfort
Quick drying fabric making them a good option for outdoor use
Fit foam insole
Supportive overlays in both ends of the shoes (toe and heel)
Durable
It's easy to see why these are among the top reviewed running shoes on the market.
Tips to Consider Before Buying Your Shoes
Before you click buy or go through the check stand with your new shoes, I'd like you to follow these tips to have a more successful buying experience to find your best treadmill running shoes.
Try Them On Before You Buy Them
You should never buy a pair of shoes without trying them on first. The wrong fit can make a treadmill workout miserable. Hurting feet does not equal a good workout. Make sure to try the shoes on and walk throughout the store, or if you order online (some websites offer a try before you buy option), be sure to wear them ONLY IN YOUR HOME for a while. Once you take them outside they are often not returnable.
Try Multiple Pair Of Shoes
In addition to trying the shoes on before you buy them, make sure that you try on multiple different types of shoes. You may think that the first ones you try on are comfortable, but that next pair might feel like you are slipping your feet into the clouds. It's worth seeing the difference between the shoes.
Wear The Same Socks with All Try Ons
If you are trying on multiple pairs of shoes over the course of a day or a couple of days, make sure that you are wearing the same pair of socks with each pair of shoes so that you know exactly how they will fit. Not all socks are made the same, they really do make a difference in the try on.
How Long Will Treadmill Running Shoes Last?
If you like to run long distances, you probably want to know how many of those runs you can put your shoes through. A long lasting, durable pair of shoes is an important part of the value of the shoes.
Running shoes will last roughly the same amount of time as any other pair of good quality running shoes. Your shoes should last roughly 500 miles before you need to replace them.
Take this list of the best treadmill running shoes for women with you to try on. Don't forget to give me your email address above so I can send you a convenient printable.