This is a one pot meal that's so good my family assumes it's not good for them…but guess what, it's completely guilt-free. This homemade stroganoff recipe will knock your socks off!
Personally, we don't like mushrooms, so I make the beef stroganoff without mushrooms, but if you prefer mushrooms, it would be easy to add them. Using the traditional egg noodles, this stroganoff is everything you expect a Fall comfort food (or any time of the year) to be and more.
I chose to create the recipe without sour cream and opted for Greek yogurt to kick up the healthy a notch to add more protein.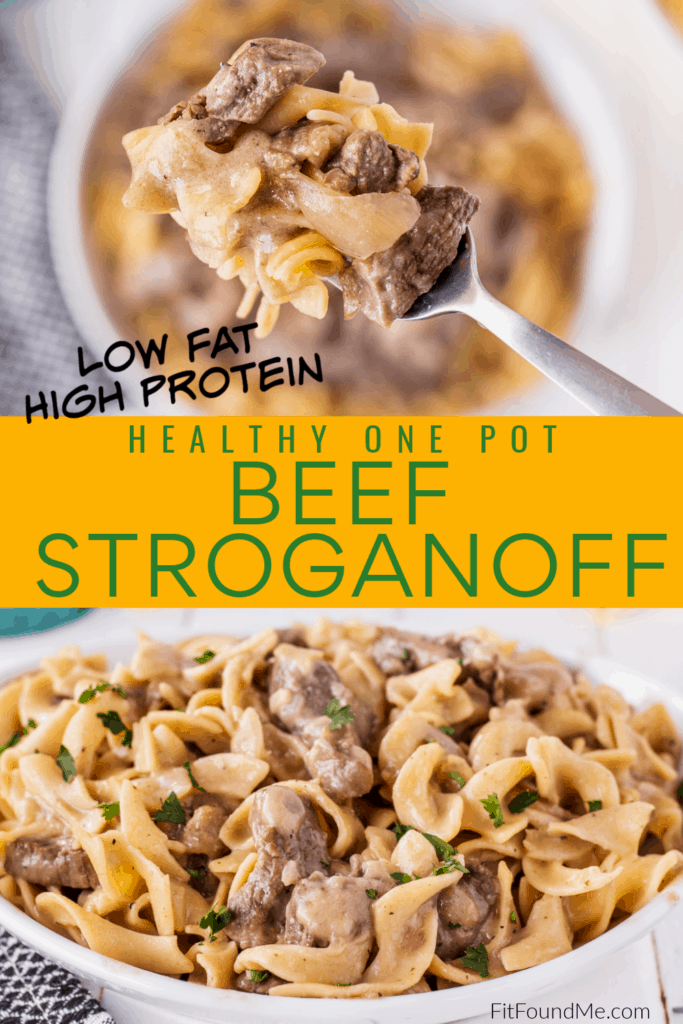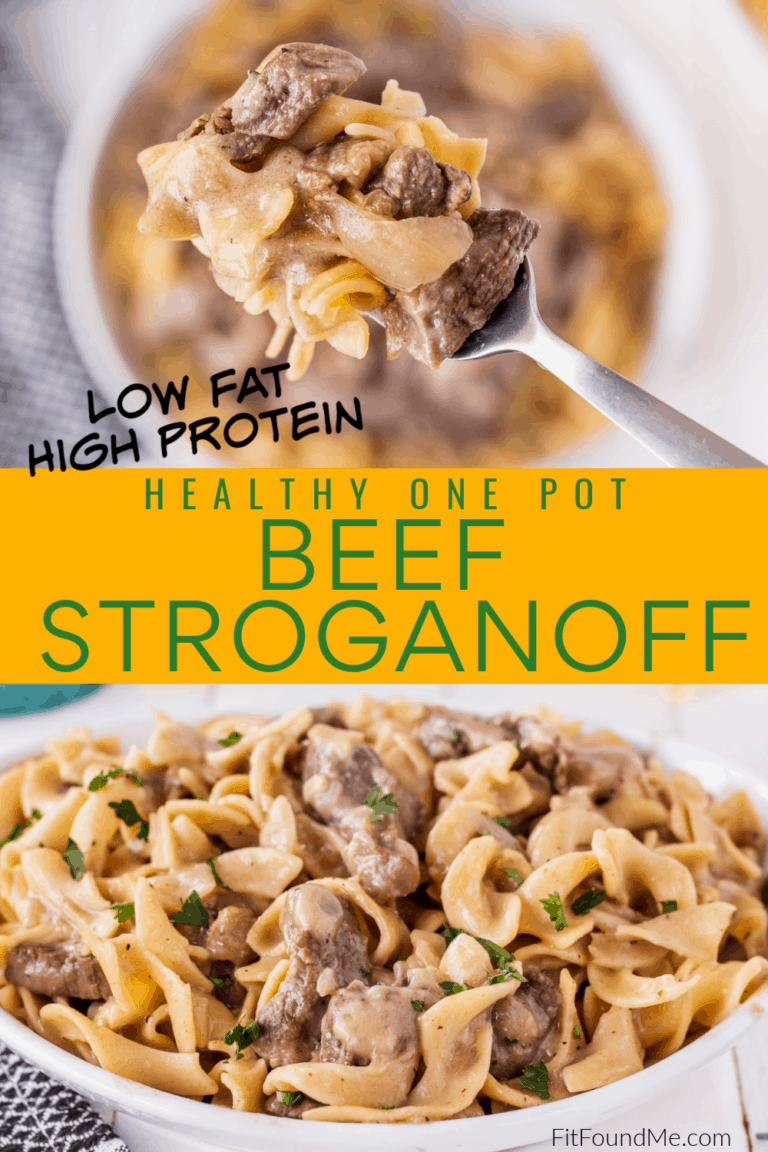 This lightened up version of beef stroganoff uses greek yogurt instead of sour cream to add additional protein and reduces the fat content. I choose to use a good quality lean steak rather than ground beef or ground turkey, although either could be used if you prefer.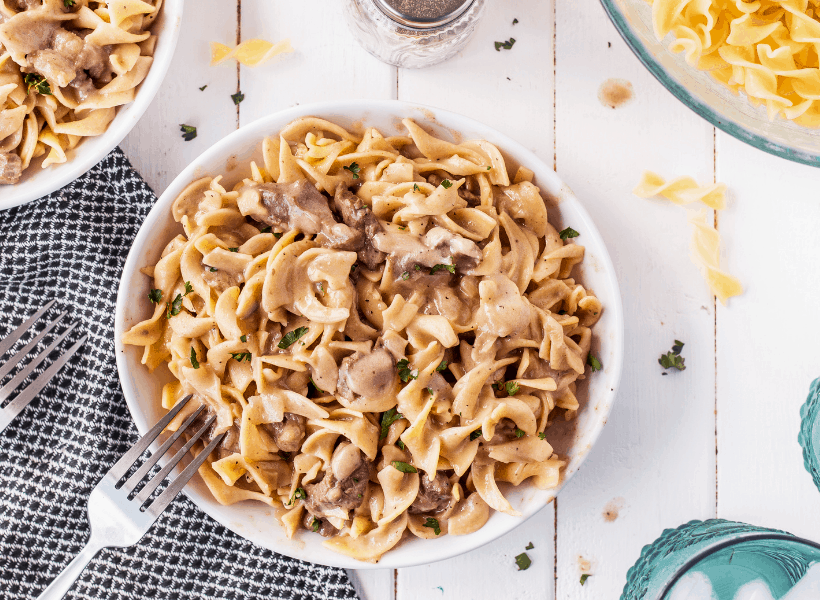 How to Make easy Beef Stroganoff – Gluten-free
Beef stroganoff ingredients are most of what you probably already have on hand in your pantry. My favorite way to make this is to create as steak stroganoff, which for me, makes the best beef stroganoff recipe.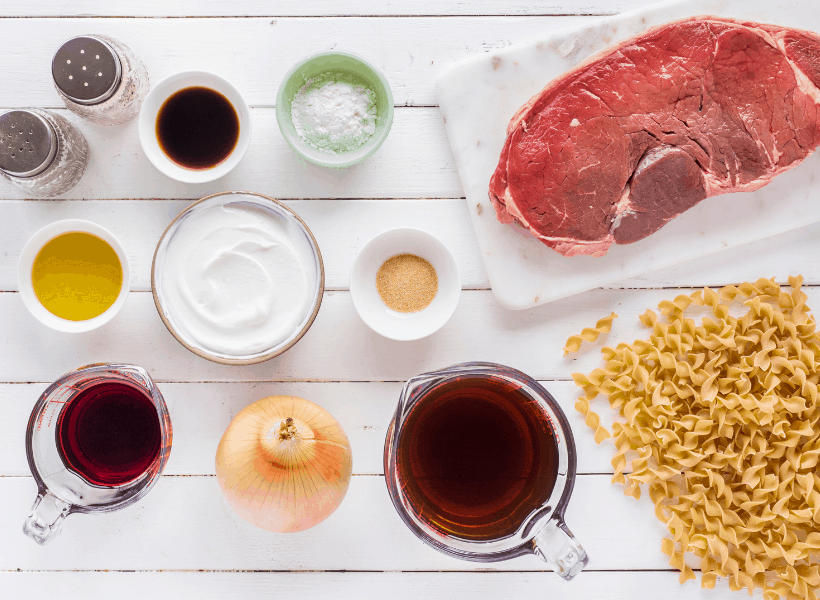 Start by heating the Canola Oil in (Amazon link) a dutch oven. I like using my dutch oven for recipes like this because every step can be done in one pot!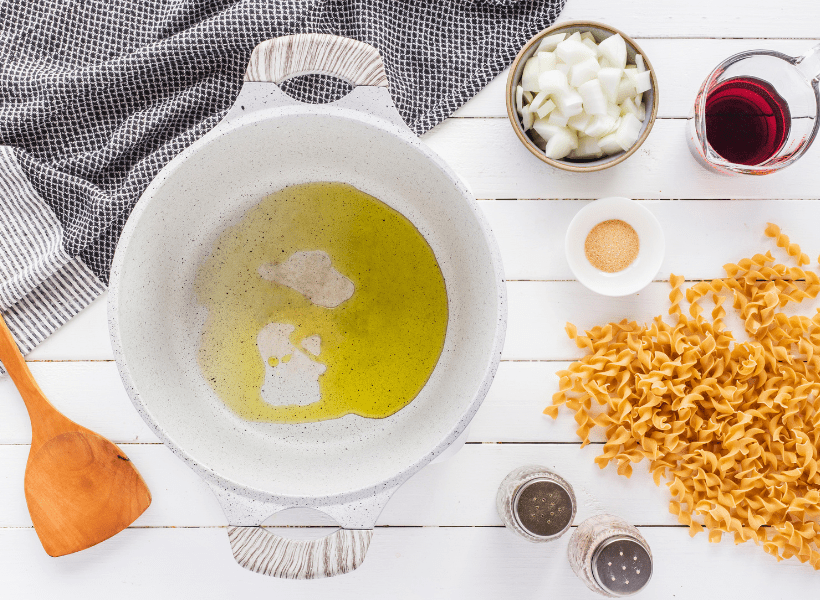 When the oil is at a high heat, add some of the beef to mainly sear it stirring it often until it's browned. Don't overcrowd the pot to allow for all of the beef to have contact with the pot.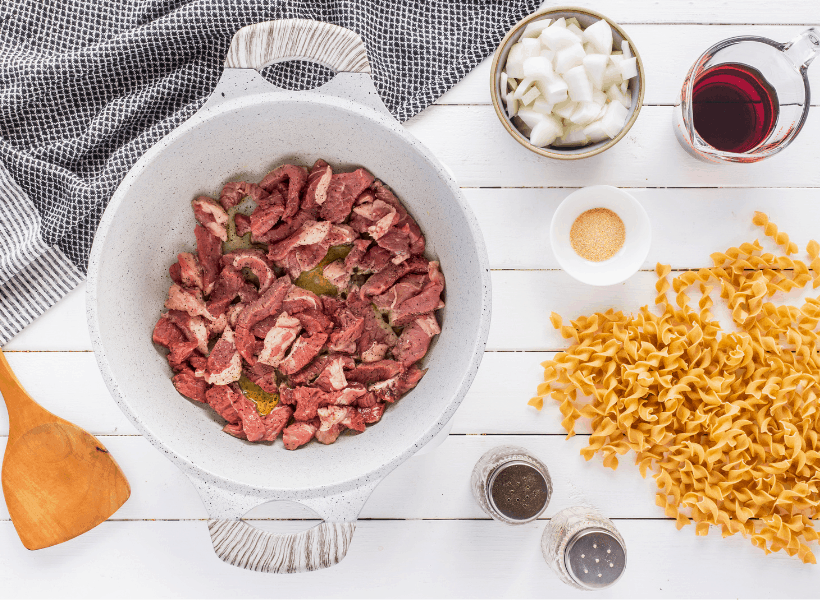 Remove the beef from the pot and add next batches of beef in until it has all been browned.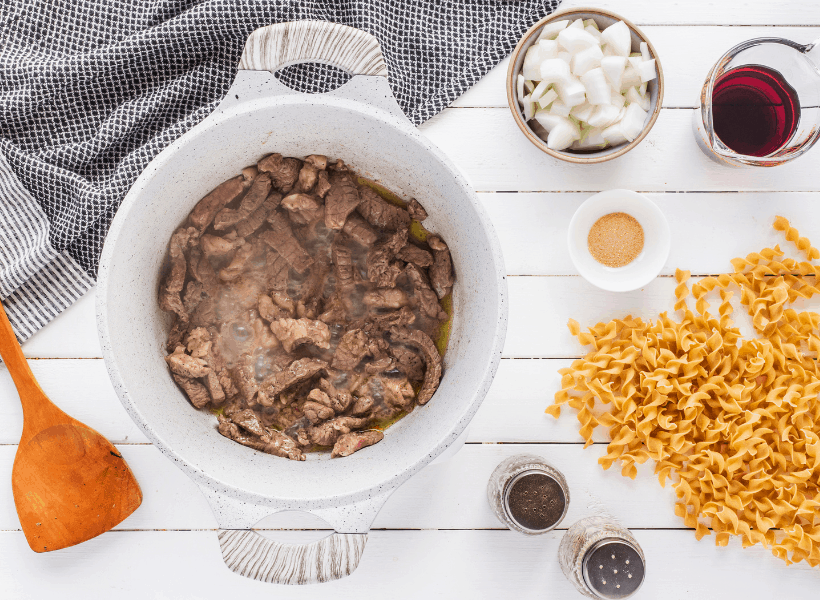 Next, add the onions to the pot maintaining the medium-high heat.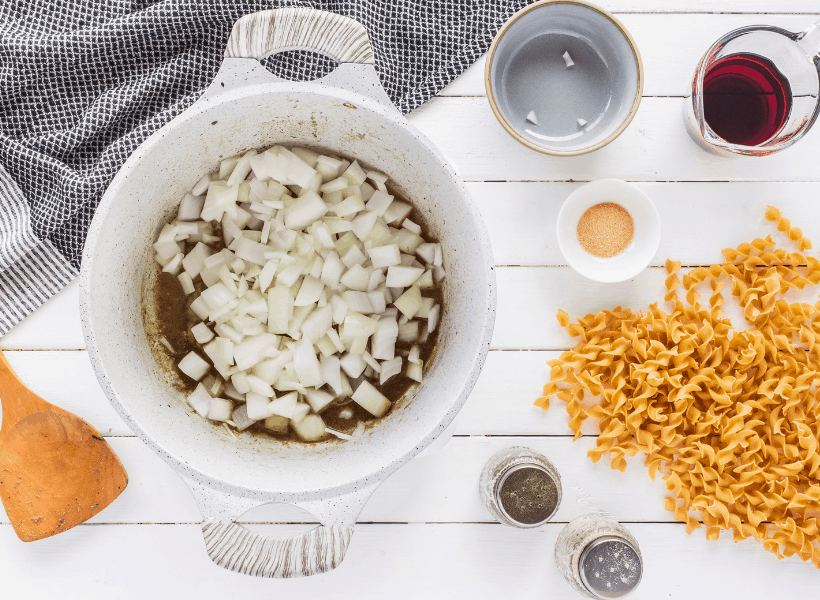 Stir often to allow most of the onions to have contact with the surface of the pot allowing the onions to caramelize.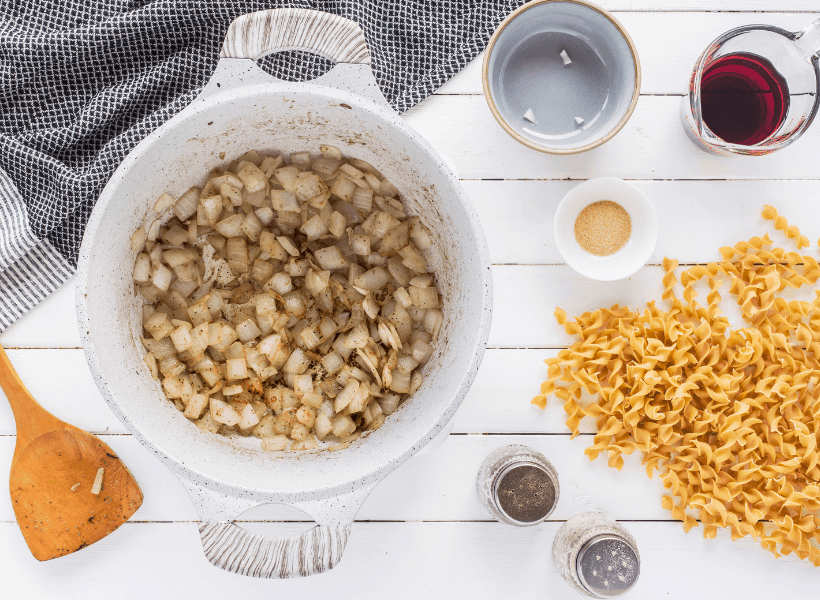 Once the onions have caramelized, deglaze the pot with the red wine.
Add the beef back into the dutch oven. Along with the beef broth, Worcestershire and garlic powder.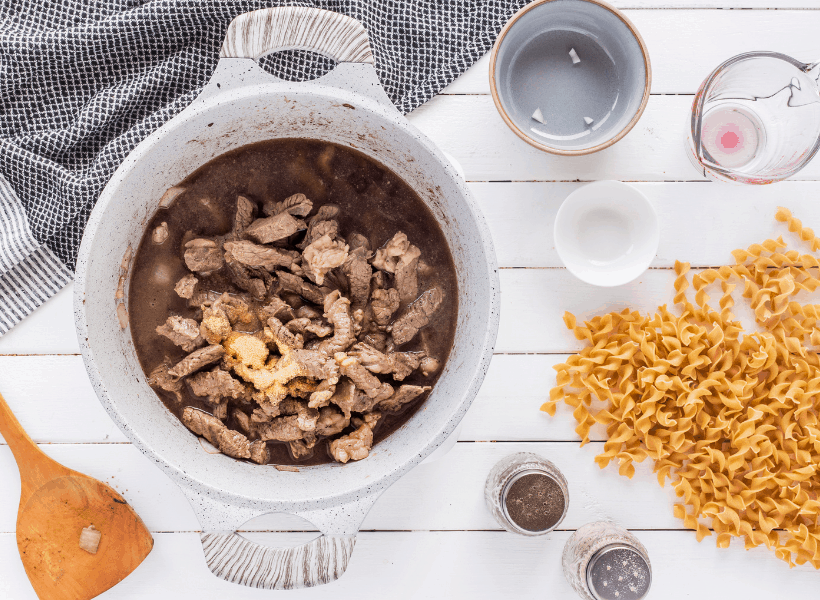 Bring to a simmer and cover for about 25 min.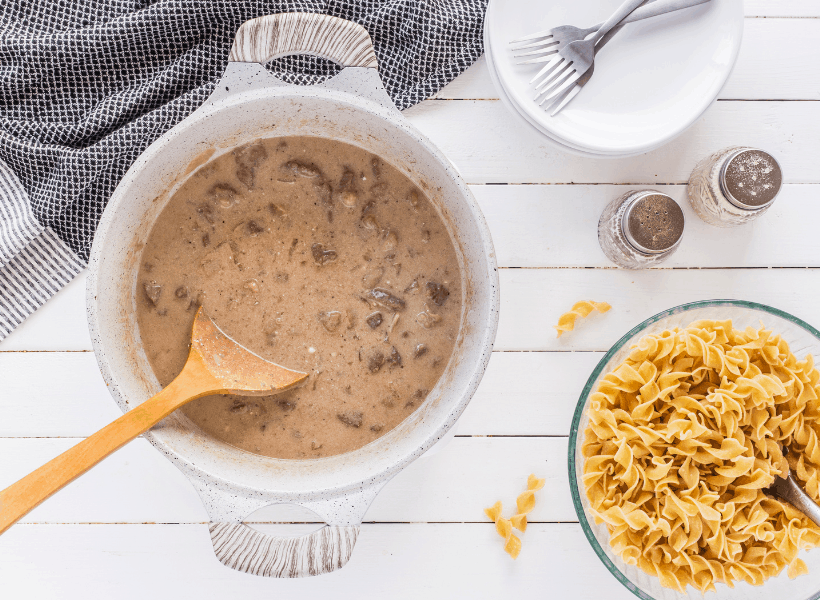 Combine beef broth with cornstarch and add to the simmering pot. Allow the beef stroganoff sauce to simmer for a couple of min.
Adjust with additional broth and cornstarch as needed to thicken the sauce.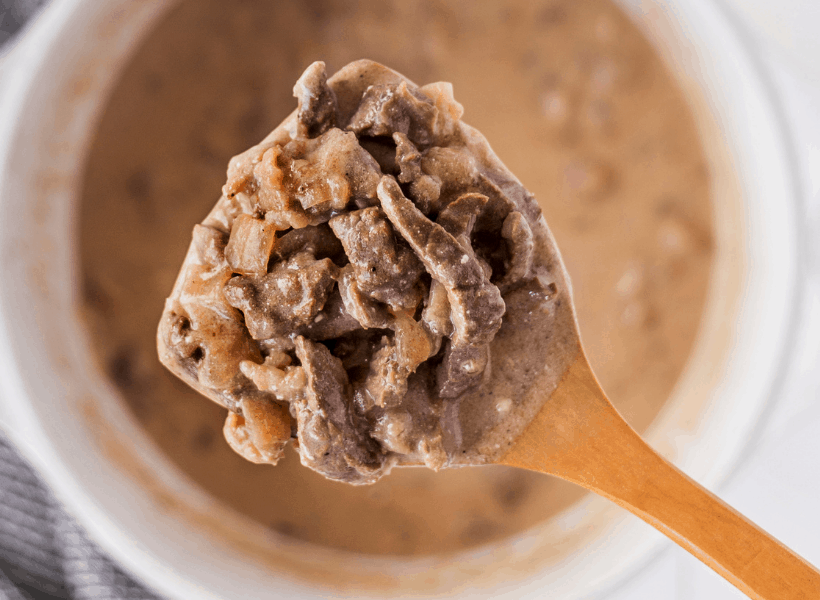 Next, add egg noodles and simmer for 10 min. To clarify, the egg noodles aren't precooked before adding them to the beef stroganoff pot.
Allowing the noodles to cook in the beef broth will give the dish the best beef flavor ever!
Add Greek yogurt and stir until creamy. Enjoy!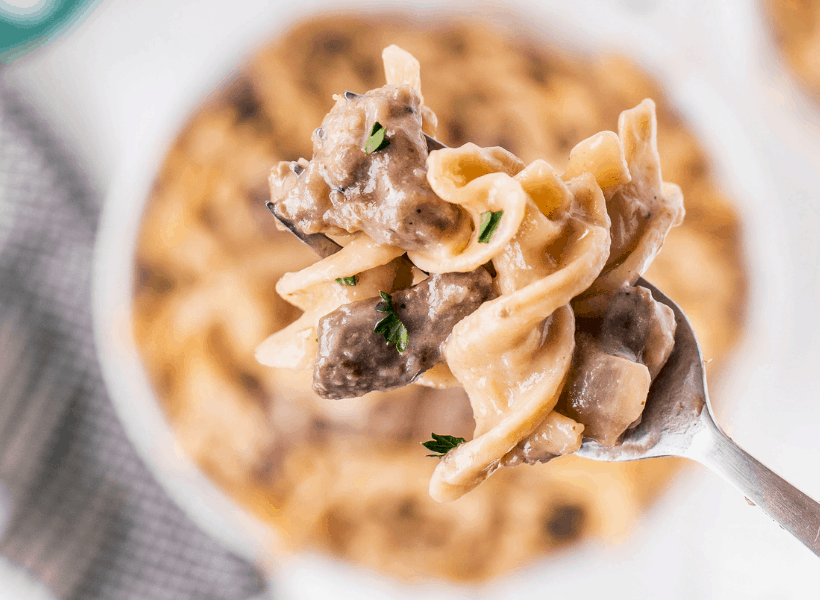 Can I substitute a different meat such as ground beef?
Yes, this recipe will work or any meat you would prefer. Ground beef stroganoff (hamburger stroganoff) can be just as good or even ground turkey would be great as well. I've even seen chicken used and they say it's delicious!
What's the best cut of steak to use?
Well, I always prefer a good marbled steak as opposed to a lean cut. Don't get me wrong, a well grilled filet can pretty much melt in your mouth, but the marbled typically wins my heart.
And, let's face it, you really aren't eating THAT much steak with this dish, so I say go all out for the marbled. When I eat something a little higher in macros like this, I save a little extra in my day for it.
This stroganoff alone isn't too bad at all, but I like having a salad or some type of vegetables with it on the side. Depending on what you serve with the beef stroganoff, it could add a decent amount of macros to this.
Can I freeze beef stroganoff?
Yes, you can! This beef stroganoff freezes well if you actually have any leftover! Seriously though, go ahead and prepare it ahead of time, pop it into a freezer safe container and reheat it for future use.
It would make a great meal prepping dish for lunch in the office or even in your home office.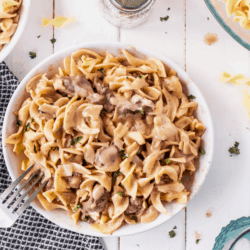 Quick and Easy Beef Stroganoff
This is so yummy your family won't believe it's healthy for them. I love this for the comfort food feel good taste of the warm rich gravy deliciousness.
Ingredients
1

tbsp

Canola Oil

2

lbs

Sirloin steak, sliced thin

½

cup

Red Cooking Wine

1

tsp

Garlic powder

1

Onion, chopped

1

tbsp

Worcestershire sauce

3

cups

beef broth, divided

3

tbsp

Cornstarch

12

oz

Egg noodles

¾

cup

2% Greek yogurt
Instructions
Heat canola oil in a dutch oven or equivalent sized pot to high heat.

Season beef with salt and pepper to taste. Making sure the dutch oven or pot is piping hot, brown beef in olive oil in small batches. The idea is to sear it, so give it a few tosses or stirs and pull it out just as it gets that dark brown look. It will not be fully cooked, but will finish cooking during the simmer process later.

Add onions to dutch oven (add a little more olive oil if needed) until slightly browned.

Deglaze dutch oven with red wine.

Add the rest of the browned beef, garlic powder, Worcestershire, 1 ½ cups broth to dutch oven.

Bring to a boil, reduce and cover.

Allow to simmer for about 25 min.

Combine ½ cup broth with cornstarch. Stir into beef mixture.

Add in egg noodles.

Cover and simmer an additional 10 min.

Stir in Greek yogurt until creamy. Serve.
Nutrition
Serving:
2
cups
Calories:
487
kcal
Carbohydrates:
48
g
Protein:
46
g
Fat:
11
g
Saturated Fat:
3
g
Cholesterol:
138
mg
Sodium:
584
mg
Potassium:
798
mg
Fiber:
2
g
Sugar:
3
g
Vitamin A:
52
IU
Vitamin C:
2
mg
Calcium:
101
mg
Iron:
4
mg
Tried this recipe?
Tag me on Facebook @fitfoundme with a pic and let me know what you thought of this recipe in the comments below!