Wondering what to serve with beef stroganoff? You've come to the right place! From starchy carbohydrates to simple vegetables and salads, here are some of the very best recipes that work well to compliment the rich flavors of this family favorite main dish.
What is Beef Stroganoff?
Before we get to the most amazing side dishes that go with Beef Stroganoff, let's talk about what Beef Stroganoff is and the variations you commonly see.
Classic Beef Stroganoff is a popular Russian dish that dates back to the 19th century. The recipe starts by sautéing tender strips of beef with flavorful mushrooms and onions.
Add them to a rich cream sauce you make with beef broth, Worcestershire sauce, garlic powder and sour cream or other types of cream.
Variations of Beef Stroganoff
Though this is a dish of Russian origin, people all over have been making their own versions of this creamy dish.
Even in the US, there are different versions based on family recipes passed down through generations. The two main components of beef stroganoff that vary the most are the type of beef and what type of cream sauce is used.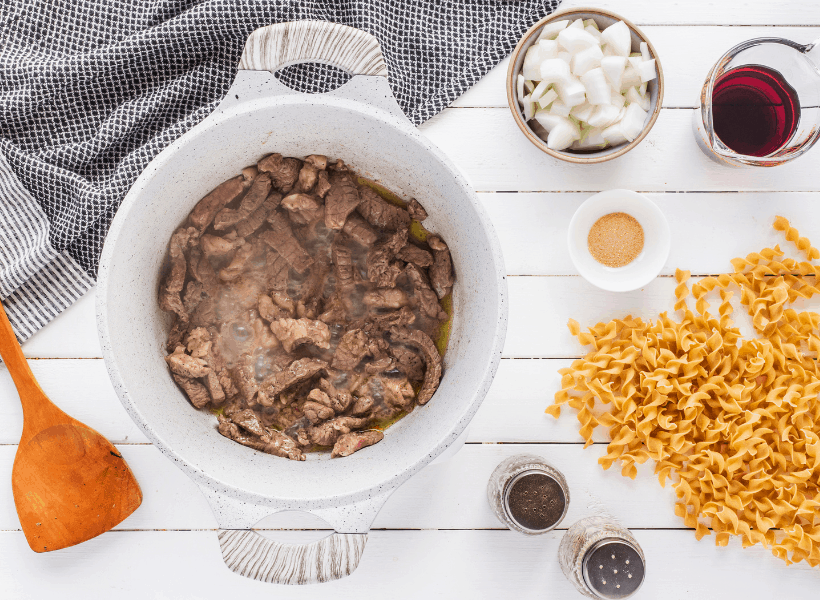 Different Types of Beef
You can use just about any cut of beef you prefer in beef stroganoff. The key to tender beef is to remember that if you're using a tougher cut like round steak or skirt, you'll want to use really thin slices.
The more tender cuts, like tenderloin and ribeye can be cut into larger chunks.
Boneless sirloin/steak tips: Sirloin steak tips or cubed stew meat is often used in beef stroganoff. Most of the time you find it already cut up in the meat department which is a time saving convenience. But if not, just cut the sirloin into thin slices or small cubes.
Ribeye: A ribeye is one of my favorite cuts of beef. The marbling in the steak has such incredible flavor and you are certain to have tender and juicy meat. To use ribeye in stroganoff, trim away any large chunks of fat that's around the edges. Then cut it against the grain into thin to medium size slices.
Chuck roast: Using chuck roast is such a great option when you are wanting tender chunks of beef.
Flank steak: Believe it or not, flank steak works really well with beef stroganoff. Here is a pro tip for using flank steak in stroganoff. Lay the steak out flat and freeze it for about an hour. While still frozen, slice the steak into really thin slices against the grain. The slices must be thin so keep that in mind while cooking them. They will cook up quickly so keep an eye on them.
Filet mignon: Beef tenderloin or filet mignon is in the most authentic Russian versions, and it's used in a lot of your finer restaurants. Tenderloin is typically one of the most expensive cuts of meat but it's known for being incredibly tender.
Ground beef stroganoff: If you are looking for less expensive, quick and easy meal, you can use ground beef in stroganoff. Just brown the beef, drain off the fat and continue making the recipe accordingly.
Creamy Sauce
One of the things I love most about Beef Stroganoff is the rich and decadent cream sauce. There are several ways to make it, and all depend on personal preference. Here are some of the most popular variations:
Sour cream: A rich sour cream sauce is the most iconic sauce served with Beef Stroganoff. It is seasoned from adding white wine, some sort of marinade like Worcester sauce and garlic powder. Some even add extra sour cream on top of the dish.
Greek Yogurt: Using Greek Yogurt is a healthy way to make Beef Stroganoff. It slashes a lot of calories but still creates a really rich and creamy sauce. This recipe for Beef Stroganoff with Greek Yogurt is a super easy recipe and is sure to be a huge hit.
Crème fraîche: A thick cultured cream, you'll see Crème fraîche used in French recipes in the place of sour cream. It's creamier and has a milder flavor than sour cream, but it can be used interchangeably in most recipes.
Cream of Mushroom Soup: Though far from an authentic version, those looking for short cuts for a busy weeknight meal can make an easy beef stroganoff recipe using a combination of cream of mushroom soup with a dollop of sour cream.
Now that we have covered some of the most popular variations, let's talk about the best side dishes to serve with Beef Stroganoff.
Because this is such a rich and decadent dish, you'll want a side that uses simple ingredients that won't compete with the stroganoff.
What Starchy Sides Dishes are Best with Beef Stroganoff?
Though higher in carbohydrates, you will find that most versions of traditional Beef Stroganoff are served with some sort of starchy side dish because they are more neutral in flavor and won't compete with the flavors of the main dish.
1. Egg Noodles
Egg noodles are one of the most classic side dishes you can serve with Beef Stroganoff. They are always a great choice and are super easy to prepare. Just put the serving size you need into some salted boiling water and cook until tender.
Once they are done, drain off the water, add a couple pats of butter and give them a good toss. Serve the stroganoff right over the top! You can use regular pasta, but I recommend egg noodles because they are wide and flat and hold up well with the beef slices and sauce.
2. Potatoes
Another classic side dish to serve with beef stroganoff is potatoes. Is there anything more comforting than mashed potatoes made with cream and butter?
You can also serve this dish with a side of roasted potatoes you drizzled with a little olive oil and baked until tender.
You can also serve sweet potatoes with stroganoff. This Sweet Potato Brussel Sprout Hash has amazing flavor. It's the perfect recipe to pair with Beef Stroganoff.
3. Rice
Another hugely popular way to serve beef stroganoff is over a bed of simple white rice. Rice has such a mild and neutral flavor; it pairs really nice with the richness in beef stroganoff.
4. French Fries
Yes, I said French fries! Take delicious golden French fries, pile them up on a plate and spoon a piping hot serving of beef stroganoff right over the top.
You could serve large steak fries or fried shoe-string potatoes. Although this is the type of side dish kids dream about, I have to admit I think it sounds amazing too!

5. Garlic Bread
What better way to sop up all that yummy cream sauce than with a thick slice of garlic bread? You can buy it already prepared in the frozen food section of the grocery store but making it yourself with a loaf of crusty French bread is hard to beat.
Just take several softened tablespoons of butter and mix it with a little garlic powder. Smear it over the sliced bread and bake it on 400F for about 10-12 minutes or until golden brown and toasty.
Which Vegetables go Best with Beef Stroganoff?
If you're wanting to lighten things up, vegetables are the way to go. Here are some of the most popular ones that compliments the flavors in Beef Stroganoff:
6. Green Salad
A crisp green salad is the perfect healthy side dish with the rich beef stroganoff sauce.
Keep the salad simple.
Just cut up some romaine lettuce, add some juicy red tomatoes, sliced white button mushrooms, a little red onion and a sprinkling of parmesan cheese.
Instead of a creamy dressing like Ranch, you may want to opt for a simple drizzle of light olive oil and fresh lemon juice as a dressing.
7. Cabbage
Cabbage is a versatile and very easy side dish. Steam or boil cabbage for a great side dish or for a more colorful spin, red cabbage can be braised with sugar, vinegar, and apples. It's truly a wonderful side to lighten up the meal.
8. Green Beans
Steamed or sautéed, green beans are always a great way to brighten up a heavier dish like Beef Stroganoff. A simple but great recipe for green beans is to make them almondine style.
Just add fresh green beans to a large skillet with sautéed shallots, garlic, freshly grated lemon zest, and a squeeze of fresh lemon juice. Cook until the green beans are blister and are tender.
9. Asparagus
Simple pan roasted asparagus topped with a little lemon zest and parmesan cheese is a simple yet delicious side dish idea.
10. Vegetable Medley
If you have the extra time, these easy to make Grilled Vegetable Kabobs are always great with any main course.
Other Easy Low Carb Side Dishes to Serve with Beef Stroganoff
Here are some other great simple low carb options that will pair well with Beef Stroganoff.

11. Roasted Kale Chips
For a little bit of crunch, these Kale Chips are a low carb option to serve as a side with a heavier meal. They are great when you're wanting to skip the crispy bread but still want a little bit of crunch.
12. Cauliflower
Cauliflower is the ultimate low carb side dish. If you want the same meat and potatoes feel but without all the carbs, mashed cauliflower with a bit of butter, cheese and sour cream is the way to go.
Really wanting rice but want to keep things low carb? Cauliflower rice, when seasoned well, is the perfect substitute for white rice.
13. Brussels Sprouts
If you want the perfect side dish for dinner tonight, you just have to try these Roasted Brussels Sprouts with Balsamic Glaze.
Not only are they wonderful with Beef Stroganoff, but they are also great with just about any main course you serve.
14. Roasted Broccoli
Roasting vegetables bring out the natural sugar in them. The texture of roasted broccoli is such a nice contrast to the creaminess in Beef Stroganoff.
Just spread broccoli florets in a single layer of a baking sheet with a Silpat baking mat. Then bake on 400F until they are crispy on the ends and caramelized at the center.