Are you ready to embark on an 8-week weight loss transformation and feel better than you have in years? I invite you to join me in the 1st Phorm My Transphormation Challenge!
What are macros? Why is protein important? How do I lose weight after 40? What's the best way to workout? How much cardio do I need to lose weight? What should I be eating? I'm dieting, why is the scale not moving?
All of these questions and more will be answered for you when you sign up for the My Transphormation Challenge with me.
Limited spots available! Join my team for a FREE 14 day Meal Plan!
I discovered the 1st Phorm app several years ago and after trying it out myself, I realized this would be a great resource for my readers as well. I love helping women just like you succeed through this app.
About 8 years ago, I was exactly where you might be now. I had never really worked out a day in my life. My weight loss results had never stuck…I would starve myself to lose weight and within months be right back where I started, or worst, weigh more.
It took me a while to finally figure out what I needed to do to lose weight and keep it off…and it was well worth it.
I am feeling stronger, fitter, and more confident than I have ever felt in my life. My life is full of activities that before could only enjoyed as a bystander.
If you want to succeed in losing weight and getting healthier, the only thing you need to do right now is sign up for this challenge!
When is the Next 1st Phorm Challenge?
1st Phorm holds their own Transphormation Challenges several times a year with big money prizes! But you don't have to join the official challenge – you can start your 8 week transformation right now with me as your advisor!
Simply click this link to download the app. Once downloaded, you will be prompted to complete your profile. Make sure that your advisor is me, Stephanie Miller. To check, go to Menu > My Advisor.
If I'm not your advisor, and you'd like me to be, simply drop the current advisor and search for my name to add me. Let me know if you have any questions or issues with it asap.
It's crucial to spend the $5.99 monthly (or less if you pay for 3 mos at a time) to get the FULL benefits of the app. Read below for details on the premium benefits.
Once your profile is complete, you'll want to take your Day 1 photos. Everyone hates this part, but you will be glad you did it when results start happening and you can compare pictures.
You'll take the photos right in the app. No one has access outside of me and 1st Phorm – and they won't be used for any other purpose. When your photos have been submitted, you are registered for the challenge!
Send me a message within the app and we will get started.
You can find out all of the details about why I love 1st Phorm in my 1st Phorm Review.
What's in the 1st Phorm App?
The premium version of the app is by far the best choice. You'll get:
5 different workout options – gym or home – beginner, intermediate, advanced
Food tracking – save recipes, meals and easily scan foods to enter
Meal plans
Customized macros for your goals
Video library and daily how-to videos from Registered Dietitians and Ph.D Exercise Physiologists – ability to chat with them during live videos to ask questions and get detailed answers
A real advisor (ME!) to teach you how to lose weight and keep it off
Mini-challenges to win prizes
And so much more!
Download the app and get started today!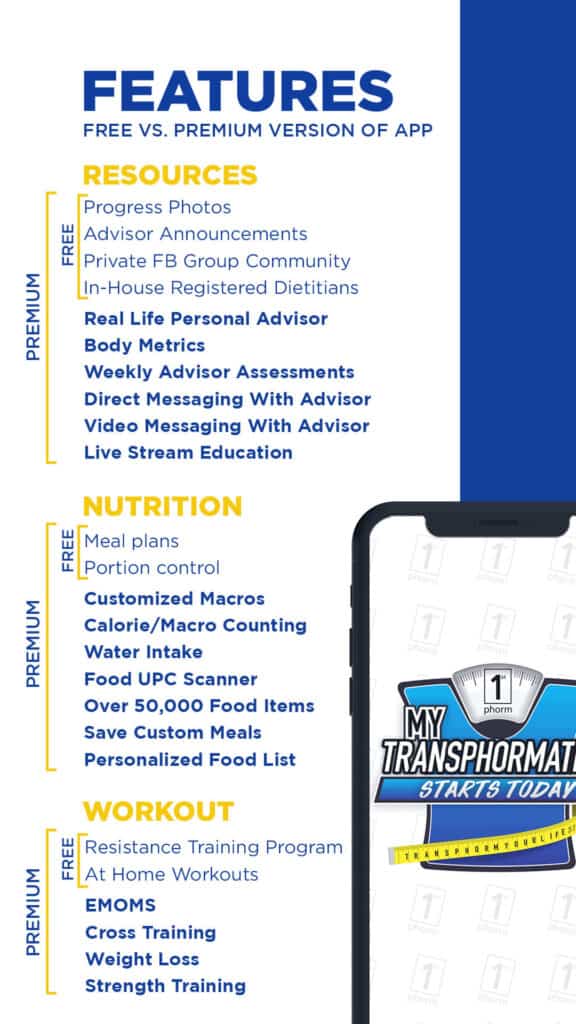 When you download the app, send me a message at [email protected] or message me within the app (premium app) and I can start working with you to help you reach your weight loss goals.
Don't put off your goals another day. Don't tell yourself you'll start on Monday, next month, or even tomorrow. Jump in right now, I'll be there with you every step of the way!
Who is this Challenge For?
This challenge is for:
Beginners
Women over 40 (or any age!)
Intermediate
Advanced
Those who want to lose weight
Those who want to maintain
Those who want to tone up
Those who want to feel healthier
Yes, this challenge is perfect for all of the above.
What results can you expect?
Most of my challengers lose 8 – 10 lbs during the 8 week My Transphormation Challenge. Results of course will vary, but there is so much more to measure than the scale.
This 1st Phorm weight loss challenge focuses on losing FAT, not just weight. With other programs, there may be more "weight" lost, but at the sacrifice of losing muscle. Muscles are what gives our body the desired shape we want. We look younger, firmer, and thinner when we transform our body the right way with this program.
Here's what Cindy Anderson says about working with me:
In February 2019, I started a weight loss journey with Stephanie Miller. It was not the first journey as my trip with weight began even when I was 10 years old. At a young age, I started learning about balancing calories and exercise. Trails took me down roads of success and also down to the bottom of failure. Climbing up was always the hardest part, but the thrill of loosing 10 – 15 lbs didn't last long.

The most devastating weight was 220 lbs and then I climbed down to 175 lbs which was a plateau for many years. My husband and I were blessed with two children from 2013 to 2016. I stayed balanced during those times as I tried not to gain too much baby weight and my focus became very strong. Then trying to get to a point of keeping up with two little toddlers in my 40's brought me to a stand still.

I started to climb…. It was with the incredible encouragement with Stephanie that allowed me to begin taking one step at a time. She helped me understand that there were very doable changes I could implement that would dramatically increase my energy and help lose the weight.

In taking one step at a time, Stephanie's focus on the WHY?, watching macros and also changing your view of food to a healthier focus, I lost my first 40 lbs in 5 months. Since then I have kept 35 lbs off. Yes, there are days that come and go; I may slip once in a while, though with the encouragement of Stephanie's program and personal involvement, she is one that can take your grip and help pull you out. If you are desiring to take the leap, I encourage you to sign up for the next challenge!!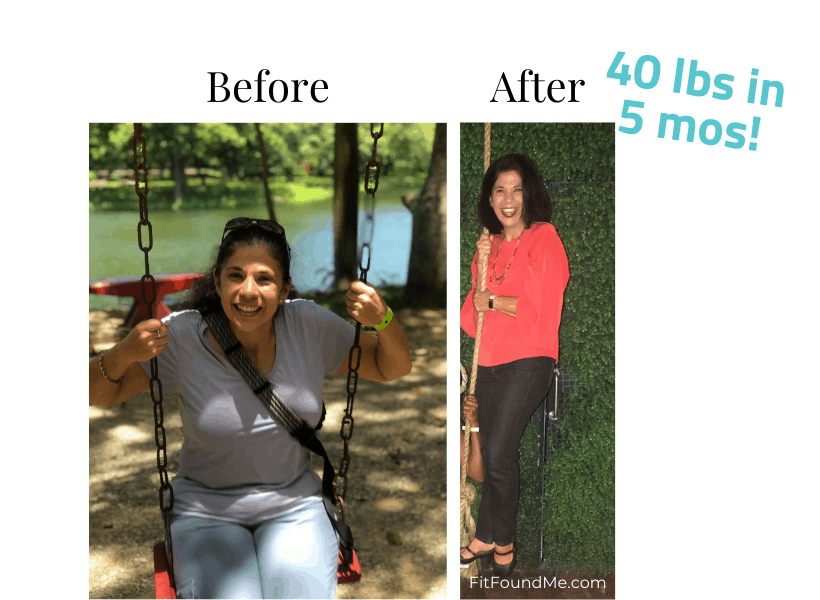 How Do You Enter The First Phorm Challenge?
Once you have downloaded the app, follow the prompts to sign up. You are registered for the challenge when you take your first "Progress Pictures".
I know, NO ONE loves to take these, including me. But it's the best way to measure your progress.
You've seen me say it before, the scale doesn't tell the entire picture. Measurements don't tell the entire picture. Your pictures will be the best way to measure your success.
Who Will See Your Pictures?
You and I will. 1st Phorm can access them to determine their end of the year challenge, but no one else can see your photos unless you decide to share. Your pictures are safe in the app.
Here are some tips for taking your photos:
Wearing something like workout clothes – leggings, workout bra, swimsuit, etc, would be best to be able to really compare later.
If you absolutely don't want to wear any of those, consider wearing tight fitting clothing to best see your before and after results.
Use the camera within the app – there is a timer – so prop your camera and snap the shots! (Front, side and back)
Make sure the lighting is good.
Try to get your entire body in the picture.
It's that simple. Download the app now! I look forward to connecting with you and guiding you through your Transphormation.
Where will you be in your weight loss journey 8 weeks from now?