A healthy, hearty, comforting soup simple enough to make any day of the week. The combination of sausage and peppers will send you back for seconds and leftovers tomorrow…if there is any left. Keto recipes like this Sausage soup will be just as filling and comforting as this Keto Pot Roast or one of my favorites Keto pasta dish, Palmini Lasagna.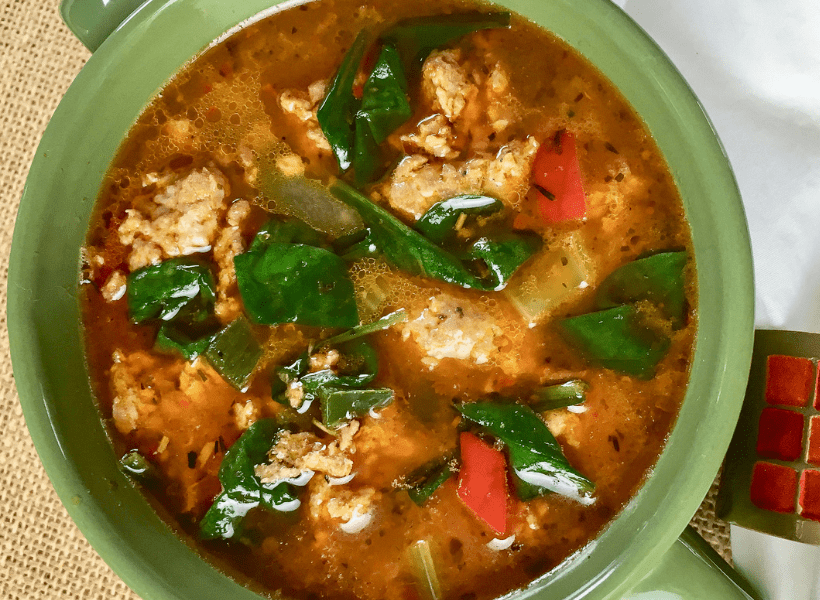 This delicious sausage soup does not have to wait hours for it to acquire wonderful taste. Spicy Poblano pepper, pork sausage, traditional herbs, and a mix of spices, provides plenty of great taste for an easy dinner in less than half an hour.
The flavors of this soup are so delicious that you'll want to eat it as a main dish or as a light supper with a green salad. It tastes even better the next day, so make extra for lunch the following day!
Is Sausage Soup with Peppers and Spinach Healthy?
Yes! This soup is made with whole foods and that's a great start to healthy recipes. The sausage with vegetables provides protein, healthy fats and complex carbs all containing nutrients for a healthy body. It's also gluten-free, fiber-rich and low calorie.
Is This a Keto Soup Recipe?
This sausage soup is keto friendly, as it contains very little carbs. This soup has 3.9 grams of carbs and 1.3 grams of fiber. That gives this sausage soup a total of 2.6 net grams of carbs per serving, making this a perfect soup for a keto diet.
Can I substitute pork sausage for another kind meat?
Yes, you can substitute for a mild Italian sausage, hot Italian sausage, sweet Italian sausage, turkey sausage links, chicken sausage, all ground or sliced.
Can I Add Extra Vegetables to this Soup
Yes, other vegetables could be added. Make sure to recalculate the nutrients, especially if trying to stay low carb. Some ideas could include:
Carrots
Onions
Kale
Cannellini beans
Creamy white beans
Small red potatoes
Great northern beans
Bell peppers
White kidney beans
Diced tomatoes
Can I Use Frozen Spinach
Frozen spinach is not recommended because it tends to be too soggy. Fresh spinach is very simple to use without adding any addition time to the recipe.
Can I make this ahead of time?
You can make this soup up to 3 days in advance. Like most soups, this recipe will taste even better the next day. Sometimes I make the soup for dinner that night and then enjoy it the next day for lunch, or even for a few days for meal prep.
Can I Double This Recipe
Using a large stock pot, it would be easy to double this recipe and makes for a delicious freezer meal. The recipe box below will allow changes to the number of servings and alter the specific ingredient amounts as needed.
Can I Use Different Cheese
Making this soup, I typically top it with cheddar cheese at the end. I like the way the cheddar works with the other flavors in this soup. However, you can use whatever type of cheese you have on hand or that you enjoy. Other options for cheese that you can use with this soup are:
Mozzarella
Italian cheese mix (which is a combination of Mozzarella, Parmesan and Romano)
Colby jack cheese
Monterey jack cheese
Parmesan cheese
How to Serve this Soup
This is a hearty soup that can be served as a great starter to your dinner! You can make this soup as an appetizer or serve it as the main course. If you are serving this soup as an appetizer, you can serve it with just about any recipe.
If you are serving this as the main course, it's hearty enough to be both filling and satisfying. Serving it with a side salad, bread (unless keto) or even a baked potato could be a nice compliment if desired.
How Do I Store Leftover Sausage Soup with Peppers and Spinach
Store your leftovers in an airtight container and store in the refrigerator. It will last for about five days before starting to spoil. This is a great recipe that works well as leftovers!
How to Freeze Sausage Soup
I like freezing this soup in freezer bags. Sometimes I freeze the batch all together in one batch but more often than not, I like to freeze it in smaller portions. This way I can easily take out one serving at a time.
You will want to make sure that the soup is completely cooled before you freeze it. Then move it to the freezer bags. You can also use airtight storage containers, although this takes up more room in your freezer.
How to Make the Soup Creamy
This soup isn't made as a creamy soup but if you want to have a creamy sausage soup, you can do this a few ways. You can add a bit of half and half or heavy cream to the soup at the end. This will give the soup a bit of creaminess (much like this chicken noodle soup).
You can also add some cream cheese to the broth at the end. I like to cut the cream cheese into small pieces so that it can melt easier. The cream cheese will make the soup creamy and add more flavor to the the broth.
Tips and Tricks for Making the Perfect Sausage, Pepper and Spinach Soup
You can make this recipe as mild or spicy as you would like, depending on the type of sausage that you use.
If you want a smooth soup with no chunks of anything in it at all, puree some of the veggies before adding them in. This will make your soup super smooth and give it a more creamy texture.
You can add whatever spices you like to this soup, this is just the way that I've made it! If you want a spicy pasta sauce recipe , feel free to add some red pepper flakes or hot sauce to your bowl of soup.
The cheese that you use will have a big impact on the overall flavor of your soup. I typically just use cheddar, but feel free to experiment with different types of cheese!
This recipe is great for kids and adults alike. The flavors are classic so anyone should be able to enjoy this dish.
When making this soup it's important not to skip any of the steps! The cheese at the end will also help thicken up your soup so don't forget about it!
This recipe can be made vegetarian by swapping out the sausage for mushrooms or tofu. You would also change the chicken broth to vegetable broth.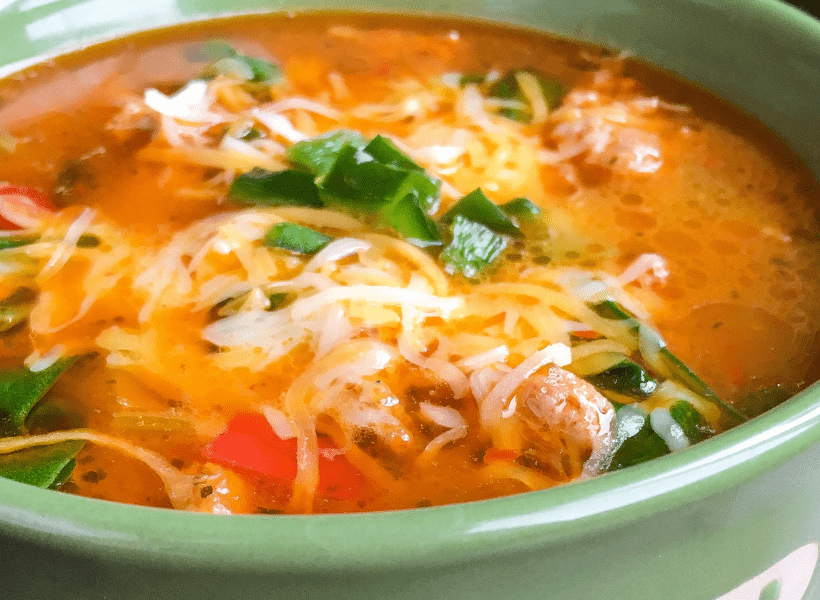 Ingredients
2 T. extra virgin olive oil
1 lb. pork sausage
1 medium red pepper, diced
½ medium Poblano pepper, diced
3 celery stalks, diced
1 t. dried basil
1 t. dried oregano
1 t. dried rosemary
1½ t. chili powder
1 t. ground cumin
½ t. ground cinnamon
Sea salt and black pepper, to taste
6 c. organic sugar-free chicken stock
2 c. baby spinach
1 c. Cheddar Jack cheese, shredded
How to Make
Add the oil to the stock pot and brown the sausage.
Add the peppers, celery, and seasoning to the pot. Cook until the veggies are soft.
Add the chicken stock and cook for about 20 minutes. Add the spinach and cook until the spinach wilts.
Remove from the heat and top with cheese when serving.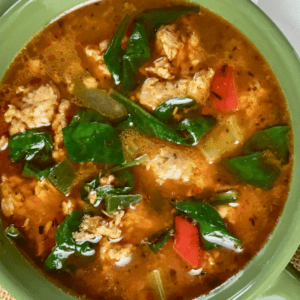 Sausage Soup with Spinach and Peppers
This is a recipe for Sausage Soup with Spinach and Peppers. This soup is full of flavor, healthy, hearty, and delicious!
Ingredients
2

Tablespoon

extra virgin olive oil

1

pound

pork sausage

1

medium

red pepper

diced

½

medium

Poblano pepper

diced

3

celery stalks

diced

1

teaspoon

dried basil

1

teaspoon

dried oregano

1

teaspoon

dried rosemary

1½

teaspoon

chili powder

1

teaspoon

ground cumin

½

teaspoon

ground cinnamon

Sea salt and black pepper

to taste

6

cup

organic sugar-free chicken stock

2

cup

baby spinach

1

cup

Cheddar Jack cheese

shredded
Instructions
Heat olive oil in a large soup pot or Dutch oven over medium-high heat. Add sausage and cook, stirring occasionally, until the sausage is no longer pink inside, approximately 5 minutes. As the sausage cooks, break it into small pieces with a wooden spoon.

Add the red and Poblano pepper, celery, basil, oregano, rosemary, chili powder, cumin, and cinnamon to the pot. Generously season with salt and black pepper, to taste, and stir to combine. Cook, stirring occasionally, until the veggies have softened, around 5-6 minutes.

Add the chicken stock and simmer for 20 minutes, stirring occasionally. Add the spinach and cook for another 4-5 minutes, or just until the spinach wilts.

Remove from heat and serve immediately, topped with shredded Cheddar Jack cheese and some additional diced Poblano pepper, if desired. Enjoy!
Nutrition
Calories:
459
kcal
Carbohydrates:
12
g
Protein:
23
g
Fat:
35
g
Saturated Fat:
13
g
Polyunsaturated Fat:
4
g
Monounsaturated Fat:
16
g
Trans Fat:
1
g
Cholesterol:
83
mg
Sodium:
977
mg
Potassium:
613
mg
Fiber:
1
g
Sugar:
5
g
Vitamin A:
2047
IU
Vitamin C:
37
mg
Calcium:
194
mg
Iron:
3
mg
Tried this recipe?
Tag me on Facebook @fitfoundme with a pic and let me know what you thought of this recipe in the comments below!