This Keto Chocolate Mug Cake incredibly easy and fast with a few simple ingredients and made in the microwave in seconds. Chocolate cake with ice cream (like this Keto Vanilla Ice Cream) is always a favorite, so be sure to keep this single serving coffee mug recipe on hand for those late night cravings.
With this easy chocolate mug cake recipe is low carb so rest assured, you can eat the whole thing guilt free while staying in ketosis and satisfying that sweet spot. Mug cakes are the perfect size to help with portion control while being able to enjoy a big treat that doesn't negate health benefits.
The chocolate flavor in this microwave chocolate mug cake will be a winner for your sweet tooth every time you make it. If you love chocolate keto dessert recipes, add this Chocolate Chip recipe to your recipe box.
Keto Chocolate Microwave Mug Cake
You'll love how moist and fluffy this mug cake turns out every time, making this your new favorite chocolate cake recipe. Plus, there's no need to worry about making a mess or dirtying up pans because everything goes into a microwave-safe mug that can go straight from the microwave to the table. Your kids will love helping you make this too!
What Is a Keto Mug Cake?
Using a few ingredients you probably already have on hand, using a small bowl to mix ingredients in and transferring to a mug or similar sized bowl, this recipe makes a small batch dessert that is basically a microwave cake for a single serving.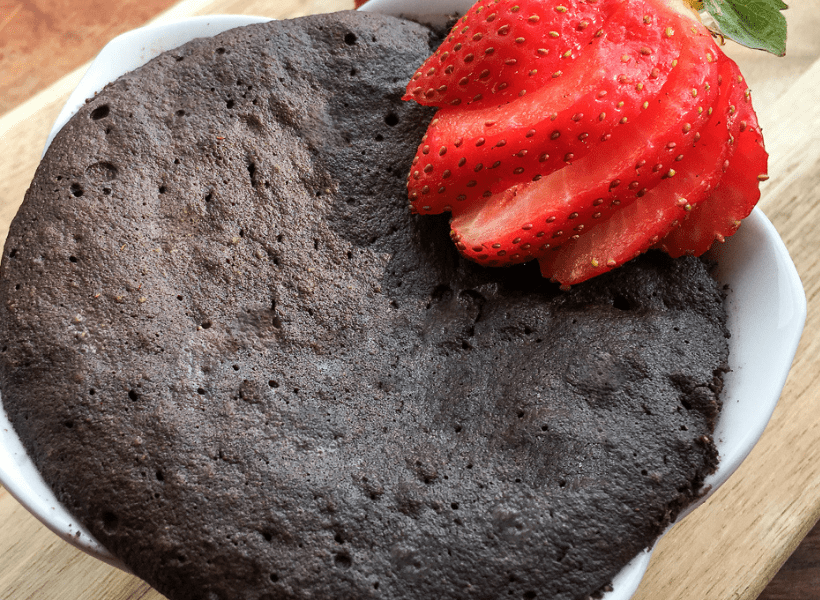 This low carb mug cake is a simple, single-serving keto dessert that's perfect when you want something sweet and chocolatey. Microwave mug cakes are super easy to make and take just minutes from start to finish.
How Many Carbs In A Mug Cake?
Keto mug cake is a low-carb version of regular chocolate cake, similar to this version of low-carb keto chocolate chip cookies that's perfect for a low carb diet. This chocolate cake recipe is made with coconut flour and cocoa powder, so it has no sugar or gluten. This single serve cake comes in at 17 grams of carbs and 7 grams of fiber. That gives this mug cake a 10 net carbs total.
What Is Coconut Flour?
Coconut flour is a low-carb alternative to traditional wheat flour which makes it great for the keto diet. It contains medium-chain triglycerides (MCTs) which have been linked to weight loss. MCTs are quickly metabolized and turned into energy rather than being stored as fat. Coconut flour also doesn't contain gluten or sugar.
What Kind of Toppings Can I Put on a Mug Cake?
Maple Syrup
Peanut Butter
Scoop of Vanilla Ice Cream (Keto Vanilla Ice Cream Recipe)
Fresh Berries
Dark Chocolate (sugar-free)
Whipped Cream (made with Heavy Cream)
Walnuts
Peanuts
Pecans
Almonds
Powdered Sugar (Keto-friendly such as Swerve)
How to Store Leftovers
While this is considered to be a single serving, sometimes, this cake might be more than you want to eat at one time or you simply get full. If you find that you have leftovers of the cake, you can wrap the mug tightly. You can leave the cake sitting at room temperature for a day or two or even store it in the refrigerator.
Reheating Leftovers
This cake will always taste best when it is made fresh. If you find that you have leftovers, you might want to reheat it give that fresh from the oven taste. You can reheat it in the microwave. Start at 30 seconds and if you want it warmer, you can always heat if or longer. Overheating can result in dryness.
If you are reheating the microwave mug cake and it does dry out, adding whipped cream or keto ice cream can help.
Variations to This Easy Chocolate Dessert
You can add a few other things to this cake for a variety. You can add different extracts to give it a different flavor. Almond extract is always a favorite. You can also add a few chocolate chips or sugar free caramel chips to the inside of the cake.
You can also add pieces of other sugar free candies to the inside to give it a different flavor.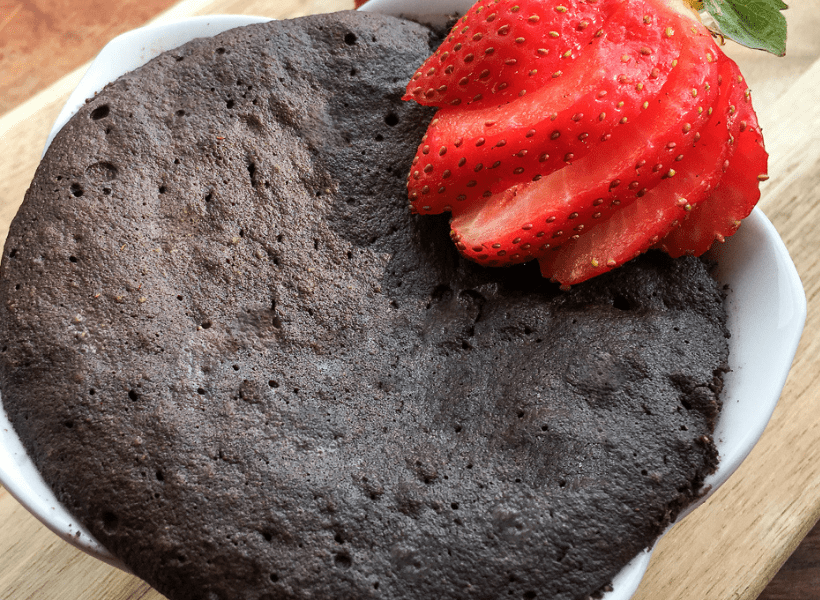 Ingredients
1½ T. coconut flour
½ t. baking powder
1¾ T. unsweetened cocoa powder
2 T. unsalted butter
1½ T. low carb sweetener of choice*
1 egg
2 T. heavy cream
¼ t. pure vanilla extract
¼ t. salt
Fresh sliced strawberries, to serve

Keto Mug Cake Recipe Directions
Stir the first 3 ingredients into a mixing bowl.
Melt the butter and then dissolve the sugar substitute in it.
Add the heavy cream, egg, vanilla and salt to the butter mixture and combine well.
Add the wet ingredients to the dry ones and stir it well.
Put it in a microwavable container and cook on high for 1 minute.
Remove from the microwave and serve.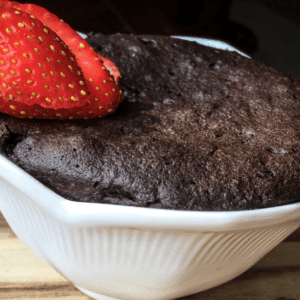 Keto Chocolate Mug Cake
This quick and easy Keto Chocolate Mug Cake Recipe is the perfect low carb dessert to satisfy your sweet tooth without all of the guilt and keeps you in ketosis. It's as moist and chocolatey as an entire chocolate cake. This single serve microwave mug cake recipe only requires a few ingredients.
Ingredients
1½

Tablespoons

coconut flour

½

teaspoons

baking powder

1¾

Tablespoons

unsweetened cocoa powder

2

Tablespoons

unsalted butter

1½

Tablespoons

low carb sweetener of choice*

1

egg

2

Tablespoons

heavy cream

¼

teaspoons

pure vanilla extract

¼

teaspoons

salt

Optional:

Fresh sliced strawberries

to serve
Instructions
Add the first three ingredients to a small mixing bowl and stir to combine.

Melt butter in a small bowl in a microwave for several seconds. Add low carb sweetener and stir until completely dissolved. Add egg, heavy cream, vanilla extract, and salt to the butter mixture and whisk to combine.

Add wet ingredients to the dry ingredients and stir until thoroughly blended. Pour blended mixture into mug or small microwave-safe container and microwave on high for 1 minute.

Remove from microwave and serve immediately with fresh sliced strawberries, or other toppings as desired. Enjoy!
Nutrition
Serving:
1
cup
Calories:
451
kcal
Carbohydrates:
17
g
Protein:
10
g
Fat:
41
g
Saturated Fat:
25
g
Polyunsaturated Fat:
2
g
Monounsaturated Fat:
11
g
Trans Fat:
1
g
Cholesterol:
265
mg
Sodium:
894
mg
Potassium:
225
mg
Fiber:
7
g
Sugar:
5
g
Vitamin A:
1378
IU
Vitamin C:
1
mg
Calcium:
180
mg
Iron:
2
mg
Tried this recipe?
Tag me on Facebook @fitfoundme with a pic and let me know what you thought of this recipe in the comments below!