Creamy, rich, satisfying, easy, no churn ice cream. This Keto Vanilla Ice Cream will solve what seems to be the hardest thing about eating low carb or keto…no sugar, including ice cream, while dieting. This easy homemade, creamy, rich nice cream is going to completely satisfy your craving…doubly so when you grab a couple of these warm Keto Chocolate Chip Cookies with it.
Yes, it is sugar free. This keto ice cream recipe is made with only 5 whole food ingredients, no ice cream maker needed and in only about 25 minutes. It will give your favorite traditional ice cream a run for its money.
Another homemade ice cream that's refined sugar-free is this Frozen Bananas Ice Cream with Cherries. It's not Keto, but it is delicious and creamy!
Admittedly, sometimes a healthier version of a traditional recipe lacks a certain oomph to it, but NOT this ice cream. The vanilla bean amplifies the rich creamy taste that we expect every great ice cream to encompass.
Is Ice Cream Keto?
Typically, no. Ice cream you have probably eaten in the past was not considered nice cream, or in other words, it wasn't sugar free or low carb. Keto is a low carb diet which excludes the refined sugar that traditional ice cream contains.
This keto vanilla ice cream recipe uses swerve sweetener instead of refined sugar to reduce the carbs. Swerve is a natural, non GMO, non glycemic, zero calorie sweetener that is completely keto-friendly and works great whenever a recipe calls for sugar.
Dairy is ok to eat on keto, in fact it is a great source of healthy fat for keto dieters. The heavy cream in this recipe gives the ice cream the rich creamy consistency and taste of traditional ice cream.
You may think about trying to find keto ice cream in a store. If you find any, you'll want to examine the ingredients for artificial ingredients and any form of sugar. Frankly, this recipe is so easy, quick and delicious, I always choose to make it rather than to buy a pint of ice cream from the store.
The BEST Low-Carb Sugar Free Keto Vanilla Ice Cream Recipe
I grew up with my Dad's homemade ice cream machine. First it was the churn that required someone to actually churn the handle…which, I would always volunteer for until my 8 year old arms would get exhausted, then my dad would lovingly take over.
It was a big deal when a few years later we had an electric no-churn that only required adding ice and salt to the bucket while the churn turned automatically.
Ice cream was a party favorite at birthday parties, 4th of July, and any other event we deemed important. This wonderful tradition continued even through my own kids' birthdays and events. Yes, ice cream is practically in my blood!
So, if ice cream has a soft spot in you like it does me, it's not really an option to just stop eating.
This easy keto vanilla ice cream recipe makes it possible to keep enjoying it!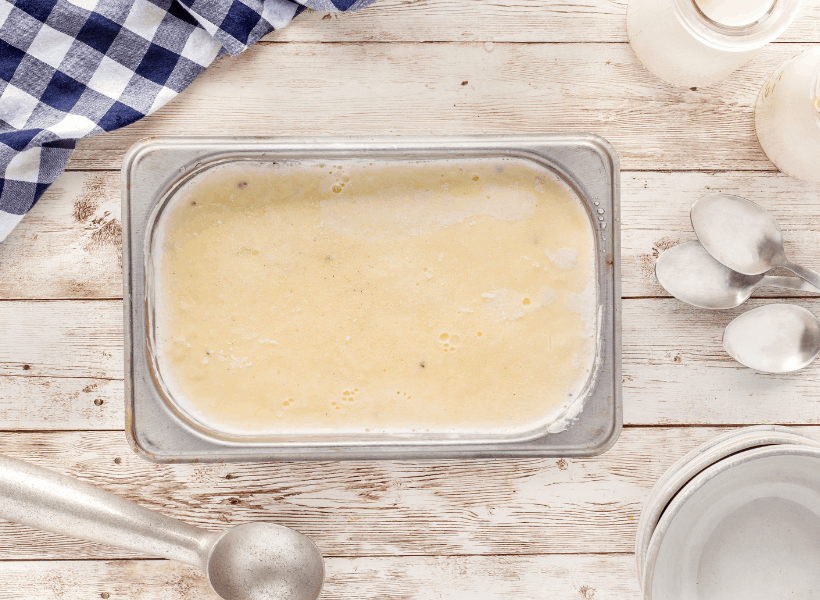 Step one: Heat the heavy cream in a sauce pot to simmer over medium-high heat for 15 minutes.
Step two: Stir in butter, swerve and vanilla extract until the butter is melted.
Step three: Slice vanilla bean lengthwise and scrape out. Add the vanilla bean seeds to the ice cream mixture. Stir to combine. Allow to cool down for a few minutes.
Step four: Pour ice cream mix into freezer friendly container.
Once the mixture is completely frozen, you'll be enjoying one of the creamiest ice creams you've had AND it's nice cream!
What makes ice cream creamy?
Creamy vs icy hard as a rock…yeah, I vote for creamy, too. There are a few things you can do to keep the Keto Vanilla Ice Cream from getting hard as a rock.
Dairy
Dairy is the ingredient that makes ice cream creamy. The higher the fat content, the creamier it becomes.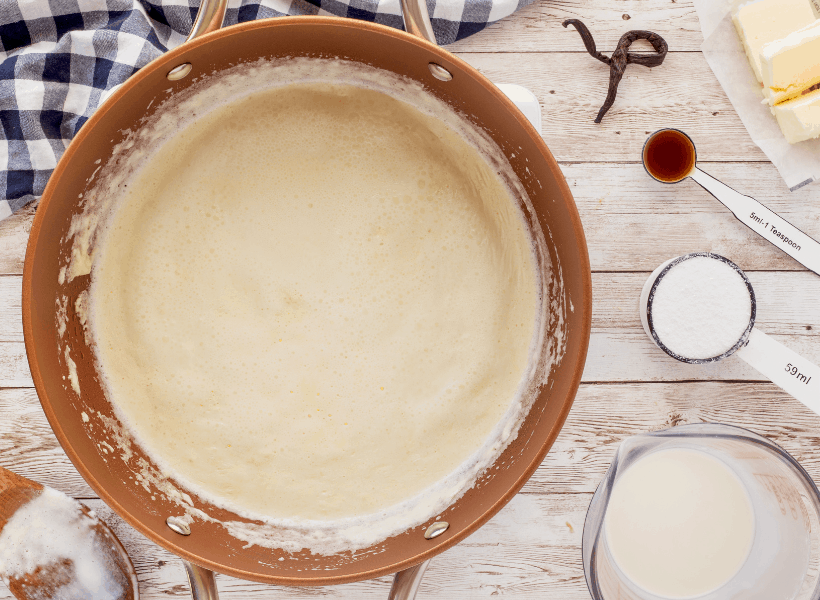 Eggs
Eggs are not in this ice cream recipe, however some recipes include egg yokes that help contribute to the creaminess.
Alcohol
Adding alcohol to ice cream raises the freezing point and thus helps to prevent ice crystals from forming. It's the ice crystals in it that causes the ice cream to lose some of its creamy texture. This Keto Ice Cream Recipe doesn't have alcohol (Vodka is typically the preferred) listed as an ingredient, but 1 Tbsp can be added.
Can I substitute Ingredients in this recipe?
Sure, some substitutions can be made and it will stay nice cream, just be careful if altering the fat content. See my notes above about the freeze point and ice crystals.
Vanilla Bean
Vanilla bean doesn't have a substitute in the recipe, however it can be made without it if you don't have any. The vanilla taste from the vanilla extract will be sufficient.
Swerve
Swerve could be substituted with pure erythritol or a sweetener variation such as truvia. I prefer using the confectioner's swerve for the ease of dissolving well.
Heavy Cream
Heavy cream is a crucial ingredient and should not be substituted.
Vodka
If you'd like the ice cream to stay soft and easy to scoop, add 1 1/2 tbsp vodka to the ice cream mixture once it cools off a bit, before freezing.
Keeping it Cold! How to Store your Keto Ice Cream
You've worked hard to make delicious creamy ice cream…don't ruin it by not storing it correctly. Improperly stored ice cream can lead to unwanted ice crystals which will negatively impact the taste.
Store it in an air tight container to prevent, well, air from getting to the ice cream. I like this container because it allows for a nice big scoop. (Oh, and I highly recommend this ice cream scoop – it's a game changer.)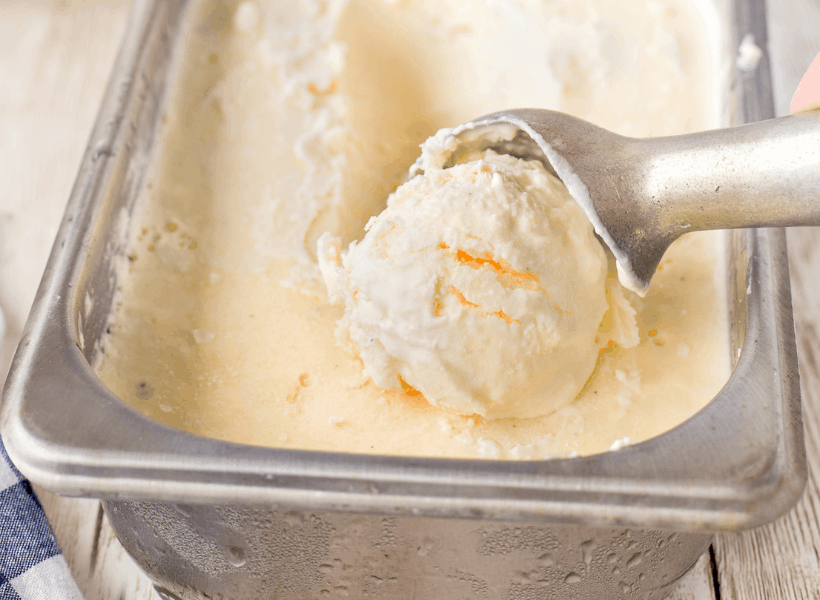 Once the ice cream is in container, you'll want to take the extra step to add a piece of plastic wrap on top. Cover the ice cream completely with it with the idea of not allowing any air to come in contact with the ice cream.
What to serve with keto vanilla ice cream
Of course, with keto, you'll want to keep the toppings low and even zero carb.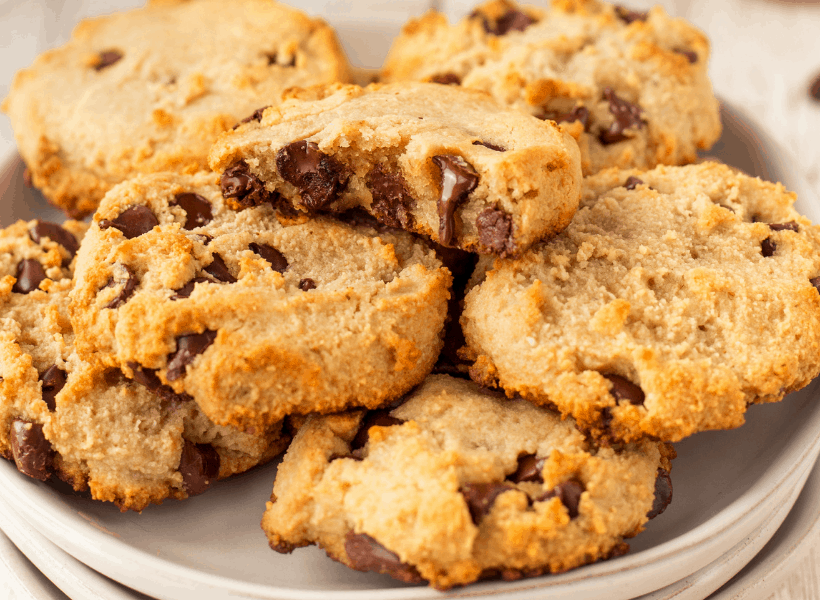 These keto chocolate chip cookies are a favorite in my house and enjoy them (just as much as this chocolate mug cake) with a side of this nice cream and sitting on the screen porch for pure heaven.
Another favorite of mine is pound cake! Imagine my excitement when I found this low carb pound cake recipe and paired it with this ice cream! Ahhhh…yes…
Keto Friendly Ice Cream Toppings
Oh the fun. So many endless possibilities for toppings and ice cream mix-ins, especially with vanilla ice cream.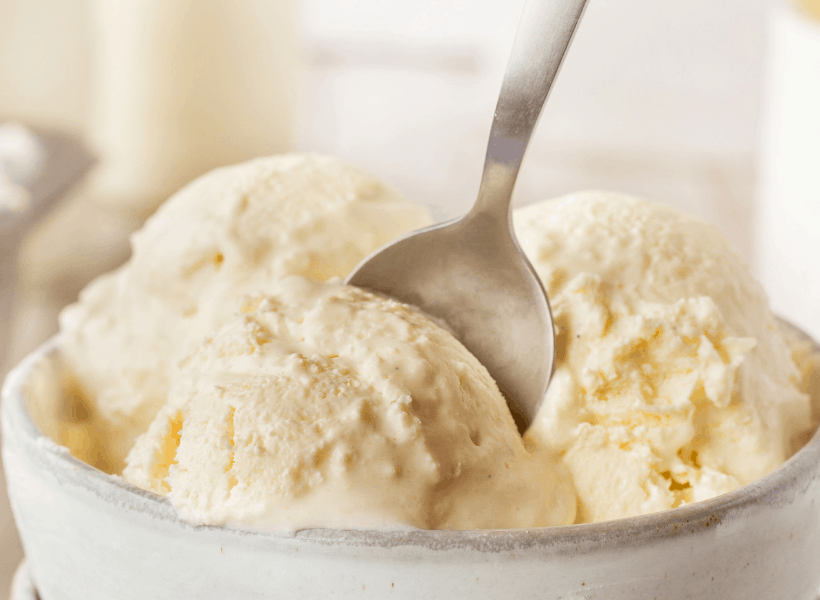 Raspberries
Blueberries
Blackberries
Strawberries
Nuts
Nut Butters
Sugar-free chocolate chips
Unsweetened coconut chips
Unsweetened fruit jam
I Scream. You Scream. We all Scream for Nice Cream!
Enjoy this Ice cream recipe and the variety it provides. Depending on the occasion or your mood it's perfect for adding in any additional flavors you're in the mood for, or enjoy the simple satisfying taste of vanilla.
Friends and family will all enjoy the effort put into making this dessert…and ssshhhhhh…how simple it is can be our secret.
If you're new to keto and would like some additional recipes, or even some meal planning structure make sure to check out the 21 Day Keto Challenge.