You're ready to start walking for weight loss and better health, so the next step is finding the right step counter. We've found the highest rated simple wrist pedometers for you to choose from. Some will use bluetooth to sync to your other devices like your smartphone or laptop, others don't require or use bluetooth at all.
It's important to know what to look for in a pedometer and learn how accurate pedometers are before you purchase. We'll cover some of the easiest pedometers to use that can be used with and without bluetooth required.
What is a step counter called?
The most common name that most people know a step counter by is a pedometer. You'll find this on most packaging as well. (However, I still find myself calling it a step counter for walking or a step tracker, too!)
What is a pedometer & How does it work?
Have you ever been curious about how many steps that you're actually walking in a day? (Hopefully you're walking at least 10,000 steps a day – if not, here's a walking plan to help you.) Millions of people are and thankfully, the use of a basic wrist pedometer can help find out the answer to that.
A pedometer is a step tracker that counts each and every step that you take. Most times, this is done by a spring function that is found inside the pedometer that tallies each and every springy bounce that is taken.
It is activated by movement and does an accurate job of tracking each and every step you take.
Wrist Pedometers VS Fitness Trackers
A wrist pedometers can also be called a fitness tracker if it is measuring more than just walking steps, which is what a lot of pedometers do. Fitness trackers can measure so many other health related things such as:
calories burned
heart rate
exercise time
flights of stairs
Oxygen levels
Respiration
Sleep
Body battery
Stress level
And more!
For this article, the trackers will be kept pretty simple and assume you aren't interested in the depth some fitness watch trackers can go into.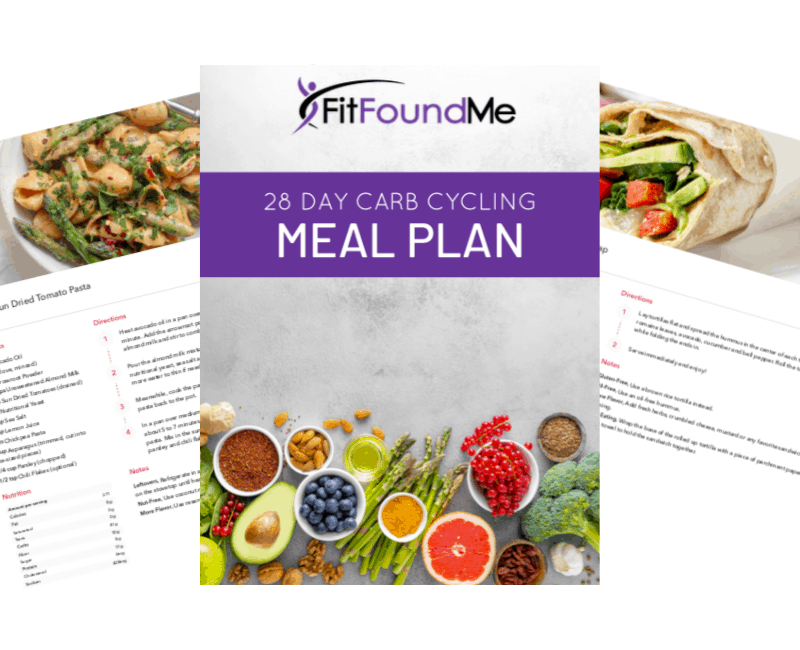 28 Day Carb Cycling Meal Plan: 1200-1500 Calories
28 Days of on Target, Easy to Follow Meals so you can:
Lose Weight
Create Healthy Habits
Learn Macros
Burn Fat
There's evidence that low-carb diets and carb cycling can help women, when done right, especially those in perimenopause or menopause, to achieve weight loss goals, improved blood sugar control, better quality sleep and reduced menopause symptoms like hot flashes or night sweats.
Jumpstart your metabolism with carb cycling! This 4 week meal plan is what every person starting carb cycling needs for success. Put together by a licensed dietician and approved by me! Carb cycling is one of the methods that helped me shed over 30 lbs in just a few months AND keep it off! See what's included…
How Accurate Are Wrist Pedometers?
Like all types of gadgets, there is a margin of error that you'll have to take into effect. It has been estimated that the steps counted for the day could vary by 10%. So, in theory, you have a bit of wiggle room to take into consideration.
If you want to make certain that you're getting in your 10,000 steps for the day while taking in a difference of 10%, just make a mental note to go ahead and have your pedometer reading 11,000 steps by the end of the day so you can be for certain.
How Does A Pedometer Work On Your Wrist?
The easiest way to explain how a pedometer works is it's tracking how your body is moving. Inside the pedometer device there is a spring. The spring moves as your body, specifically, your arm moves with each walking stride. The device is sensitive to motion, so with each swing of your arm, it will count that as a step.
If you are walking slowly, the pedometer may miss some of your steps. There is not a lot that can be done about that, unfortunately. The good news is, even if the pedometer misses some steps, your body doesn't!
Even with the degree of error, the technology in the pedometer devices are overall doing a pretty good job!
What To Look For In A Basic Wrist Pedometer
If you're wanting a simple wrist pedometer, there are a few things to keep in mind. Even though you may not want one that needs a smartphone or has to hook up to Bluetooth to work, there are other aspects of a step counter to look for.
Be certain that it has a big enough screen that you can easily read. There's nothing more frustrating than realizing that you can't see the screen because it's too small and the print is too tiny to read. Find one that fulfills the needs of your eyes and makes it simple to see and enjoy.
Choose a pedometer that fits your wrist. People have wrists that are all different sizes. For this reason, make certain to find one that fits your wrist and doesn't have too much wiggle room at all.
Think about fashion needs before making a purchase. There are pedometers out there that come in certain colors and styles. You can also look at getting a wrist pedometer that will let you change the straps as well. If you're going to be wearing it every day, choose one that you won't get tired of wearing daily.
What is the easiest pedometer to use?
There are a lot of choices when it comes to choosing the easiest pedometer. One of the biggest things to keep in mind is that what is easiest for you may not be easiest for all. For this reason, doing your research is key.
However, if you're looking for a suggestion that is super simple and a great option, consider purchasing the Willful Fitness Tracker. Not only is it waterproof but it's accurate, sleek, and a great gender-neutral option for men and women, even kids.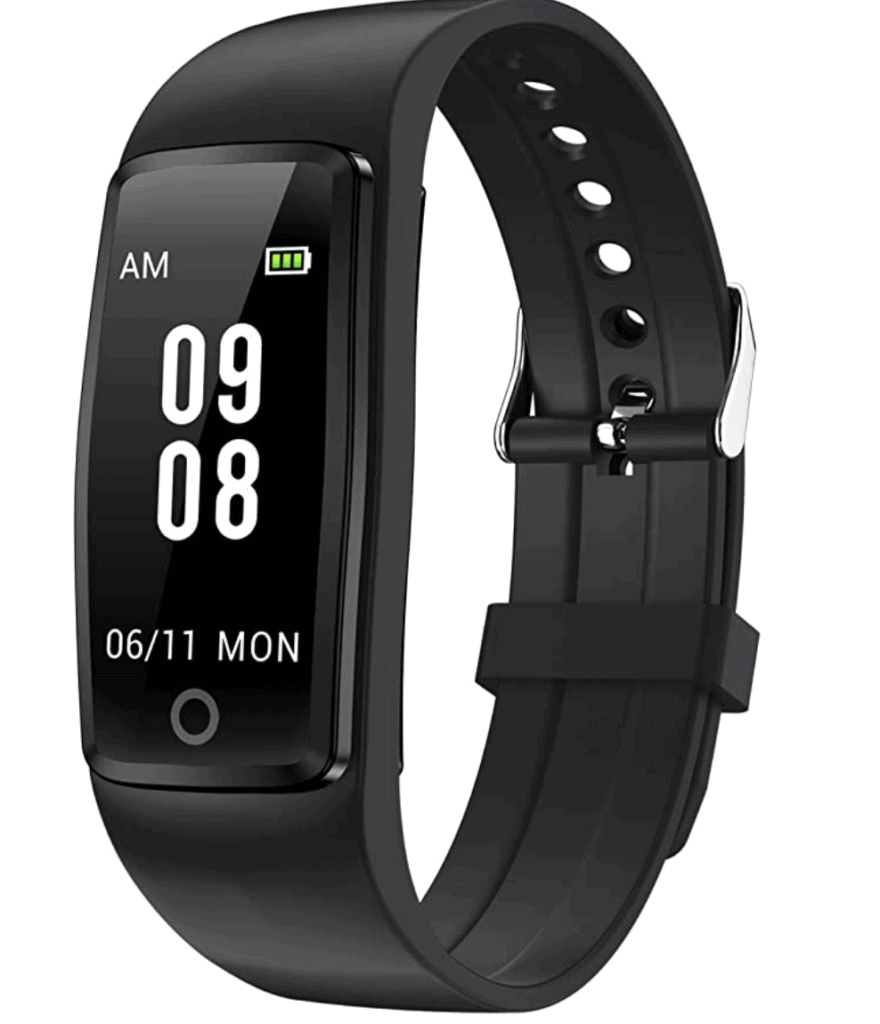 This pedometer is so simple to use that it's a great choice and the perfect place to start. However, don't miss out on the other great options listed below as well.
The Top Simple Wrist Pedometers With No Bluetooth Required
All of these wrist pedometers are easy to set up and require no Bluetooth, app, or smartphone at all. Great for any one who just wants to simplify their walking exercise without having to be attached to their screen.
Sports Fitness Tracker Watch
Tracking steps has never been more tempting than with this easy step tracker built into an easy fitness watch – no bluetooth needed and very budget friendly.
Bonus – If you're a swimmer, you don't even have to take it off to hop into the pool!
This watch has so many features! It stays charged for up to 15 days, a big screen to showcase the steps taken, calories burned, and total distance walked – to name a few. Definitely worth checking out if you'd like the idea of having more information than just walking stats.
Bomxy Fitness Tracker Watch
This tracker is great for running, walking and also showcases steps, distance, and calories burned. With a thin wristband, you can rest easy knowing that it isn't going to take up a ton of room on your wrist and be bulky or too big. You can also easily choose from a wide variety of colors, too.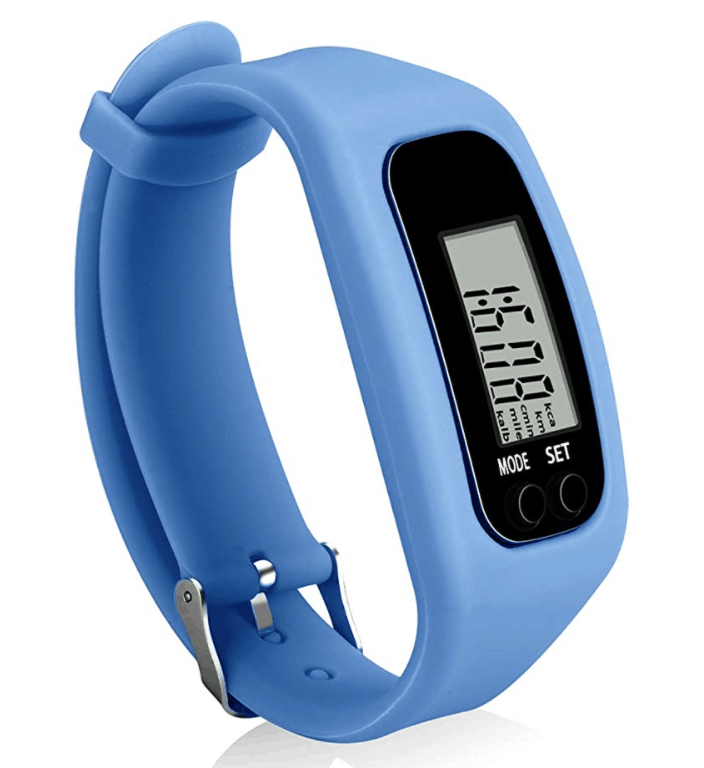 Plus, this tracker is very trendy with so many colors available…and, it's so budget friendly, go ahead and grab a couple of your favorites!
Simple Fitness Tracker aka Wrist Pedometers
This walking pedometer comes with the option to count calories, track distance walked, alarm clock, vibrating alarm clock, and a stopwatch option as well.
If tracking your heart rate is important to you, this one will fit the bill.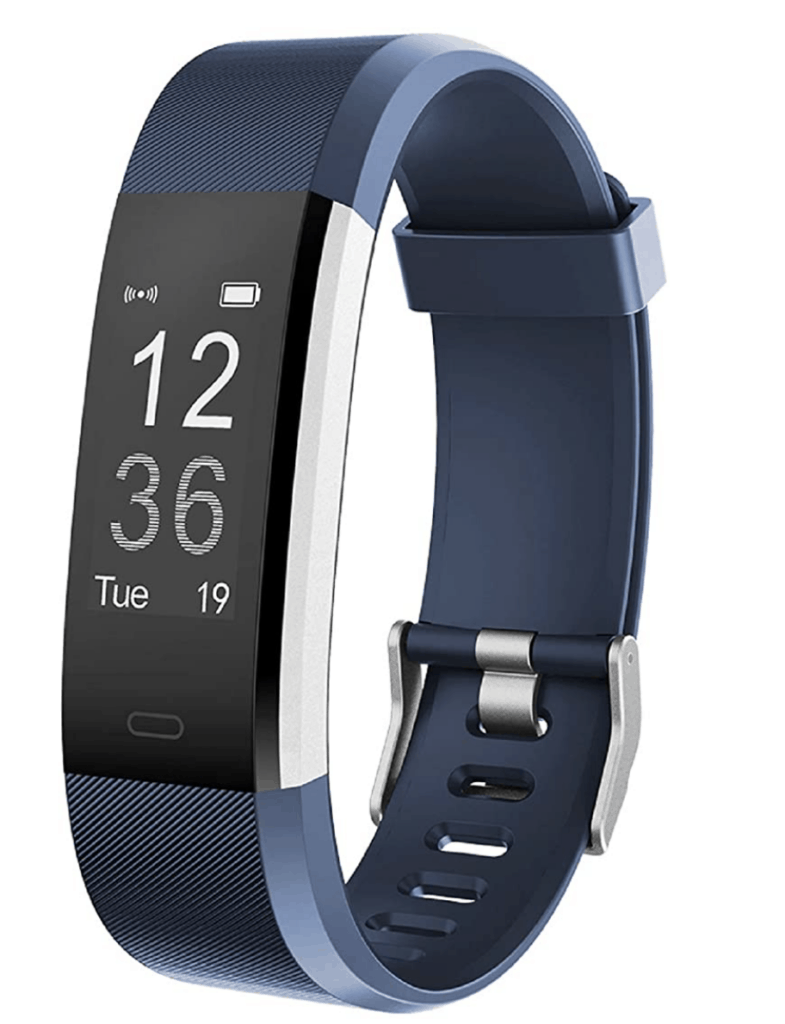 Using Fitness Trackers Without A Smartphone
There are actually a lot of options when it comes to finding fitness trackers that don't require a smartphone or Bluetooth. And if you're not bothered about having one you wear on your wrist, you can easily find ones to attach to your belt, your shoes, your ankle or just carry in your hand as you walk.
If you are wanting basic information to get meet daily step goals, a simple fitness tracker will easily do that without complications.
Can a fitness tracker be used without a smartphone?
You bet! This is why they're so great. Even if you don't have a smartphone or want to keep fitness simple by having to install an app, you can easily use a simple fitness tracker that is 100% independent of any app or smartphone needs.
Are there any fitness trackers without Bluetooth?
There are! It's a good rule of thumb to understand fitness trackers that are clipped to your clothing or handheld are typically not going to have to use Bluetooth or even have the option to use Bluetooth.
This means that as long as you have it charged and ready, you can just grab it, clip it, and head out the door with you favorite walking plan for weight loss.
Best Fitness trackers that don't require Bluetooth
Below you'll find a few suggestions for fitness trackers that don't need Bluetooth to function. This means that they're entirely independent of the need for any apps, high technology or smartphone at all.
3DFitBud Simple Step Counter
Once you take the 3DFitBud counter (from Amazon) out of the package, it's ready to start counting your steps for you. It's literally that simple to use. It's also made with a sensor technology that makes it quite an accurate count.
This means you can wear it, or even have it in your bag as you're walking around to track how many steps that you're taking that day.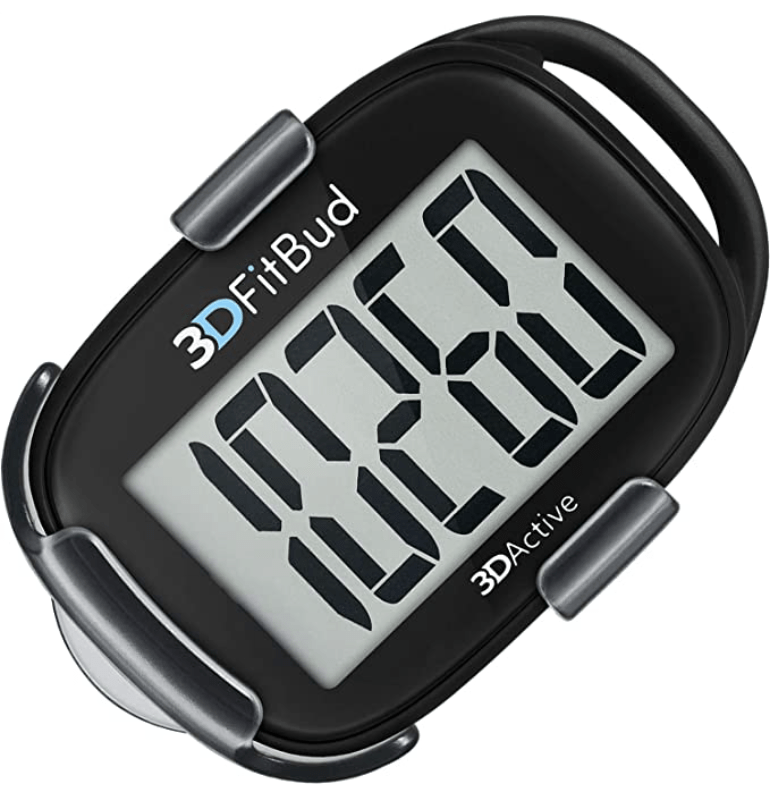 iGANK Simple Walking Pedometer
Talk about simple. This is the epitome of the simple wrist pedometers. This literally does nothing but show you how many steps you're taking. No clock, no calorie counting, just steps walked. It's about as simple as they come!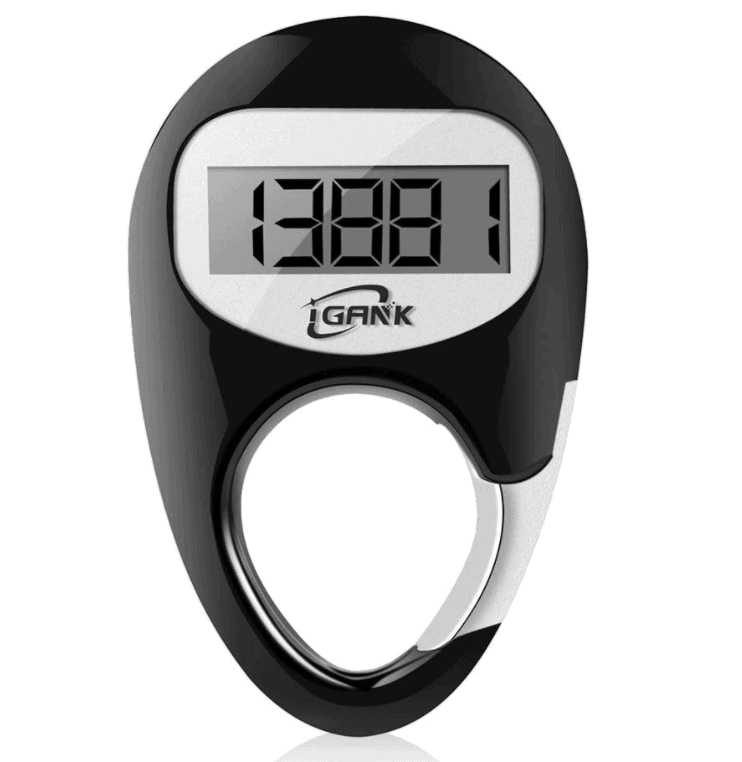 You would just need to open the package, hold or attach it, and head out the door. That's the quick rundown on how this simple pedometer works and it's a great way to get motivated quickly to slip on your shoes and head out the door.
You can easily order the iGank from Amazon.
Find That Perfect Basic wrist Pedometer Or Fitness Tracker Now
As you can see, there are plenty of wonderful options for adding a basic pedometer into your daily activities and life.
The main thing to think about before purchasing one is to find one that fits your style, your look, your needs, and your budget. It's a good idea to research each one and go over the positives and negatives based upon recent customer reviews.
You can also think of the step trackers as a watch in terms of the "look" that you're hoping to go for. There are options out there that can look quite dressy and nice and also pair down with workout clothes, too.
If you're wanting to add a basic pedometer to your daily life, the options listed above are a good variety to look over. You'll find that once you purchase one, you can always upgrade later to add in other features as you get more comfortable.
The biggest hurdle is to get started and choose one of the best simple wrist pedometers to do so with! But once you do, you'll love seeing that numbers climb daily with each and every step!
For additional information: