I often get asked how I used meal replacement shakes for weight loss after 40. It's a fact weight loss after 40 can be very difficult for so many reasons. At age 42, I decided not to be a stereotypical middle-aged woman who was overweight and couldn't keep up with grandchildren. In fact, I went the opposite way and rekindled a childhood sport of horseback riding!
First, let me share with you that if I can do it, you can too! I was the ultimate sugar-holic with a side of carbs eating kind of girl. If it didn't have sugar, grease or salt on it, it wouldn't be on my plate. Okay, so I occasionally ate vegetables, but now I know how truly rare that really was.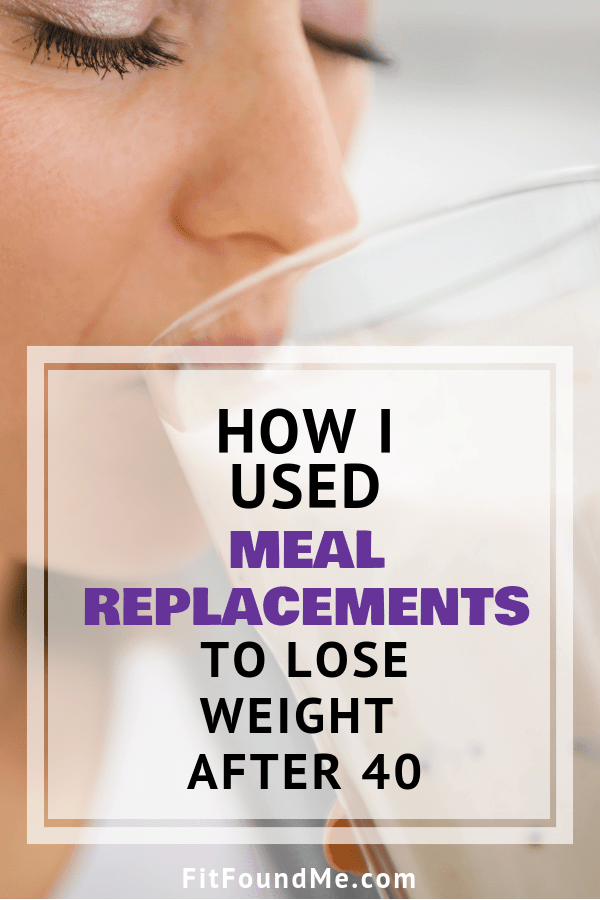 For now, let's stick to the meal replacement shakes so you can start losing weight!
How I Used Meal Replacement Shakes for Weight Loss After 40
Like I mentioned, basically one day I wanted to ride horses again, but knew I had to lose weight and build muscle. Fat loss with muscle toning was imperative to riding a horse safely.
Simple cutting back on calories was not working and so I knew I needed something to help curb my appetite. Not knowing a lot about weight loss, I started drinking the GNC Lean Shake 25 after it was recommended by a sales person at GNC.
The Lean Shake 25 has some great components to it. Fiber, vitamins and protein.
Let's focus on protein a moment. Protein is a girl's best friend in toning and building muscles. And, if you're over 40 like I think you are – unless you have been really active and exercising, you need to tone and build muscle.
Muscles atrophy over time when they are not worked hard enough. When we lose muscle mass, our metabolism goes way down. When our metabolism goes way down, our fat storage goes up.
Protein is a building block to muscles. When we exercise, we slightly tear muscles (not a bad tear, but a normal exercise tear, or damage) and it takes the right nutrients to repair and make them stronger. Protein.
The biggest difference in the GNC Lean Shake 25 over others is the high fiber content. You may already be familiar with fiber due to the important of fiber in our digestion.
For weight loss, fiber helps us to stay more full longer.
Before I learned the healthier way to eat, the gnc meal replacement shakes filled in the gap in a way that helped me transition to eating the right foods.
The meal replacement shakes are just that, a complete, full meal. Meal replacement shakes can be gluten free with little to no grams of sugar.
When starting out, if you want, feel free to have a very small portion of food with your meal replacement shake until you get used to drinking your meals. Of course, it is recommended to have 1 regular meal a day.
Often, I would drink the protein shakes during the day and have a regular (healthy) dinner.
GNC Total Lean Meal Replacement Shake, Promote Lean Muscle Tone Metabolism, Mixed Berry – 1.83 Pound

GNC Total Lean Lean Shake 25 – Rich Chocolate Bundle

GNC Total Lean Meal Replacement Shake, Promote Lean Muscle Tone Metabolism, Chocolate Peanut Butter – 1.83 Pound

What I learned in the process was there were a lot of healthy meal replacement shakes.
Meal Replacement Shakes for Weight Loss Instead of Desserts
I even drank meal replacement drinks in place of a meal or two during the day and even at night when I craved a sugar treat. Yes, it was that good, that I could be satisfied!
When you use a good quality meal replacement shake, the sugar content will be very low, if not zero and it has a lot of vitamins with low calories. Do not worry about having it late at night if you are trying to keep from late night snacking.
There are so many flavors to choose from within the GNC Lean Shakes, not to mention the flavors in other brands.
Best Tasting Meal Replacement Shakes for Weight Loss
There are a lot of healthy protein shakes or weight loss shakes, often called the same thing. There are a few ingredients you need to double check when buying meal replacement shakes or protein shakes.
This article on protein shakes can help you make the right decision. If the protein powder doesn't have the right ingredients, you aren't doing yourself any favors or losing weight. In fact, I strongly recommend a read through that article so you can learn the basics about protein for weight loss.
Since the love affair with the GNC Lean Shakes, I have tried many different protein shakes.
My favorite brand is a unique one in that their entire line of supplements is made specifically for women by women.
I love how easy it mixes with water and especially how good it tastes. So many flavors including as fruity or as sweet as you want!
IdealFit is a complete line of supplements that are great for women's weight loss. I also drink their BCAAs for weight loss and muscle toning. Read the article here for BCAA benefits for women – it's another absolute necessity for us!
For women over 40 trying to lose weight, I truly can't stress enough the importance of supplements, especially great meal replacement shakes for weight loss to get you started.
I lost a total of 35lbs or so but I really wish I measured my inches throughout my weight loss. When I started losing weight, I wore about a size 14, almost a 16 and now I wear a size 0-4 depending on the cut.
Most of my life I wore a size 8-12. The key to losing weight after 40 is eating enough protein with meal replacements for weight loss like these and doing the right exercises.
While it is hard work, it is completely worth it. I know you can do it!
If you have any questions for me – please comment below. I will see it and respond asap. I am happy to help you in any way I can!
Sign up for my free 30-day weight loss challenge to get more tips and details on how you can lose weight too!
Be Sure to Check Out These Posts for More Weight Loss Tips!
How I broke my awful sugar addiction
7 Habits That Helped Me Lose Weight & Keep It Off
Other Supplements I Believe In Taking Regularly