This easy to make Fruit Dip with Yogurt is light, refreshing and perfect for healthy snacking. Made with just 3 wholesome ingredients, it's a delicious companion with any of your favorite fruits.
If you've ever been to a party where fruit dip was served, chances are you had the cream cheese fruit dip made with marshmallow fluff. And while that dip is really tasty, it's loaded with added sugar that takes a healthy fresh fruit salad and makes it not so healthy.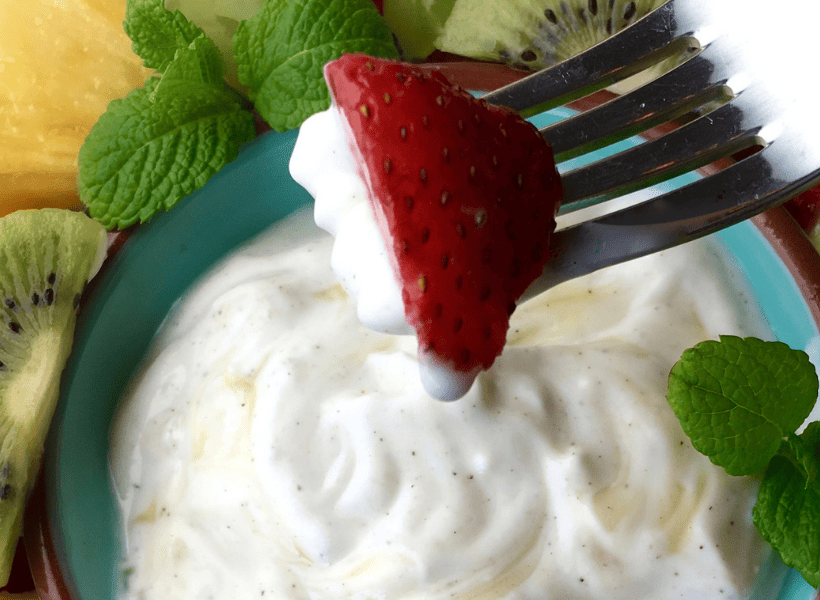 With just 3 basic ingredients, this easy yogurt fruit dip tastes JUST as delicious as the sugary kind and is much healthier!
Anytime I can fit fruit into a meal or snack it makes me happy. If that's you, you'll also want to try one of these delicious Healthy Smoothies. Or the next time you make fish tacos, try them with this simple Spicy Mango Peach Salsa.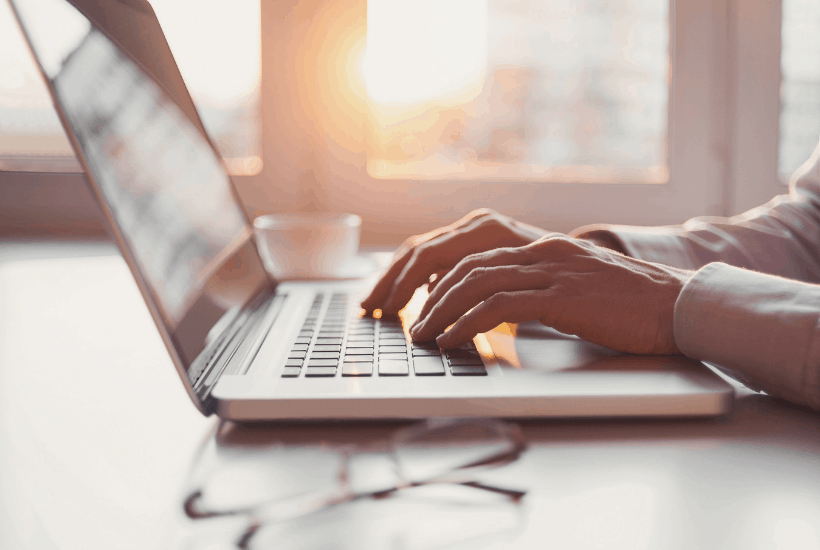 14 Day Bootcamp Challenge to a Healthy Lifestyle
This quickstart challenge is for the women who want to know the right foods to eat, but without a set meal plan to follow. Quickly learn how to put together your own healthy meals and snacks, along with so many other important healthy principles to create a balanced healthy lifestyle. And…all in 14 days!
Through daily emails, I will share some habits and principles you can start tomorrow morning that when used consistently, you WILL lose weight. You'll get assignments along the way to implement immediately along with help from me via email if you have any questions. This is a great way to jump right in to start transforming your life! Read more details below…
Why We Love this Recipe
Healthy: With most fruit dips being made with marshmallow cream and cool whip, this creamy dip substitutes yogurt in its place, making it the perfect dip that can be enjoyed with your favorite kind of fruit guilt free.
Simple ingredients: With only three simple ingredients, you probably already have on hand, you can have a healthy snack in a matter of 2 minutes! How's that for fast!
Make ahead: The best part about this easy fruit dip recipe, other than the amazing flavor, is it can be made up to several days in advance. It's great for when you are planning a bridal or baby shower, a summer BBQ, or just as a delicious snack to keep on hand during the week.
What's Needed for Healthy Fruit Dip with Yogurt?
Plain Greek yogurt- Full fat yogurt is the main creamy ingredient in the dip
Honey- Gives the dip the perfect amount of sweetness
Ground cinnamon- Cinnamon gives this a nice warm flavor to the fruit dip
How to Make this Yogurt Fruit Dip Recipe
Place all the ingredients in a medium bowl. Give it a good stir and you are all done! Place in an airtight container and place in refrigerator until ready to use.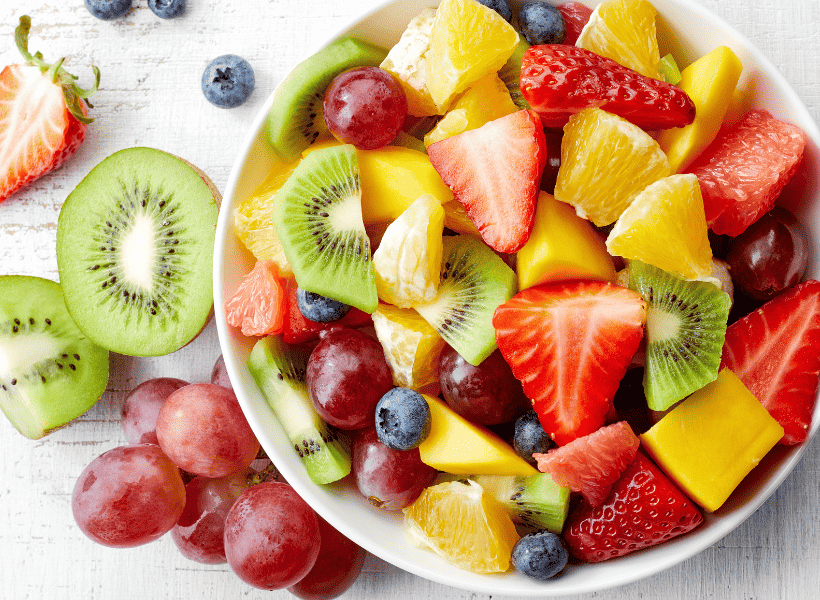 What Fruits Go with This Healthy Yogurt Fruit Dip
Choose several of your favorite fruits and make a simple fruit platter to serve with this dip. You just about can't go wrong!
green grapes/red grapes
pineapple
mango
cantaloupe
pineapple juice
blackberries
blueberries
raspberries
apples (green and red)
strawberries
kiwi
How Long Does Easy Greek Yogurt Dips Last?
As long as you keep this dip chilled, it can last up to two weeks. You may need to stir it after a day or two just to redistribute the honey and yogurt.
Is Greek Yogurt Healthy?
Greek yogurt is very healthy for you. But just like with most anything, you should always read the labels. Look for brands that contain little to no added sugar and also contain probiotics.
Yogurt is a really good source of protein and has many nutrients that may lead to several health benefits. If you'd like to read more about it, check out this article on Healthline.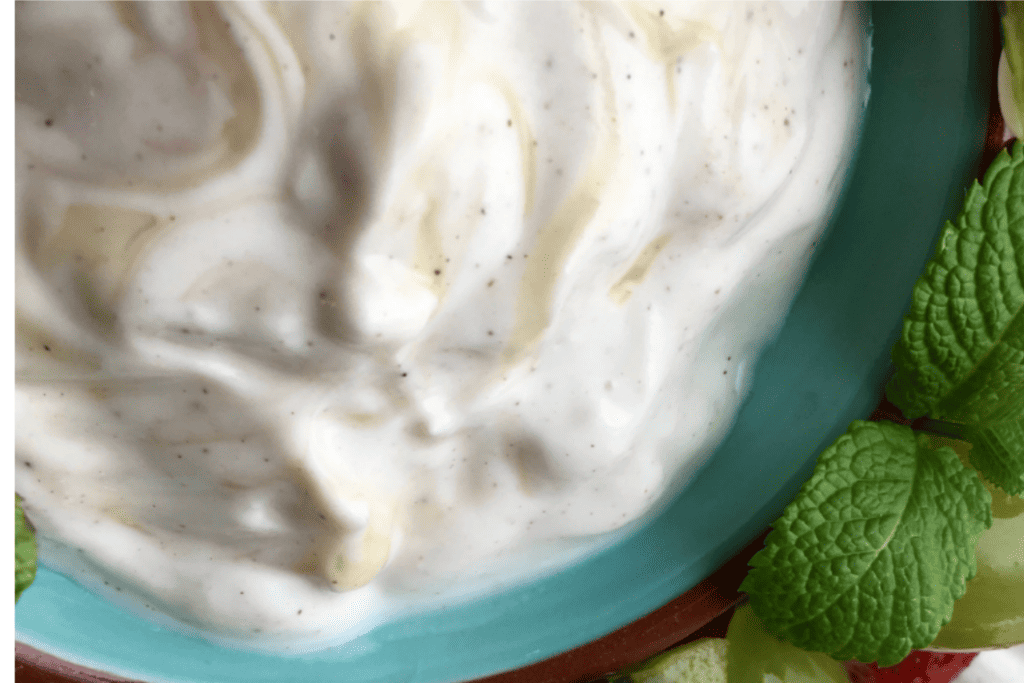 Variations and Substitutions for the Perfect Fruit Dip:
Yogurt: We use Greek unflavored plain yogurt, but you can use flavored yogurts if you choose. Greek Vanilla yogurt is a really tasty alternative for this recipe. Make sure if you opt for flavored or vanilla Greek yogurt that it's doesn't have added sugar.
Extracts: If want to a way to add more flavor to the dip without adding sugar, try using your favorite extract. Vanilla extract and almond extract taste great with the ground cinnamon
Citrus version: For a tangy twist, leave out the cinnamon and add a little squeeze of fresh lime, orange or lemon juice.
Make it a parfait: This dip isn't just for fruit trays! Layer this fruit dip in parfait cups with your favorite granola and pomegranate seeds then top them off a drizzle of a little extra honey.
Peanut butter yogurt dip: For a nutty version, you can add a little all-natural peanut butter. Cinnamon, honey and peanut butter work so well one another.
Sweetener: This recipe calls for honey, but you can use pure maple syrup or a sugar substitute like monk fruit. If you aren't watching your sugar intake, you can always add coconut sugar or brown sugar. I have to tell you though; honey really does a great job with this dip and sweetens it just enough to seem like you are having decadent sweet treat.
Want more Healthy Side Dishes?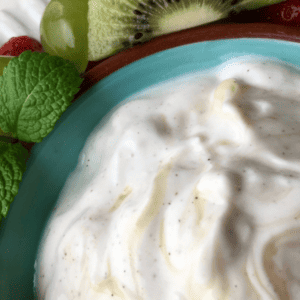 Easy Fruit Dip with Yogurt
This easy to make Fruit Dip with Yogurt is light, refreshing and perfect for healthy snacking. Made with just 3 wholesome ingredients, it's a delicious companion with any of your favorite fruits.
Ingredients
1

cup

Plain Greek yogurt

2

T

honey

1

t

cinnamon
Instructions
Prepare yogurt dip by combining all ingredients in a medium bowl. Cover and place in refrigerator until ready to use.
Nutrition
Calories:
42
kcal
Carbohydrates:
7
g
Protein:
3
g
Fat:
1
g
Saturated Fat:
1
g
Polyunsaturated Fat:
1
g
Monounsaturated Fat:
1
g
Trans Fat:
1
g
Cholesterol:
2
mg
Sodium:
12
mg
Potassium:
52
mg
Fiber:
1
g
Sugar:
7
g
Vitamin A:
2
IU
Vitamin C:
1
mg
Calcium:
40
mg
Iron:
1
mg
Tried this recipe?
Tag me on Facebook @fitfoundme with a pic and let me know what you thought of this recipe in the comments below!