Don't be discouraged by the junk in your trunk this year when it's time to put on your swimsuit. This simple, effective 30 day buttocks challenge will tone, tighten, and lift muscles you didn't even know you had!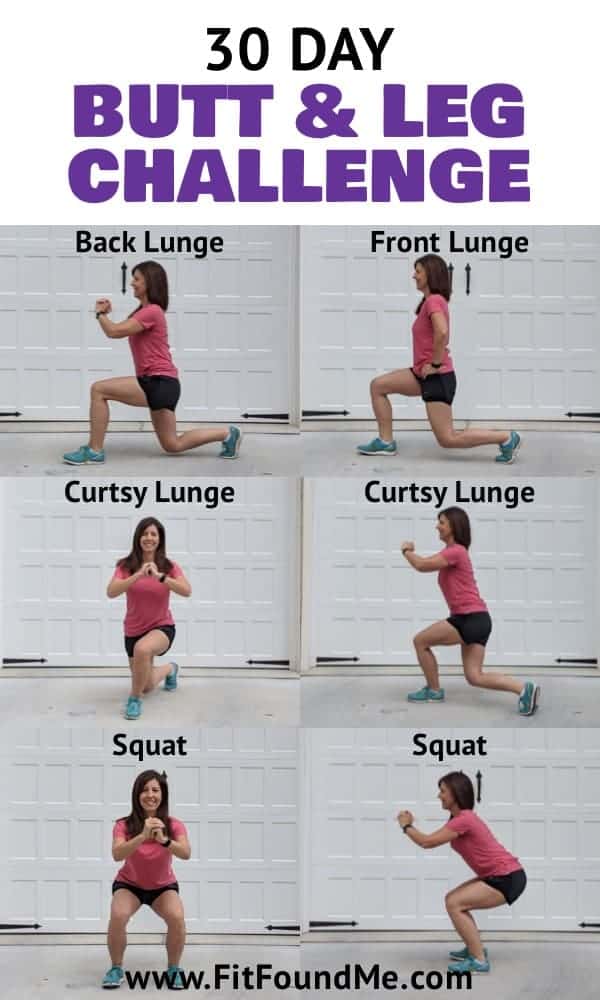 One of my most stubborn areas is my butt. Not being one of the longtime fitness gurus, and having back issues, it took some time for me to get the muscles toned in my legs and butt. Having a regular workout schedule to follow is key, and this leg day workout has helped me strengthen those muscles.
Just because you are over 40, doesn't mean you have to look it… or feel it for that matter. One of the physical differences between women over 40 (who aren't working out regularly) and younger women is the muscle tone. We can bridge and close that gap with regular exercise.
A few principles to keep in mind when trying to get healthier:
Strength training for muscle tone
Healthy nutrition to support exercise efforts
It's really that simple.

Losing Weight with a 30-Day Butt and Leg Challenge
This challenge works when you incorporate the 3 principles mentioned above. A 30 day butt and thigh challenge will not only strengthen and tone your muscles, it will also help you lose weight overall through calories burned and increased metabolism.
This challenge is customizable to adapt to your fitness level. If day 1 is too easy, start with a day that is more challenging. Likewise, if day 1 is too challenging, do as much as you can and build up gradually until you can move to day 2.
While a 30 day challenge is great for motivation and a visual checkoff, depending on where you are starting, it will likely take longer than 30 days to see the full results of toned buttocks and legs. But if you stick with this program you should see improvement in muscle tone and strength after 30 days.
There is also a benefit to engaging muscles in everyday activities. I will even do a few exercises around the house while cooking and cleaning to strengthen and tone my glute muscles.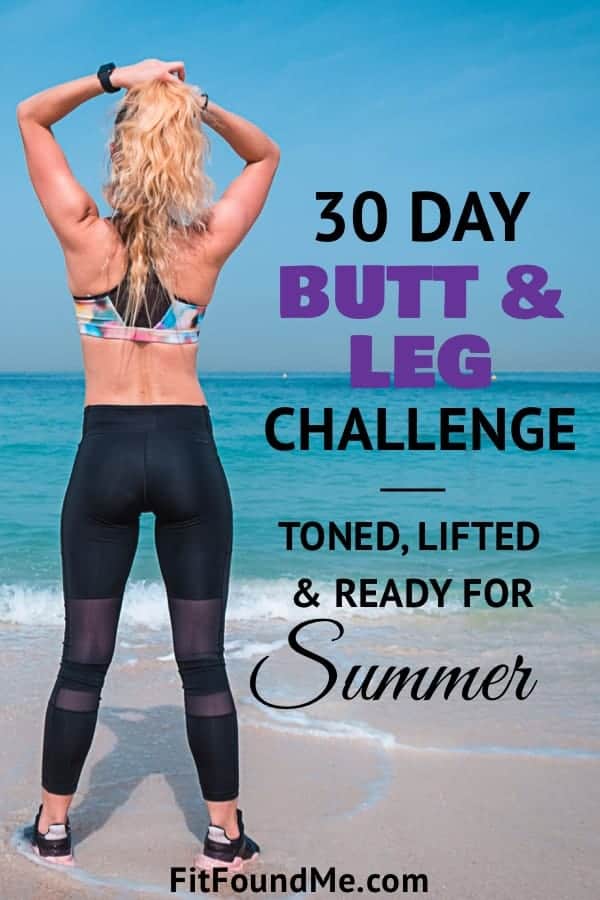 Details on the 30 Day Buttocks Challenge
The challenge consists of 4 main exercises adding on higher reps through the 30 days.
Curtsy Lunges
Squats
Front Lunges
Back Lunges
There are some additional benefits you can gain by adding ankle weights to your workouts for toning and building glutes and legs.
After completing the 30 day buttocks challenge, you deserve a huge pat on the back! I hope you take pictures and measurements before and after…you will be very happy with the results.
Don't stop there though, keep going to keep your metabolism higher to burn more calories and try out some more 30 day challenges.
More 30 Day Challenges for Toning
Anyone over 40 needs to be working on strength training to prevent loss of muscle and keep their metabolism fired up. Try these 30 day challenges:
30-Day Plank Challenge: Perfect for beginners, this challenge will strengthen essential core muscles and literally takes less than a couple of minutes a day for big results.
30-Day Arm Challenge: Give your arms a little extra workout to prevent those flabby arms so common after 40.
30-Day Legs Challenge: Try this leg challenge for women to keep up your progress!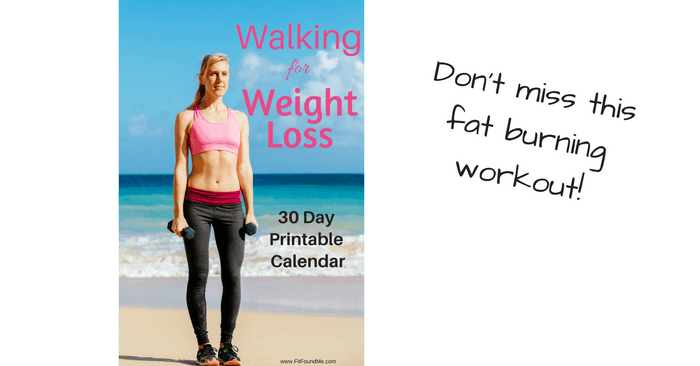 Best Recovery After Leg & Butt Workouts
I love, love, love this drink for faster recovery after workouts, especially after difficult leg and buttocks workouts. BCAA powder will help muscles recover much faster than without, and it has a lot of additional benefits. I drink it daily, sometimes multiple times depending on what workout I've done.
Additional weight loss resources: