Treadmill workouts are among the most popular exercise to lose weight. But do you know what setting is best to burn fat? Walking on incline vs running, which is best for weight loss?
Weight loss is hard. And it's even harder if you're a woman over 40. Don't get discouraged, if you're not seeing the results that you're looking for, because achieving your goals might be easier than you think. All that you need is a treadmill and a little perseverance.
If you're looking to lose weight or trim up, then you're probably curious how to get fit in the most efficient way possible. Weight loss is contingent on proper diet and exercise, but there are many ways to exercise: so how do you know which way is best?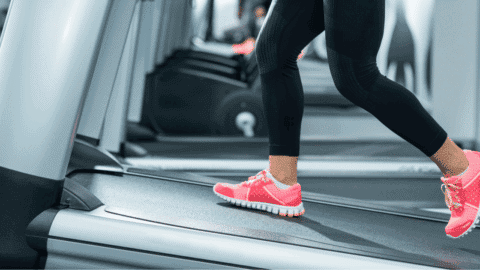 We're going to focus on cardio on the treadmill, here. So that you understand the difference between walking on incline and running to burn fat on the treadmill, we're going to walk you through everything that you need to know about treadmill workouts. By the end, you'll know what's more efficient for weight loss…walking on incline or running on flat.
Treadmills for Weight Loss
Before we get into the specifics of exercising on the treadmill, it's best to start with a discussion of treadmills, themselves. If you're going to be focusing on treadmill workouts, you have to know what to look for, when you're buying a treadmill.
Purchasing a treadmill is a big investment. But the good news is when you exercise on a treadmill, besides purchasing the treadmill itself, the only other thing that you need to have is a good pair of treadmill running shoes. Here are some things to consider, when you're buying a treadmill.
Qualities to Consider in a Treadmill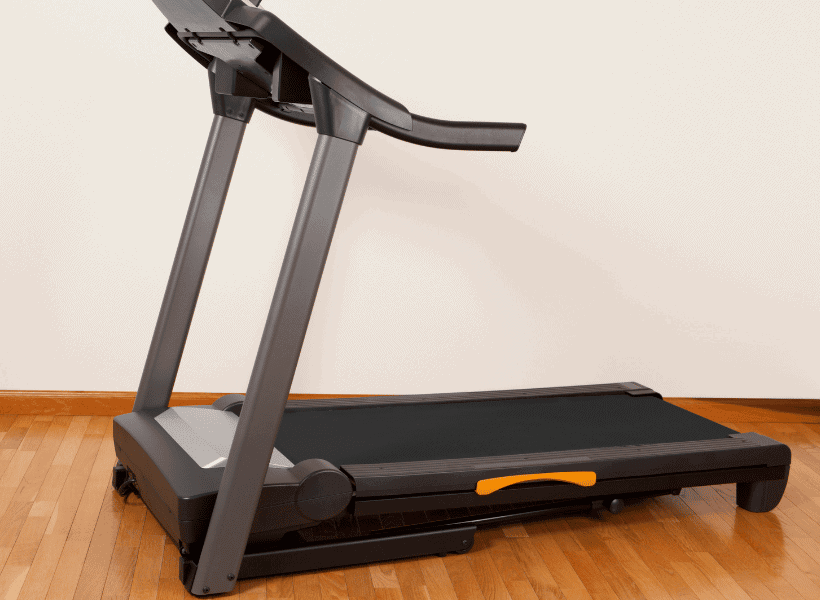 When you're purchasing a treadmill for weight loss, it's a good idea to get a treadmill that has the ability to have a steep incline. It's proven that when your treadmill is at an incline, you're going to burn more calories, which is key for weight loss.
Moreover, it is important that your treadmill has good cushioning, because if you're running you want your treadmill to absorb shock well. You're also going to want a treadmill that is smooth, with a belt that is around 48 inches long and 18 inches wide.
Is a Treadmill Good for Weight Loss?
If you're purchasing a treadmill and you want to lose weight, then you're probably committed to using your treadmill regularly.
Treadmill workouts will help you burn calories, but what sets treadmills apart, is the fact that they can be set on an incline. The incline feature on a treadmill increases your heart rate and will increase the fat burn.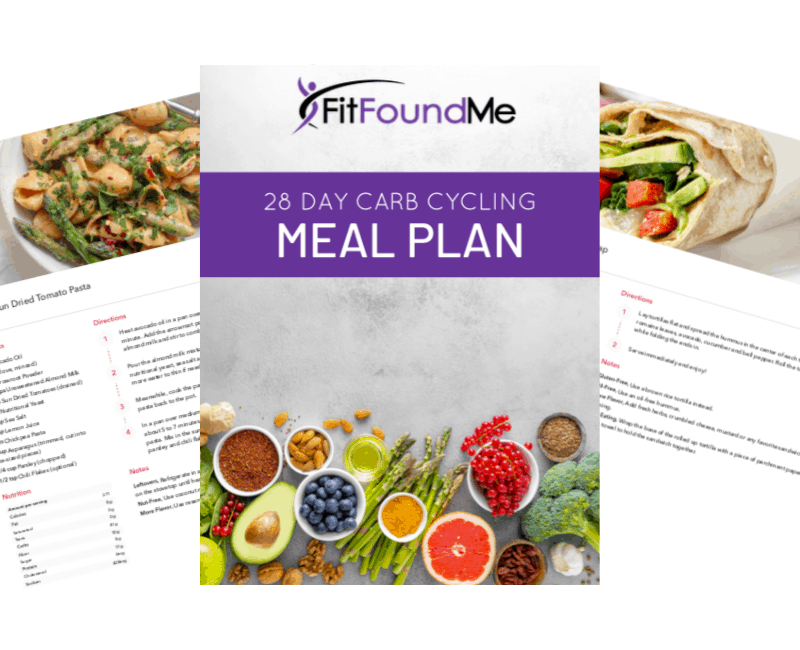 28 Day Carb Cycling Meal Plan: 1200-1500 Calories
28 Days of on Target, Easy to Follow Meals so you can:
Lose Weight
Create Healthy Habits
Learn Macros
Burn Fat
There's evidence that low-carb diets and carb cycling can help women, when done right, especially those in perimenopause or menopause, to achieve weight loss goals, improved blood sugar control, better quality sleep and reduced menopause symptoms like hot flashes or night sweats.
Jumpstart your metabolism with carb cycling! This 4 week meal plan is what every person starting carb cycling needs for success. Put together by a licensed dietician and approved by me! Carb cycling is one of the methods that helped me shed over 30 lbs in just a few months AND keep it off! See what's included…
It has been proven that walking and running on an incline will raise the amount of calories you burn by about 30 percent. And because every calorie counts, that's a substantial increase!
Plus, because treadmills can operate at an incline, they're going to work more muscles, which will help you build more lean muscle. This is great, when it comes to weight loss, because having a better muscle tone will increase metabolism.
Metabolism decreases for women over 40 naturally, so increasing muscle tone will help your weight loss journey.
If you have a lot of weight to lose, treadmills can make a dramatic difference in your fitness goals even when you may need to start off slow. Something like one of these Treadmill workouts for obese beginners, can be a perfect place to start.
Is Speed or Incline More Important for Weight Loss?
We've been over the fact that incline is important for weight loss, but does running burn more fat than incline? The truth is that although it is incredibly important to have a higher speed, because a higher speed does equal more weight loss, the incline is more important. An incline will push you to burn more calories than running does.
Why Walk when You Can Run?
When someone who wants to get fit researches a beginner obese treadmill workout, you'll often see running workouts, because it increases your heart rate to burn calories and it's a very common form of cardio.
However, not everyone is able or likes to run. Until I purchased these shoes, I wasn't able to run due to lower back pain.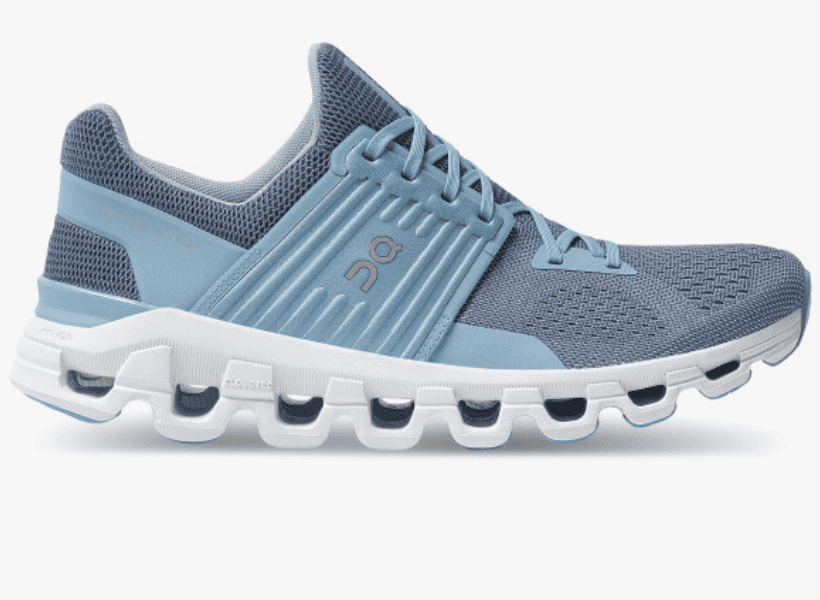 Since running has the potential to cause injuries, walking is a great alterative, because you can get your heart rate up and burn calories, by upping your incline.
So, to avoid getting injuries that running often prompts while still activating the same muscles that running activates, it's a good idea to walk. Walking is much easier on the knees and conducive to people who are prone to injuries.
How many calories burned walking on incline vs running
Like all forms of exercise, you're going to burn a different number of calories, depending upon factors like your weight, age, and sex. So, let's walk through a couple of examples.
Walking on Incline and Flat at 2.5 mph
In this example, the person exercising is around 125 pounds, and they're walking at 2.5 miles an hour, for thirty minutes. This person is going to burn about 98 calories, if they're walking on a flat treadmill, or no incline.
Treadmill walking at a 10% incline, the person will burn about 188 calories.
Walking at a 15% incline, the person is going to burn about 214 calories.
There is a substantial increase in calories burned, if walking on incline.
Running on Incline and Flat at 6 mph
This person is running at 6 miles per hour and will burn 298 calories on no incline.
The person is going to burn 420 calories running at 10% incline.
Running at 15% incline the person is going to burn 481 calories.
So, Walking on Incline vs Running: which is Better for Weight Loss?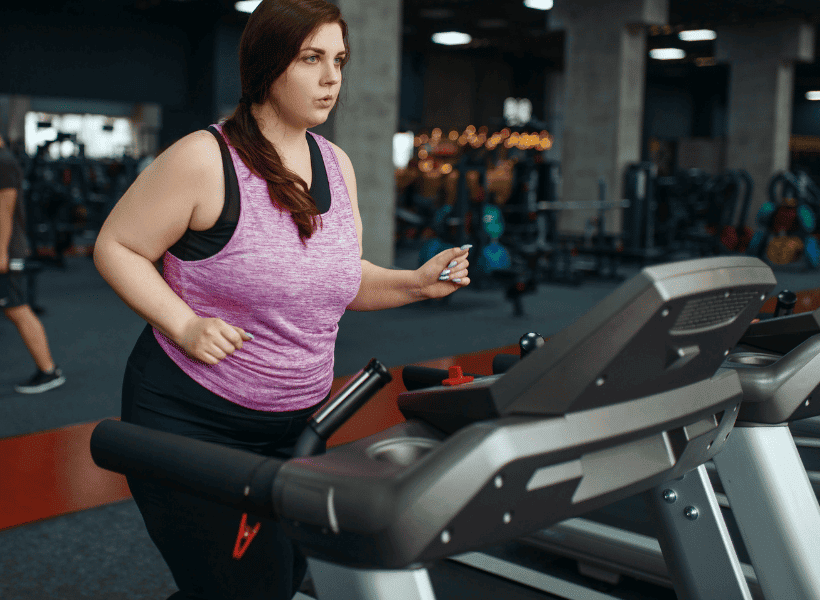 Both walking and running have their place in fitness, assuming running is not painful and your health allows it. A walking challenge for weight loss is a great exercise for a low intense steady state cardio for fat burn. Many women over 40 lose weight by walking.
Remember, don't get too obsessive, because health and exercise is about what challenges you to increase fitness and improve your health!
Whether you choose to walk on incline or run on your treadmill, moving for at least 30-45 min daily is a win!