Quinoa with Chicken and Peas is a delicious one skillet meal that's full of protein and fiber. This amazing dish with tender and juicy chicken, a dreamy cream sauce and green peas is absolutely scrumptious! It's a healthy and easy dinner to make, perfect for busy weeknights!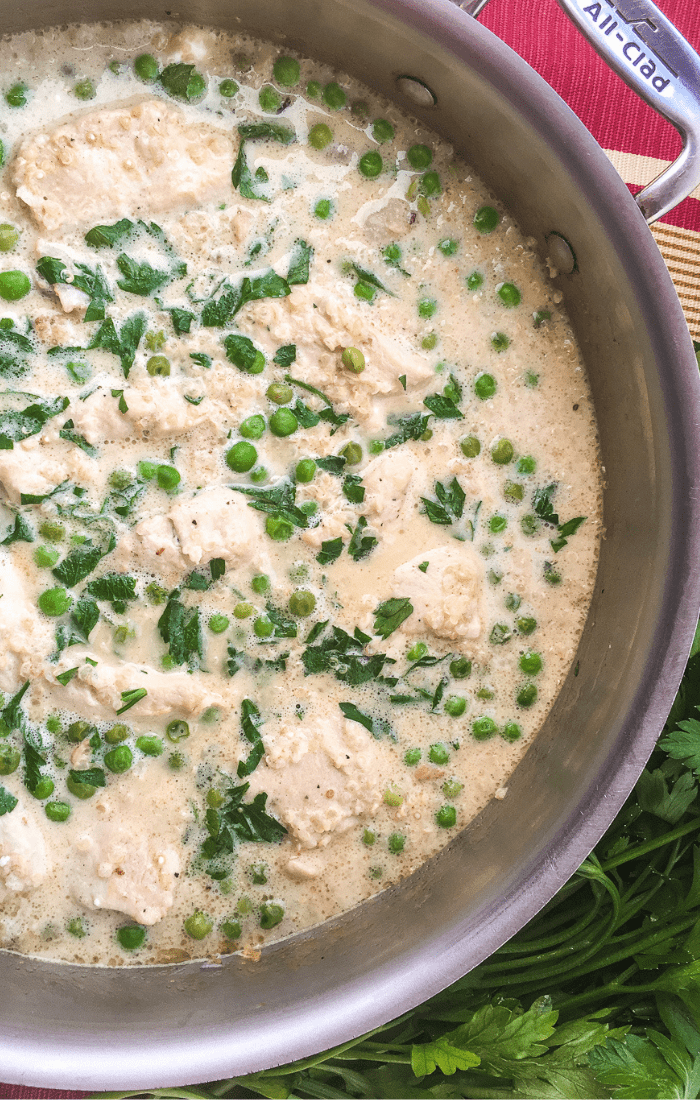 One-Skillet Creamy Chicken Quinoa with Peas
When you are looking for a great tasting meal that your whole family will love, this recipe is going to become one of your go-to recipes. It's rich and creamy, making it feel like a true comfort meal. As an added bonus, this entire meal can be made in under 30 minutes.
One of the main ingredients in this recipe is quinoa. If you've never had it before, Quinoa is an ancient seed that has been grown in South America for centuries. It's a great source of plant-based protein and contains essential amino acids. Quinoa is also gluten free which makes it perfect for anyone who doesn't eat gluten or has Celiac disease. It is used in a lot of healthy recipes because it is filling, low in calories and consider healthy carbs.
If you want to explore more amazing quinoa recipes, check out this Greek Quinoa Salad or this amazing collection of 21 Healthy Quinoa Recipes.
Why We Love This Recipe
Super easy weeknight dinner that can be on the table in 30 minutes or less.
Chicken and quinoa make this a protein loaded healthy dinner
Rich and creamy sauce makes this the ultimate comfort meal
Reheats perfectly, making it an awesome meal prep recipe
What's Needed to Make Creamy Chicken with Quinoa
Boneless, skinless chicken breasts

Onion powder
Garlic powder
Sea salt and black pepper, to taste
White quinoa, rinsed and drained
Extra-virgin olive oil
Chicken broth or chicken stock, preferably organic
Frozen peas
Half & half
Cream cheese, cut into chunks
Parmesan cheese, freshly grated
Fresh parsley, chopped
Chicken Quinoa Bowls Variations and Add-ins
Chicken: I am using chicken breasts in this recipe, however, if you prefer to use chicken thighs, you can easily make the swap. The cooking time will differ, but it will certainly taste amazing. For a short cut you can use rotisserie chicken by just shredding it and heating it up in the skillet with just a touch of olive oil.
Cream Sauce: The creamy sauce in this recipe is made using cream cheese and half and half. If you want a richer sauce, you can heavy cream instead of half and half. If you want to lower the carbs a bit more, you can also use mascarpone cheese instead of cream cheese. If you want to add more earthy flavor to the sauce, you can add fresh herbs like basil, thyme or rosemary.
Vegetables: Jut because we used only used peas, but you can add several other fresh vegetables of your choice. Mushrooms, red bell pepper (or any color bell peppers), black beans, red onion, green onion, diced carrots and pearl onions are all great choices.
Seasonings: This is a mild flavored dish the whole family can enjoy but adding a little bit of heat to it is a common way to alternate way to season it. You can a pinch of cayenne pepper or for something just a tad bit less spicy, chili powder for even taco seasoning can be used.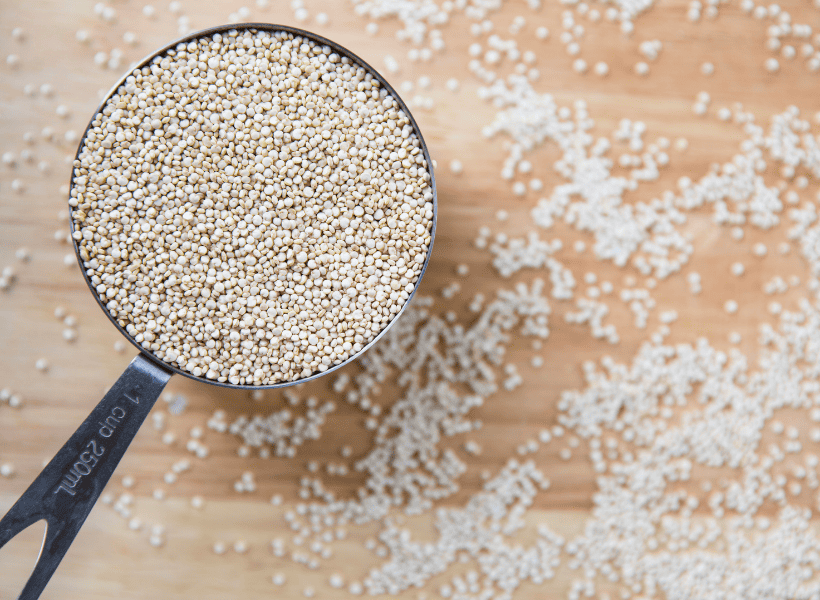 How to Make Chicken Quinoa Bowl
Cook the chicken: Slice the chicken into 1-inch slices. Season with garlic powder, onion powder, salt and pepper. Heat enough olive oil to coat the bottom of a large, high-sided skillet. Added the sliced chicken and cook medium-high heat, stirring occasionally, until chicken starts to develop some color, approximately 2-3 minutes.
Add the quinoa: In the same skillet, add the quinoa and chicken broth and stir well. Increase the heat and bring it to a boil and then reduce the heat again. Cover and simmer until the quinoa and chicken are cooked.
Make the creamy sauce: Add the frozen peas, half and half and cream cheese. Then add the parmesan cheese. Stir together and remove from the heat. Let it set, covered for another 2 minutes until the cheese is melted.
Garnish and serve: Top with fresh parsley and salt and pepper. Serve immediately.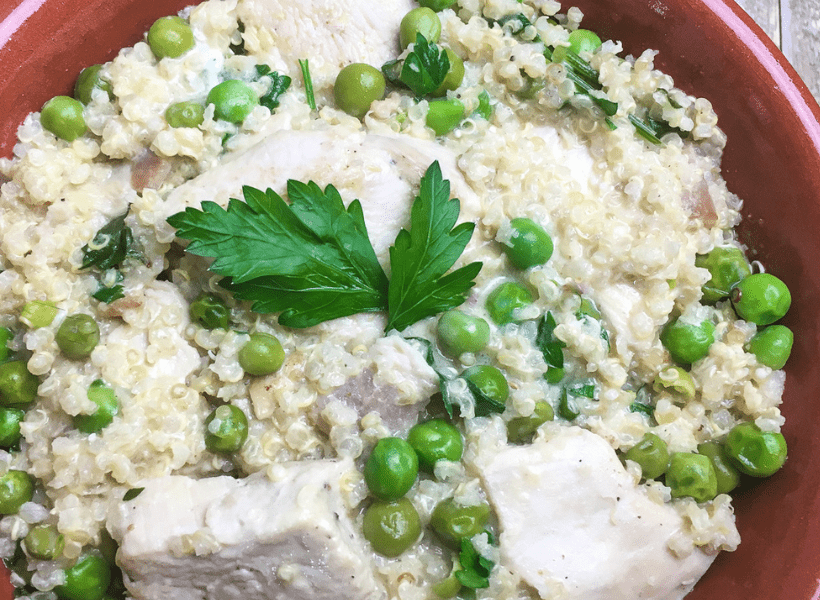 Frequently Asked Questions
Is Quinoa Healthy?
Quinoa is considered a very healthy food. It is high in protein and fiber. That makes it a high nutrient food. It also contains amino acids that is essential for the human body.
What Does Quinoa Taste Like?
Quinoa tastes like nuts or wheat and has a nice nutty flavor. It is often used as an alternative for pastas. While it makes a great pasta alternative, you will need more cooking liquid than you do with pasta because it has less starch in it.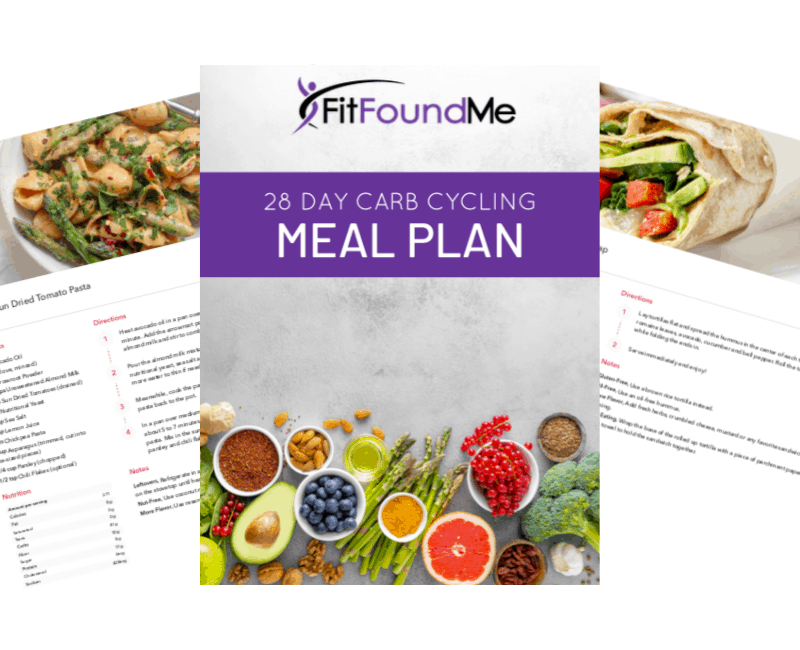 28 Day Carb Cycling Meal Plan: 1200-1500 Calories
Looking to get fit and healthy while still enjoying your favorite foods? Look no further than Fit Found Me's carb cycling meal plan!
Our meal plan is designed to help you achieve your fitness goals by strategically cycling your carbohydrate intake, resulting in increased fat burning and energy levels. Plus, with our delicious and satisfying meals, you'll never feel like you're sacrificing taste for health.
Whether you're a seasoned athlete or just starting your fitness journey, our meal plan is perfect for anyone looking to get in shape and feel great. With a wide variety of meals to choose from, you'll never get bored and will always be on track towards your goals.
So why wait? Join the thousands of satisfied customers who have achieved their dream bodies with Fit Found Me's carb cycling meal plan. Order now and start seeing results today!
See FULL description BELOW
What Kind of Pan Should I Use?
The best part about this recipe is that it is it's a one skillet meal. You'll want to make sure the skillet is large enough to accommodate everything. You can also use a dutch oven if you have one.
How to Store?
If you have leftovers of this incredible quinoa recipe, it will be delicious heated up the next day. You will want to store it in the refrigerator. Make sure to let it cool completely, and then move it to an airtight container. Place the container in the refrigerator and keep it cold whenever you are not serving it.
How Long Does This Last?
This chicken quinoa with peas can be stored for up to 3 days in an airtight container. If you want to keep it longer, you will need to freeze it. Once frozen, it will last for up to 3 months.
Can Chicken and Quinoa be Frozen?
This dinner can easily be frozen. It is a great way to make it last longer if you won't finish it before it spoils. Also, it makes a great freezer meal that you can cook now and freeze half of it.
Place the chicken and quinoa in an airtight container or freezer bag. Then place it in the freezer. Make sure to mark the container so that you know when you froze it.
If I am using an airtight container, I like to place a layer of plastic wrap or foil directly over the food. This gives another barrier to prevent freezer burn.
If you like to have easy grab meals, like dinner for one or a simple lunch, freeze the leftovers in individual containers or bags. This makes it easier to reheat and not have to take out the entire amount.
What is the Best Way to Reheat this Chicken Quinoa Bowl?
This is such a simple recipe to reheat. You can do it in the microwave, or you can reheat it on the stovetop. Depending on how much I am reheating at a time is how I decide on the best way to reheat it.
If you are reheating the chicken in the microwave, place it in a microwavable safe container. Reheat 1 minute at a time, stir and reheat it again until it is thoroughly heated.
To reheat this chicken quinoa recipe on the stove, place it in a skillet over medium low heat. Warm it until heated throughout.
What to Serve with Chicken Quinoa?
This chicken quinoa bowl is so delicious on its own and can easily be a complete meal. especially when you add veggies. If you want to other things with this dinner you can make a variety of side dishes. Here are just a few of our favorites: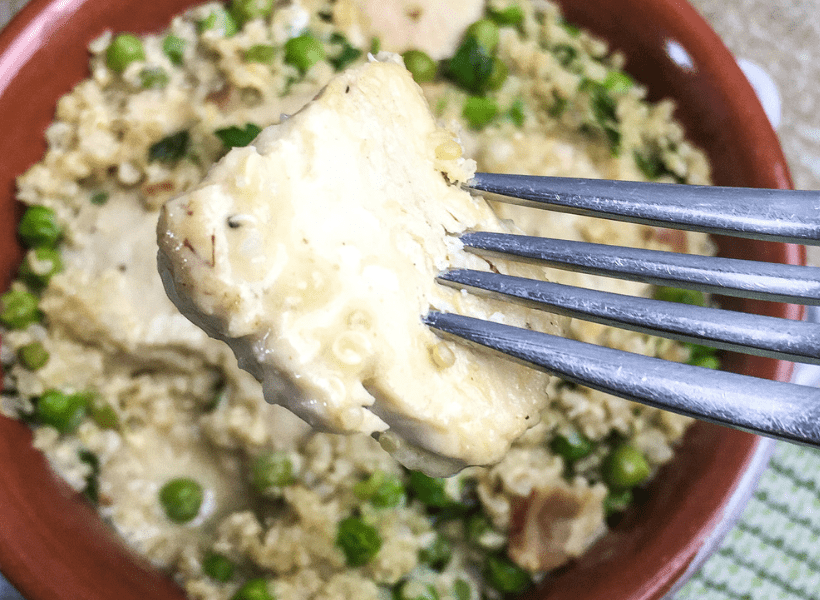 Want More Healthy Recipes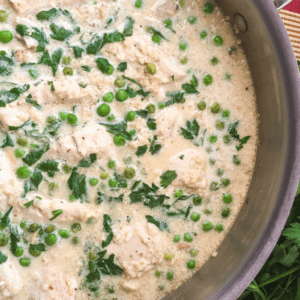 Quinoa with Chicken and Peas
Ingredients
1

lbs.

boneless

skinless chicken breasts, sliced

½

teaspoon

onion powder

½

teaspoon

garlic powder

Sea salt and black pepper

to taste

1

cup

white quinoa

rinsed and drained

2

cup

chicken broth

preferably organic

1½

cup

frozen peas

¼

cup

half & half

4

ounces

cream cheese

cut into chunks

½

cup

Parmesan cheese

freshly grated

½

cup

fresh parsley

chopped
Instructions
Slice the chicken into 1-inch slices. Season with garlic powder, onion powder, salt and pepper.

Add enough olive oil to coat the bottom of a large, high-sided skillet. Added the sliced chicken and cook, stirring occasionally, until chicken starts to develop some color, approximately 2-3 minutes.

Add the quinoa and chicken broth and stir to combine. Increase heat to high and bring to a boil, and then immediately reduce heat to medium-low. Cover and simmer until the chicken and quinoa are cooked through, approximately 10-12 minutes.

Uncover and stir in frozen peas, half & half, cream cheese, and half of the freshly grated Parmesan cheese. Stir to combine and remove from heat. Cover and let sit for another minute or two or until the cheese is completely melted.

Remove cover and stir in fresh parsley. Season with additional salt and black pepper, if desired, and serve immediately with remaining Parmesan cheese. Enjoy!
Nutrition
Calories:
353
kcal
Carbohydrates:
26
g
Protein:
28
g
Fat:
15
g
Saturated Fat:
7
g
Polyunsaturated Fat:
2
g
Monounsaturated Fat:
4
g
Cholesterol:
77
mg
Sodium:
533
mg
Potassium:
623
mg
Fiber:
4
g
Sugar:
4
g
Vitamin A:
1059
IU
Vitamin C:
21
mg
Calcium:
165
mg
Iron:
3
mg
Tried this recipe?
Tag me on Facebook @fitfoundme with a pic and let me know what you thought of this recipe in the comments below!