I hated cardio until this changed my life, and I think it'll change your life too.
Cardio workouts for women typically mean running or walking on a treadmill or outside. I don't like running or walking on a treadmill and walking outside when it's below 60 degrees is out of the question. Last Christmas I took the plunge into buying a spinning bike for home. But not any spin bike, I wanted the best home spin bike. I had never taken a spin class workout, but the Peloton bike ads had been sucking me in for a couple of years.
Update: Peloton just announced a 30 day free trial for the Peloton bike in your home. You'll get a full refund if you decide not to keep it. but I don't think that will happen. It's changing home workouts and cardio workouts forever! Give it a try now! Get $100 off using my code F2MD2T.
For years Beachbody workouts were motivating for me. There's a specific, beneficial push when hearing a trainer motivate you.
For a couple of years, I have been seeing video ads of a woman doing a spinning workout at home with a nice large monitor attached and a spinning instructor motivating her to push harder. When I made the decision to purchase a Peloton bike, I knew I would like it. What I didn't know then was how addicting it would become for me or how it would take my fitness and cardio to a new level.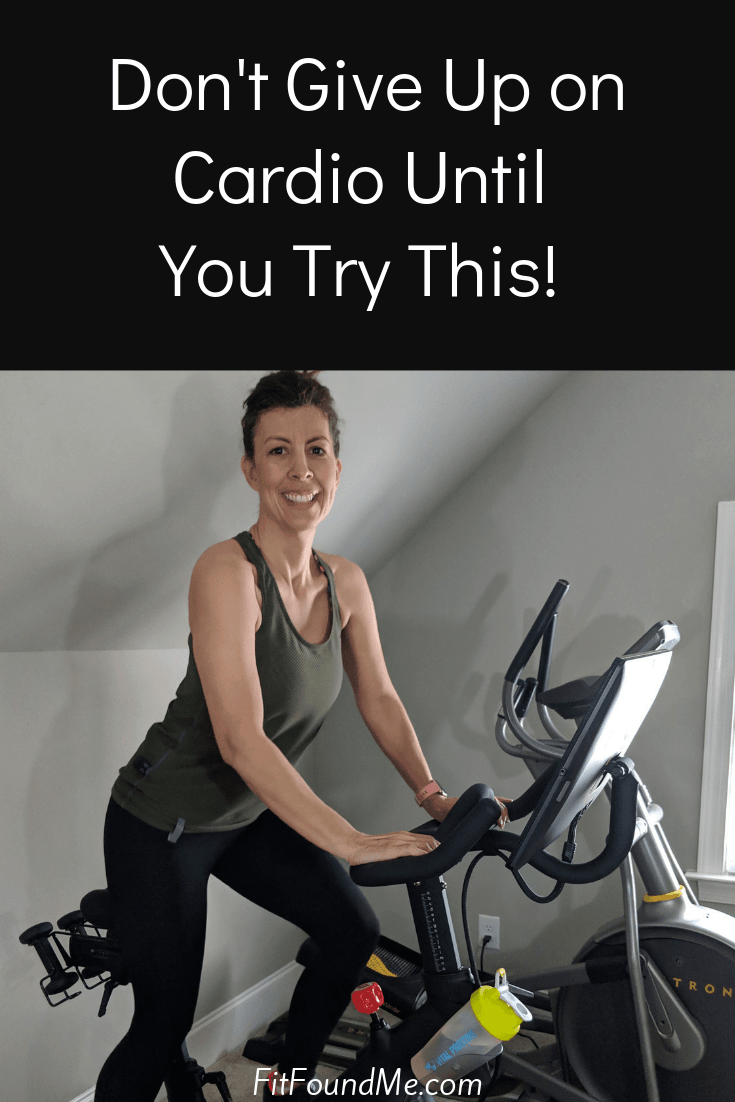 This bike, along with all of the benefits like top-notch instructors, class variety, first-class technology, makes cardio workouts so much more enjoyable for those of us who don't really like cardio very much.
What is a Peloton bike?
A Peloton bike is an indoor cycling bike. Not being familiar with cycling bikes, I was just intrigued by the Peloton commercials I started seeing on Facebook a couple of years ago. Anything that makes cardio workouts look fun is always a plus for me.
The Peloton bike is so much more than the traditional stationary bike, but you can also ride it as a standard stationary bike if you wish.
There are several different types of rides you can do that include: trainer led, a ride on your own, and scenic rides.
The trainer led rides are my favorite because they push me to my limits no matter which trainer or type of ride I choose. Some of the varieties are: HIIT, Tabata, low impact, DJ ride, beginner, endurance, soundtrack themed, Intervals and many others.
Personally, I don't think the workouts will ever get boring!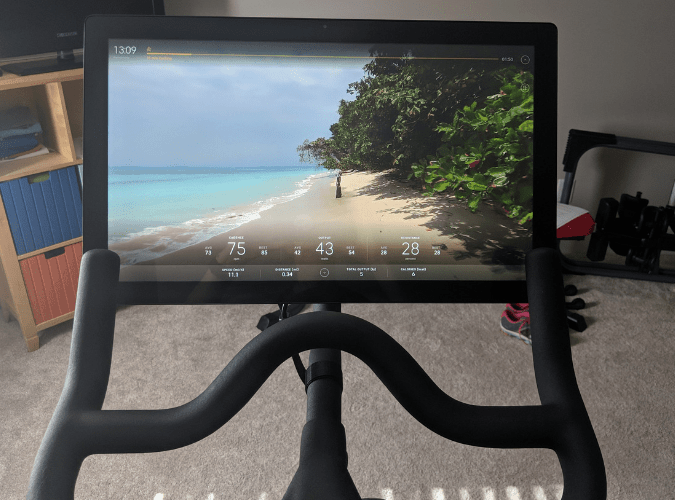 How much is a Peloton Bike? Does Peloton have a monthly fee?
The bike is $1995, not including tax and delivery and setup fee of $250. There is a monthly fee of $39. That gives you access to all of the classes, including yoga, strength, cardio, meditation, running, bootcamp, and stretching. You can view these classes on the Peloton bike or an app for convenience anywhere.
There is an option to finance the bike and associated costs for 0% financing, which could be a good option for those not wanting to shell out a whooping $2500 or so all at once.
Get $100 off your bike by using this code – Y76DCC
Does Peloton Have Home Delivery?
As mentioned above in the Peloton pricing, there is a delivery charge of $250. It is worth it though as it is a white glove delivery. They ensure the bike is where you want it, and it is completely set up and ready to use as soon as you let the delivery guys out of the door.
How Much Space does a Peloton Bike Need?
The mat the Peloton Bike fits on is 3′ X 6′, without the mat it's about 2′ X 4′. I have seen people put it in almost any room when a workout room isn't an option.
How Loud is a Peloton Bike?
The bike itself is extremely quiet. I've seen a commercial that stated the bike can be ridden in a bedroom with someone sleeping without waking up. The rider, can't or shouldn't promise to be as quiet. At least that goes for me. I find that even if I get on intending to have a nice relaxing ride, I can't help but to push myself hard enough to not be as quiet as the bike.

What equipment do I need with my Peloton Bike?
There are a couple of options for shoes. There are cages that can be clipped on the pedals so that any shoe can slide in. The better option is to get cycling shoes that clip onto the pedals. Not being a cyclist prior, I first assumed we would be happy with the cages. Thankfully, I decided to try the cycling shoes at the Peloton store and wow, what a difference it made!
So, in my opinion, cycling shoes are a must for regular rides. You have the option of getting them from Peloton or using cycling shoes that are compatible. I just ordered ours from Peloton for ease.
Weights for arm workouts are a must. The bike has a convenient storage spot for the weights right behind the seat. I have the 3lb weights, but Peloton has the option of 1, 2 or 3lbs.
There is a mat option as well. Again, I initially didn't think it was necessary but changed my mind. We have carpet in our workout room and the mat helps catch the sweat that drops off of us for easy cleanup. Yes, I know, you may be thinking you don't usually sweat very much. Neither do I, except for when I am doing a spinning workout.
The other option with the accessories package is a heart rate monitor. I didn't get this for a couple of reasons. First, my first tracker had a heart rate monitor to wear and I don't miss it at all. Secondly, we have Fitbits and they sync very well with our Peloton bike.
What are the Benefits of Cycling Class with Peloton?
Burn Calories – and a lot of them
Ride anywhere/anytime
Improve heart health
Community of support
Increases stamina
Builds lean leg and glute muscles
Strengthens your core
Relieves stress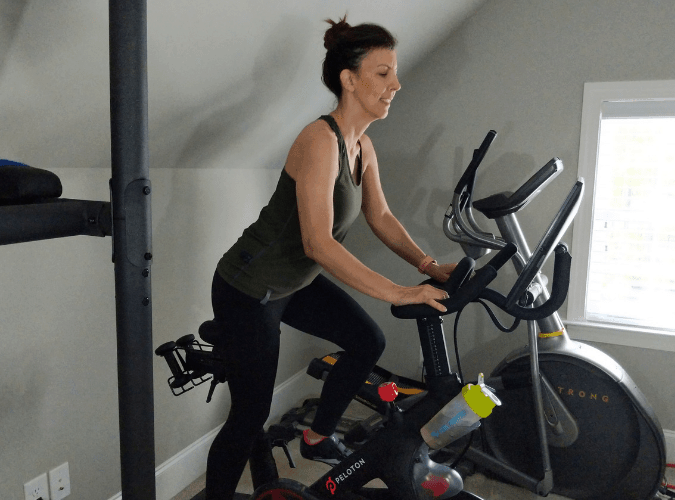 Do I Need to Know How to Spin?
No experience necessary!
Before my first Peloton spin bike workout, I had never taken a cycling class before. I had ridden exercise bikes and recumbent bikes and enjoyed them. I was drawn to Peloton for the very effective advertising and the idea of such a beneficial cardio workout with the added elements of home comfort and competition.
Peloton has some great beginner classes as well as several videos to help get you started with the correct form and bike adjustments.
Is Spinning a Good Way to Lose Weight?
Cardio for women over 40 is a must for heart health as well as burning calories. Sure, weight training and strength training are equally important, but cardio provides benefits that other training isn't able to.
I burn about 300 calories in 30 minutes when I on the bike with an average trainer led class. I sweat more than riding my horse in 90 degree weather in the summer and that's saying a lot!
It's a workout that pushes you to your limits, typically goes by quickly and feels extremely rewarding when you're finished! To say I love it is an understatement. I mean, I cannot wait to get on it today and am getting more excited for my workout today the more I type this post!
Treadmill VS Bike for Home Gym?
Hands down, I vote for the bike! Treadmill workouts aren't awful, but they are worst on knees and other joints since it is not a low impact exercise. Peloton Tread is the treadmill with the same screen and online membership available.
Cycling VS Elliptical Calories Burned
The elliptical was my first step in my weight loss and fitness journey several years ago. I love the elliptical workouts for the range of level of experience and fitness levels it can be used for the low impact, but it takes a good TV show to keep me going on it.
Cardio Workouts Changed with Spinning
I wasn't new to cardio when we got our Peloton bike, however, my cardio fitness fluctuated from time to time along with my dedication. Most of my cardio in the 6 mos or so prior to getting the bike was mostly when riding my horse, and often wasn't as intense as it probably should have been. But, who really likes cardio? Not too many people.
Now, I regularly burn 300- 500 calories every ride on the bike, and I can tell my cardio fitness has increased dramatically since getting the bike a few months ago. It's truly cardio I love – and other than riding my horse, I have never truly loved cardio. The results from cardio, yes, but never like this.
The biggest changes I have seen from the Peloton bike so far are increased cardio fitness, and my favorite – finally firming up glutes, hips, and legs more so than before. And, if you are wondering, no knee pain when spinning thanks to both low impact and the collagen I take regularly.
Does Peloton Have a Beginner Spin Class?
Peloton's classes are very diverse. Beginner spin classes are available in various lengths of time with plenty of guidance. Additionally, it seems to be the standard for all of the classes to start off with a quick tutorial to help beginners.
Several of the other genres of classes have a beginner level within it also, such as the HIIT rides and Power Zone rides.
Types of Classes Available for Workouts – Do Peloton Classes Cost Money?
There is a long list of genres to choose from in the Peloton on Demand classes as well as the ongoing live classes.
Beginner
Heart Rate Zone
Live DJ
Metrics
Pro Cyclist
Theme
Climb
Intervals
Low Impact
Power Zone
Rhythm
In addition to the genres, you can also sort by music genre.
Alternative
Country
Hip Hop
Latin
R&B
Classic Rock
Electronic
Indie
Pop
Rock
In addition to the cycling classes, Peloton has many other classes such as bootcamp, yoga, strength, running, meditation, stretching, walking and cardio! You can login to your account and do the classes anywhere you have internet access, including using any bike when you are on vacation or traveling.
Peloton Instructor Shoutouts
As part of Peloton's personal touch, during the live rides, the instructors do call outs from the leaderboard to recognize first rides as well as milestone rides. Often, there are hundreds or thousands in the classes, so understandably the instructors are unable to do call outs for everyone. I still think it's a nice touch.
Ways to Track Your Workouts on Peloton
As part of your Peloton profile, all of your workouts are tracked and stored. Your milestones, stats and badges are all stored in the history. You can access the information on the Peloton screen, from a computer and partially from the Peloton App.
There are monthly challenges such as daily goals and monthly distance goals. Once you complete the challenge a badge is awarded to you. There are also badges for working out with your "friends/followers", hitting milestones such as 50th ride as well as many other badges for various events.
Recently, I joined a Power Zone challenge group (very organized, specific rides are required weekly to earn points to compete with other teams within Peloton) and discovered the app Power Zone Plus. If you take the Power Zone classes, its a great way to track your stats.
Stats and tracking history are motivating to keep up with to compare over time and to meet personal goals.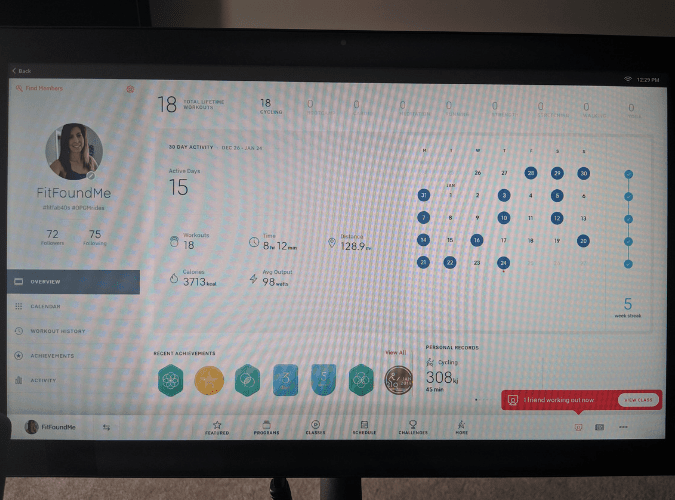 Does Peloton work with FitBit?
Yes! I love that my FitBit syncs so well with my bike! You can sync it on the Peloton screen when you set up your profile or anytime later. When you ride, the two automatically sync without even starting exercise mode on your watch.
After you ride, the exact ride (title of it such as 20 min 90s Pop Ride with Jennifer Jacobs) shows up on your Fitbit exercise details.
How to connect my FitBit to my Peloton?
From the screen on the bike, go to your profile, social settings and follow the promptings to add device. You will see the FitBit login box. It's just that easy!
Create Playlists with Your Favorite Peloton Music Songs
You can create your own playlists with Apple Music or Spotify when you "like" the songs as you ride. I love this feature because often I hear songs I haven't heard in a while that is perfect for a playlist.
Once on your Peloton profile, look for music, sign in to either Apple Music or Spotify and bam, a new playlist pops up.
Peloton Community Support and Motivation
One of the bonuses with the Peloton bike is the community within. The community is it's own world so to speak. There are some great Facebook groups for general Peloton members as well as specialized. Here are some of my favorites that I am in:
There are so many to choose from depending on your other interests.
Leaderboard Names and Groups
When you set up your profile in Peloton, you get to choose your leaderboard name. When you take a class, the names of all who have ridden or are riding in that class are on the leaderboard.
There are groups that can be identified by a hashtag where otherwise your geographic location would be.
Bottom line…
I absolutely love our Peloton. After watching the commercials for a couple of years, I bit the bullet and bought one. Yes, it is expensive but it's some of the best money we've spent on our health.
Andrew used to run several days a week but with his back pain, had to give that up a few years ago. Since then, he had not found cardio that he enjoyed enough to replace it until the Peloton bike. It took a few weeks for him to fall in love with it due to soreness, but once that was better, he now rides several days a week.
For me, I loved it from the first ride. It is really addicting. After riding a 60 minute Power Zone ride today (and burning 500 calories), I found myself wanting to get back on for a short ride after my shower. Yes, it's that addicting! One of the best cardio workouts for women over 40!