It's not a crime to indulge on vacation if you are ready to lose vacation weight fast when you get home. By sticking to a few simple rules for a couple of weeks, the vacation weight loss plan can successfully get you back to your pre-vacation weight.
Andrew and I went on an ah-mazing vacation over Spring Break. We drove to Fort Lauderdale, Florida for a 7-night cruise to the Eastern Caribbean.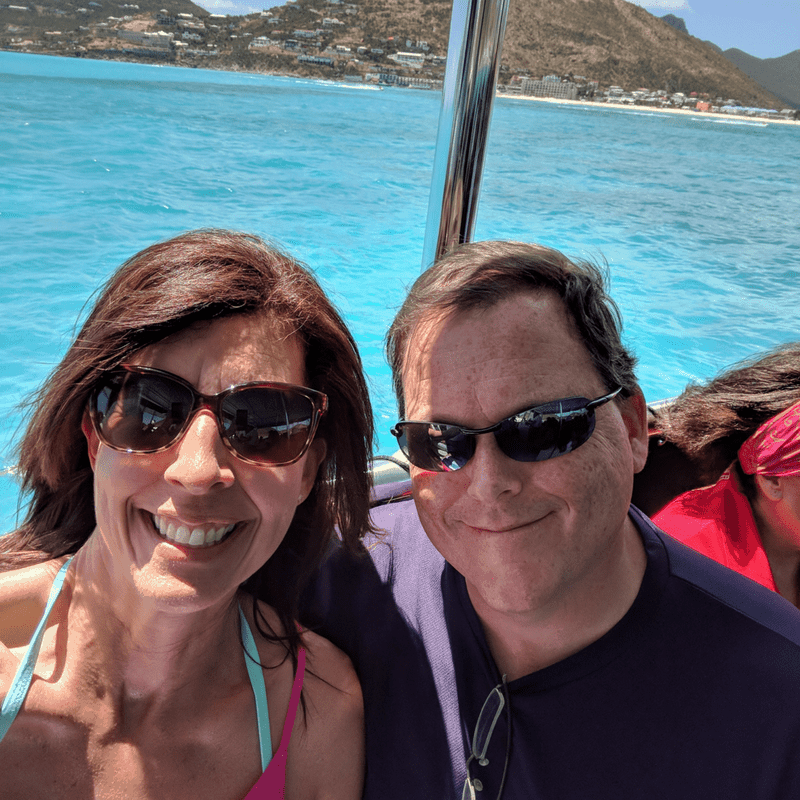 The cruise food was good…really good. I balanced between healthy and treats, but thoroughly enjoyed the desserts. The sugar is brutal for weight. If I'm eating sugary sweets, I call it, "feeding my fat cells", because that is totally what we are doing.
The buffets all day for every meal with delicious food right at our fingertips.
I still practiced some healthy choices and thankfully Holland America has a lot of very healthy foods to choose from. I often chose a hefty portion of vegetables while staying away from the foods like potatoes and bread.
I enjoyed eggs, bacon, turkey sausage and pancakes without syrup in the mornings. Desserts were enjoyed lunch and dinner with ice cream as a mid-afternoon snack.
We did go to the fitness room, but as we all know, sugar is detrimental to our weight. I gained about 6 lbs, so this week is it straight back to the healthy eating 100% of the time until those extra pounds are off.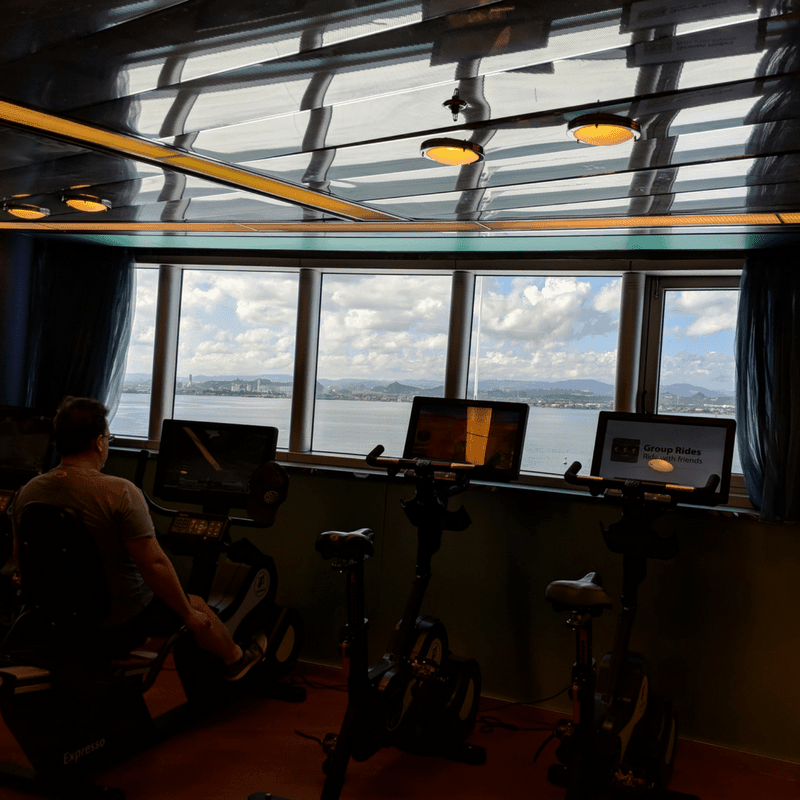 Knowing that carbs, simple carbs and sugar specifically, are our nemesis is an easy recipe for controlling our weight. While there are several components to losing weight, reducing those carbs is a key factor.
You really can't outrun a bad diet, which is why both nutrition and exercise are so important to being a healthy weight.
I stocked up on all veggies and lean protein yesterday at Costco. Kale, spinach, ground turkey, romaine lettuce, cucumbers, Brussels sprouts, broccoli, french style green beans, tomatoes, eggs, strawberries, and blueberries were some of the items in my cart.
Meals for the week will be:
Taco Salad (twice)
Chicken Sausage with Roasted Broccoli, Brussels Sprouts and French Green Beans
Beef stew meat with roasted asparagus, couscous and sauteed spinach
After a great week of vacation eating, getting home is about getting back to the basics of healthy eating. Reducing carbs for weight loss has been the best way for me to lose the vacation weight fast.
Low Carb Tips for Fast Weight Loss
Low carbs and high fat (healthy fats) is a great way to lose weight fast.
A few things in my arsenal of low carbs foods and supplements are:
Veggies!
I know not everyone loves veggies, but hopefully, if you are one of these ladies, you keep trying different veggies and different recipes.
Andrew isn't a big veggie person, but he loves my roasted veggies! I have found roasting almost any vegetable makes a great tasting veggie almost everyone will eat at my house.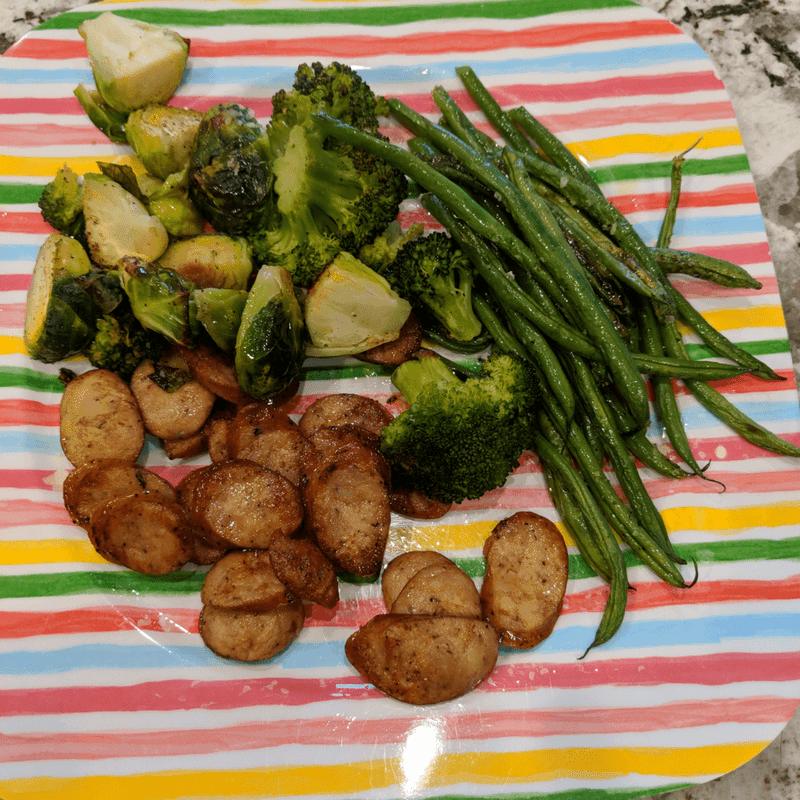 Great veggies will replace the need you may be feeling to have those carbs like potatoes, rice, pasta, etc. Staying away from those types of carbs will help the weight come off.
Last night, we ate the Chicken Sausage meal with veggies. I had a full plate of veggies with one chicken sausage link and even had seconds of some veggies. Totally full, completely satisfying dinner for less than 200 calories! Carbs were probably somewhere less than 20 grams.
Another low carbs for weight loss tip is having a low carb protein shake with added healthy fats. The Fu_Carbs protein supplements are perfect for the days you are aiming for low carbs.
Low Carbs with Intermittent Fasting
While I don't practice this way of eating all of the time, I tend to listen to my body while mixing in a few days of intermittent fasting. Some days I am ready to eat by 10, other days it is more like 12.
There are benefits to intermittent fasting and carb cycling.
How Did I Do on My Own "Lose Vacation Weight Fast" Efforts?
Monday morning after our vacation, I weighed 6.5 lbs over my pre-vacay weight of 140. I wasn't completely shocked but was not fun to see.
As I said previously, I immediately implementing the low carb intermittent fasting and by Tuesday I was down 3 lbs.
---
Monday Meals:
7 am pre-workout drink – keto
12 pm keto protein shake with ¼ cup almond milk unsweetened
3 pm keto protein shake
5 pm parmesan cheese whisks from Costco (probably 15 pieces)
7:30 pm taco salad
Romaine lettuce
2 tbsp light sour cream
Ground turkey with powdered taco seasoning from Costco
Chopped cucumber
Chopped onion
Black beans
Salsa
Guacamole
2 tbsp Shredded cheese
800 calories, 33 grams carbs 16%, 42 grams fat 47%, 75 grams protein 37%
---
Tuesday morning I was hungry earlier than on Monday, so I ate earlier and ate a little more. I am never so strict that I don't listen to my body. Although I did eat more, I stayed within the same guidelines of low carbs, healthy fats, and lean protein.
7 am pre-workout keto
11 pm ½ crunchy PB on sourdough bread
1 pm taco salad
6 pm keto protein shake with healthy fats
8 pm sauteed spinach & 1 chicken sausage link
1216 calories, 73 grams carbs 24%, 61 grams fats 45%, 94 grams protein 31%
---
Wednesday morning I was back down to 140.
Score one point for the lose vacation weight fast team!
---
That said, I realize a lot of what I had Monday morning was probably water weight from eating "restaurant food" that typically has more sodium than what we cook with at home. Nevertheless, the weight is gone.
A side note about my scale…we don't have the best of relationships. I don't trust it most of the time. I don't value my health by the number on the scale. I listen to my body, notice how my clothes fit and how I feel day to day during my normal activities. I hope you do the same. Being chained to a scale will only lead to unsatisfaction and disappointment.
As you get healthy and stronger, your body will weigh heavier than you think it should, but your body measurements will be smaller. You'll see if you haven't experienced this yet.
---
So, back to my eating in the last 3 days…I was able to curb the sweet, simple carb cravings by staying full and satisfied with great tasting veggies and other healthy foods.
I won't always be this strict with carbs though. Personally, I can't be happy with very low carbs long term. I do like the carb cycling model and often do that. Carb cycling for me will be 3 days low carbs (as few as I can handle, but less than normal) and 1-2 days of normal carbs.
How important is it for you to lose vacation weight fast? Are you able to set a nutrition goal and stick to it for a few days?
Sometimes it's important for us to get a little more strict with eating for a short time. As long as we aren't going to one extreme to the other, it's a healthy way to live. I don't recommend doing the low carb and then bouncing back to high simple carbs of loads of desserts, high unhealthy fats and such. That is when metabolism really gets out of whack.
Having a healthy body after 40 is consistently eating healthy meals with a balance of exercise between strength training and cardio.
Need some help with balancing a healthy life? Check out the Fit Found Me Weight Loss Challenge. I share all of my ins and outs to transitioning to a healthy way of living in 30 days. And, it's free!