Are you out of shape and wondering how to start exercising after 40? The first step is to be committed and then keep going. Read on for tips on cardio, strength training, and some great challenges you can join!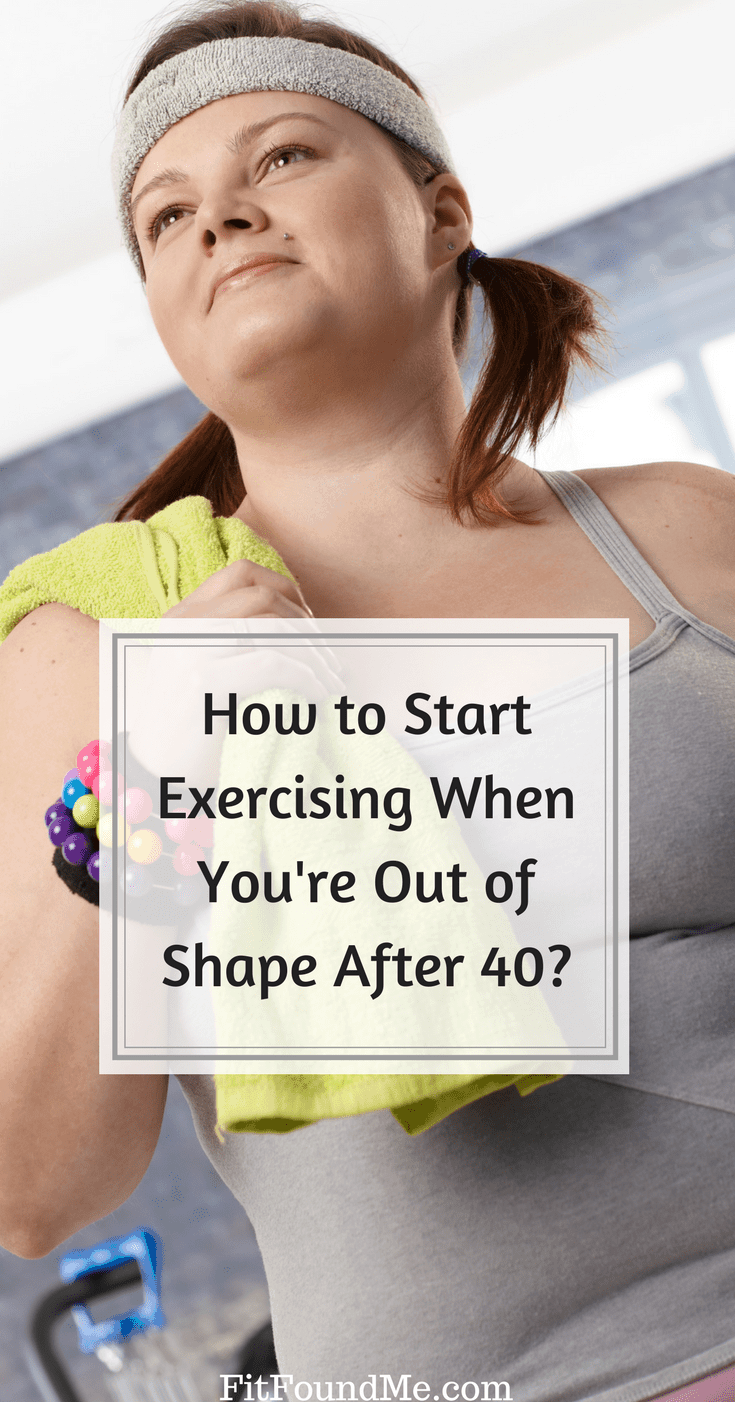 Getting In Shape After 40
When I was 41 and decided to lose weight, I had to figure out how to start exercising from ground zero. I was so out of shape that playing "Just Dance" on the Wii had me ready to pass out.
If you are having trouble losing weight after 40, you are not alone. Starting an exercise program for the first time ever like I did, or even getting back into an exercise routine can be so hard.
There's really nothing worse than working so hard on the elliptical and only going .25 miles. I know because that was me at one time. Then, making a goal to reach 1/2 mile felt like torture.
You must be really serious about losing weight and getting fit after 40, and truly that is the first step to making this work.
How to Start Exercising if You Are Out of Shape After 40
After learning how to exercise for the first time in my life at age 41, I can tell you what I did to get through it. Plus, there are some things I would do a little differently so you can now benefit from what I've learned.
The most important thing to remember is to keep at it. Day 1, and even day 7 or day 10, can feel really tough trying to do a workout. When you want to start exercising again at 40, here are some important tips to remember:
It's 100% okay – and normal – to not be able to finish a workout at this point. Do as much as you can and gently challenge yourself a bit more every workout.
Modify exercises so that you CAN finish. Any movement is better than sitting on the couch!
It's perfectly okay to take short breaks during the workout so you can keep going.
When I first began working out, I could only do a few minutes of an hour workout. After a few months of elliptical workouts, I decided to give a more structured workout a try.
I did the workouts 4-5 days a week. To start, I could only do about 20 minutes before my muscles were too tired for more. After a few weeks, I was able to finish. It was really tough, but it was worth it.
It takes a strong commitment to yourself to start exercising if you're out of shape, but it is so important to stick with it through the beginning to get to the "other side".
How to Start Cardio Exercise
Let's be honest, there aren't too many people who love cardio, me included. Trying to do a full cardio workout when out of shape can be brutal, and dangerous to your health in some cases. A slow steady cardio plan is a great way to start without getting overwhelmed.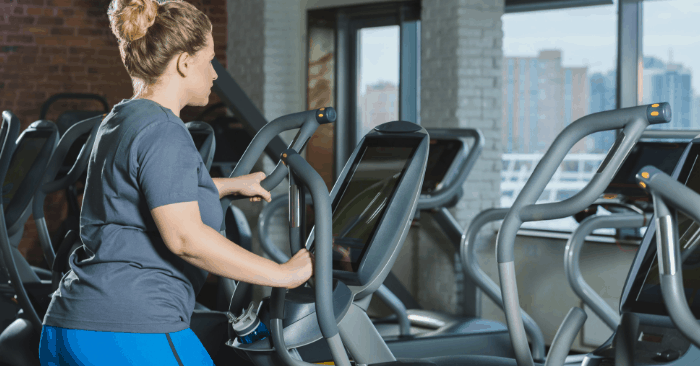 You shouldn't expect to be able to go from doing nothing to running a couple of miles, or even 1/2 mile. Maybe running isn't even your goal at all. You don't have to run to lose weight. Do what you enjoy – whether it's walking, riding a bike, using an elliptical, swimming, or anything else that gets your body moving steadily.
For the out of shape beginner, a nice walk is a great way to start a cardio program to lose weight.
I have been using a fitness tracker for years now and it was one of the best purchases for my health I have ever made. It motivated me to get up and get moving regularly. The best way to use a fitness tracker when starting an exercise program is to have daily step goals.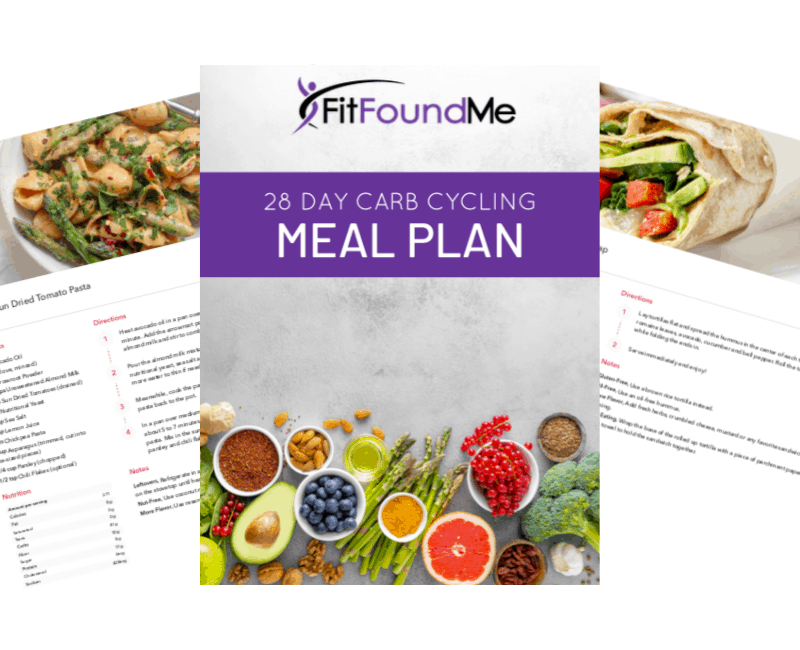 28 Day Carb Cycling Meal Plan: 1200-1500 Calories
Looking to get fit and healthy while still enjoying your favorite foods? Look no further than Fit Found Me's carb cycling meal plan!
Our meal plan is designed to help you achieve your fitness goals by strategically cycling your carbohydrate intake, resulting in increased fat burning and energy levels. Plus, with our delicious and satisfying meals, you'll never feel like you're sacrificing taste for health.
Whether you're a seasoned athlete or just starting your fitness journey, our meal plan is perfect for anyone looking to get in shape and feel great. With a wide variety of meals to choose from, you'll never get bored and will always be on track towards your goals.
So why wait? Join the thousands of satisfied customers who have achieved their dream bodies with Fit Found Me's carb cycling meal plan. Order now and start seeing results today!
See FULL description BELOW
Ultimately, the health benefits of taking 10,000 steps a day will be a great addition to your overall program. But when you want to know how to start exercising again at 40, you can start with a smaller goal. Adding an extra 1,000 steps at a time to your normal activity will help you burn more calories.
There is research that proves taking a few minutes every hour to get up and move is much healthier and better for our body, specifically our vital organs.
Over the next few weeks, increasing your distance walked daily as well as the pace will increase your cardio health and prepare you for the next step in your weight loss journey.
When you are up to it, this 30-day walking plan will burn calories for weight loss.
Strength Training for Getting Fit After 40
Strength training may not even be in your plan for losing weight, but it should be! Adding in weight training is very important when you start exercising after 40.
You don't have to wait to start lifting the lightweights. By starting early, your muscles can begin to tone and rebuild after years of atrophy. When you have more muscle tone, your metabolism will be higher, thus, burning more calories overall.
It took me over a year to pick up my first weight. Looking back, I wish I had started sooner. I was doing body weight exercises and using resistance bands, but great things began happening when I started picking up weights.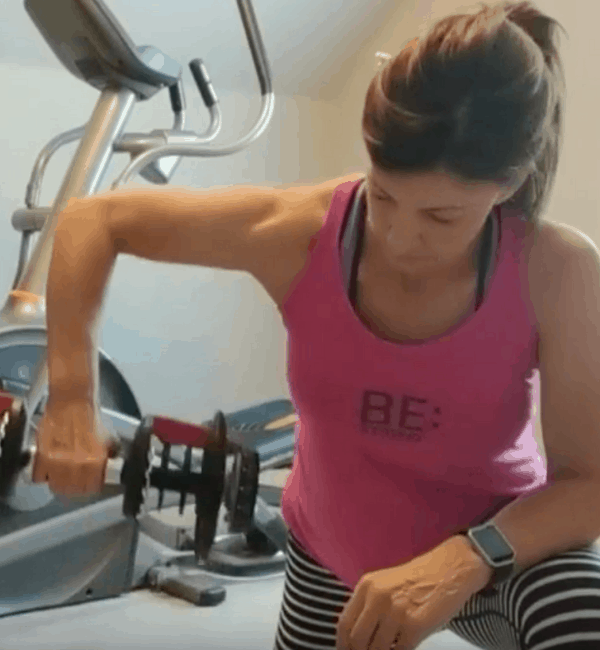 There are many different health reasons for women over 40 to lift weights, including preventing osteoporosis. Even if your goal isn't to tone your muscles (but what woman over 40 doesn't want to have a tight, toned body?), strength training helps strengthen your bones and osteoporosis should not be ignored.
You should start strength training slowly, lifting weights of 1-5 lbs in the beginning.
Bottom line, listen to your body. You will know when it's time to step up your exercise to the next level. Keep challenging yourself or even back off a bit if needed, but don't just quit because you think you can't do it.
Also, make sure to check with your doctor before starting any exercise program when you are out of shape from years of not doing exercises.
Workouts to Start Exercising When You're Out of Shape
If you are just learning how to start exercising at 40, I have some workouts you can use to ease into it. These workouts will help strengthen your muscles and increase your cardio endurance.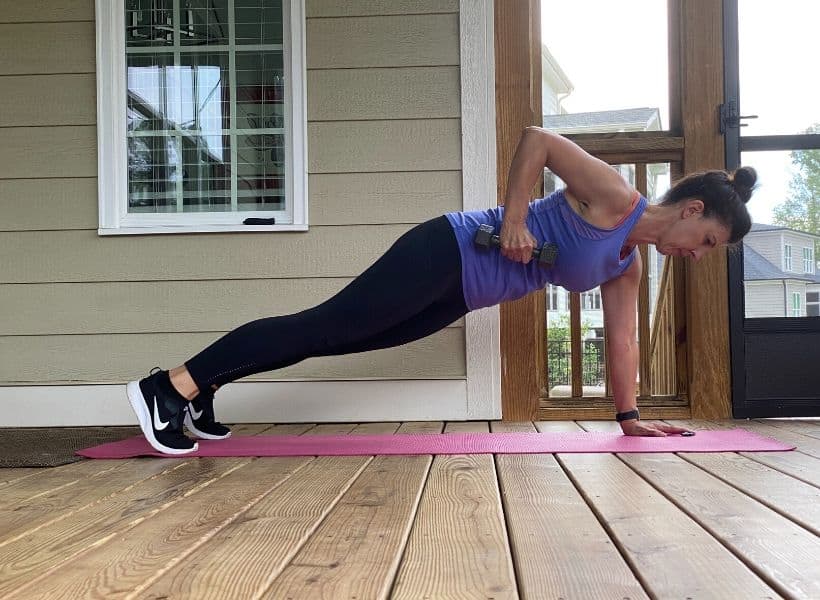 If you would rather have a more structured workout with a coach to motivate you and explain the exercises, you'll want to start with what I found to be the most beneficial – Beachbody workouts.
The Beachbody on Demand program is extremely affordable and easy to use, and they have workouts for every fitness level. I have written a thorough list of the Best Beachbody Workouts for Weight Loss that could be very helpful in getting started.
When you sign up for Beachbody on Demand using this link, I will automatically become your coach! I can help you decide what workout you should start with, provide help with a nutritional plan to support your goals, and anything else you need to get started on your journey.
If you're feeling sluggish when it's time to exercise, a good pre-workout supplement will provide a boost of energy and help your progress. Be sure to check out our extensive guide to Pre-workout Supplements next.