You've lost weight. Congratulations! But, you didn't count on having so much loose skin, right? There can be a big concern about how to tighten loose skin after weight loss. If you're a woman over 40, you may have noticed your skin's elasticity isn't what it used to be.
Here's what I have noticed. My skin doesn't tighten after weight loss like it did 10, 15, 20 years ago, but I have found something that helps quite a bit without going the surgical route.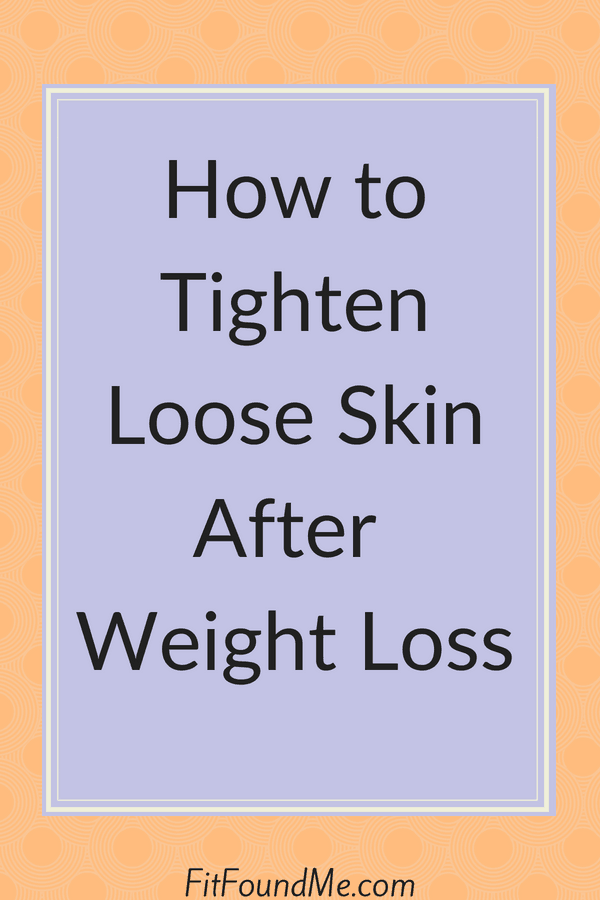 How to Tighten Loose Skin After Weight Loss
I was at a fitness conference a few years ago when I learned about the benefits of collagen supplements. Immediately it peaked my interest. Right about that same time I had started wearing a knee brace when I worked out due to the pain…another effect of aging, right?
I took some collagen home to try for myself. After adding the collagen to my protein shake every day for a few weeks, people around me started telling me my face looked younger, brighter, just overall better somehow. The only thing I had changed was the adding the collagen supplement.
Even better than that…about 4 weeks in, I realized my knee was no longer hurting. The knee brace I had purchased was no longer needed.
Now, years later, I am still using collagen every day. My loose skin has firmed up over time and I whole-heartedly believe it is due to adding collagen back into my nutrition.
Our bodies slowly begin to decrease collagen production starting in our 20s, and by our 40s many of our bodies have stopped producing collagen completely.
Collagen is responsible for skin elasticity, joint health among other things. Makes total sense, right? Around 40 is when we can begin to see the skin's aging effects that are largely due to lack of collagen.
Collagen Peptides Benefits to Tighten Loose Skin & Other Benefits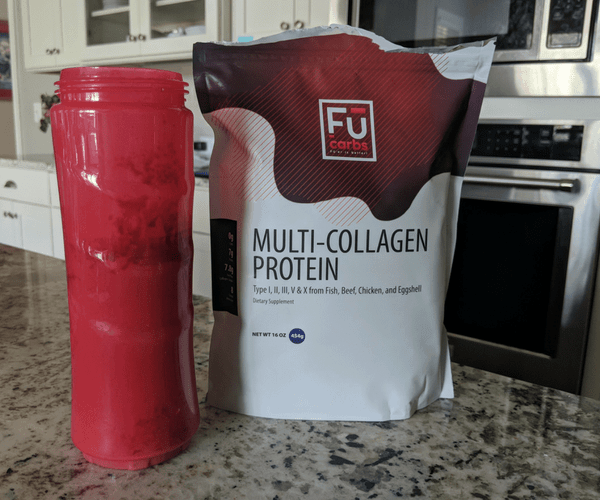 Without going too much into the scientific terminology of collagen peptides, I think it's important to get the gist of what collagen peptides are and how collagen peptides really work for anti-aging.
Collagen peptides are amino acids which are used by the body to build hair, bones, joints, skin, everything really.
Benefits as listed on the Fu Carbs website are:
* Improves bone and joint health
* Strengthens teeth and nails
* Boosts metabolism
* Reduces cellulite and stretch marks
* Improves skin elasticity
* Prevents wrinkles
* Treats leaky gut
Collagen Supplements
Years ago I believed supplements were the scary harmful things that damaged our bodies…I know, crazy, right? Especially since at the time I was eating foods with truly crazy chemicals and man-made nonsense in them. When you choose wisely, supplements are natural whole foods that help your body function at the highest, healthiest level possible by replacing or increasing the natural components it needs. So, don't be scared of the word supplements, just investigate a bit and read the labels.
There are many types of collagen supplements on the market. I am very particular which ones I use. I discovered Fu Carbs after they sent me a really delicious (chocolate & coconut) low carb protein supplement. Shortly after, they sent their collagen supplement.
Fu Carbs is a supplement company that focuses on supplements with fewer carbs for those who are trying to limit carb intake such as the keto diet or any low carb diet.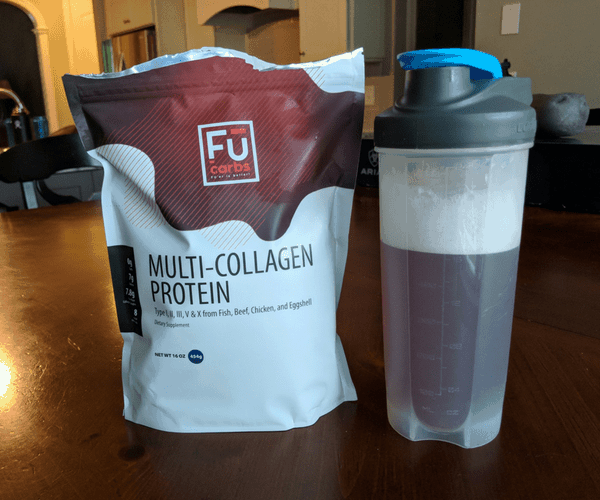 Fu Carbs Collagen is a unique blend of various sources of collagen including bovine, chicken, fish, and egg collagens. Fu Carbs use the highest-grade sources that are grass-fed, wild-caught, cage-free, gluten-free and non-GMO.
The collagen supplement comes in an unflavored powder form to easily add it to your protein shake, smoothie, beverage or anything you want! The collagen is extremely water soluble for versatility.
How I Use Collagen Powder Every Day
I start my day off with a mix of BCAAs and a scoop of collagen powder. Like I said before, when I am taking a collagen powder supplement daily, my joints are painfree, my skin has fewer wrinkles and has a better overall appearance.
When I first started taking the collagen peptides, my main goal was mainly to tighten loose skin after weight loss. I wasn't expecting the improved joint health and a younger looking face!
I really love the collagen powder because it doesn't feel like an added food or drink I have to take. I can add it to whatever I am already eating or drinking.
Who Needs to Take Collagen Powder Supplements?
Everyone. Truly. As I stated above, collagen is so important in our body, and required for so many functions and areas of our body we need to maintain a healthy level of collagen to feel our best. Use it to tighten loose skin after weight loss as well as so many other benefits that help you feel younger and sustain a more active lifestyle!
Order Fu Carbs Collagen now!
Give Fu Carbs Collagen a try for a month or two to see if you feel and see a difference. I am betting you will and will wish you had started it long ago. Use this link and my special discount code 15FITFOUNDME for an additional 15% off!