Grilled vegetable kabobs are the perfect healthy, delicious side dish and even a great addition to your weekly meal prep!
I love grilled vegetables for the fresh, summer taste that goes well with anything! I make sure to grill extra to have leftovers for my lunch a day or two after. This grilled vegetable recipe will soon be your go-to for your veggie side dish.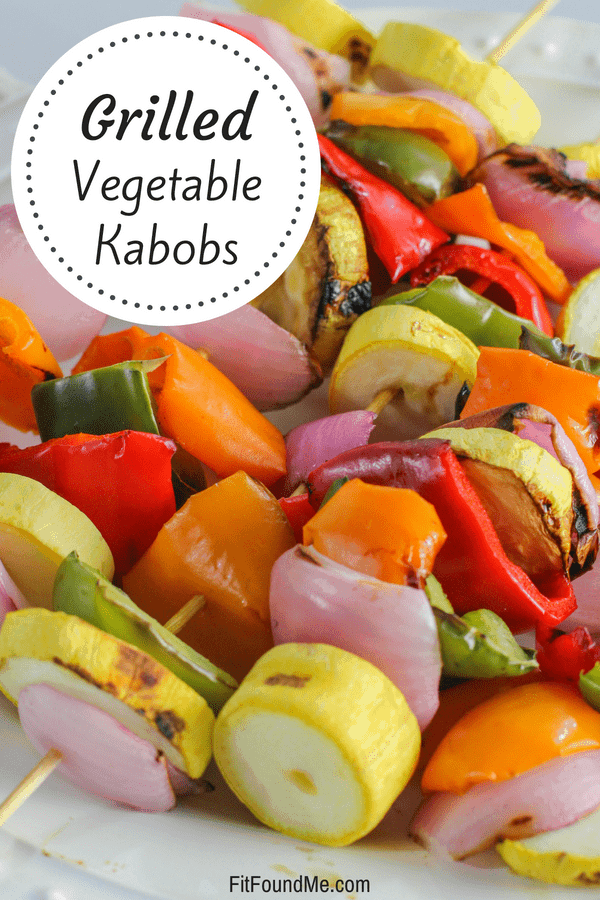 So easy.
So delicious, fresh and versatile! You will be serving grilled vegetable kabobs every week! Summer vegetable kabobs don't have to be just for summer!
I absolutely love the taste of fresh vegetables from the grill. It's a great way to eat healthy even on very busy days. You can serve these as a grilled vegetables salad, as a side dish to your favorite grilled meat or on a bed of rice.
Grilled Vegetables are a favorite at our house, even with the teenagers. The taste of fresh vegetables beats frozen hands down any day.
When I was growing up, my Dad always had a large garden in our backyard. Taking care of it was a family event, however, after I fainted a couple of times pulling weeds, my weed-pulling days were over. I didn't complain about that. Pulling weeds was the worst.
I did, however, still get drafted for the indoor vegetable activities. Snapping beans, shelled butterbeans, washed produce, peeled, cut, canned…you name it, we were doing it. I didn't appreciate all of those fresh vegetables as a child, but I love them now!
Best Vegetables to Grill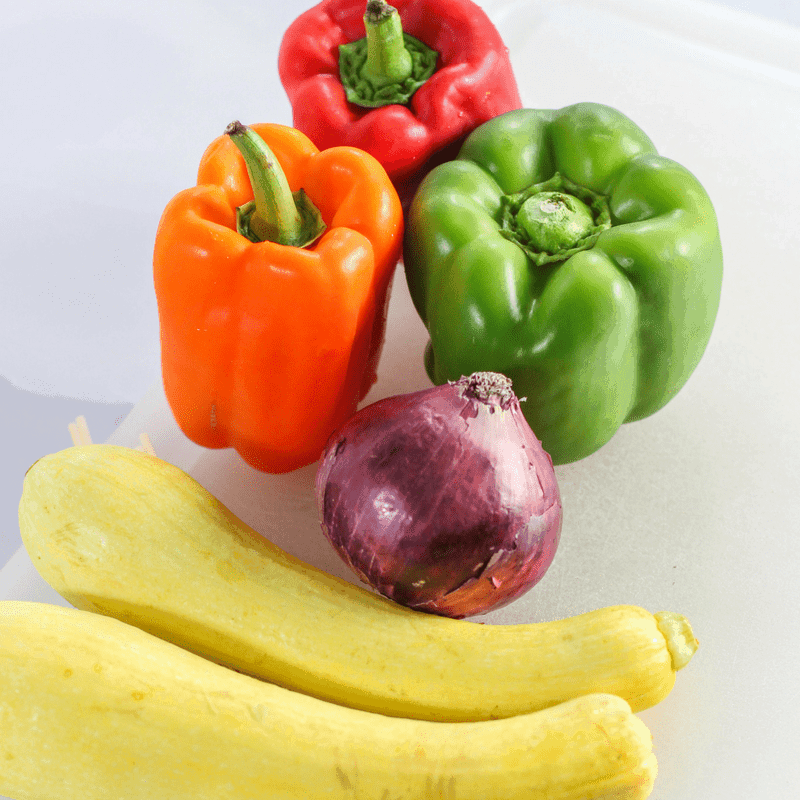 Some vegetables grill better than others. With vegetable kabobs, you'll have to choose vegetables that are able to stay on the skewer as the cooking and turning take place.
Here is a list of my favorite vegetables to grill:
potatoes
corn
onions
peppers
squash
zucchini
mushrooms
tomatoes
How to Grill Vegetables
Another staple at our house growing was grilling out. My dad has always been a master on the grill. If anything could be grilled, it was.
The first rule of thumb to grilling vegetables is chopping them the appropriate size. For grilled vegetable kabobs, all of the vegetables cook a little differently, so they need to be sized accordingly. For example, potatoes should be cut smaller than squash since they will take a little longer to cook.
Seasoning grilled vegetables is optional and not completely necessary. When I grill vegetables I usually just sprinkle them with a little salt and pepper and call it a day. Fresh vegetables on the grill have so much natural taste that pops it's all the seasoning I need.
How Long to Cook Vegetable Kabobs on the Grill?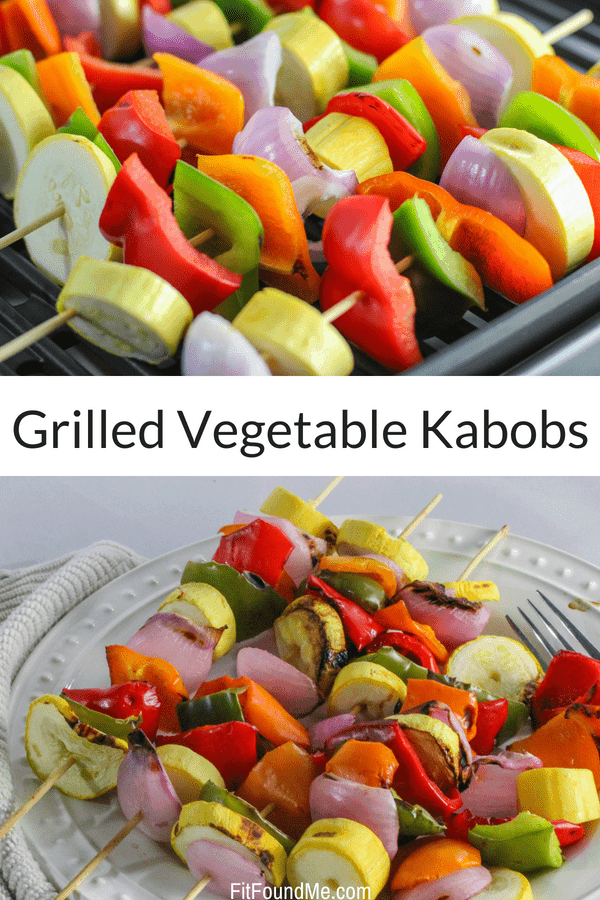 That will vary depending on the vegetables you choose and the size of the vegetables. We like to cut ours bite-sized and like them just as they are beginning to brown. It will also depend on your grill temperature. Check this guide for the details on temperature details on individual vegetables. I usually preheat the grill to a medium-high and grill vegetables 15 – 20 min on average, but it will depend largely on what vegetables you're grilling and the size.
Once they have been on a few minutes, you should start to see them shrinking and browning on the side touching the grill, Rotate as needed to brown all sides, typically every 5-7 min.
These can be grilled indoors or out depending on the time of year and equipment. If you are shopping for a grill, I would strongly suggest you take a look at this grill. Andrew says it is by far the best grill he's ever had. We always cook our Thanksgiving turkey on the grill and it makes the absolute best turkey gravy ever.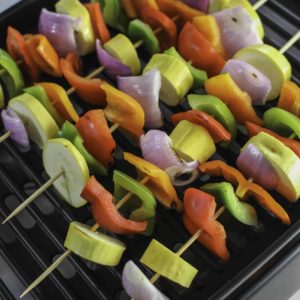 Grilled Vegetable Kabobs
These grilled vegetable kabobs go with your favorite dish, on a salad or in a weekly meal prep plan. Popping with fresh flavor it's a veggie the entire family will love!
Ingredients
1

Yellow Squash

Sliced

1

Red Onion

Chopped into large pieces

1

Green Bell Pepper

Chopped into large pieces

1

Red Bell Pepper

Chopped into large pieces

1

Orange Bell Pepper

Chopped into large pieces
Other Items Needed:
Skewers

soaked in water 30 min
Instructions
Cut all of the vegetables into bite-sized sections. Rotate them throughout the skewers to make them colorful with enough room for separation.

Place the skewers on the grill and cover while cooking. Grill for 20 minutes or until vegetables are fully cooked.

Twenty minutes is enough time to cook the vegetables and let them maintain their crispness without overcooking.

Serve with your favorite main dish, or eat them by themselves!
Nutrition
Serving:
1
skewer
Calories:
29
kcal
Carbohydrates:
6
g
Protein:
1
g
Fat:
1
g
Saturated Fat:
1
g
Sodium:
4
mg
Potassium:
231
mg
Fiber:
2
g
Sugar:
4
g
Vitamin A:
1381
IU
Vitamin C:
74
mg
Calcium:
11
mg
Iron:
1
mg
Tried this recipe?
Tag me on Facebook @fitfoundme with a pic and let me know what you thought of this recipe in the comments below!
Looking for more side dish recipes?
Quick, Easy, Healthy Summer Salads
30+ Healthy Holiday Side Dishes Your Family Will Love