The holidays are here! Whether you're hosting family and friends or going to visit family and friends, this time of year is surely busy—and exciting.
There's always talk about the holidays being a hard time for weight loss. I'm here to tell you this: you can relax about pumpkin pie, excess calories, processed flour, and weight gain, this holiday season. Health and fitness isn't about being perfect all the time, it's about being consistent over time. So, if your routine changes a little bit during Thanksgiving time, it's okay!
However, for those of you who are looking for a workout that's catered towards the holiday season, you've come to the right place. You can still get in some extra calories burned, during the biggest feast of the year without joining the neighborhood turkey trot. I'm going to outline a few HIIT workouts—that don't need equipment—that will get you as excited as the turkey does!
High-intensity interval training is a great way to get in an effective quick workout and here you'll find the right Thanksgiving workout for all fitness levels.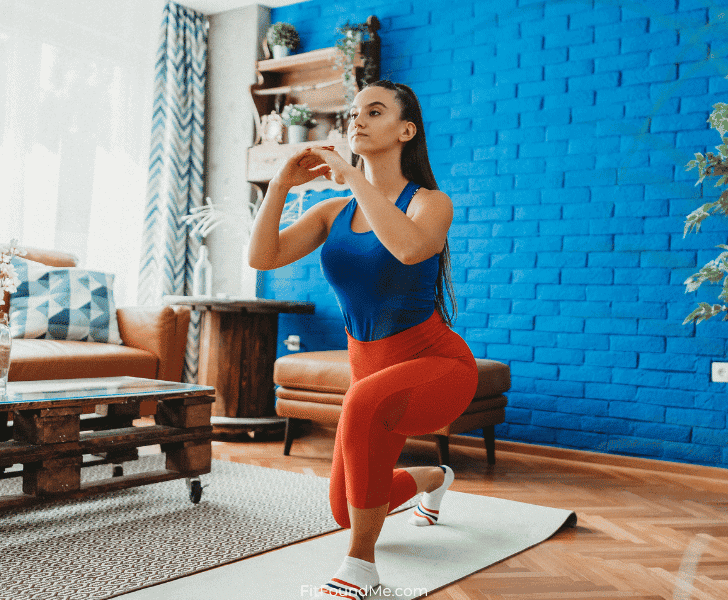 What is a HIIT Workout?
Unlike a workout that is low-intensity and durational, a HIIT workouts are incredibly high-intensity workouts, that last for short amounts of time. So, the goal with HIIT workouts is to get your heartrate up, fast.
Plus, HIIT workouts are great for the holiday season!
Why Would I Do a HIIT Workout on Thanksgiving?
Look, there are so many exciting things about Thanksgiving time, but if we're being honest, there are things that are not so good about Thanksgiving time, too.
As much as we hate to admit it, there's always that one person in your family who starts talking about politics and other controversial topics. Sure, we love them, but it's never a bad idea to take some time away from these heated conversations. While your relative is stirring up controversial conversations, you could do a high intensity interval training workout.
Plus, if your family is like mine, there's always a sports game on the television. Not all of us love sports, and if you're someone who doesn't get too excited about the big game, then you could do a HIIT workout while the game is on.
Maybe there's some time in-between getting to your in-law's house and Thanksgiving dinner time. If this is true for you, then you can pass the spare time by doing a HIIT workout.
It's totally acceptable to want a break from your whole family. And when you do, HIIT workouts are examples of fun workouts, that will be good for your health.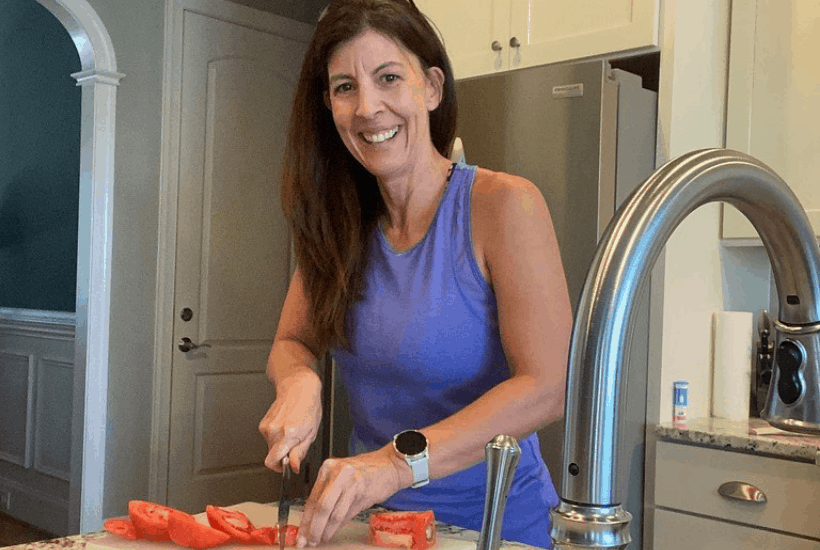 6 Week Weight Loss Program
Looking to shed some pounds and transform your body? Look no further than the Fit Found Me 6 Week Weight Loss Program! This comprehensive program has everything you need to get in shape and feel great, from delicious meal plans and recipes to challenging workouts and daily email motivation and support.
With our expertly crafted meal plans and recipes, you'll never have to worry about what to eat again. Our delicious and nutritious options are designed to help you lose weight and feel satisfied, all while enjoying the foods you love. And with our convenient shopping lists and meal prep tips, sticking to your healthy eating goals has never been easier.
But it's not just about what you eat – it's also about how you move! That's why our program includes challenging workouts that will help you tone your body and burn calories. Whether you prefer strength training, cardio, or a combination of both, we've got you covered.
And to keep you motivated and on track, our program includes daily email support. Whether you need a pep talk, a bit of advice, or just someone to cheer you on, we're here to help.
So what are you waiting for? Join the thousands of satisfied customers who have transformed their bodies and their lives with the Fit Found Me 6 Week Weight Loss Program. With our fun but professional and proven track record, you can trust that you're making a smart investment in your health and happiness. Order now and get ready to discover the best version of yourself!
No Guilt Thanksgiving
Again, don't force yourself into doing physical activity, if you've got a jam-packed day of Thanksgiving fun ahead of you. It's completely fine to take a rest day.
Don't do a HIIT workout if you feel as though your Thanksgiving meal depends on it. You don't have to earn your Thanksgiving meal. You aren't going to destroy your progress in one day. It's okay to relax with your family and friends, without tracking your macros and calories for a day!
Exercise should never be a punishment. Sure, it's a thing that your body needs, but it's also fun, mood-increasing, and stress-reducing. There are so many reasons why you'd want to exercise that don't have anything to do with weight loss. Remember, your health depends on rest, too. You can't get healthy, if you aren't giving your body the time it needs to recover.
Turkey day doesn't have to revolve around HIIT workouts, but it can incorporate one—if you're in the mood!
Thanksgiving HIIT Workouts that You're Sure to Love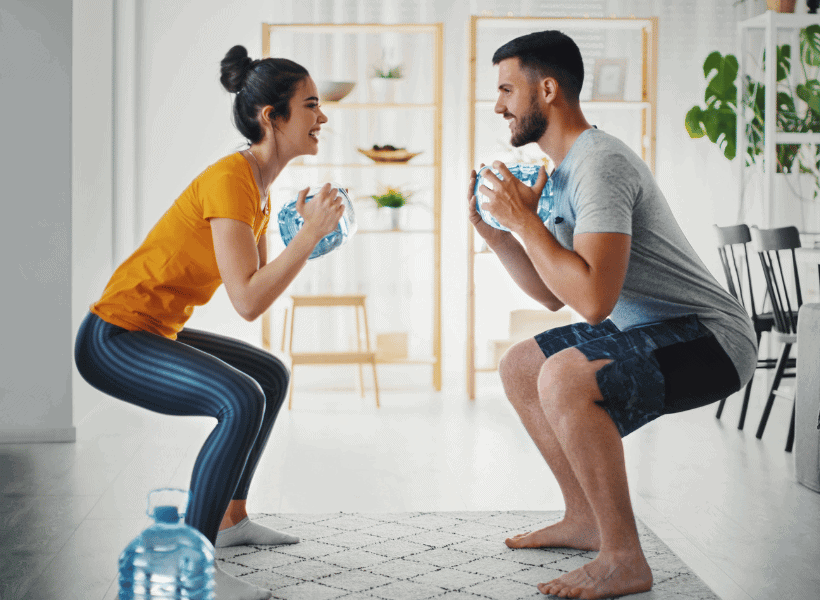 So, you've decided that doing a HIIT workout is the best way to spend some time on your Thanksgiving Day.
What led you to make this decision?
…was it your controversial relative, the football game, boredom, or something else?
Whatever it was, I'm glad that you're opting to do these fun workouts. I know that I'm excited to do these HIIT workouts on Thanksgiving.
Choose your Thanksgiving HIIT Workout
Beginner/Intermediate HIIT Workout
Take 30 sec – 1 min breaks when needed, but try to follow program taking suggested break.
Warm-up
60 seconds Start with a light jog or walking in place
Workout
30 seconds Jumping Jacks
30 seconds Lunges
30 seconds Arm Circles
30 seconds Squats
30 seconds break
30 seconds Jumping Jacks
30 seconds Side Lunges
30 seconds Arm Circles
30 seconds Jumping Jacks
30 seconds Squats
30 seconds Arm Circles
30 seconds break
Repeat 4 times
Advanced HIIT Workout No Equipment Needed
Warm Up
60 seconds jog in place
30 seconds squat jumps
30 seconds Plank shoulder taps
Workout
30 Jumping lunges
30 Mountain Climbers
30 Hop overs
30 Squat Jumps
30 seconds Breather break
Repeat 4 times
Cool down
Runners stretch each leg
Child's pose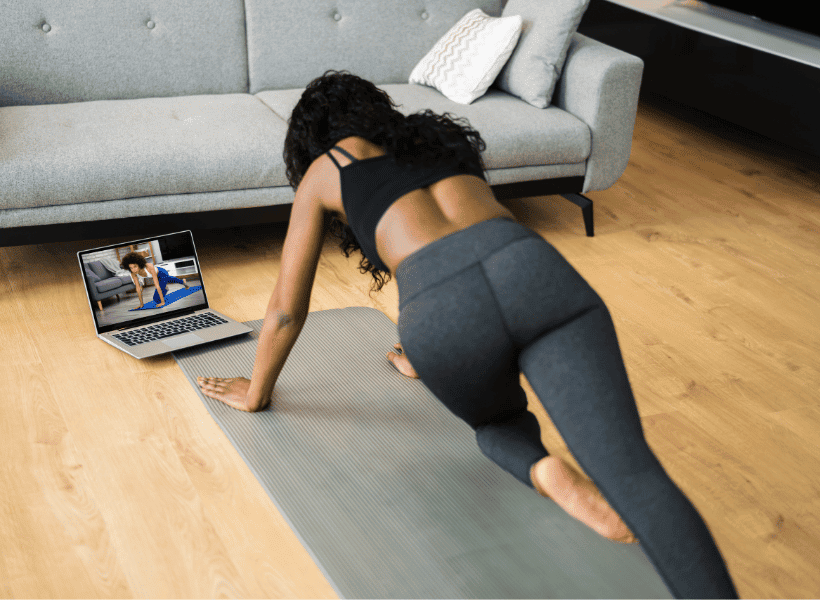 Final Thoughts
Whether you decide to do a HIIT workout or not this holiday season, I hope that you get to spend incredible quality time with your family and friends. When it comes down to it, one of the main things that makes people decide to get healthy is their family and friends.
We all want to be the best versions of ourselves, so that we can spend time with our loved ones for years to come. Don't get too worked up if your fitness routine is changing this Thanksgiving, because you aren't going to skew your results if you have a relaxing day.
However, if you decide to do a HIIT workout this Thanksgiving, have fun with it. Maybe you could even invite some of your friends and family to join in, if you're in the mood.