Do you love sizzling Chicken Fajitas in a Skillet but aren't quite sure how to cook them? No worries! With this recipe you can make Mexican restaurant quality fajitas right in your own kitchen. Tender and flavorful chicken breasts are seasoned with a homemade fajita seasoning mix with fresh sauteed veggies that are cooked to perfection in a cast iron skillet. This is one 30-minute meal your whole family will love.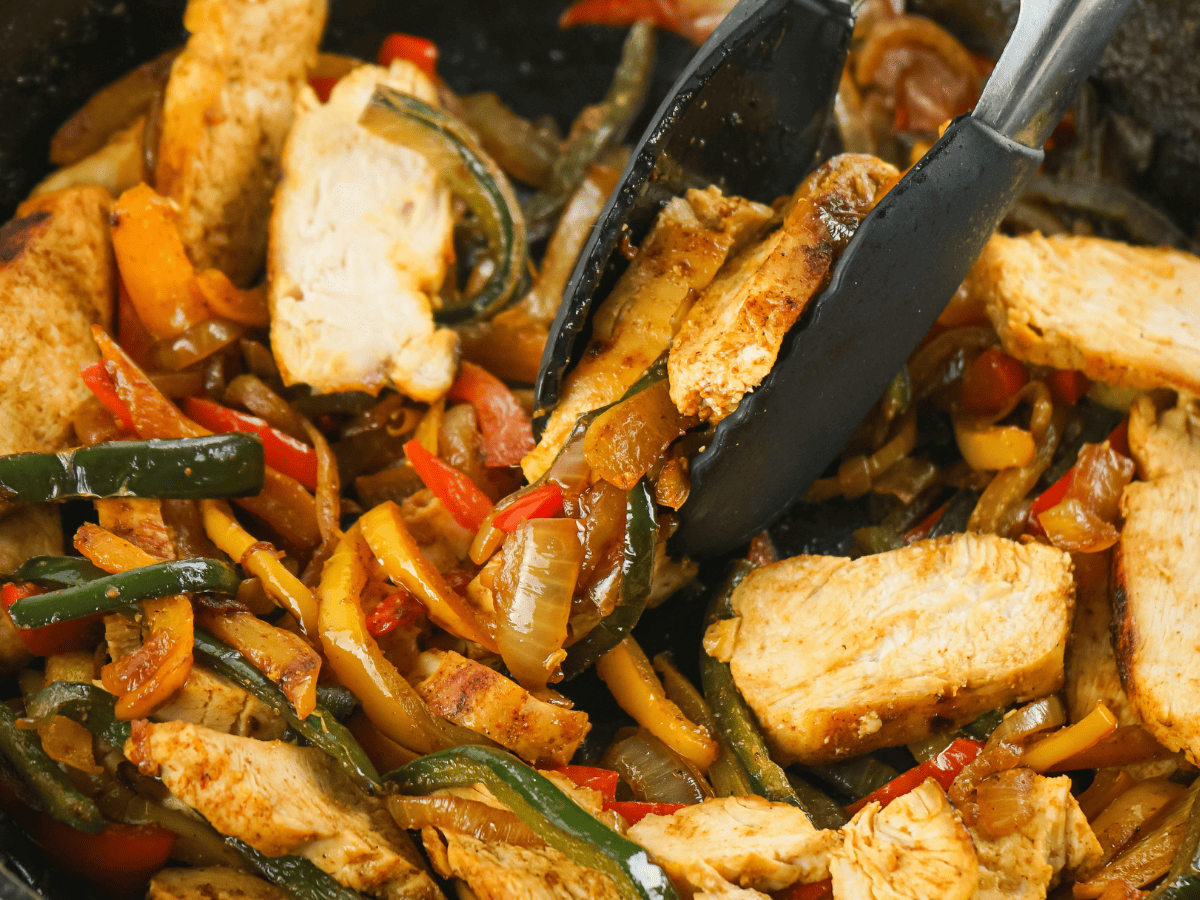 This easy recipe makes the most tender, melt-in-your mouth authentic chicken fajitas! They call for all simple ingredients that you probably already have in your kitchen. Add in some fresh veggies, and you will have dinner on the table in about 30 minutes. They are perfect for a busy weeknight meal, for times when you are feeding a crowd and an excellent meal prep recipe!
If you love Mexican food as much as my family, you should also check out these Sheet Pan Fajitas and these Easy Street Steak Tacos!
What's Needed for Chicken Fajitas in a Skillet
Boneless skinless chicken breasts-You can use boneless chicken thighs if you prefer
Yellow onion– You can also use white or red onion
Bell peppers-Use a colorful variety…orange, yellow and red bell pepper
Poblano pepper- Adds a little different texture and flavor than the bell peppers
Home fajita seasoning mix– You will need chili powder, smoked paprika, cumin granulated garlic or garlic powder, salt and black pepper
Olive Oil– You can use avocado oil
Tortillas– You can use flour tortillas or corn tortillas
Fresh cilantro– For garnish
How to Make Skillet Chicken Fajitas
Preheat a heavy cast iron skillet to medium heat and add your oil, or the option you prefer for your pan.
Combine all your spices in a small bowl and mix well.
Season chicken breast, saving about a fourth of it for the vegetables.
Slice your onion, poblano and bell peppers into similar size slivers.
Add your chicken to the hot cast iron pan and cook your for about 5-7 minutes on each side, or until the internal temperature reaches 165 degrees. Remove from heat and place on cutting board. Tint with aluminum foil to keep warm.
Add in your vegetables to the hot skillet and sprinkle them with the remaining seasoning.
Saute the veggies until they caramelize (about 10 minutes), stirring or tossing occasionally.
While the vegetables cook, slice the cooked chicken into thin strips.
As the vegetables are finishing, add your chicken breast strips back into the skillet and mix thoroughly. Remove from heat.
Heat up some flour or corn tortillas in the microwave or on the stove top.
Fill your warm tortillas with your fajita mixture and garnish with chopped cilantro and a squeeze of fresh lime juice. Enjoy!
Store in an airtight container in the fridge for up to 4 days.
How to Cut Chicken Breasts for Chicken Fajitas
There are two schools of thought on the best way to slice chicken for chicken fajitas in a skillet. The first one is to slice the raw chicken breasts prior to cooking. While that may help with a quick cooking time, it can be harder to keep the chicken from drying out.
For the best chicken fajitas, I prefer to cook the chicken breasts whole, then allow them the rest while cooking the peppers and onions. I then slice them, against the grain, into strips about 1/2 inch thick.
Can I Freeze Leftover Chicken Skillet Fajitas?
Fajita meat and veggies keep well in the freezer for up to 2 months, if sealed in an airtight container. Freezing leftovers are great for those times when you need a hearty and healthy meal in a snap.
Just place the container in some warm water until they are loosened up enough to transfer over to a large skillet. Heat over medium-low until they are heated all the way through.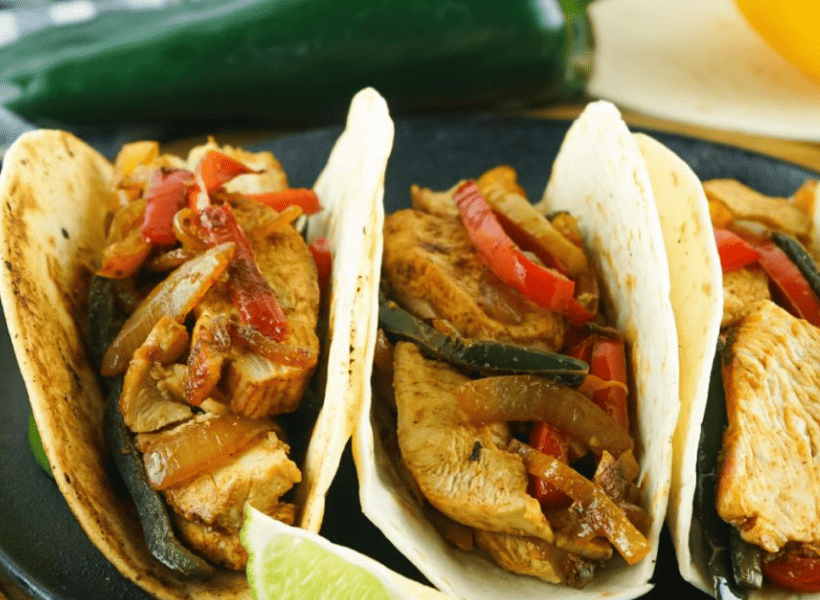 Can I Prep Fajitas in Advance?
These skillet fajitas are prefect meal prep recipe. You can season the chicken and slice the veggies, then stick them in the fridge the night before. If you are going to be serving multiple toppings with them, you can go ahead and get those ready a day in advance as well.
Homemade fajita or taco seasoning mixes will keep for months if stored in an airtight container in a cool place in your pantry. You can keep some on hand for other recipes that call for Mexican seasonings.
What Can I Serve with These Easy Chicken Fajitas?
Toppings: Add any favorite toppings or set up a fajita station and let everyone fix their own! Avocado slices, guacomole, Pico de Gallo, sour cream, cotija cheese, cheddar cheese, lime wedges, diced red onions, lettuce and tomatoes are all classic toppings you could serve with these chicken fajitas in a skillet
Sides: Fajitas can be a meal all in one skillet. You have protein, healthy fats and carbs. But if you are wanting to serve them with a side dish, refried beans, black beans, Cilantro Rice or Mexican rice are classic sides. For a low carb option, you can serve them with cauliflower rice or a simple side salad.
Are Fajitas Healthy?
Depending on the way you prepare and serve them, fajitas can be very nutritional. For instance, chicken breasts are a lean and low-calorie source of protein that's great for most any diet. Bell peppers are a great source for vitamins C and B6 and are credited with several health benefits you can read about in this article on Healthline.
If you want to make this chicken fajitas in a skillet recipe just a bit healthier, you can load up on extra healthy toppings and skip the tortillas.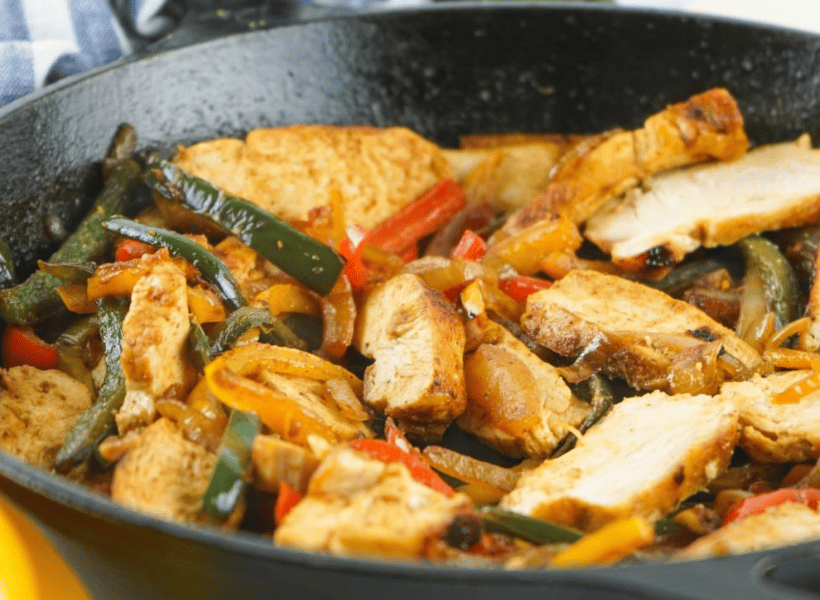 What Other Vegetables Can I Use for this Easy Chicken Fajita Recipe?
You can use any type of veggie that will hold up to high heat cooking. Mushrooms, jalapenos, zucchini, yellow or red onions even eggplant are great choices.
The key to cooking really tender veggies, is to make sure you cut them all into similar sizes. Cook them in a large skillet without over-crowding them.
Tips for Making Easy Chicken Fajitas
For planning purposes, if you're feeding a crowd, you'll want to plan on each person eating about 1/2 chicken breasts worth of fajitas.
If you want to really speed up the cooking process for these chicken fajitas in a skillet, have an extra skillet handy and cook your vegetables at the same time as the chicken.
It's less important how long the chicken has been cooking and more important about it reaching the correct internal temperature using a cooking thermometer. Each chicken breast will fluctuate in time cooked, but that internal temperature is the same for all chicken.
Don't skip on the veggies. If it looks like a lot of peppers and onions, it will shrink. Trust me, it's the perfect amount.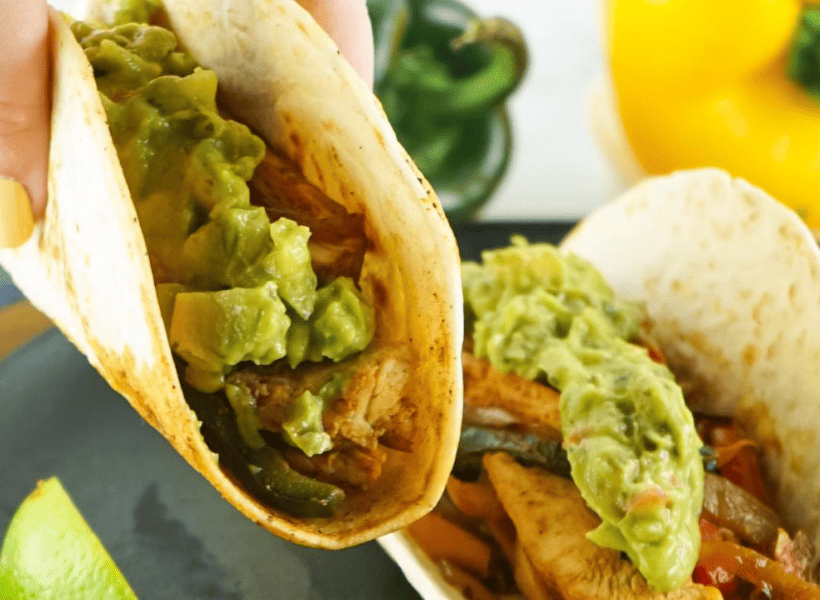 Want More Mexican Inspired Recipes?