When looking for the best shoes for shin splints, you want to get the best pair of shoes for the type of support your feet to reduce your risk of shin splints. If you're far from being an athlete but want to incorporate regular exercise into your routine, walking is a great option to get started on your fitness journey.
Whether on a treadmill, through your neighborhood, or at a local park, it's a gentle form of exercise that is accessible to almost everyone. But if you already experience shin pain, you might be hesitant to aggravate it. Luckily, investing in the right shoes with adequate cushioning can make walking even long distances on hard surfaces a comfortable experience.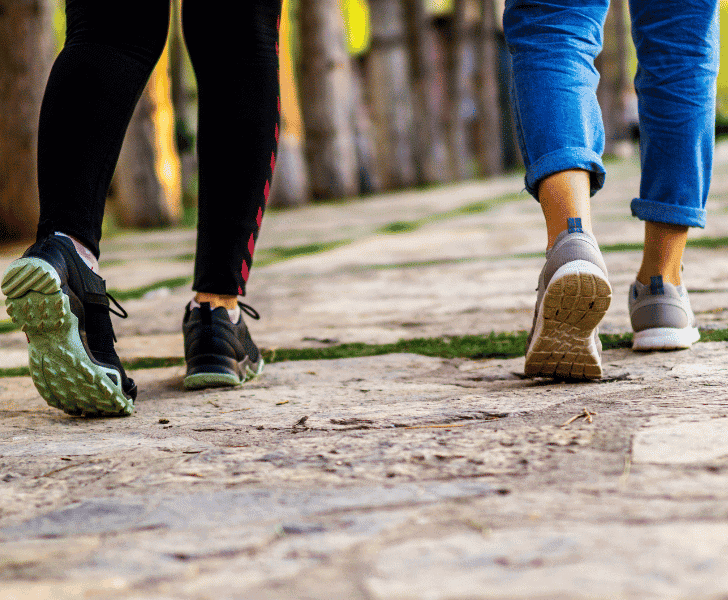 Health Benefits of Walking
Any activity that gets your body moving will help you burn calories and lose weight, but walking can do so much more. Walking for sustained periods of time will help get your heart rate up, which improves cardiovascular health and endurance. This can lower your blood pressure and decrease your risk for conditions such as heart disease, heart attack, and stroke.
Although it is a gentle exercise, walking still does require the muscles in your legs to do a good bit of work. This strengthens your muscles and helps improve your endurance. It can also help with your balance.
Staying physically active improves mental health as well as physical health. Exercise, such as walking, releases feel good hormones such as endorphins. Regular exercise can help reduce stress, improve your mood, increase your energy, and help you sleep better. Walking may also boost your immune system and improve memory and cognition.
What Are Shin Splints?
Shin splints are a term used to describe a painful condition that affects your lower legs from your ankles to your knees. The medical term for shin splints is medial tibial stress syndrome (MTSS).
While they are both injuries caused by repeated stress to your legs, a shin splint is different than a stress fracture. A stress fracture is a very small crack or group of cracks in a bone caused by repeated stress or impact.
A shin splint is the result of inflammation of the connective tissue that runs along the shin bones.
Symptoms
If you have shin splints, the most obvious symptom will be pain in your shins. The main may run up the inside of your tibia (posterior shin splint), but in some cases it may also occur in the area between your tibia and fibula (anterior shin splint or shin bone).
The amount of pain a shin splint causes depends on the severity. You could experience anything from mild discomfort to the inability to put weight on your affected leg in severe cases.
Causes
Shin splints are caused by repeated impacts. A number of factors might make you more susceptible to pain while walking or running:
Poor muscle strength or conditioning of the muscles in and around your calf, knees, and hips
Wearing shoes that do not provide a supportive fit or adequate cushioning for your feet
Overuse or overexercising
Sudden alterations to your exercise routine, like walking or running on a new terrain, for longer distances, or at a faster pace
Poor running form
Over pronation, or rolling your foot inward and placing your weight on your instep instead of the ball of your foot
Review: Best Walking Shoes for Shin Splints
The good news is you don't have to let shin splints deter you from leading a healthy, active lifestyle. We've rounded up some of the best walking shoes to provide extra cushioning and ease discomfort while exercising.
Of all the shoes we've reviewed, these OnRunning Cloud sneakers are our favorites and what we consider the best shoes. The patented CloudTec sole provides maximum cushioning for shin splints and overall best supportive shoe. (These are what I use for walking and running.)
Highly adaptive double CloudTec sole provides enhanced multi-directional cushioning
Reduces muscle fatigue and impact on lower legs
Perfect for longer runs
Made from 20% recycled materials
Reflective accents for running in dim lighting conditions
Speed lacing system allows you to slide shoe on and off quickly and easily
Rounded, roomy toe box design
This is the latest addition in HOKA's award-winning Clifton line. The Clifton 8 has been awarded the American Podiatric Medical Association Seal of Acceptance, indicating it has been found beneficial to foot health.
Compression-molded EVA midsole for superior cushioning
Enlarged heel crash pad to reduce impact on landing
Streamlined silhouette made from breathable mesh
Reviewed by APMA podiatrists
Lightweight with a highly responsive midsole
Balanced, symmetrical cushioning
Extended Achilles pull tab—easy entry and removal
Made from recycled, vegan materials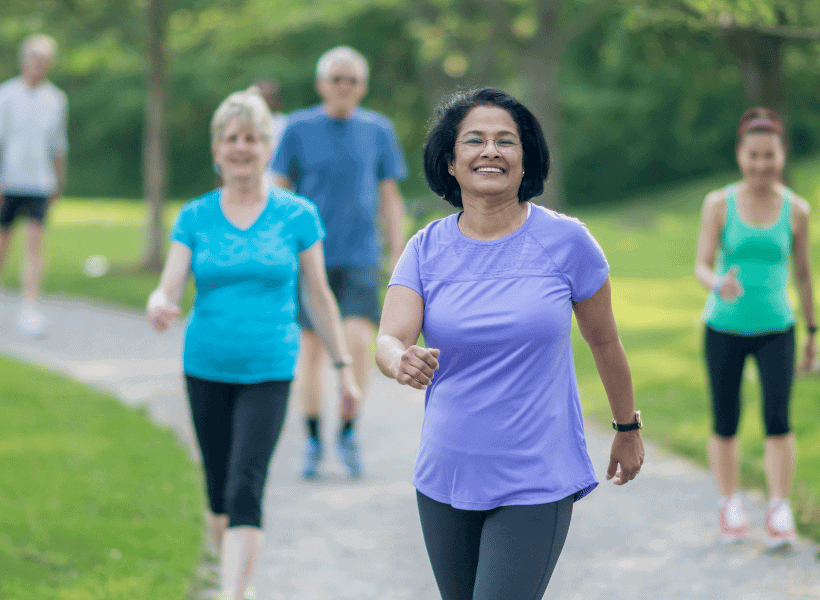 The Saucony Triumph is designed to provide excellent comfort and performance during a long run. The Triumph 17 is their lightest and most cushioned shoe yet!
PWRRUN+ cushioning is 28% lighter than previous models, and provides an excellent spring and responsive underfoot feel
FORMFIT insole conforms perfectly to the shape of your foot, ensuring ideal cushioning and a plush fit from every angle
Two times more flexible sole allows for better take offs and less impact on your shins during landing
New Balance is a trusted name in sneakers and athletic shoes. Their Fresh Foam 1080 series is specifically designed to provide runners with better support and comfort to increase stamina and prevent injuries
Fresh Foam midsole is precision engineered to provide superior cushioning without weighing you down
Upper constructions hugs to your foot, especially around the heel, for an extra snug fit and better support
Comes with Ortholite sock liner
Available in 20 different colors
If you want to exercise without aggravating shin splints, you need a shoe that absorbs shock, so your lower leg doesn't have to. ASIC's gel cushioning technology offers both comfort and a smooth ride.
Gel technology cushioning offers superior shock absorption and more heel compression
TRUSSTIC device is specifically adapted to support women's feet
Ortholite X-55 sockliner provides an ultra-responsive stride
Multi-directional mesh upper for better breathability and stability
ASIC's unique FlyteFoam formulation offers supreme bounce
The Brooks Ghost is specifically designed for road running, offering soft cushioning, neutral support, and smooth transitions between your heel landing and your toe pushing off. With almost 40 different colors to choose from, you're sure to find one that fits your style and your running habits.
A combination of BioMoGo DNA and DNA LOFT cushioning provide ideal underfoot softness and protection without compromising durability and responsiveness
Segmented Crash Pad provides enhanced shock absorption with every step
Energizing sole gives extra lift to your stride
Simplified midsole aids responsiveness
Certified DPAC A5500 Diabetic Shoe
Boasts the APMA Seal of Acceptance
Another Brooks running shoe, the Adrenaline GTS ("go to shoe") offers an incredibly smooth ride with great cushioning and support for your whole leg, helping reduce stress and injuries.
GuideRails system stabilizes your knees to help prevent injuries
100% DNA LOFT midsole for soft—but never squishy—landings
Cushioning technology reacts uniquely to your individual stride
Segmented Crash Pad provides a smooth transition no matter how your foot hits the ground
Wear-tested by podiatrists and recommended for patients with diabetes
Skechers is another big name in footwear, providing everything from casual day-to-day shoes to enhanced athletic foot gear. Their Elite sneaker offers a high-performing athletic show with enhanced comfort
Stabilizing panels woven into front, sides, and heel
Ultra-comfortable, lightweight, breathable Goga Mat insole wicks moisture and provides enhanced rebound
Responsive ULTRA GO platform midsole
Can the Right Shoes Prevent Shin Splints?
The shoes you wear to exercise can absolutely have an impact on whether you develop shin splints. Ill-fitting shoes for any activity, even the office or school, everyday runs, make you more likely to injure yourself.
Get to know your foot shape so you can pick out the right type of shoes. If you have naturally high arches, you need a shoe with good arch support or else your calf and shin muscles will have to work harder than normal to help you keep your balance.
If you have wide feet, look for shoes that offer a wider version as well as their standard sizes.
If your shin splints are causing you sever pain, seek medical advice from your regular doctor or a sports medicine professional.
They doctor may recommend that you see a physical therapist for additional treatments and exercises to help address any muscle imbalance by strengthening weak muscles, or work on proper form when walking or running.
Compression socks may also help alleviate the pain of shin splints by reducing the inflammation that causes shin pain.