If you're ready to find the best shoes for walking in sand, you're in the right place. Now is the time to find the proper shoes with a secure fit so you can enjoy a long walk on the beach. The proper beach walking shoes with a good, durable rubber outsole for sharp rocks or those sharp broken seashells will come in handy, especially when working to lose weight by walking (30 day program).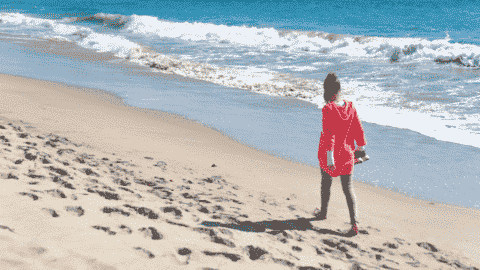 What are the benefits?
Walking on sand provides greater resistance than walking across a flat surface like concrete. Your muscles will have to work harder, and this will strengthen your feet, ankles, and calves.
Strengthening these muscles lowers your risk of injury when running or walking on other surfaces. You are also expending more energy to walk on sand, and you will burn more calories and lose more weight.
Sand training is also considered a low-impact exercise. When you are running or walking on a hard surface, like concrete, every time your foot impacts with the ground it sends a shock up the rest of your body. (For hard surface shoes, check out Best Shoes for Beginners or Best Treadmill Running Shoes)
Over time, repeated impacts put stress on your joints and can contribute to degenerative conditions like spinal arthritis. Because sand sinks with the pressure of your foot, your body does not experience the same shock, making sand and beach walking a great way to get the important 10,000 steps a day and your walking exercise in.
There are also mental health benefits to walking on the beach. Connection with nature helps relieve anxiety, stress, and depression.
The rhythmic lull of the waves as you walk along the shore can help ease nerves and provide a sense of calm. Exposure to sunlight helps our bodies properly synthesize vitamin D, a nutrient that helps improve our mood, among other benefits.
Are there risks?
Like with any form of exercise, walking in sand does come with risks. Sand is an uneven surface, which means it poses more of a tripping hazard than a flat surface.
While the increased resistance is great for strength training, if you are not accustomed to it your muscles can become fatigued faster and be more prone to injuries.
The closer you get to the waterline, the more sloped the sand becomes. This means you will need to work harder to keep your balance.
As the tide comes in, you may be in danger of getting knocked over by a strong wave if you're not careful. Because sand does sink when you step into it, it provides less stability for your foot and joints.
How to choose the best beach shoes
The right pair of shoes will help minimize your risk of injury and help you enjoy your walk. When choosing shoes for walking on the beach the three things you want to keep in mind are traction, stability and comfort.
Shoes with good traction give your feet a better "grip" on the soft sand, which will help keep you from slipping or tiring out too quickly. Good stability and arch support will take unnecessary strain off your joints and prevent injuries if you do lose your footing.
Good water shoes that are comfortable to walk in will enable you to walk for longer and maximize the health benefits of your walk.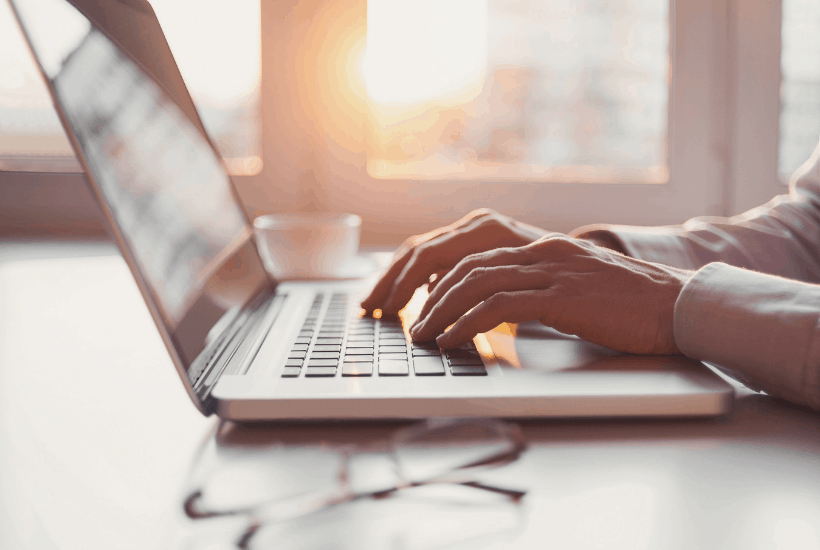 14 Day Bootcamp Challenge to a Healthy Lifestyle
This quickstart challenge is for the women who want to know the right foods to eat, but without a set meal plan to follow. Quickly learn how to put together your own healthy meals and snacks, along with so many other important healthy principles to create a balanced healthy lifestyle. And…all in 14 days!
Through daily emails, I will share some habits and principles you can start tomorrow morning that when used consistently, you WILL lose weight. You'll get assignments along the way to implement immediately along with help from me via email if you have any questions. This is a great way to jump right in to start transforming your life! Read more details below…
As you will likely be near water on a beach walk, one of the factors you want to keep in mind is your shoes may become wet. Shoes that are waterproof or quick drying will offer more comfort than shoes that are not specifically designed to get wet.
The shoes you might find most comfortable for daily activities around town may not be the most comfortable shoes to take to the beach.
With this in mind, we recommend choosing either water shoes, sandals, or walking shoes made from breathable materials. After conducting our own review, here are the 15 shoes we recommend for walking in sand.
15 Best Water Shoes Review
1. VIFUUR Outdoor Water Sports Shoes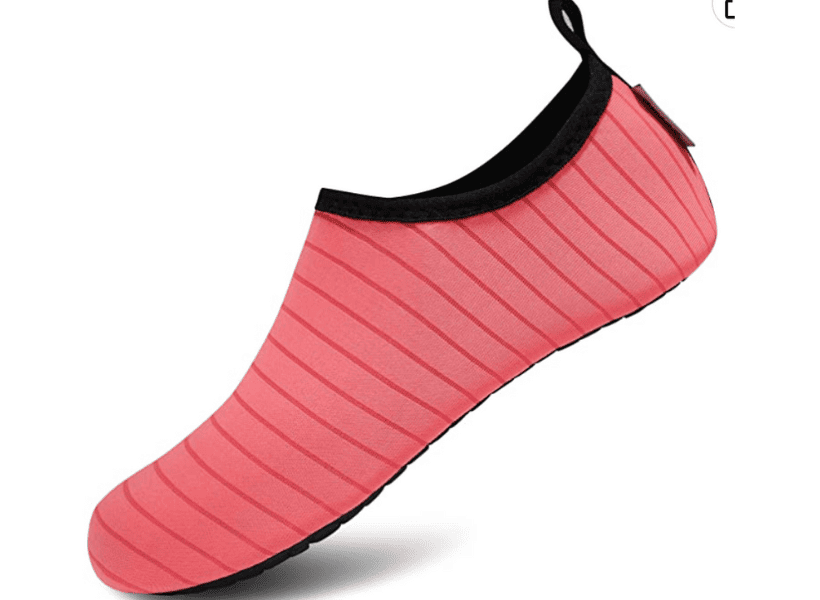 These Vifuur shoes are designed for beach activities both in and out of water. These lightweight aqua socks give you the widest possible range of flexibility while still protecting your feet.
Dries quickly
Durable rubber sole provides great traction and protects you from sharp objects without
limiting your range of movement
Can be folded for easy transport to and from beach
Prevents chafing
Great for a variety of water activities
These shoes provide less support than other varieties, but they more closely mimic the experience of walking barefoot without worrying about hot sand.
2. SPEEDO Women's Tidal Cruiser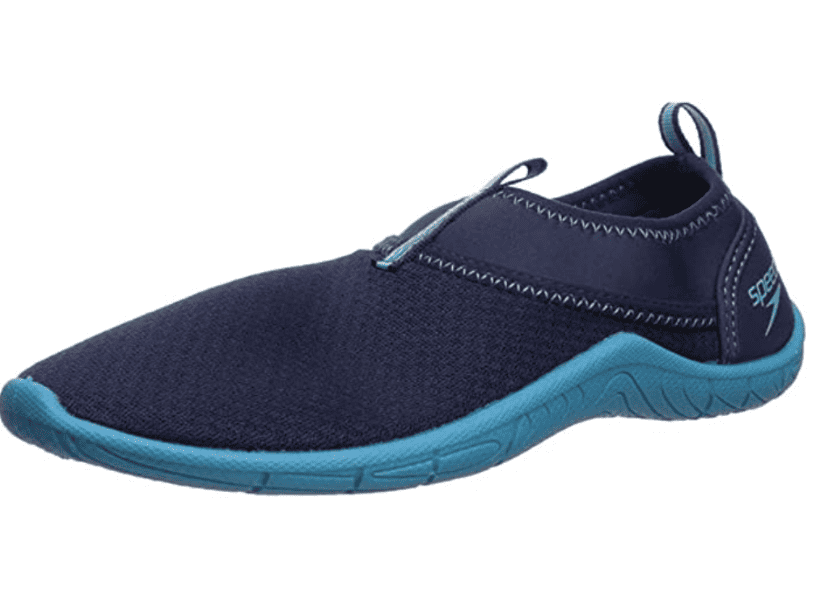 Speedo is a well-established, trusted name in bathing suits and other watersports apparel. These water shoes live up to the quality and comfort of their other products.
Made from a quick-drying mesh that promotes ventilation
Fits securely to your foot
Come on and off easily
This has a thicker sole than an aqua sock so your foot won't be quite as flexible as it would in an aqua sock, but it does provide better arch support.
3. MAXOME Women's Water Shoes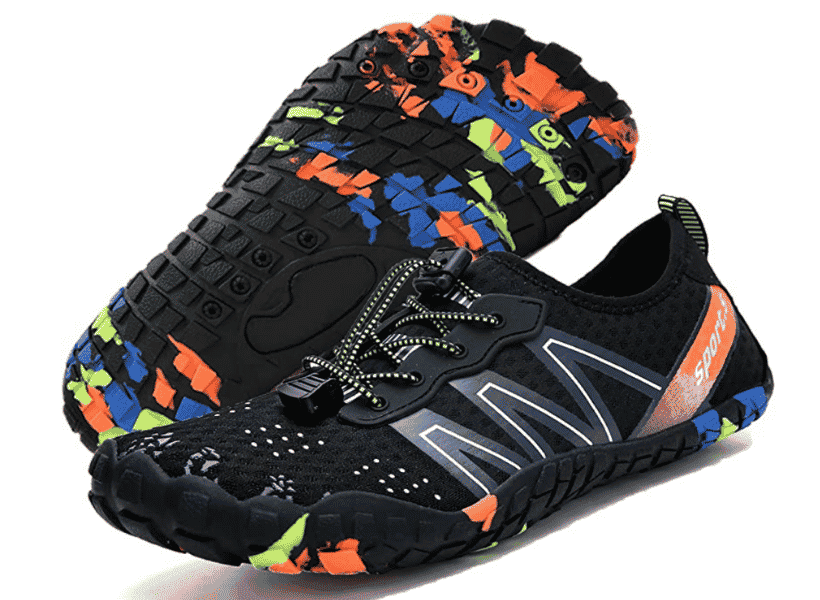 These Maxome shoes offer the best of both worlds for flexibility and stability. The five-toed sole design mimics the way your foot is designed to walk, helping you keep your grip on shifting sands.
Drainage holes in upper and lower sole promote quick drying process
Elastic design makes sure shoe stays snugly on your foot
Honeycomb insoles prevent odor
Good traction
4. JOINFREE Women's Water Shoes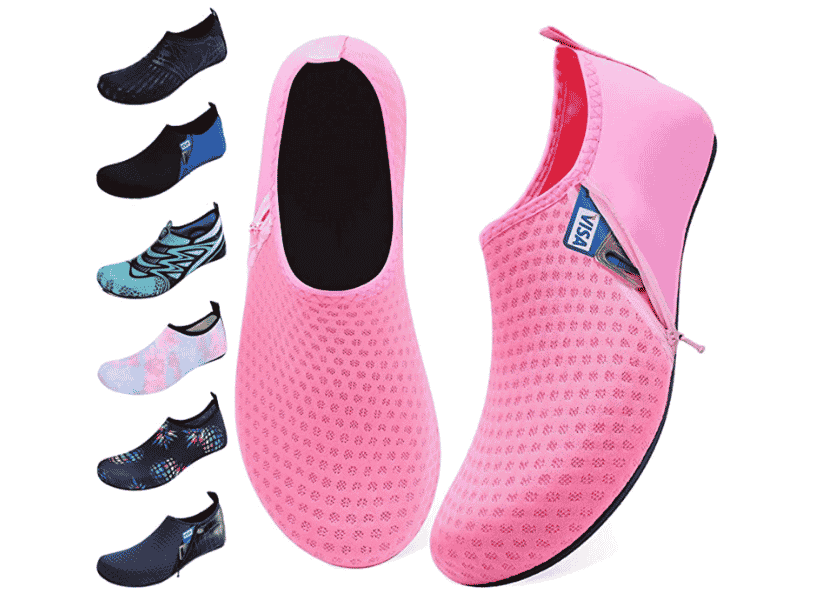 This Joinfree shoe won't hurt your feet or your wallet. It is one of the more flexible options on the list but still provides more cushioning than other designs.
Ergonomically molded, anti-slip soles
Shock absorption
Toe protected with extra cushioning
Includes a small zippered pocket
Great choice for water park fun
Might not be a good choice for someone prone to ankle injuries as there is not mush support for that joint, but it does offer more range of motion for your toes.
5. SIMARI Women's Water Shoes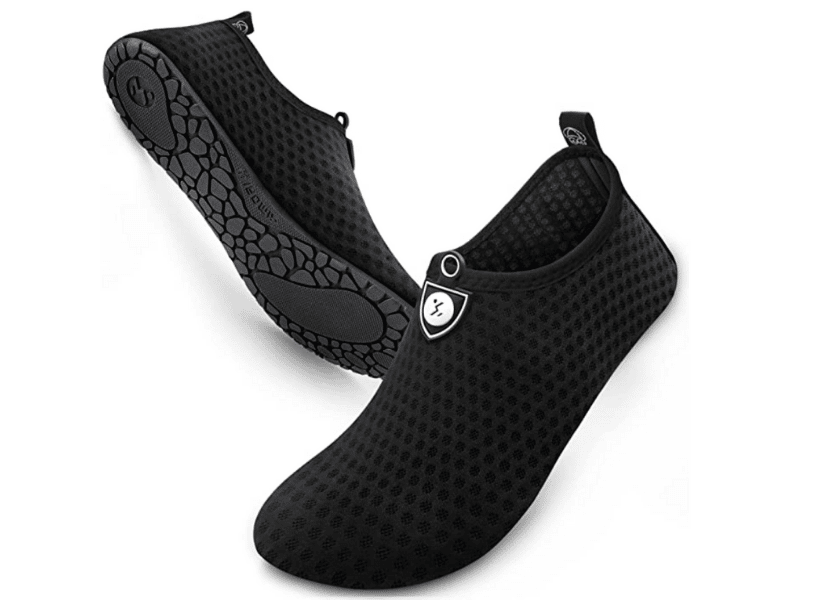 These Simari shoes are both protective and stylish. They offer the same comfortable fit as socks but still insulate the bottom of your feet from burning sand or sharp objects.
Made from a breathable diving material that keeps water out and dries quickly
Anti-slip sole inspired by mangoes
Durable
Come in a variety of sizes and patterns
Could be great for beach volleyball
Unfortunately, these shoes don't offer much in the way of arch support so they are not suitable for those with high arches or foot pain.
6. MEGNYA Hiking Sandals for Women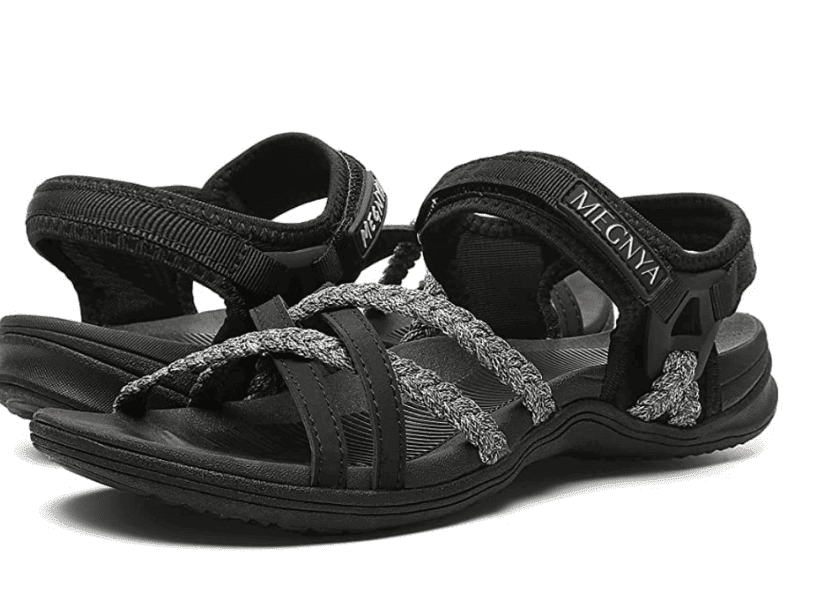 Megnya Sandals are designed for use in and around water. These hiking sandals are specifically designed for more impact than casual beachwear.
Straps securely to your foot
Ergonomic design for extra support
Sturdy, anti-slip soles
Quick drying materials
An opened toe shoe keeps your foot cool and allows your feet to relax and spread out more than closed shoes.
Those with naturally wider feet might find this more comfortable for extended periods of walking.
7. Skechers Women's On-The-go 600-Brilliancy Sport Sandal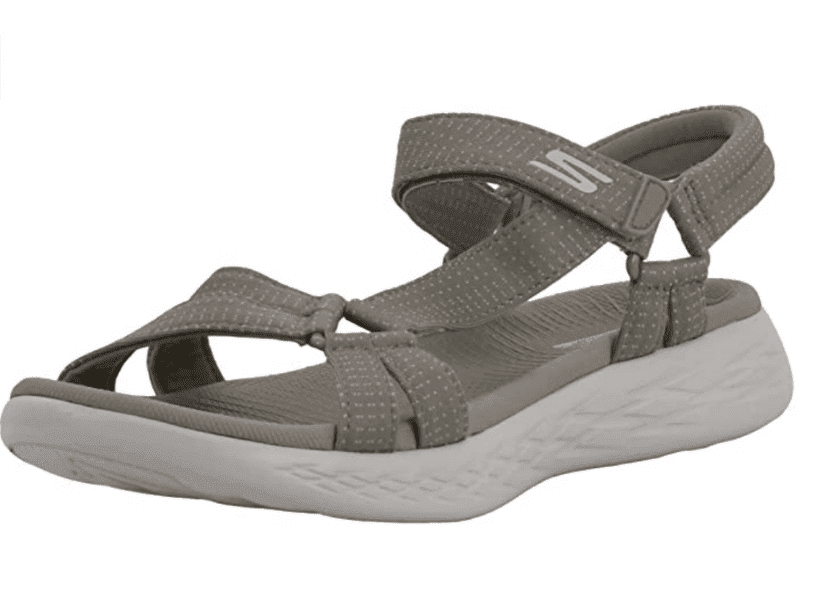 These Skechers sandals offer a slightly more streamlined design without compromising on function.
Adjustable straps
Flexible sole
Cushioned, comfortable insole
These sandals feature a slightly thicker sole and longer straps than some of their competitors. If you usually find sandals too tight on your feet, these might be a good option.
8. Cushionaire Luna Cork Footbed Sandal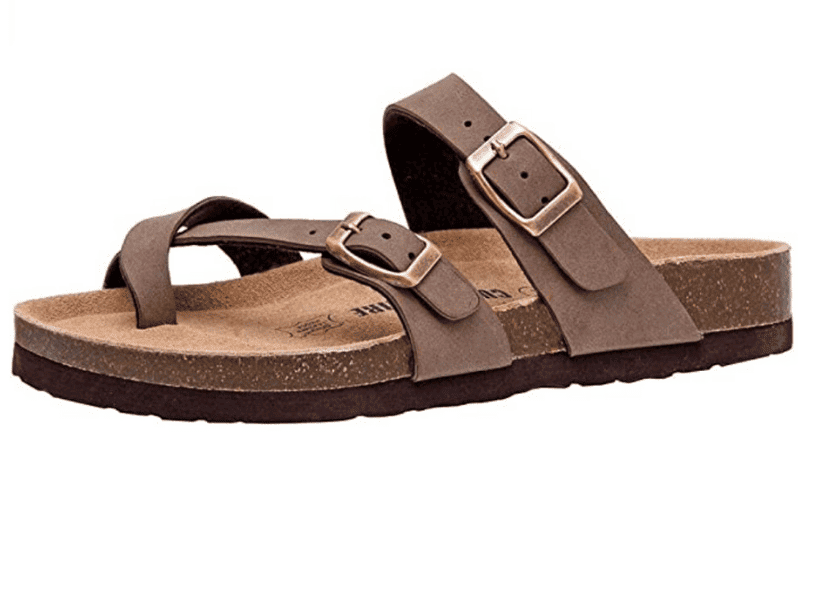 Not only are these Cushionaire sandals functional, they also look great. You can wear these beach sandals while you're exercising on the beach and wear them to meet up with friends.
Made with soft vegan leather and real suede
Insoles form a contour to your foot for comfort
Long lasting, flexible soles with superior traction
Adjustable straps
These shoes do not strap to the back of your foot, so you might find them less secure than other options.
9. Reef Women's Water Vista Sandal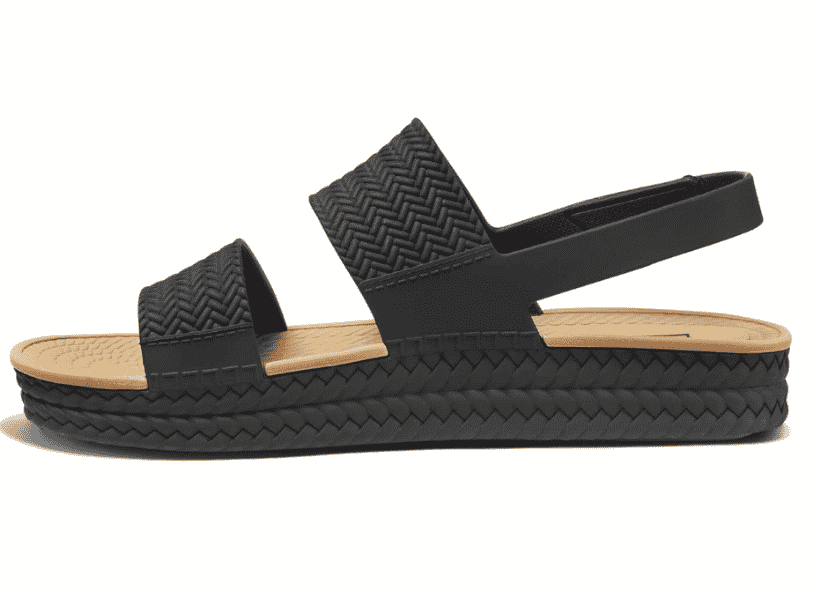 Reef shoes are made with the beach in mind. This is another pair of shoes that look good and feel good.
Sole is super durable and provides amazing traction
Lightweight
Made from water resistant, easy-to-clean material
Adjustable backstrap
Buying these shoes also helps support a small business
10. COFACE Women's Fashion Orthotic Flip Flops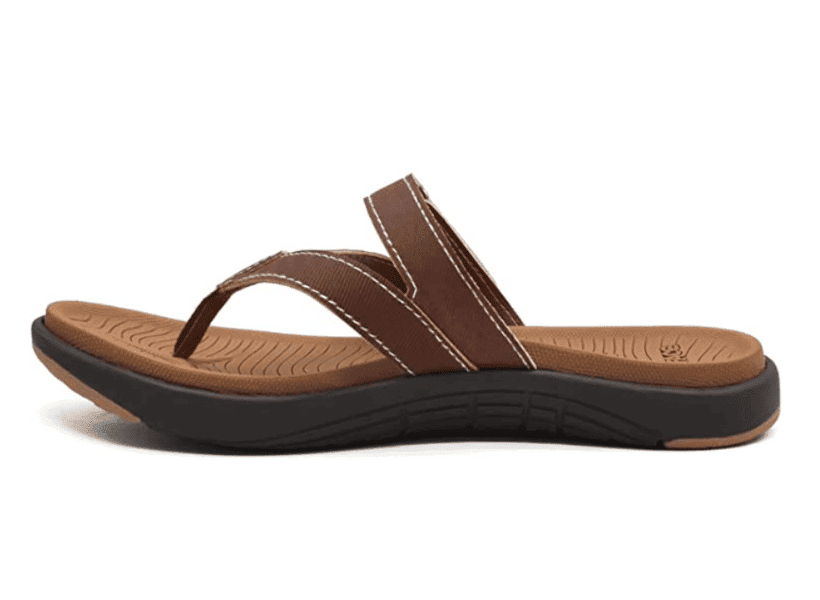 You might not necessarily think of flip flops when you think of exercise, but these Coface shoes are specifically designed for an active lifestyle.
Orthopedic, provides high-quality arch support
Insole is made from yoga mat material
Heel cup provides extra cushioning and support while walking
Adjustable buckle for security
If you have plantar fasciitis or other foot problems, these shoes are specifically designed to take pressure off your feet while walking.
11. KEEN Women's Whisper Closed-Toe Sport Sandal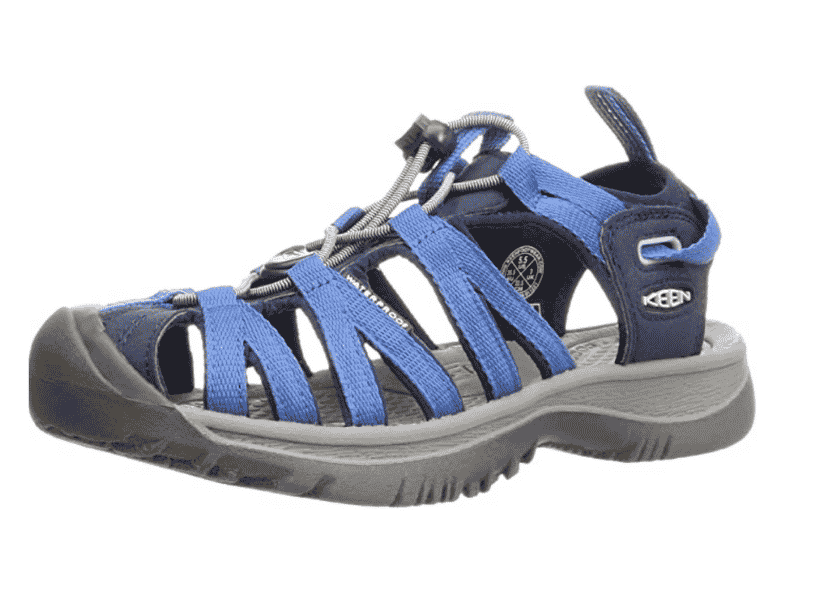 If you want the breathability of a sandal but prefer a close-toed shoe for walking, these Keen sport sandals combine the best of both.
Secure, slip-on design
Bungee laces are easy to tighten to achieve perfect fit
Repels water and dries quickly
Rubber soles optimized for improved traction and good grip
So many different colors to choose from
These shoes are good for your feet and the environment— the sandals are made with recycled PET plastic.
12. DREAM PAIRS Women's Comfortable Hiking Sandals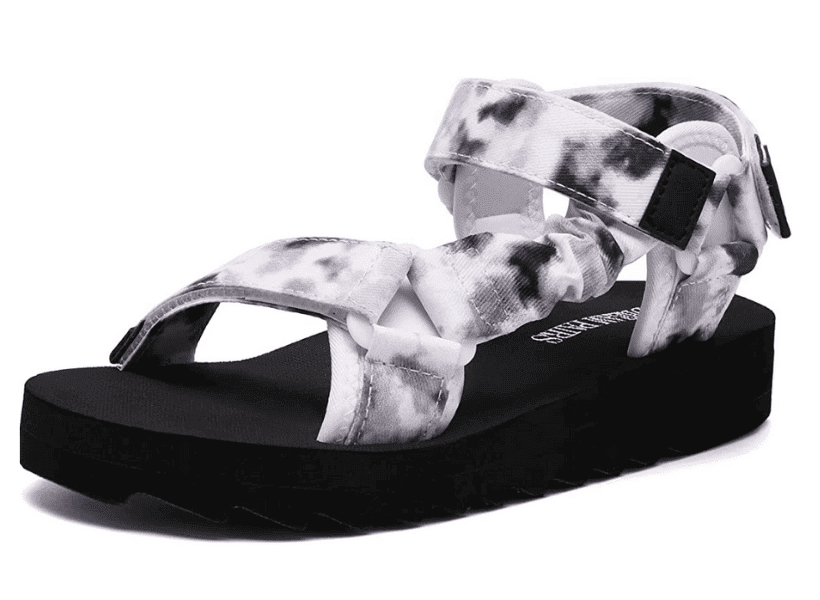 These Dream Pairs hiking sandals offer both cushioning and support.
Made from super comfortable yoga mat material
Textured soles for superior grip on sand
Fast drying, adjustable Lycra straps
Unlike some of our other options, these do offer less stability for your ankles.
13. Aleader Women's Mesh Slip-On Water Shoes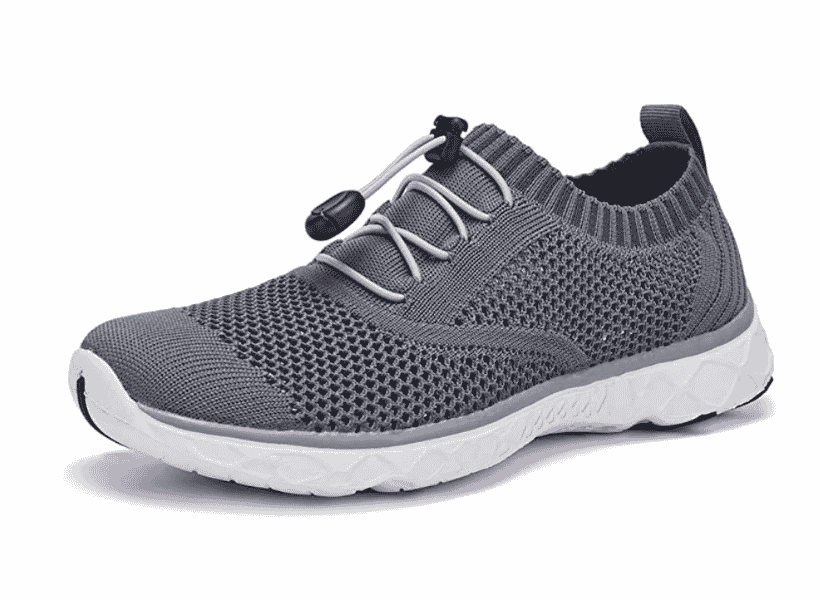 While these Aleader mesh shoes are also technically called "water shoes," they more closely resemble sneakers. But unlike sneakers, these shoes are designed to get wet.
Superior arch support and stability
Lightweight, breathable mesh upper keeps feet cool and dry
Soles feature drainage holes to promote quick drying
Because they are so similar to sneakers, they can be worn for exercise on other terrains as well.
14. SEEKWAY Women's Water Shoes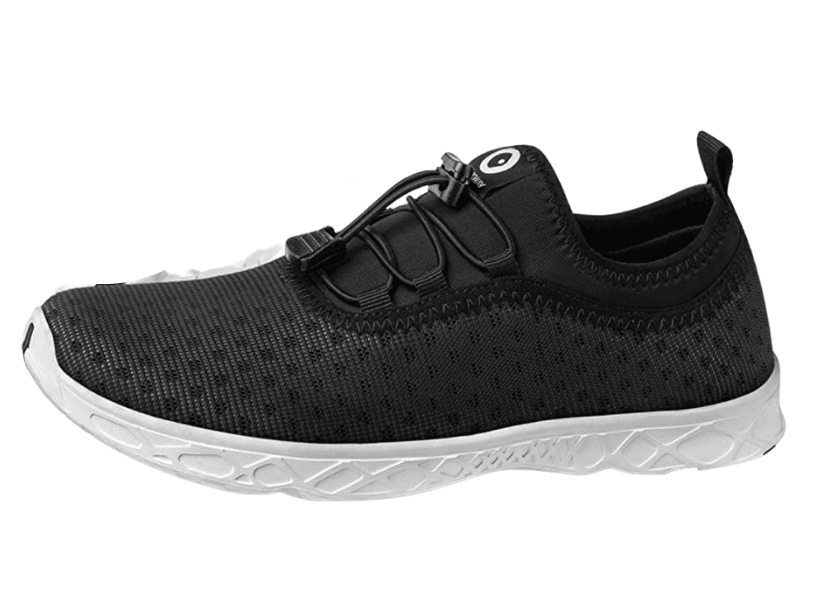 These Seekway shoes are another great option if you want a more versatile shoe for both exercise and leisure.
Easy to slip on and take off
Strong arch support helps keep your foot balanced
Flexible, non-slip soles
These shoes are well-suited to an active lifestyle and can even be used for watersports.
Many colors to choose from
15. Skechers Women's Go Walk Lite Boat Shoe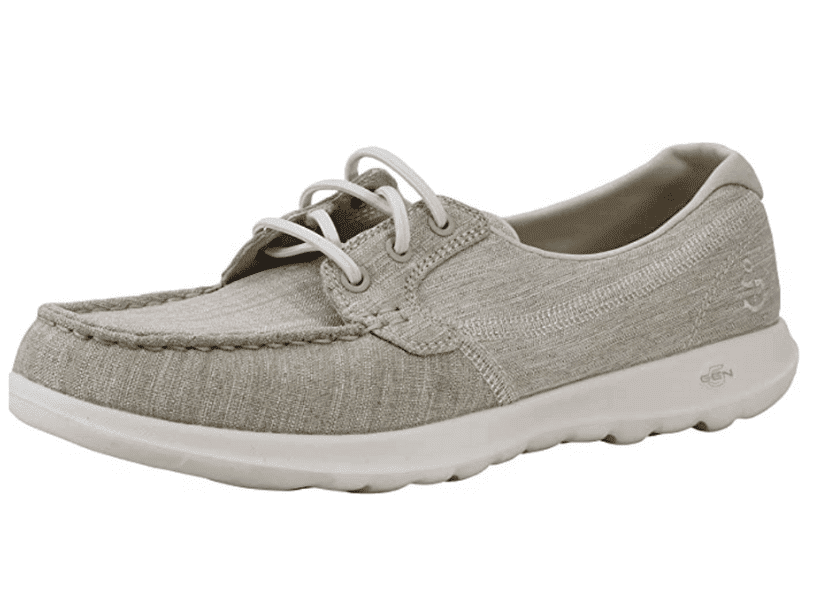 Skechers is one of the most respected shoe brands on the market. These Walk-Lite boat shoes are more comfortable than other more traditional boat shoes.
Flexible sole
Responsive, cushioned insole for maximum comfort
Easy on, easy off
Great choice for a casual wear shoe that doubles as beach shoes
Unlike some of the other options on the list, these are not specifically waterproof.
Before you incorporate regular walks along the beach into your fitness routine, finding your best option in footwear that will maximize your comfort and minimize the risk of injury. There are tons of options out there, and we hope this review some of the best shoes for walking on sand we found is helpful. If we left something off that you want to know, comment below and we'll do our best to find out.
Looking for more great resources for your health and wellness journey? Sign up for our mailing list to get recommendations straight to your inbox.