When it comes to convenient ways to add wearable weights to burn more calories, a set of ankle weights are a great option. They help to tone the entire bottom half of your body – you know, get rid of your mom butt and with the right moves, you can drastically lift, tone, and even grow your glutes and leg muscles. A great set of ankle weights can be a good addition to your exercise equipment.
Why Wear Ankle Weights?
Ankle weights are a great way to get in a bit of resistance training whether at the gym or just around the house while you are cleaning. Any time we add more resistance to our movements we force our muscles to work harder. This burns off more calories and helps to tone our muscles even if just a small bit. Wearing ankle weights is a great way to get these benefits without much extra work making them a great option for busy women that need every bit of help fitting their health and fitness goals into their busy day.
Are Ankle Weights Good For Glutes?
Ankle weights put resistance on leg movements. This includes common target areas like the calves, hamstrings, and glutes. Where the benefits of your ankle weights show the most is dependent on the moves you are making during your time wearing them. Calf raises will affect the calves while donkey kicks will set your glutes on fire.
Will Walking With Ankle Weights Tone My Bum?
Yes, walking with a pair of ankle weights will help tone your butt as well as the other muscles in your lower body. Any time you add resistance to the muscles (strength-training exercises or bodyweight exercise) you are working you will force them to activate more than normal giving them the stress they need to grow stronger.
Walking with ankle weights could cause injury to an ankle joint or even have a higher risk of injury to your knees. If you want to burn more body fat while walking, using a weighted vest could be a better option. For the best results, you will want to do leg exercises with ankle weights to see your glutes tone and grow.
Perform glute activation exercises like donkey kicks, squats, lunges, and glute bridges to round out your booty-growing workout. Another great tool to pair with your ankle weights is a set of resistance bands. Fabric hip trainers often referred to as booty bands can help increase your results by activating the smaller glute muscles.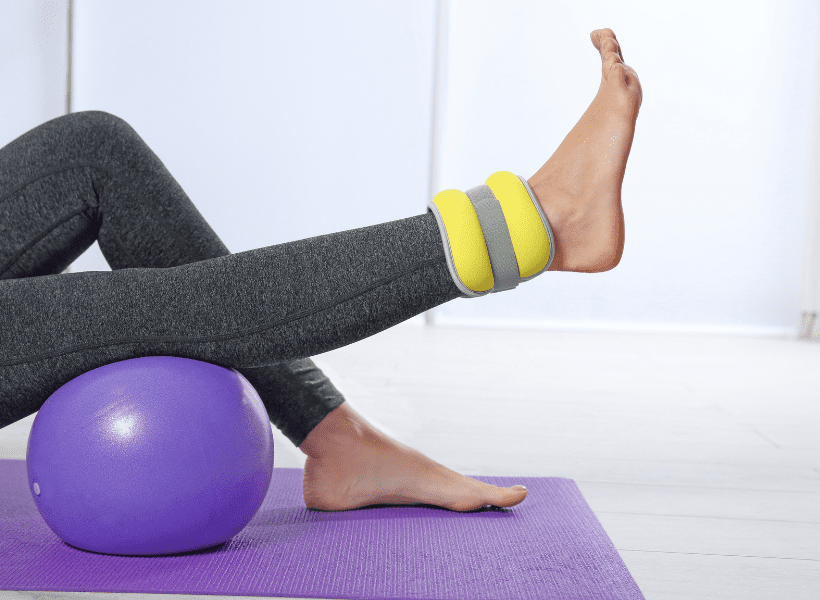 Benefits Of Using Ankle Weights
There are several benefits to using ankle weights. While using ankle weights you're working harder to move your muscles forcing your heart rate to go higher for the same takes you have been doing all along. This helps to burn off more calories and improves your heart's strength and function.
Ankle weights add resistance to your muscles during everyday activities, low impact workouts like walking, and during toning exercises to increase the workload on your muscles. This helps trim and tone your body faster without much extra work or thought. Just put them on and start going about your exercise routine.
Increase speed and endurance. For those that participate in a spore where speed and endurance are needed ankle weights can help with these challenges. By training with added weight, your speed and endurance will go up when the extra weight is removed.
Ankle weights make a great addition to most workouts because you can get the advantages of resistance training without needing to pick them up and put them down making transitions from one workout to the next easier than ever.
How Heavy Should Weights Be For Glutes?
The right weight for your ankle weights will depend on the activities you are doing while wearing them. If you are walking or wearing them while doing everyday activities you should keep your ankle weights at 3 to 5-pound ankle weights to avoid putting stress on your hip flexors and knee joints causing injury.
For use during glute activation exercises you want to raise the weight of your leg weights to 5 to 10 pounds for the best results and growing your muscles. The higher weight puts more strain on the muscles forcing them to grow and adapt. Start on the lower end of the range and work your way up to avoid injury.
Avoid going too heavy with your ankle weights to begin with. If you are unsure of what size to use, consider one of the adjustable sets and start with the lowest weight. If you start with a heavy weight you are more likely to get injured or cause bruising around your ankles from the excess weight. You can always go up to the next level when you feel ready.
How To Use Ankle Weights Effectively
Ankle weights are easy to use. Most varieties attach to the leg with a velcro fastener or velcro strap. They are best worn over your socks, paints, or a pair of leg warmers to prevent uncomfortable chafing. Tighten the straps enough for a comfortable fit and that they do not move around excessively but loose enough to place a finger in between the weights and your leg to avoid bruising.
You can wear your ankle weights during your daily walks to enjoy some of the benefits of ankle weights. If this is your plan, storing your ankle weights with your shoes so you remember to put them on as part of your daily routine could be helpful.
While doing housework is a great time to wear them. Housework at a moderate effort can really torch calories. Adding ankle weights helps to improve the calorie burn of this simple everyday activity and allows you to sneak in a few extra strength training exercises while you work. For those that think they are too busy to get a good workout in this is a great way to start building a healthier lifestyle.
Glute workouts
An effective way to see the biggest gains in your glutes while wearing ankle weights is through glute activation exercises or lower body exercises. A few great glute exercises to do with ankle weights include glute kickbacks, leg raises, leg lifts, fire hydrants and donkey kicks.
Bookmark these into your favorite workouts to help grow your glutes.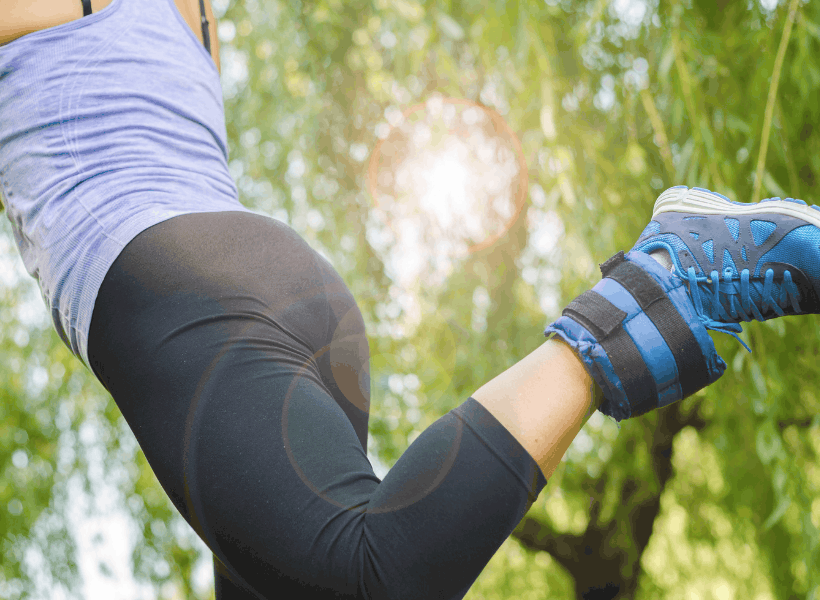 How Long Should You Wear them For Bigger Booty?
While it can be tempting to put on your ankle weights and wear them all day long this is a bad idea. Even if you feel great while doing it you are likely to feel sore the next day. This can lead to giving up on your new workout routine. Your body needs time to heal and recover so it can grow the muscle you want. While how long you wear your ankle weights won't affect you as much as what you are doing while wearing them when it comes to wearing ankle weights you can still overdo it. Do not wear your ankle weights for more than a few hours a day.
Best Ankle Weights For Glutes according to amazon reviewers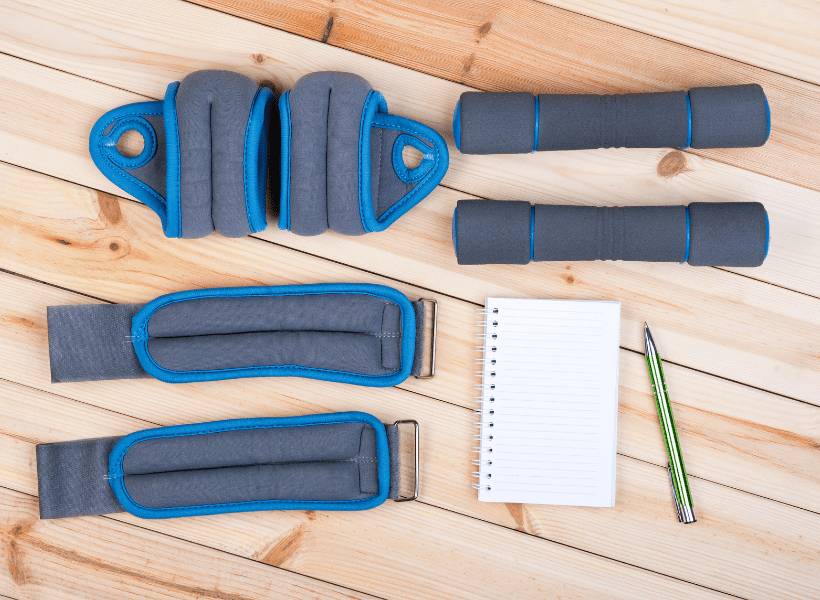 Ambor Ankle Weights
Ambor is a trusted fitness brand that has been known for its quality. (Amazon affiliate link – no extra charge to you) Ambor ankle weights have great reviews and these are designed with a soft interior so they are gentle even if worn directly on the skin which is a plus if you tend to work out in shorts and barefoot. This set offers a variety of removable weights ranging from 2 – 5 lbs at 1 lb increments.
Sportneer Adjustable Weights
These (Amazon affiliate link) adjustable ankle weights range from 2 – 13 lbs depending on what exercise you are doing or the fitness level you're at. They will work for ankles, arms or wrists. One of the highest rated on Amazon.
Best Ankle Weights With Removable Weights
BalanceFrom GoFit Fully Adjustable
These (Amazon affiliate link) adjustable weights are designed to last making them a great investment. They offer a 15-pound set that allows you to adjust from 1.5 pounds to 7.5 pounds each making them perfect for wearing on your walk then coming home and adding a bit of weight for a glute activation workout.
How Long Does It Take To Grow Your Glutes At Home?
How long it takes to grow your glutes with ankle weights will depend on several factors including how much you workout and how much you are eating. To grow muscles you will need to increase your calorie intake including protein and carbs for the fastest results.
Ankle weights are a good option if you want to tone your glutes and get a bigger booty.
While ankle weights are a great training tool the same general rules for muscle toning and growth apply to using ankle weights. You must put adequate stress on the muscles you are looking to strengthen with glute targeting exercises, while giving your body plenty of recovery time, as well as eat enough protein to reach your overall goal.
If you are still unsure how to incorporate the use of ankle weights with various exercises, consulting a personal trainer could be a good idea.