Today we will be driving 5 hours to pick up my oldest son and his family to drive them back to our house for a few days. Healthy Travel is important as it keeps momentum moving towards your goals. It is not always easy to stay true to healthy standards while being away from the safety of your kitchen. My hardest temptation comes from the desire to snack on candy while driving. As with so many other things in life, being prepared will help us be successful.
Here are 5 healthy travel tips to help you be prepared while on on the road!
Healthy Travel Tip #1

Pack a cooler for bottled water. It is really easy to get dehydrated while traveling. Being out of the routine, we tend to forget to drink water regularly. As a treat, I often will pick up my favorite water, Fiji water, just for traveling. It encourages me to drink more since it feels like such a treat. Packing a cooler for easy access will prevent the spontaneous trip through a drive-thru where you will likely indulge in something you may regret afterwards.
Healthy Travel Tip #2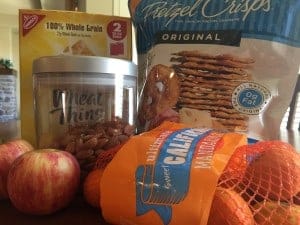 Bring a variety of healthy snacks. Especially if you are traveling with kids, again, it will help with the spontaneous drive-thru trips. If your kids are like mine, they are always hungry. Having a snack handy will help prevent stops at the convenience stores for the junk foods. For me, grapes are one of the perfect snacks for me to eat while driving instead of the candy.
Healthy Travel Tip #3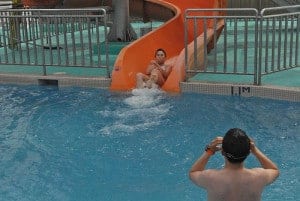 If you are spending any time at hotels, pack swimsuits. It is likely there will be a pool. Swimming with the kids will be a nice break from the car ride to help loosen sedentary, stiff muscles. The kids will be able to release energy from being cooped up all day also!
Healthy Travel Tip #4
Be sure to pack your workout clothes. Don't forget the shoes! Most hotels have nice workout rooms. I am planning on getting on the elliptical or treadmill when we reach our destination to make up for the 5 hours of sitting today. It should be fairly easy to hit the treadmill again before breakfast tomorrow also! Alternatively, you could also bring your laptop and workout right in the privacy of your room.
Healthy Travel Tip #5
When the time comes for you to eat out, so many restaurants have healthy choices available. You will be much happier walking out of the restaurant if you can keep the willpower and stick to your standards. Also, think about splitting the meal for half the calories if you do stray from the healthier choices. My husband and I often split a meal and I have never regretted it. Portions in restaurants are usually really large and if you order a meal to yourself, it's more likely you will eat it all just because it tastes good and it's on your plate.
With a little preplanning, your trip doesn't have to crush your healthy goals. Implement these 5 tips for staying healthy on the road so…
Fit Can Find YOU!