It is possible for women over 40 to lose weight when removing these obstacles.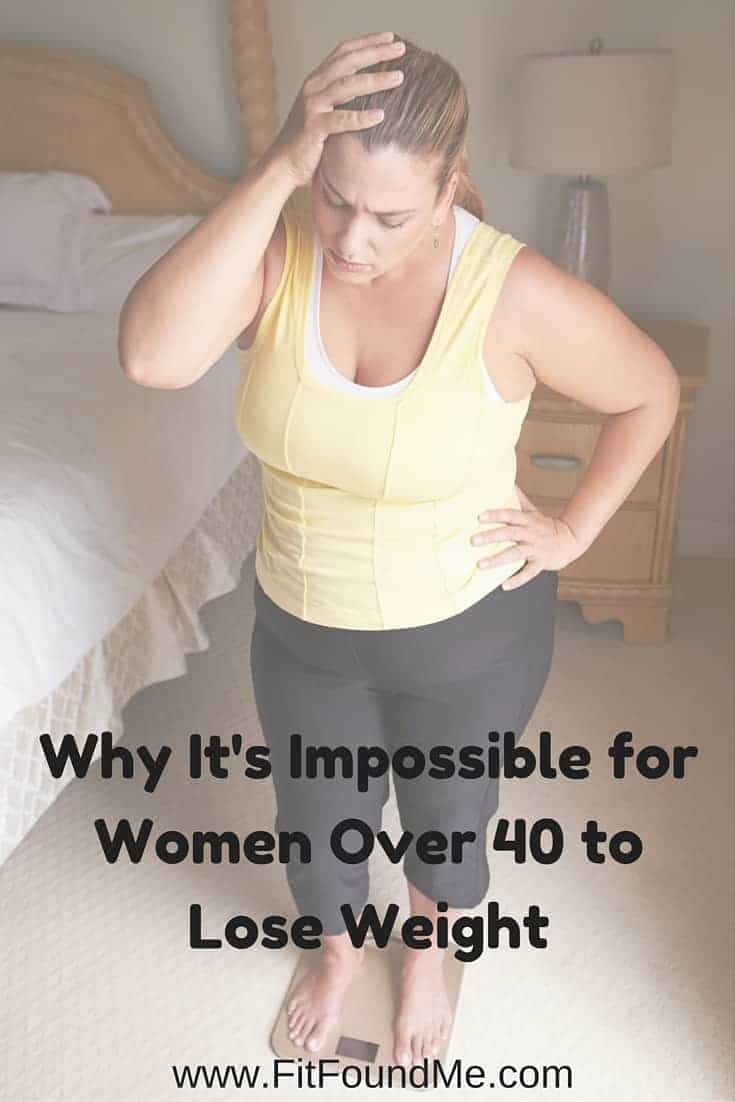 It can be impossible for women over 40 to lose weight without the right tools. Women over 40 can have a difficult time finding success to lose weight even after years of trying. Personally, I tried several times over the years to lose weight only to yo-yo back up.
There are many obstacles to navigate while transitioning to a successful, healthy lifestyle and weight loss goal.
As women over 40, our bodies have changed since we were in our 20s. Those were the days of minimal exercise and eating whatever we wanted. We had the luxury of applying little effort if we needed to drop a few pounds knowing it could be done in a matter of a few weeks.
Weight has crept up on us in the past 10-15 years as habits formed both for us and our families. While the mirrors remind us how much we want to lose weight, our cravings tell us to wait until tomorrow. We plan in our minds to exercise today, but we often already have an overwhelming list of things to do making it almost impossible to implement.
Which brings us to our first obstacle.
#1 Reason It's Impossible for Women Over 40 to Lose Weight
Lacking True Motivation
You say you want to lose weight, but are you really ready to give up time and cravings?
Losing weight is so much easier said than done without proper motivation. How many times have you said you wanted to lose weight while at the same time eating a piece of cheesecake? I could not begin to count how many times I have done that over the years.
Until you decide why you want to lose weight, losing weight will only be a nagging thought in your mind.
Losing weight is hard work, but it will get easier each day you choose healthy.

Until you have the WHY – a solid reason to lose weight, you will not be committed enough to make the sacrifices necessary to lose weight.
Solution: Find Your Motivation
Motivation to lose weight?
My initial reason was to be fit enough to do something I enjoy – riding horses again. After feeling how much better I felt, my motivation was to have even more stamina. Then I began reading about living a healthy lifestyle and realized some of the foods I was eating was counterproductive to my goals. The more I learned and implemented, the better I have felt.
I can play with my grandchildren, take a several mile hike, run a few miles, practically do anything I want because of the hard work for the past few years. Every dessert I have turned away, every workout I have done has been worth it.
Finding your motivation will give you a foundation to build a healthy lifestyle. Your motivation will empower you to have the willpower and self discipline required to make the changes you desire.
Subscribe to Fit Found Me today to join in the FREE 30 Day Weight Loss Group starting soon.
Steps to Your Healthy Lifestyle Foundation
1- Identify your motivation – Take some time to think about why you want to lose weight. Write it down in your journal, post it on your fridge, next to your mirror in your room and anywhere else you can think of. That reason (your why) will need to be in the forefront of your mind as you begin to make the difficult, but necessary changes you desire.
2- Set an attainable goal. If your ultimate goal is to lose 100 lbs, break it up. Remember, the best way to eat an elephant is one bite at a time. Perhaps the first goal will be 10 lbs. Maybe even the first goal is to cut out desserts 6 days a week. As you meet the small goals, momentum will build through your own self-confidence and excitement.
3- Stop procrastinating. Start today, right now. It doesn't matter if it's the middle of the week or the end of the week, start today. Every day counts. It is so easy to justify poor eating habits on Wed-Sat or the middle of the month when we decide to start a new program Monday or the beginning of the next month. No need to wait – start right now.
On Facebook?
Join the Facebook group, Women Over 40 Losing Weight and Healthy Living for additional support!

Take the first step.
What is your WHY for wanting to lose weight?
Subscribe now so that you never miss another post from Fit Found Me!
Download the entire series plus bonus material in an easy to read ebook!
Check out the rest of the series, Why It's Impossible for Women Over 40 to Lose Weight:
Why It's Impossible for Women Over 40 to Lose Weight: Part 2 Medical Obstacles
Why It's Impossible for Women Over 40 to Lose Weight: Part 3 Exercise
Why It's Impossible for Women Over 40 to Lose Weight: Part 4 Nutrition
Additional Weight Loss Resources
Lose Weight by Walking 30 Day Fat Burning Plan
30 Minute Indoor No Equipment Cardio Workout for Women Over 40