Spaghetti and meatballs have always been a favorite of mine. Now that my focus is on healthy foods, it doesn't mean I have to give up my favorites and neither should you or your family. So many of our favorite comfort foods have the potential to use alternative healthy ingredients. If your teenagers are like mine, they don't want to know what they are eating is healthy. Spaghetti squash and meatballs is a crowdpleaser and choosing lean ground turkey or ground beef won't bust your macros for the day.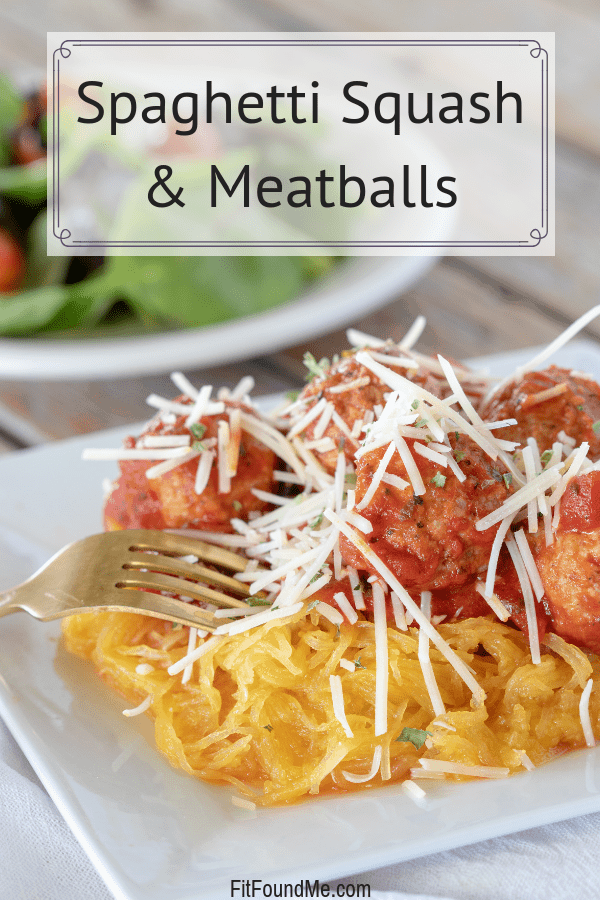 Don't be intimidated by the name or the pictures, this spaghetti squash with meatballs is easier and faster than you think! Plus, there are a variety of ways to cook spaghetti squash that will speed up cooking times tremendously. Additionally, the turkey meatballs can be frozen until ready to use.
This is also a great meal to serve to dinner guests. It's a meal that looks like it has taken hours to prepare and will go really well with a nice salad.
Is Spaghetti Squash Healthier than Pasta?
Maybe you are wondering how much healthier spaghetti squash is than pasta. It makes a big difference in calories and carbs, especially if you are trying to keep a moderate to low carb diet. Spaghetti squash has only 20 calories, compared to 100 calories of traditional pasta.
How to Cook Spaghetti Squash
Making spaghetti squash isn't as overwhelming as it may seem if you haven't tried it before. However, make sure to cook it properly, or you will get the wrong impression of it, much like I did years ago. I tried it again, cooked the right way and loved it!
(This post contains affiliate links.)
There are 3 ways to cook spaghetti squash depending on what you are comfortable with and how much time you have. Which is one of the reasons this recipe is a great stand-by. Spaghetti squash can be cooked in an instant pot, microwave or oven.
Another time-saving technique is to cook spaghetti squash can be cooked ahead of time. Spaghetti squash is good in the fridge for 3 -5 days after cooking. You can even freeze leftover spaghetti squash in the freezer for about 6 – 8 months. You can reheat spaghetti squash in the microwave by adding a little water to it.
For this recipe, I cooked the spaghetti squash quickly in the microwave.
How to Make the Best Meatballs
These turkey meatballs are simple to make and so healthy for you, but you don't have to announce this to your kids.
You may be tempted to grab a bag of frozen turkey meatballs to speed up the prep time, but these homemade meatballs taste so much better and really don't take long to throw together.
To make the Italian turkey meatballs, you only need a handful of ingredients and about 30 minutes. Most of the ingredients you probably have on hand, which is always a bonus when I decide to make a recipe. I don't particularly like buying ingredients that I may only use once.
The calories in meatballs can depend on the meat you choose to use. Not all ground turkey nutrition is the same, so don't assume that's the most healthy.
Ground Turkey VS Ground Beef Nutrition Comparison
A while back I did a little research on ground turkey vs ground beef. Our family is generally pretty easy going about using either, let's face it, sometimes ground beef just tastes better than ground turkey in certain recipes.
What I discovered was not all ground turkey is healthier than ground beef. In fact, ground turkey can have more fat content than ground beef if you don't look closely at the packaging. For all of the facts on nutrition for ground turkey or ground beef, make sure to pop over to this article that explains the calories in ground turkey and ground beef nutrition. The calories in ground beef compared to calories in ground turkey can be so similar, you could reasonably choose either.
Easy Meatball Recipe
With using only a few ingredients, most or all of which you probably have on hand already you can have Italian meatballs ready for your family in about 40 min or less.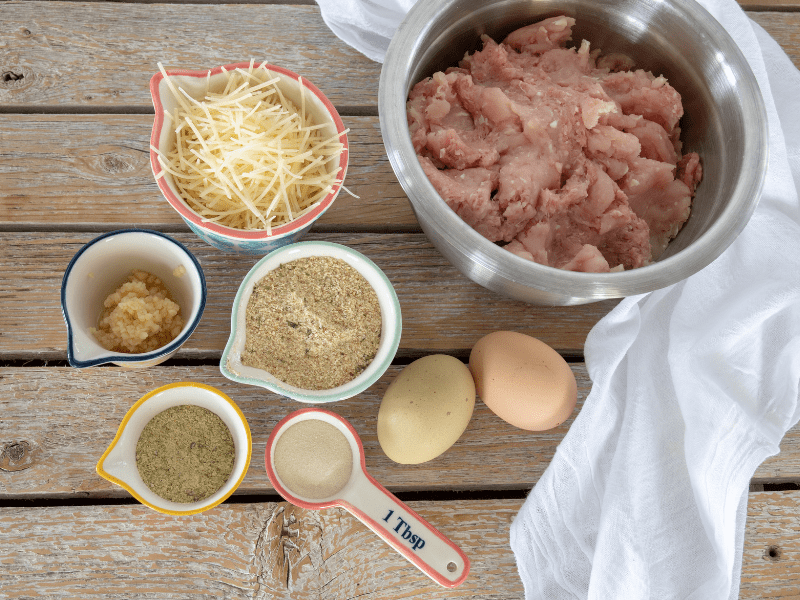 First, you want to put the ground turkey or ground beef in a mixing bowl. Add the breadcrumbs, Italian seasoning, garlic, Parmesan cheese, eggs, salt and pepper and mix well. Here's a secret tip for how to keep turkey meatballs juicy…unflavored gelatin! Give it a try, you'll never make them without it from then on.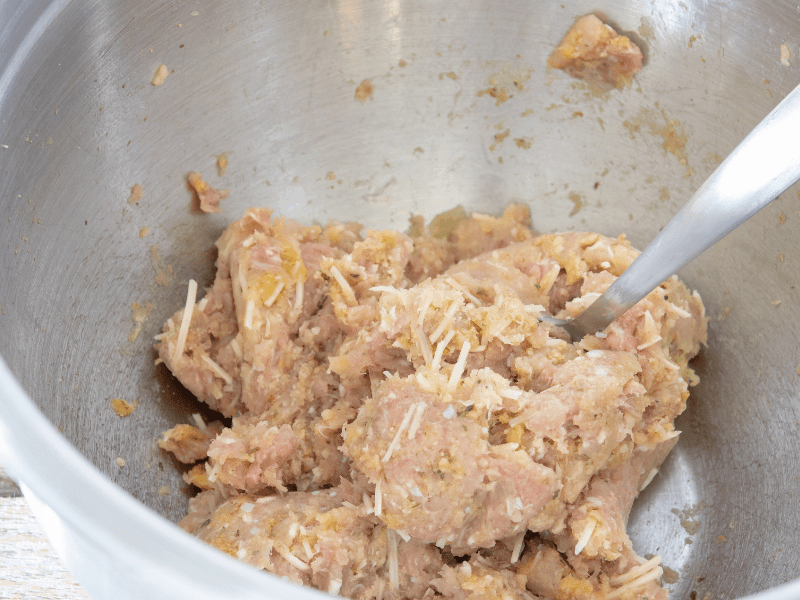 Next, using only your hands or with the help of a spoon, form balls about the size of a walnut. Then place them on a baking sheet lined with parchment paper for easy cleanup.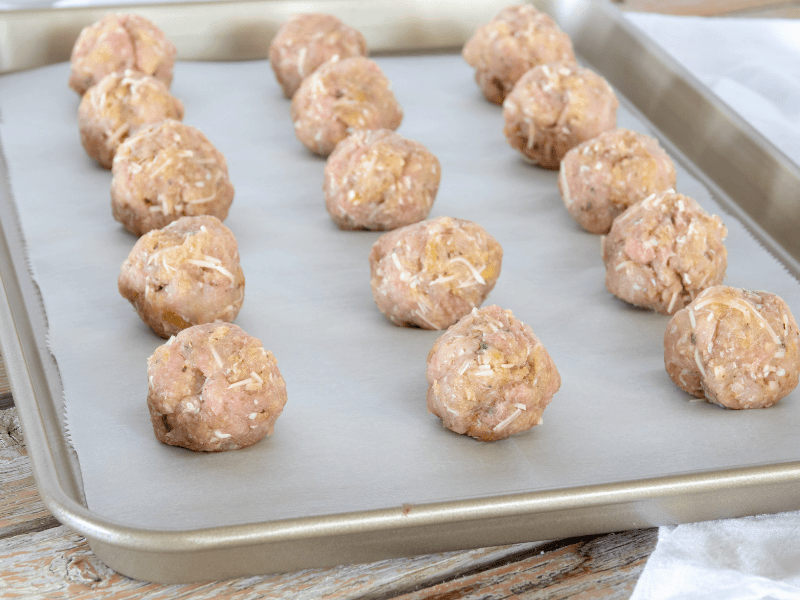 Bake Turkey Meatballs for approximately 20 min at 400 degrees Fahrenheit.
Then, pour the spaghetti sauce of your choice in a pot to heat thoroughly on the stove.
Here's what makes this the best meatball recipe – the cheese. Look at how the cheese has melted and browned. Anything with brown melted cheese is a winner in my book…and parmesan cheese at that.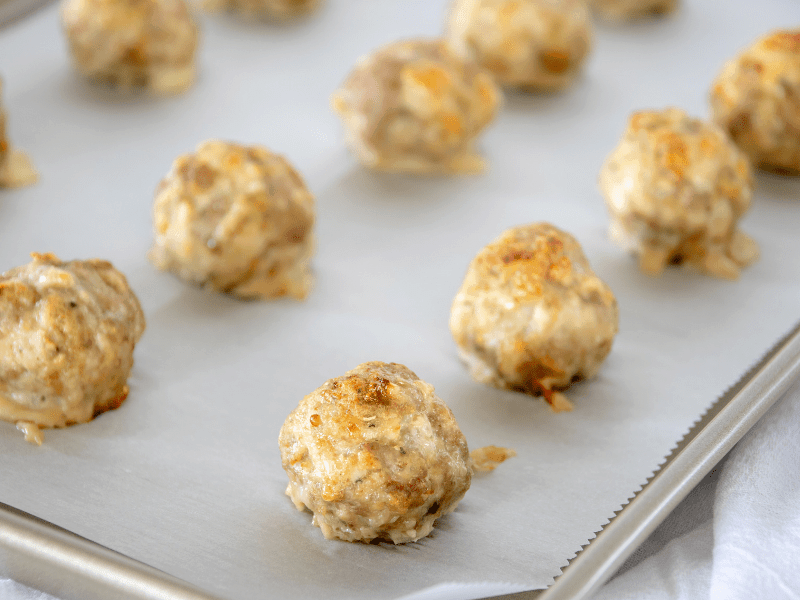 While the meatballs are baking, get the spaghetti squash reheated or cooked. Refer to the "How to Cook Spaghetti Squash" (3 ways to cook spaghetti squash) above and the lengthy post for additional details. You can quickly cook the squash in the microwave for 12 minutes.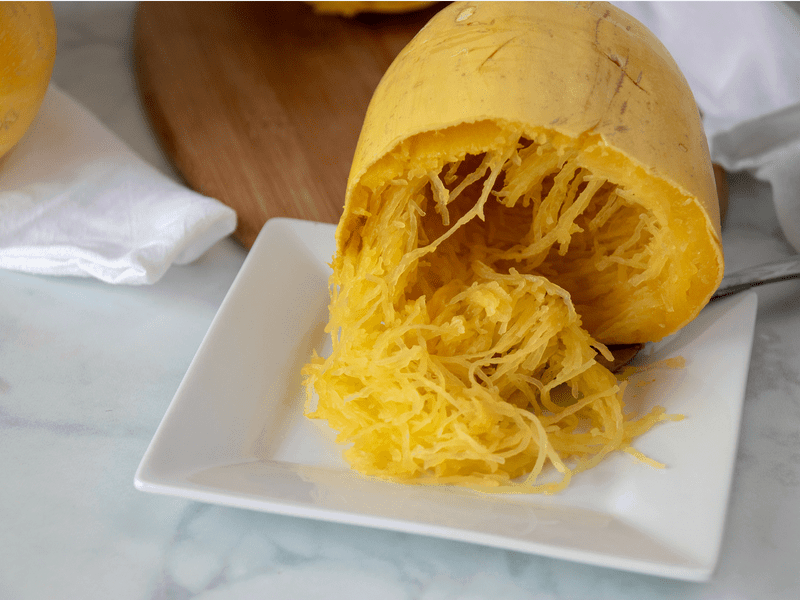 I like to add the meatballs to the sauce to simmer while I get the spaghetti squash plated.
Once you're ready to sit down to eat, it's time to put the meatballs and sauce on top of the spaghetti squash. Garnish with more parmesan cheese because we can't even have too much parmesan cheese, right?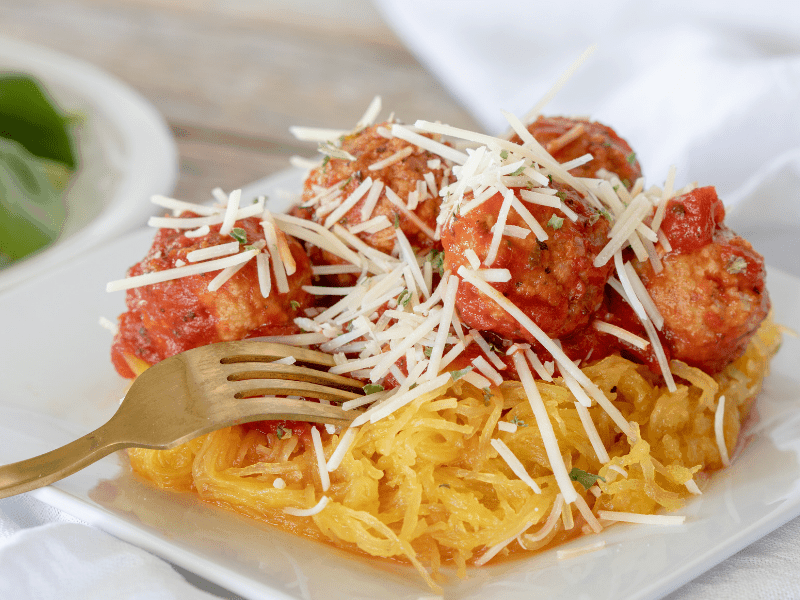 Can turkey meatballs be frozen?
Yes, you can freeze turkey meatballs!
If freezing raw, once formed, line up on parchment paper and freeze. Once frozen, transfer to container or freezer bag.
You can also freeze cooked turkey meatballs. Allow them to cool and place in container or freezer bag. When ready, defrost in fridge or simmer in sauce slowly on stove.
Other healthy ground beef and ground turkey recipes to try!
Quick and Healthy Ground Beef Recipes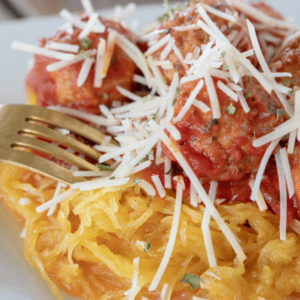 Spaghetti Squash and Turkey Meatballs
A perfect combination of seasonings with a secret ingredient to make the best meatballs for a healthy alternative to pasta by using spaghetti squash. A family-friendly healthy meal that is also great for leftovers.
Ingredients
2

pounds

lean ground turkey

2

eggs

1/2

cup

Italian breadcrumbs

2

Tbsp

Italian seasoning

1

Tbsp

unflavored gelatin

1

cup

grated Parmesan cheese

2

cloves

minced fresh garlic

1

whole

Spaghetti Squash

Pepper to taste

Salt to taste
Instructions
Preheat oven to 400 degrees Fahrenheit.

Wash Spaghetti Squash, Poke a few holes in and place in microwave to cook on high for 12 minutes.

In a mixing bowl add all ingredients and mix.

Form small meatballs in your hands and place on a lined baking sheet.

Place in the oven and bake for 20 minutes.

When Squash is finished cooking, allow it to rest for 10 minutes. This is so the steam isn't too hot when cutting open.

Cut Squash in half. Scoop out seeds. Use fork to shred pulp out onto plates.

Remove from oven. Serve over spaghetti squash with your favorite marinara sauce.

Makes about 24 meatballs.
Nutrition
Serving:
200
g
Calories:
310
kcal
Carbohydrates:
9
g
Protein:
47
g
Fat:
10
g
Saturated Fat:
4
g
Cholesterol:
152
mg
Sodium:
489
mg
Potassium:
531
mg
Fiber:
1
g
Sugar:
1
g
Vitamin A:
309
IU
Vitamin C:
1
mg
Calcium:
244
mg
Iron:
3
mg
Tried this recipe?
Tag me on Facebook @fitfoundme with a pic and let me know what you thought of this recipe in the comments below!