Jamba Juice and travel go hand in hand for me. I gave their Amazing Greens Smoothie a try recently and yes, it is amazing!
When walking through the airport this morning to fly to Los Angeles for the Fitness Blogfest Conference, I knew I needed something for breakfast.
I was so excited to see Jamba Juice! Andrew and I have enjoyed a Jamba Juice smoothie everyday while in Vegas. Today I ordered an Amazing Greens Smoothie with a Spinach, Egg, & Cheese wrap.
The Amazing Greens Smoothie was my favorite so far.
It has all of the great greens, but without the greens taste. The smoothie I ordered yesterday was good, but I did miss the fruity taste. With the Amazing Greens Smoothie, it is the best of both worlds.
The wrap was pretty good.
I have a confession…
I have not given up my white flour tortilla yet.
I don't eat tortillas very often, and so I haven't felt the need to switch to whole wheat tortillas. Jamba Juice uses whole wheat tortillas for their wraps.
Wow…if all whole wheat tortillas tastes this good..I'm sold. It really made the whole wrap that much better.
The rest of the wrap wasn't memorable. The spinach was from frozen spinach…a totally different taste than fresh.
I put fresh spinach in my eggs on a regular basis and love it. This, not so much. However, I did enjoy the breakfast as a whole and feel that much better for eating it.
It would be easy to make a great Amazing Greens Smoothie at home!
After having a couple of green smoothies the last two days…I'm hooked, so I have to make plans so I won't be disappointed when I get home and can't walk to get an Amazing Greens Smoothie from Jamba Juice.
Amazing Greens Smoothie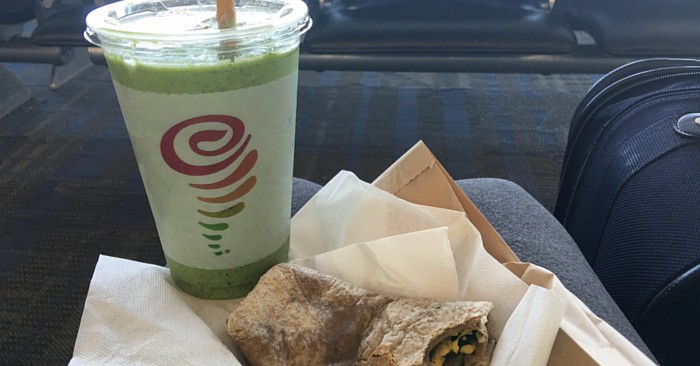 1/2 Cup Lemonade
1/2 cup Peach Juice
1/2 cup Fresh or Frozen Kale (don't allow it to thaw out before using it)
1/2 cup Fresh or Frozen Peaches
1/3 Fresh Banana (frozen will ensure a nice cold smoothie)
2 Tbsp raw Pumpkin Seeds
1/2 cup crushed ice
Blend everything for about 20-30 seconds or until smooth.
Jamba Juice can be a great alternative to some of the fast food at your fingertips when traveling.
I especially enjoy a good smoothie at the airports. I often pack a quick snack such as carrots and cherry tomatoes or an apple and almonds.
Traveling days can be so draining yet calories burned are typically very low, so make sure to go for the ultra healthy foods to keep from feeling guilty later.
I keep a water bottle with me all of the time, and traveling by plane isn't an exception. The flight attendants will fill them up for you or some terminals now have water bottle refill stations close to water fountains.
Additional Smoothie Recipes:
Fast, Easy, Healthy Smoothies Every Woman Over 40 Would Love
What is your favorite Jamba Juice Smoothie?