We have been hearing a lot about swim workouts for women over 40 lately and that's for good reason. Swim workouts have a long list of benefits and I don't know about you, but I am all about taking advantage of those benefits. Whether you are doing freestyle swim workouts, HIIT swim workouts, or water aerobics, you will find benefits from your workout.
There are many different types of swim workouts out there, including water aerobics. Swimming workouts are a beneficial therapeutic activity for anyone looking to lose weight, build strength or just fit in some cardio. Water aerobics are an ideal workout for those who suffer from joint pain or even looking to switch up their routine.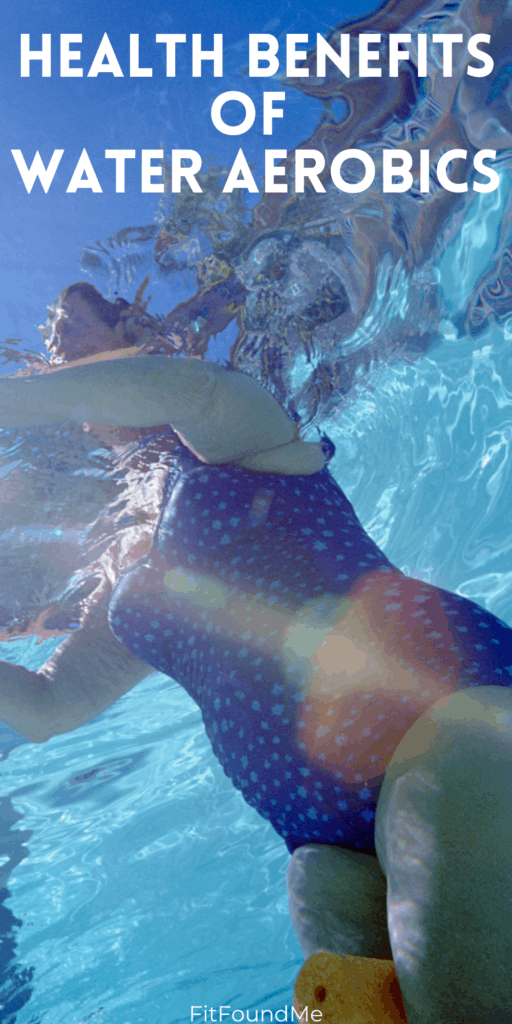 8 Health Benefits of Water Aerobics
If you are wondering just how much of a benefit you can get from these swim workouts, here is a list of 8 health benefits of water aerobics that you can look forward to once you start your swim workout program.
Relieves Stress and Anxiety
Water aerobics can help to relieve stress and decrease anxiety, which leads to increased mental health. Have you ever noticed that many vacations often revolve around swimming or water? That's because simply being in the water is relaxing and stress reducing.
Increased Muscle Strength
Water aerobics involves continuous movement and working against the resistance of the water. This resistance means that the muscles in the body are getting a workout and becoming stronger.
It's a Low Impact Exercise
The ability to work out is huge when your joints have hurt too bad to do it in the past. The fact that swimming is such a low impact exercise makes it not only beneficial to health, but for some people with arthritis pain, or otherwise affected joints, it means that they can exercise again!
Water Aerobics Burn Calories at a High Rate
Because of the resistance in water, muscles work harder during water aerobics. That translates to calories burned at a higher rate. For example, a 150 pound person doing a 30 minute water aerobic workout can burn up to 350 calories. This is a great return on time investment.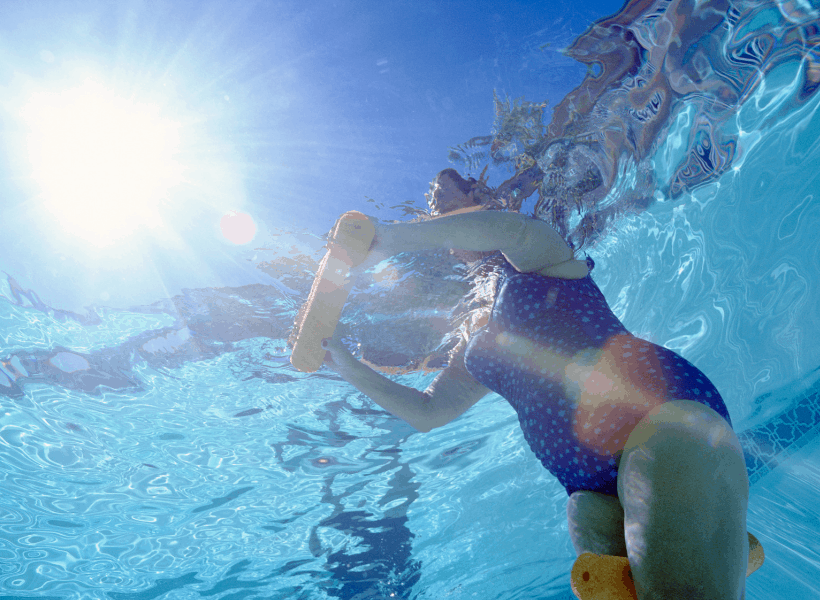 Reduction in High Blood Pressure
Another benefit of water resistance in a water aerobic workout is that the resistance actually works with your blood to help it flow and circulate in a more effective manner. This means these workouts are often beneficial in lowering blood pressure.
Increased Flexibility
Another win for water resistance! We already know that the water resistance experienced during a water aerobic workout is great for building muscle. Did you know that it is also great for flexibility? With the ease of moving joints under water, it allows them to achieve a greater range of motion, therefore improving flexibility.
Your Body Temp Stays Down
The heat outside can often make or break a workout. Many people have too much discomfort when it comes to working out in the heat. With water aerobics, that often is not a problem. There is rarely a concern of overheating when working out in the water. For some people, this means they no longer skip workouts, which is great for your health.
It's fun!
Swimming is fun. As a matter of fact, many people don't even realize how great of an exercise swimming is. They aren't focused on the fact that they are exercising, but on the fact that they are enjoying themselves. When you allow yourself to have fun and relax, it improves your overall health.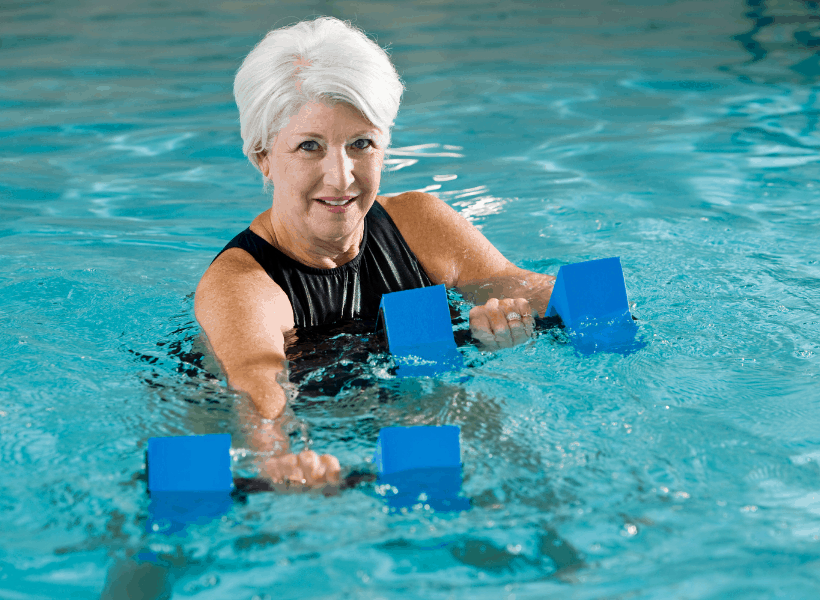 Where to find water aerobics classes in your area
If you have your own pool, aquatic exercises or water workouts will be a breeze as long as you have a water based exercise plan to use like the ones on my site.
If you don't have access to a private pool try these options:
Local gym with pool
YMCA
Programs at your neighborhood pool
Programs at a public school pool
Hopefully these health benefits of water aerobics has encouraged you to give water exercises a try! I'd love to know your thoughts on swimming workouts in the comments below.