Quinoa is still a fairly new ingredient in our house. What started out as a very bland health food for us, has quickly found its place into a variety of dishes as a way to spruce up the nutritional value. This Greek Quinoa Salad is a great example of how quinoa takes on the taste of the other ingredients in the dish, which is what makes it a great compliment for almost anything, including this chocolate cake!
The ingredients in this easy to make healthy greek quinoa salad give this dish such a fresh, clean, healthy flavor, this is a recipe that will soon be your go-to for potlucks and get-togethers.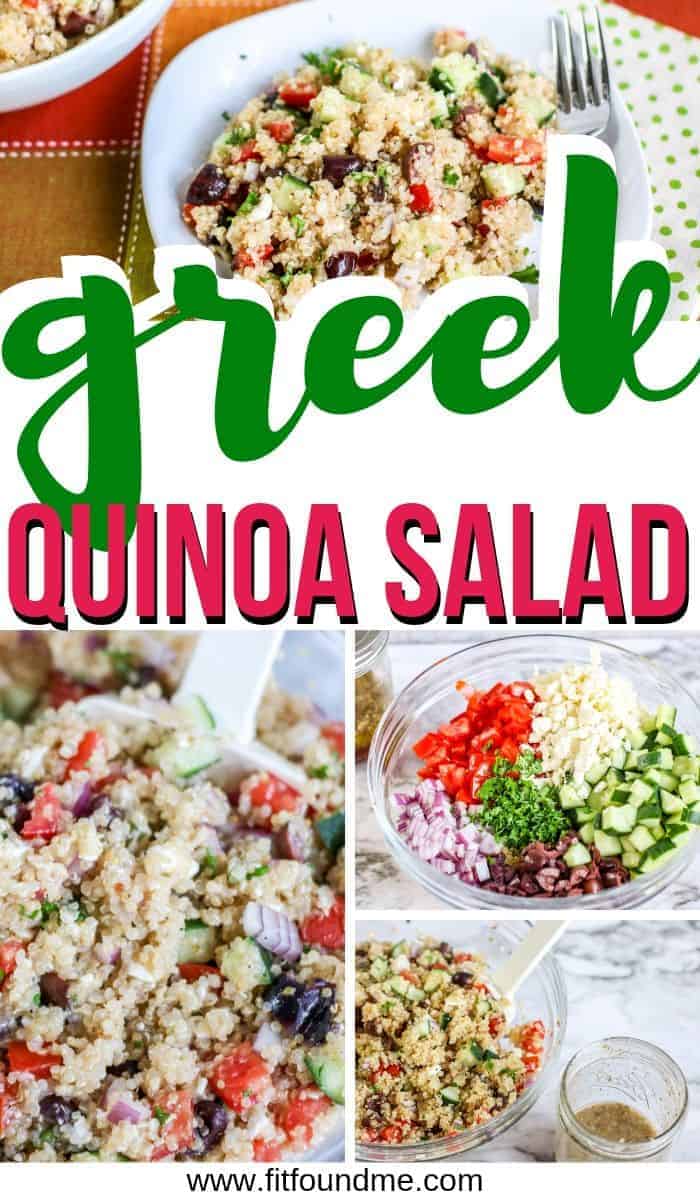 All too often, seemingly healthy salads can be misleading by not having a healthy salad dressing to accompany it, but not with this Greek Quinoa Salad. The salad dressing is light and includes EVOO, a healthy fat to fulfill your fat macros if you are counting macros for weight loss.
This salad reminds me of one of my favorite restaurants in Las Vegas. It's a fresh, very authentic Greek restaurant that buys and ships in fresh ingredients from literally all over the world. If you are ever in Vegas visiting, you would not be disappointed with a dinner at Estiatorio Milos. We had dinner there several years ago and it's still one of the best experiences we've ever had.
How to Prepare Quinoa for Salad
First, make sure to pick up good quality quinoa. The plain is best for this recipe. (Affiliate link) I love the Costco brand, Kirkland, and you can even order it from Amazon for convenient home delivery.
A common mistake made when preparing quinoa is not rinsing prior to cooking. When the quinoa is rinsed, it removes any bitter taste the quinoa may have naturally.
How long does quinoa salad last in the fridge?
This Greek Salad can be made ahead of time or a few minutes before serving. Making this salad and allowing it to sit in the refrigerator overnight will allow the flavors to mesh that much more.
This salad would make a great addition to your weekly meal prep since it will taste great for several days in the fridge.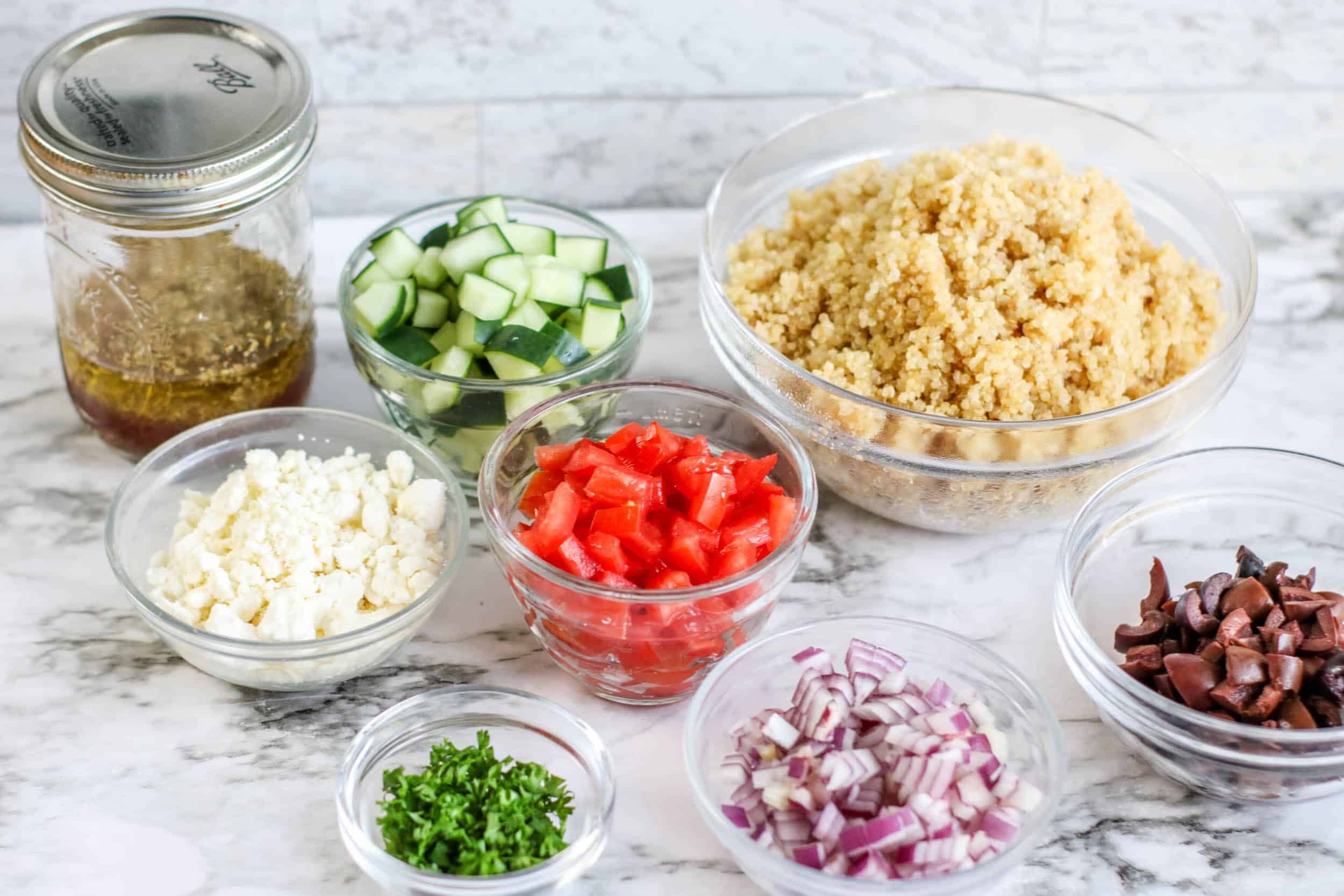 Variations of this Greek Quinoa Salad
You can add in some additional ingredients to make this salad your own.
Easily add in a variety of lettuce such as kale or romaine gives the salad more bulk with additional superfoods.

Add in protein such as grilled chicken or even a shredded roasted chicken for a complete meal.

Add in avocado and increase healthy fats.
If you are following a Mediterranean Diet, this is a great salad for you! I don't follow that or any specific diet, per se, but I love Mediterranean food!
The ingredients are colorful, fresh and full of taste!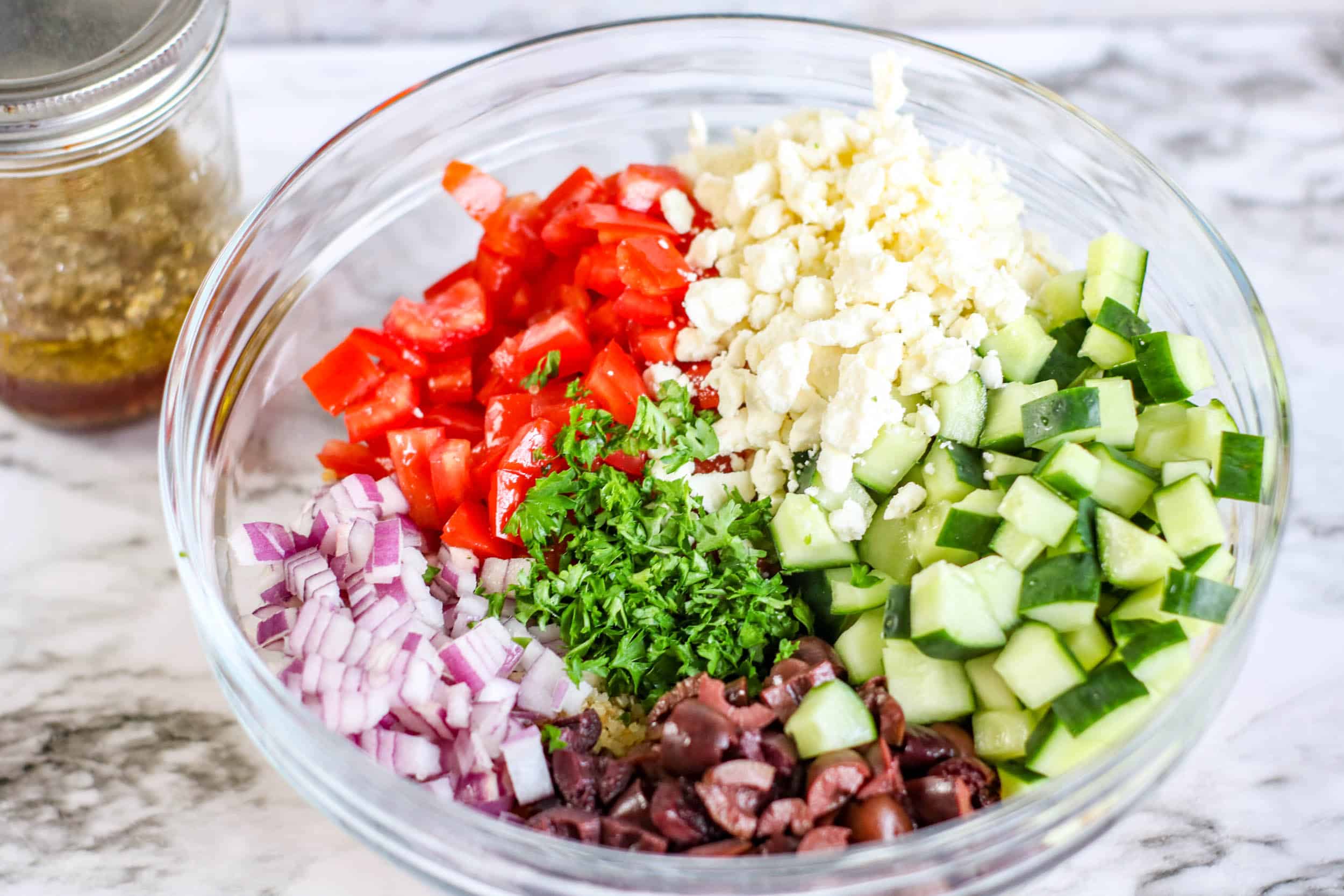 If you are looking for other ways to use quinoa in meals, be sure to check out these amazing 21 quinoa recipes. (there's even a chocolate cake recipe with quinoa!)
Quinoa is a great way to eat healthy when trying to lose weight or life a healthier lifestyle.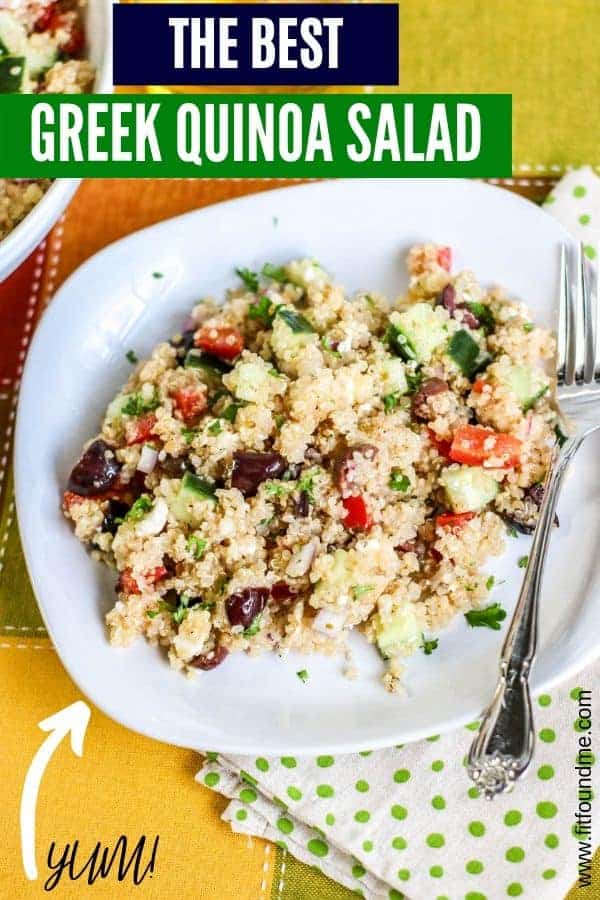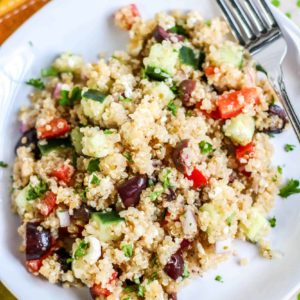 Greek Quinoa Salad
Fresh, healthy, Mediterranean salad that provides protein, healthy carbs and healthy fats for a well-rounded salad perfect for potlucks or meal prepping.
Ingredients
1

cup

quinoa

plain

2

cups

water

1

tsp

salt

1

large

cucumber

seeded and diced

1/4

cup

red onion

finely diced

2

roma tomatoes

seeded and diced

1/4

cup

feta cheese

crumbled

1/2

cup

kalamata olives

quartered

1

tbsp

parsley

chopped

1

clove

garlic

minced

2

tbsp

red wine vinegar

1

lemon

juiced

1

tsp

dried oregano

1/4

cup

Olive Oil

fresh black pepper

optional, to taste
Instructions
Heat two cups water to boiling. Add salt.

Rinse quinoa thoroughly and add to boiling water. Cook over medium heat for 15 minutes. Set aside for 5 minutes and then fluff with fork.

In a large bowl, combine quinoa, cucumber, onion, tomatoes, cheese, and olives.

In a bowl or mason jar, mix together garlic, red wine vinegar, lemon juice, oregano, olive oil and pepper. Whisk (or shake) until blended. Pour over salad and toss to combine.

Serve immediately or refrigerate until needed. Serve warm or cold based on your preference.
Nutrition
Serving:
180
g
Calories:
237
kcal
Carbohydrates:
23
g
Protein:
6
g
Fat:
14
g
Saturated Fat:
3
g
Cholesterol:
6
mg
Sodium:
641
mg
Potassium:
307
mg
Fiber:
4
g
Sugar:
2
g
Vitamin A:
333
IU
Vitamin C:
15
mg
Calcium:
71
mg
Iron:
2
mg
Tried this recipe?
Tag me on Facebook @fitfoundme with a pic and let me know what you thought of this recipe in the comments below!