You gain a lot when you become a mom. Joy, happiness, a newfound sense of patience, cravings and oh yeah, don't forget about your mom butt! Seriously, Mom Butt is real and so is the struggle to get rid of your mom butt. Reclaiming your body after a tremendous change is hard to do, but here are some fun ways to lose your mom butt for good!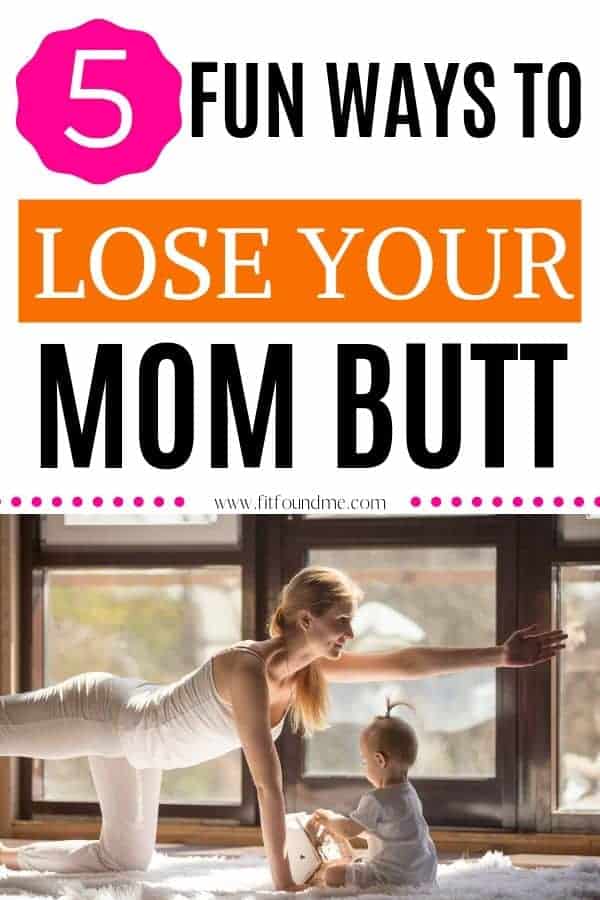 What is Mom Butt?
The "Mom Butt", as we know it, or flat butt is actually the result of muscular imbalances. Basically, the backend of your body becomes wide and overstretched, while your front becomes short and tightened.
Build Your Booty
No one really wants to hear that exercise is the answer, but in this case, it is and we need to hear it. We also need to be open to trying new and fun exercises that can help us get rid of our mom butts and maybe have some fun too!
Some days I do some exercises while doing other things around the house!
Mom Butt Exercises
Everyone wants a nice round butt! I mean, come on, who doesn't use the peach or apple emoji to describe the perfect booty? Well, if you want an apple bottom, you gotta work for it, but you can always make it fun. Here are some Mom Butt exercises for you to try at home.
Don't just squat, lunge!

Don't rely on the same old butt routine to shape your rear, if it hasn't been working, it's not going to. Change it up, add in some lunges and single leg dead-lifts. A fun way to incorporate this into your day is to do it while you are cleaning, folding laundry or even putting away groceries!

Head for the hills!

Rather than pace running or jogging, which is good for your hamstrings, walking or sprinting works better on those glutes! They say 10-15,000 steps per day, well, 1500 of those, or more, should be done on stairs or hills. Make it fun by having your kids race you or chase you up hill and, if you are on grass, see who can roll back down the fastest or challenge yourself on the stairs, see how many times you can go up and down before you're winded and next time, try to outdo yourself!

Stretch it, don't just sit on it!

Rather than just sitting on your flat mom butt, stretch! Here are some

great glute stretches

to try while you are sitting around.

Just Dance!

Either play the game or turn on some music and shake it 'til you can't take it no more! Dancing has always been known as the original booty booster and yes, it does work, if you work it!

Try this 30 minute booty-shaking playlist:

"Booty" — Jennifer Lopez, Iggy Azalea

"Bootylicious" — Destiny's Child

"My Humps" — The Black Eyed Peas

"All About That Bass" — Meghan Trainor

"Milkshake" — Kelis

"Mambo No. 5" — Lou Bega

"I'm a Slave 4 U" — Britney Spears

"Anaconda" — Nicki Minaj

Yoga for you!

Yoga is a great way to tone up and boost your booty in a very natural way. It won't make your mom butt overly muscular, but will definitely give it a little pump!

Challenge yourself for 30 days with this printable – 4 exercises to tone and tighten!
Have fun getting rid of your mom butt by including some of these "mom butt" exercises into your day!
It's always good to have a variety of workouts to lose your mom butt and switch things up every few weeks.
Don't underestimate the toning and fat burning power a good walking plan is to your regular routine.