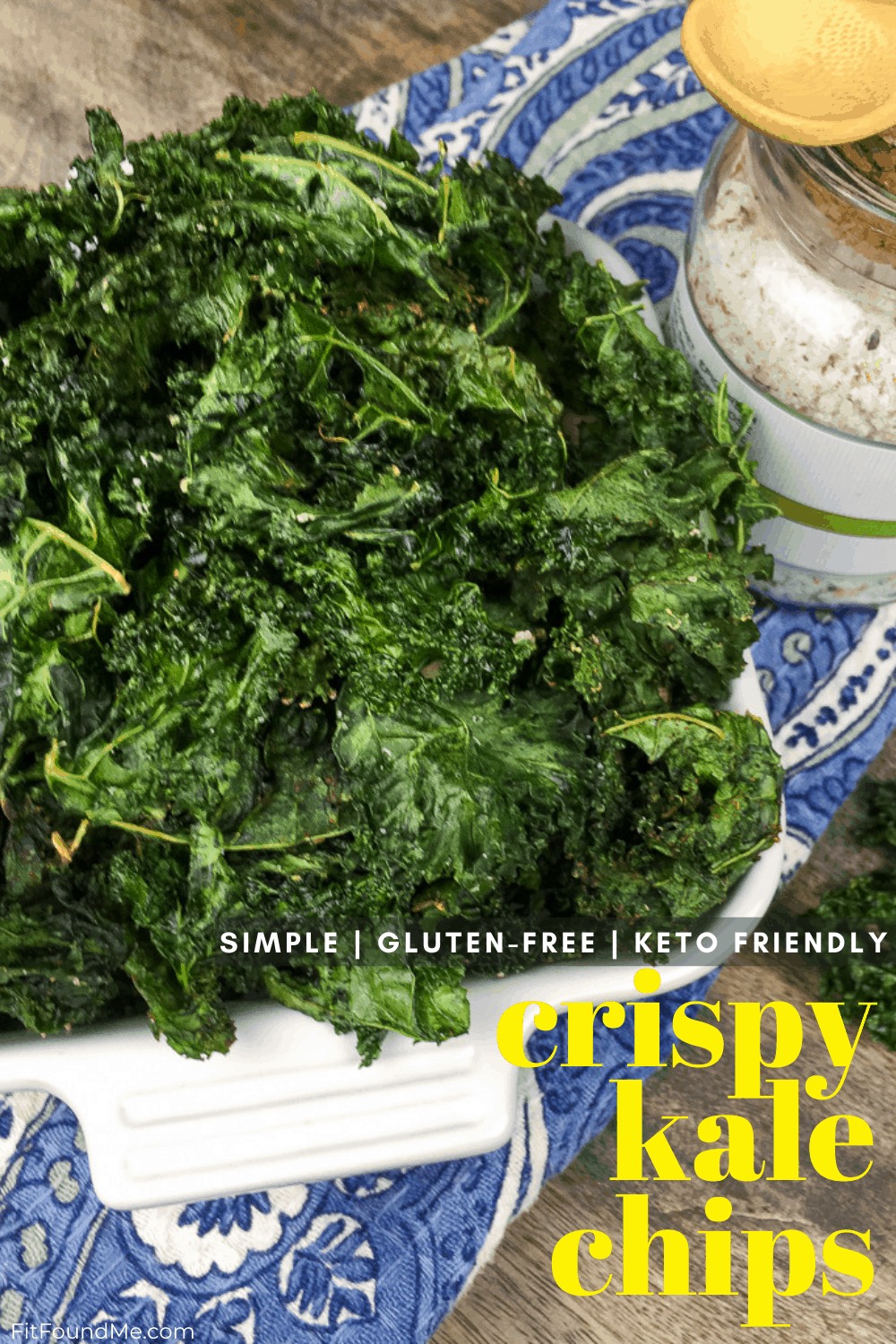 If you're looking for a healthy and satisfying alternative to potato chips, you are in the right place. Crispy kale chips have been a favorite at our house for a while. In fact, it was probably the first healthy snack we learned to love. I learned how to keep from having limp, soggy kale, which is the biggest mistake with trying to make these, and yes, I will let you in on the secret too!
These crispy kale chips are super easy to make, but there is one important step to create the crispiness you want. This is surely to become one of your favorite keto recipes.
These kale chips are also a great side for one of our favorite hearty keto soup, this easy Cheeseburger Soup recipe.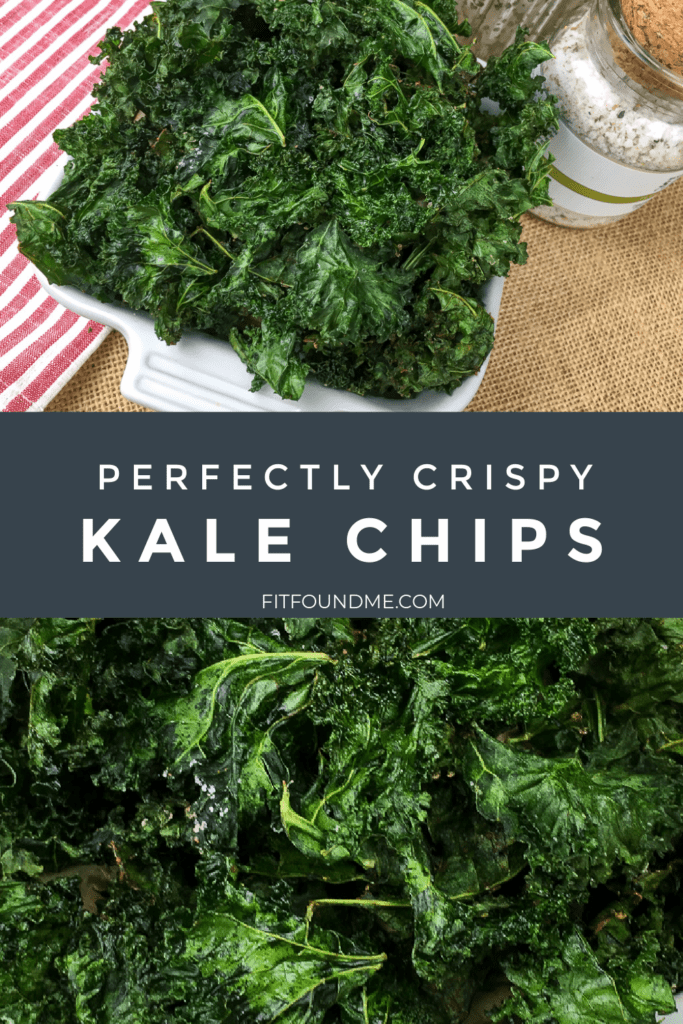 Are kale chips healthy?
Kale is one of the top superfoods and can be used in a variety of ways. Madison and I discovered kale chips years ago when she was going through some health problems. We bombarded her system with a bunch of kale, along with other green and colorful vegetables.
It is possible to make crispy kale chips in an air fryer, but this recipe will explain how to make kale chips in the oven.

The first consideration is finding the right combination of oven temperature and cooking time. These chips will burn very quickly, so keep a close eye on them, especially the first time you make them.
Here, a 325-degree oven and 6-7 minutes was all that was needed to yield crispy chips that weren't soggy or overly bitter and brown. However, you'll want to test this closely in your own oven to find the right balance.

The most important step to creating the crispiness you'll love is patiently waiting for the kale to dry out after washing. The kale needs to be completely dry before popping it in the oven. Moisture left on the leaves can create steam, which leads to soggy chips.
Also, don't overdo it on the olive oil.
Add a small amount to your hands and massage the kale until each leaf is very lightly coated. If more oil is needed, add it in very small increments until each leaf is coated.

Finally, feel free to experiment with any combination of seasonings you desire.
Basic sea salt or garlic salt can be perfect on its own, but in this case the addition of smoked paprika, garlic powder, and ground cumin adds a little more depth to the flavor.
Once the leaves are well coated in seasoning, place them on a baking sheet spaced out well to avoid overcrowding.
Some recipes call for baking the chips at a lower temperature for 20 minutes, but I have found higher temperature with less time makes for a great recipe.
In fact, a higher temperature can cause the kale chips to taste bitter.
How to store kale chips to keep them from getting soggy?
Don't make the mistake we did and store kale the wrong way after baking. You can imagine how disappointed we were to open a container of perfectly crispy kale that had turned out perfectly only to realize they had turned into limp, chewy kale leaves.
Don't store in an airtight container. You'll want to store in a paper bag, or some other container that allows some freedom of air.
How long do they last?
Baked kale chips can last for about 5 days and still be crunchy and delicious. Although, they are as good as potato chips when cooked properly and may not last 5 hours!
Make sure to take note of the best way to store kale chips above so they stay fresh and not limp.
Does kale lose nutritional value when baked?
I know, we are so used to great superfoods losing nutrition when cooked, but when kale is baked slightly, very little nutritional value is lost. If you're looking to get the most nutrition from kale, raw or slightly steamed would be the preferred way to eat.
Keto Meal Plan
If you have been struggling with what foods to eat on Keto, you'll want to check out my 21 Days of Keto guide. It's a great resource for anyone on keto, especially beginners. It comes with a recipe book and complete meal plan for 3 weeks!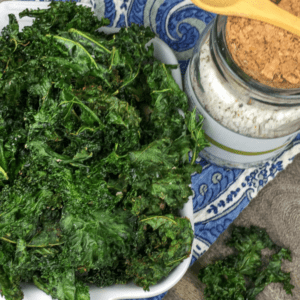 Crispy Kale Chips with Seasoning
Kale chips baked in the oven are a delicious and healthy snack. With almost no points or calories, it's full of vitamins and minerals making it a great superfood to add to your keto diet.
Ingredients
2

large

Kale

bunches

1½

tbsp

Olive oil

1

tbsp

Paprika

smoked

2

tbsp

Garlic powder

2

tbsp

Ground cumin

Salt

to taste
Instructions
Preheat oven to 325°F and line a large rimmed baking sheet with parchment paper or a baking mat.

If kale leaves are still on the stem, remove leaves from stem, discarding the stems.

Wash and rinse kale leaves. Dry completely before adding to a bowl.

Drizzle with olive oil and toss with hands so that every leaf is coated.

Combine seasonings in a small bowl.

Sprinkle seasoning over kale leaves.

Place kale leaves on baking sheet in a single layer without crowding. Multiple baking sheets may need to be used.

Put baking sheet in oven and bake for 5 minutes. Rotate the baking sheet in oven and bake for another 2-3 minutes or until leaves begin to slightly get brown.

Allow chips to cool down for 2-3 minutes. They will continue to crisp while cooling. Enjoy!
Notes
It's very important to allow the kale leaves to dry completely before adding the olive oil. I like to spread the leaves on a baking sheet with a paper towel for at least an hour after rinsing.
Nutrition
Calories:
105
kcal
Carbohydrates:
9
g
Protein:
3
g
Fat:
7
g
Saturated Fat:
1
g
Sodium:
26
mg
Potassium:
330
mg
Fiber:
1
g
Sugar:
1
g
Vitamin A:
3014
IU
Vitamin C:
38
mg
Calcium:
115
mg
Iron:
6
mg
Tried this recipe?
Tag me on Facebook @fitfoundme with a pic and let me know what you thought of this recipe in the comments below!