Drinking enough water is never a gray area. Either you're drinking enough or you aren't. These are the ways to drink more water that has helped me personally, and it has probably made the biggest difference in my weight loss.
As soon as I am up and busy in the mornings, I know immediately if I drank enough water the day before by how I feel. When I am even slightly dehydrated, my energy and endurance are much lower than normal, even sometimes to the point of feeling bad.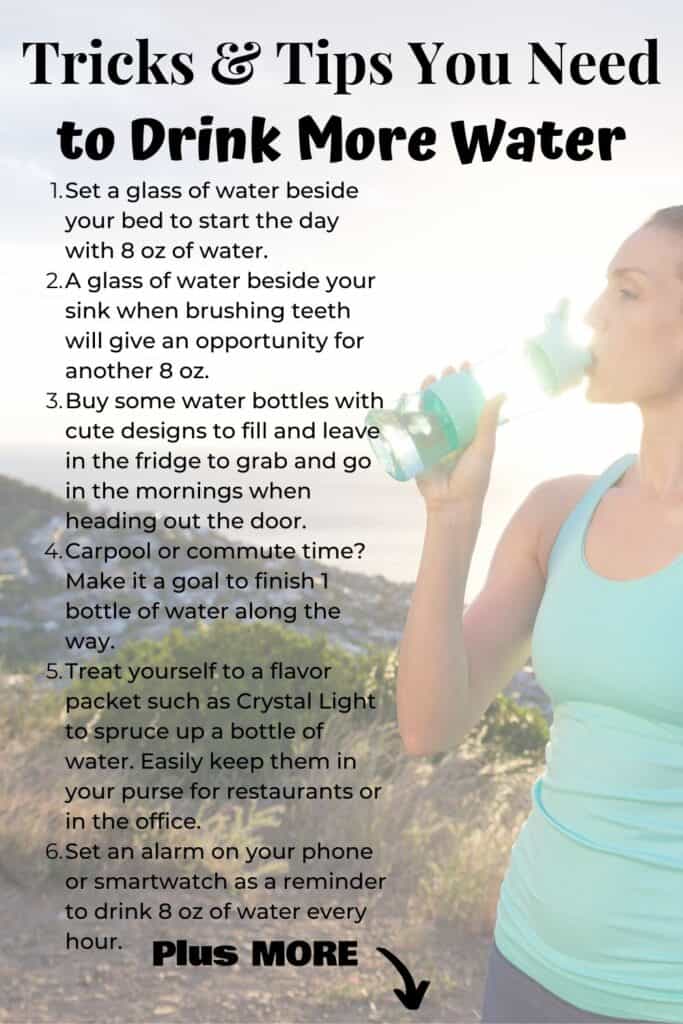 For me, drinking enough water hasn't always come naturally. Now that I drink over 100 oz of water a day on average, I wonder how much better I could have felt for so many years when I drank minimal water.
Long gone are the days of having a route 64 Dr. Pepper with vanilla beside me.
There are some creative ways to drink water for better health and more energy.
13 Ways to Stay Hydrated
Set a glass of water beside your bed to start the day with 8 oz of water.
A glass of water beside your sink when brushing teeth will give an opportunity for another 8 oz.
Buy some water bottles with cute designs to fill and leave in the fridge to grab and go in the mornings when heading out the door.
Carpool or commute time? Make it a goal to finish 1 bottle of water along the way.
Treat yourself to a flavor packet such as Crystal Light to spruce up a bottle of water. Easily keep them in your purse for restaurants or in the office.
Set an alarm on your phone or smartwatch as a reminder to drink 8 oz of water every hour.
As soon as the water bottle is empty, grab another from the fridge or refill.
Create a competition in the house with other family members to meet water goals.
Print this water challenge tracker to post on the fridge or wall as a visual reminder.
Choose water to drink during meals and snacks with a goal to drink 8 oz before eating.
Fill a large pitcher with water and fruit or vegetables such as strawberries, pineapple, cucumber, lemons, etc to infuse a fresh flavor with a goal to drink the entire pitcher in one day.
Get a high tech water bottle that lights up to remind you to drink more water.
Drink sparkling water such as LaCriox or (Amazon affiliate link) my new favorite, zevia soda.
Once you make a commitment to yourself to drink more water, remember to make your health and hydration a priority. Soon, you'll have a habit of drinking more water and can move on to another healthy habit.
Remembering to drink more water will come more naturally with time.
I keep a reusable water bottle with me everywhere I go to stay hydrated. Staying hydrated has changed my health in many ways including having more endurance when exercising.
Set Goals, Track Your Water for Success
A couple of years ago I created a 30-day water challenge that has helped thousands of women over 40 adapt to drinking more water. Print the water challenge and create a healthy habit of hydration.
Of course, drinking more water has so many benefits including weight loss and having more energy.
Did I leave a tip for drinking more water out? Comment below and let me know!