Easy healthy meals on a busy weekend night can feel like an oxymoron sometimes. Pre-healthy living was hamburger helper that would be ready in 20 min, but now you are trying hard to feed your family healthy, delicious meals they will like as much as the straight from the box dinners. Get ready to save these simple ground turkey dinners as regulars because your family won't even guess they are healthy.
We all know that we need to make changes and take the right steps towards being happy and healthy. One of those steps is making sure that we are eating healthy, fulfilling meals that make us feel good about ourselves. However, with today's hectic schedules, it can seem like cooking healthy meals is impossible. I get it, but there are ways, like these 10 healthy and simple ground turkey recipes!
Don't miss the last recipe on this page…it's one to keep in your back pocket for your next company dinner!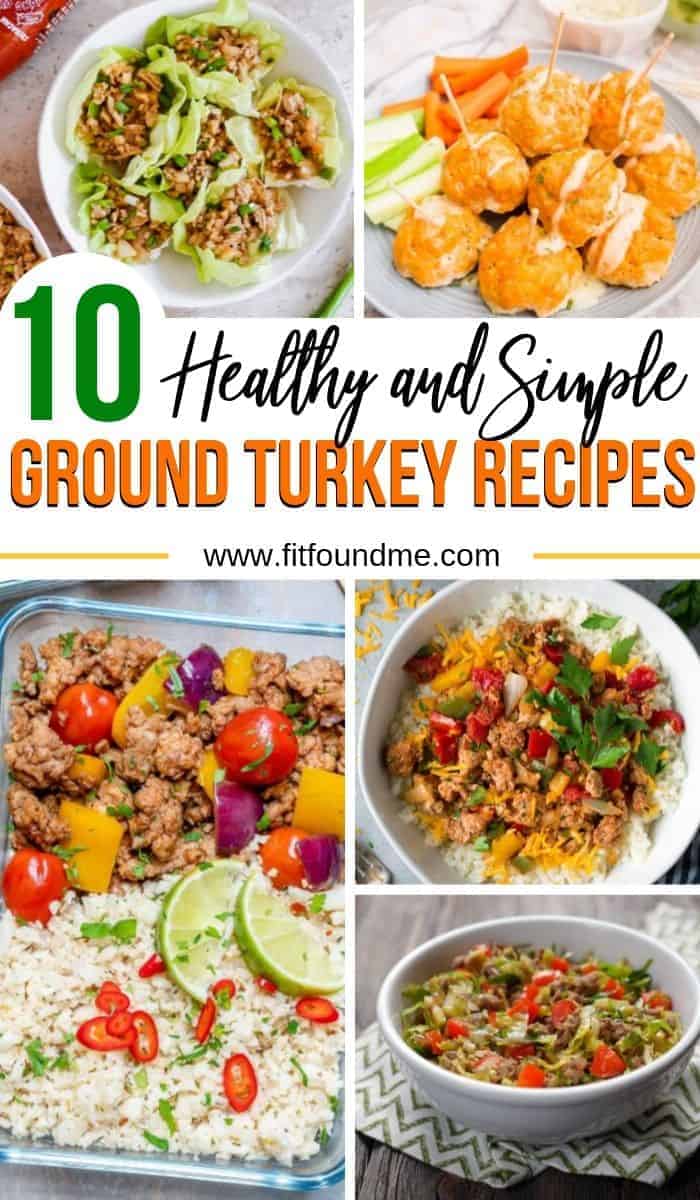 For more helpful nutritional information so you can decide the better option for you and your family, check out a detailed post I wrote comparing ground turkey vs ground beef in nutrition.
Using Ground Turkey vs Ground Beef
All of these recipes could definitely be interchangeable between ground beef, ground turkey and even ground chicken. However, using ground turkey vs ground beef is often better when you are focusing on a lean and healthy diet. Although, ground turkey has higher cholesterol than, say 95% lean ground beef. Ground turkey can also be quite a bit more affordable and is often on sale! It really comes down to personal preference and reading the labels.
Healthy and Simple Ground Turkey Recipes
I gathered a few healthy ground turkey recipes that are simple to throw together, even on a busy weeknight! I know getting dinner on the table every night can seem impossible, but I hope these simple ground turkey recipes give you a headstart and some renewed hope!
If you are looking for a healthy alternative to the traditional Spaghetti and Meatballs, try my Spaghetti Squash and Turkey Meatballs!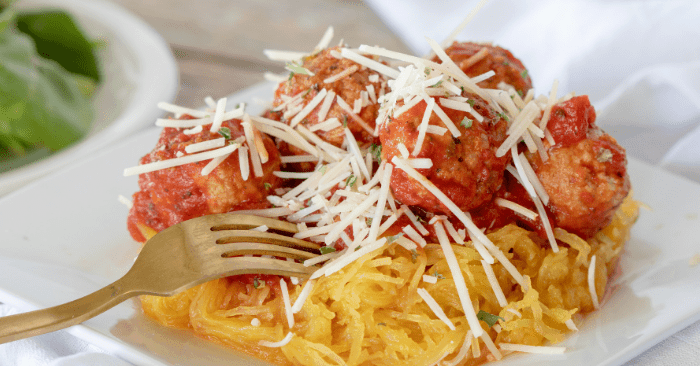 These Mini Turkey Meatloaves are sure to please and, they freeze well if you want to make them in bulk.
Burgers are a go-to on almost everyone's menus, but if you are looking for something new and fun, my Mediterranian Turkey Burgers are just the ticket! Enjoy them on a bun or plain, yes, they are that yummy!
A good, throw together casserole is always a good recipe to have on hand on busier days and this Healthy Ground Turkey Casserole is one that you'll want to bookmark. Don't let the pasta scare you away. Save up your carbs until dinner, or use a veggie pasta instead of a traditional flour pasta.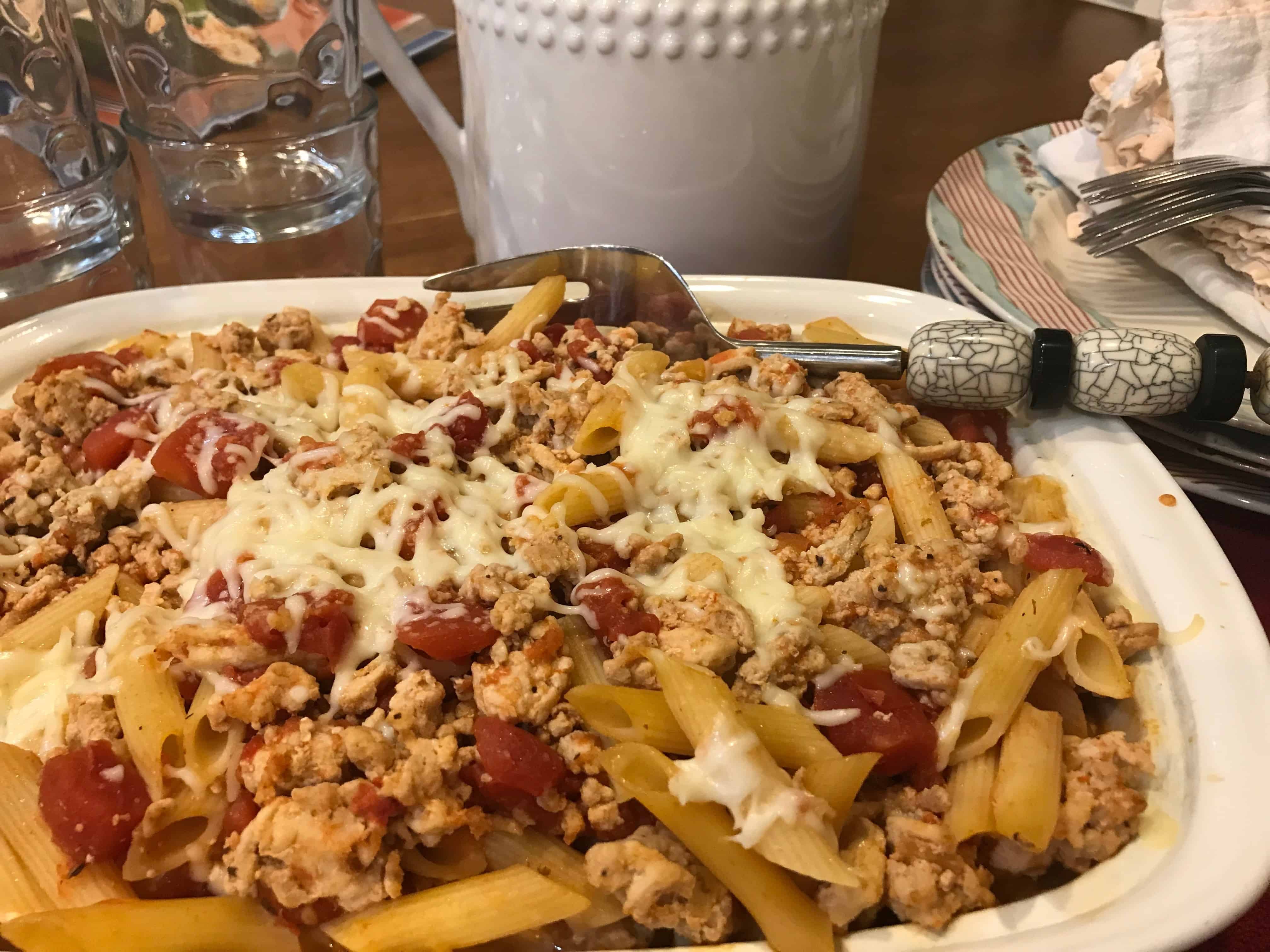 If you're looking for a new, fresh and somewhat exotic meal, these Teriyaki Turkey Rice Bowls will fit the bill. I love a good one-dish, hip, meal like this. Again, to eat low carb, the rice could be substituted with riced cauliflower very easily to cut down on the carbs.
Here is a great way to change up a classic! Try adding these Unstuffed Pepper Bowls to your menu. The variety of flavors in this recipe makes it one of my all-time favorites!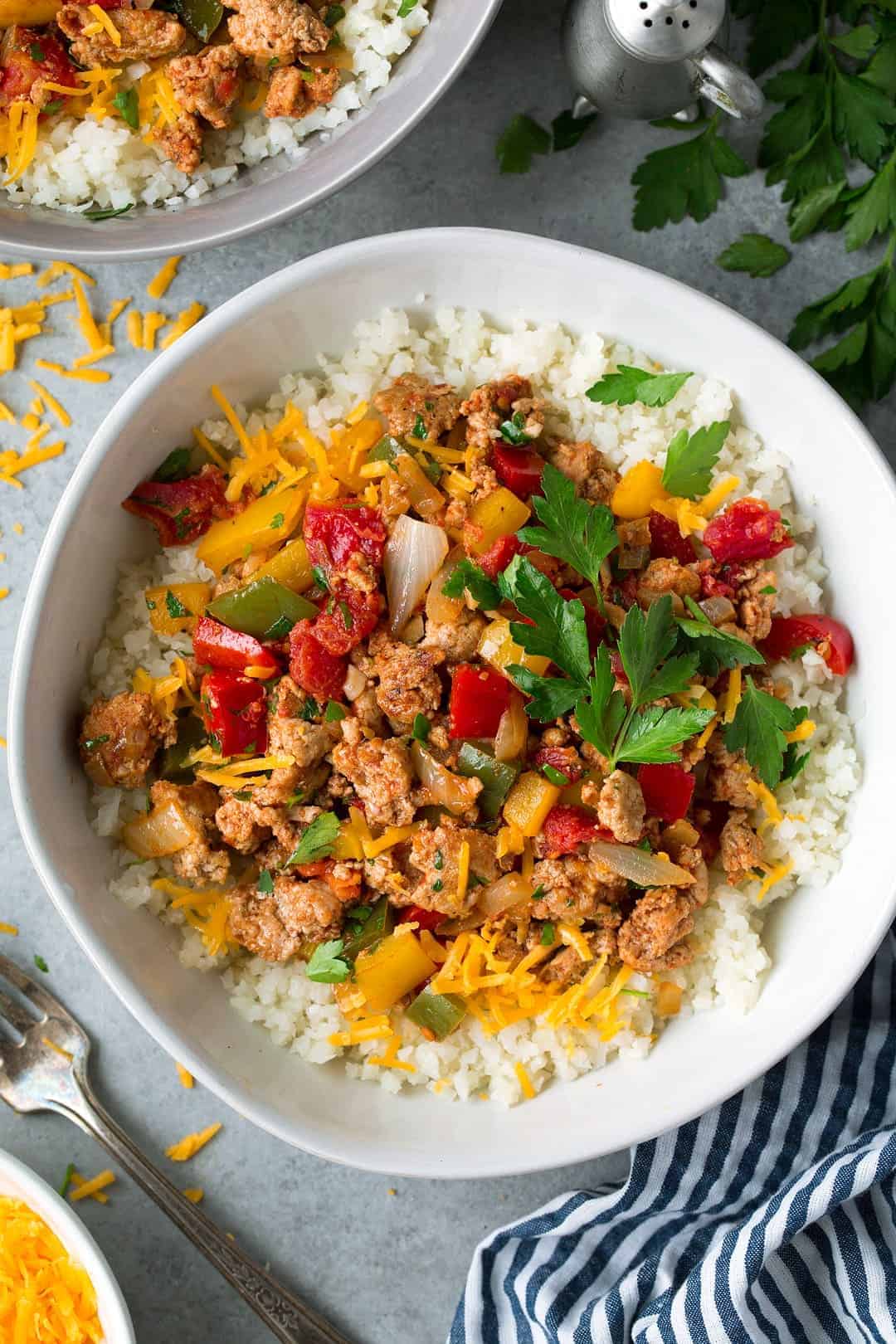 For something completely different and fun, give these Healthy Buffalo Turkey Meatballs a try! They are also gluten-free and paleo-friendly!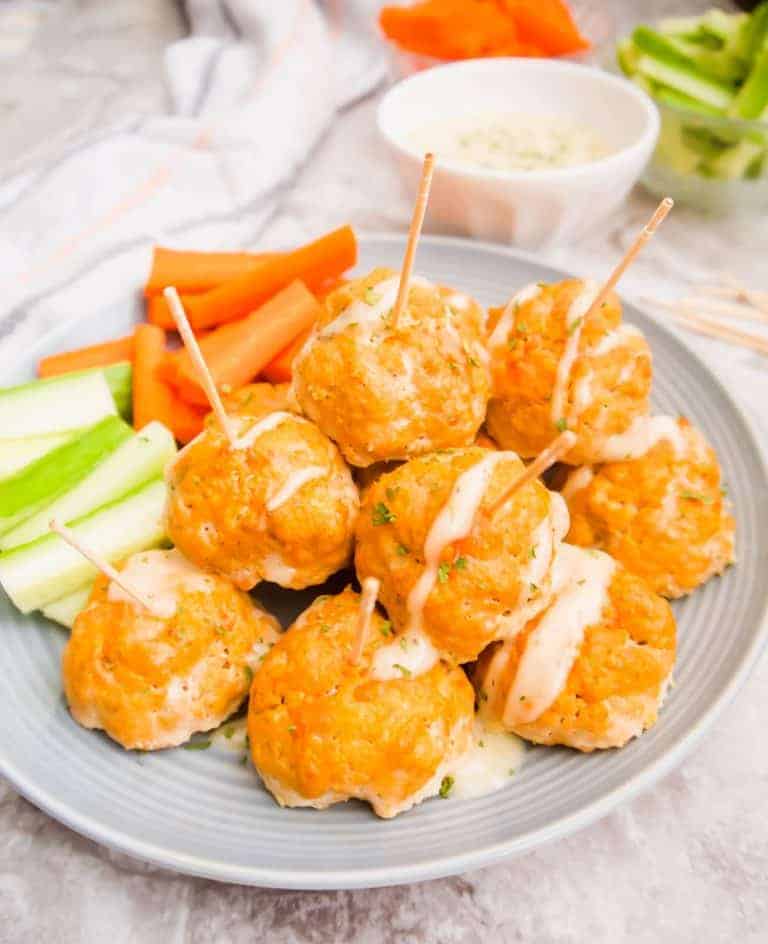 This Ground Turkey and Cauliflower Recipe is perfect for meal prep, lunch and dinner! It also makes for great leftovers even I enjoy – and I don't typically like many leftovers!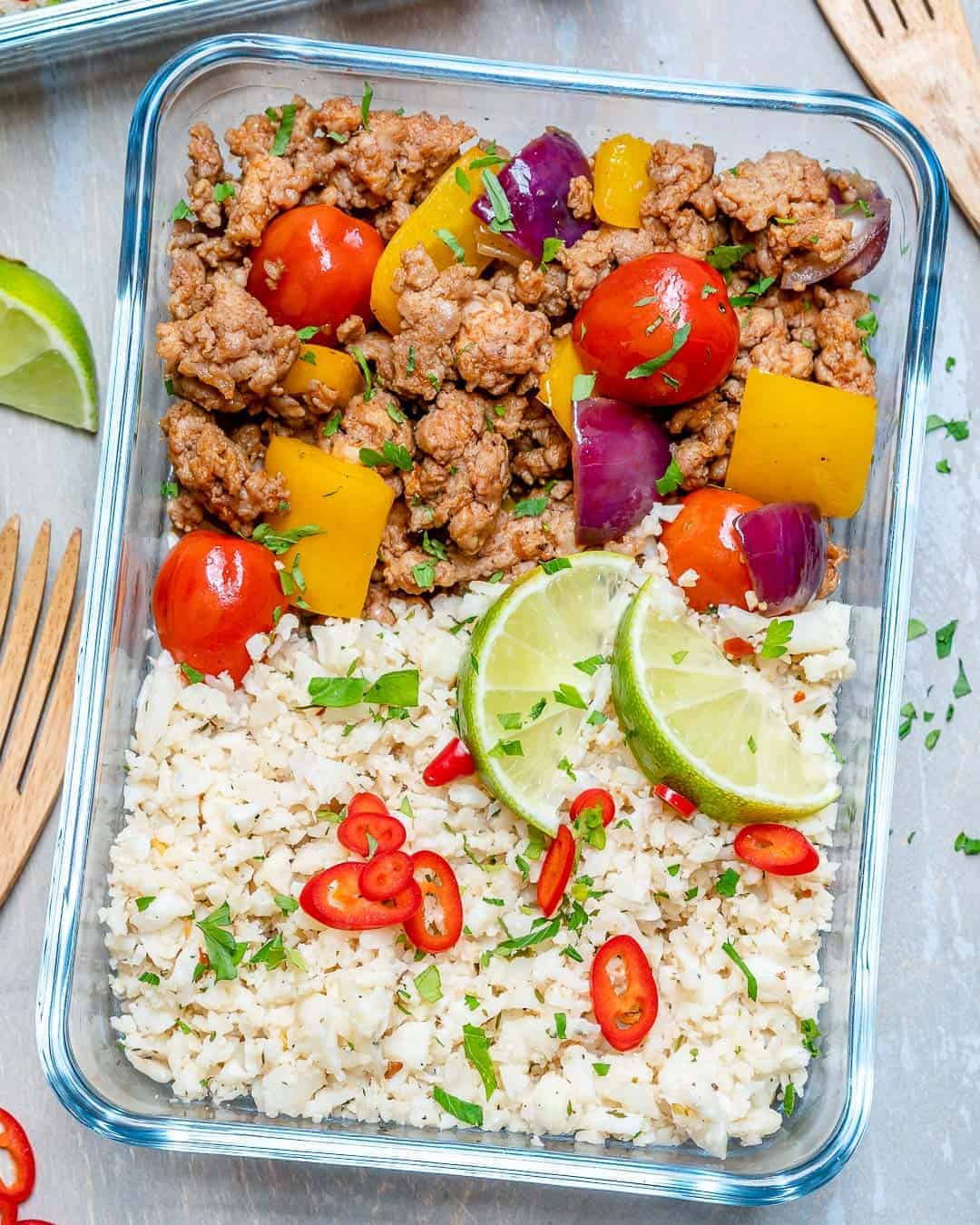 Do you love Brussel Sprouts as much as I do? Then you have to try this Ground Turkey with Brussel Sprout Skillet Dinner!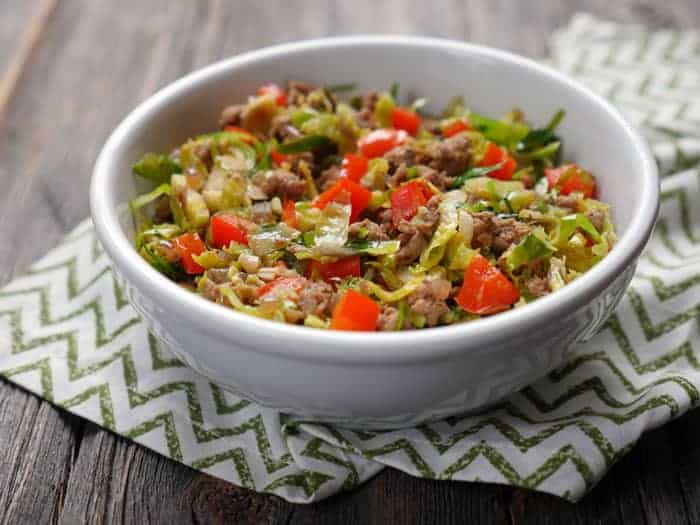 Impress your family or even company with these super quick and easy but exotic, tasty healthy Ground Turkey Lettuce Wraps.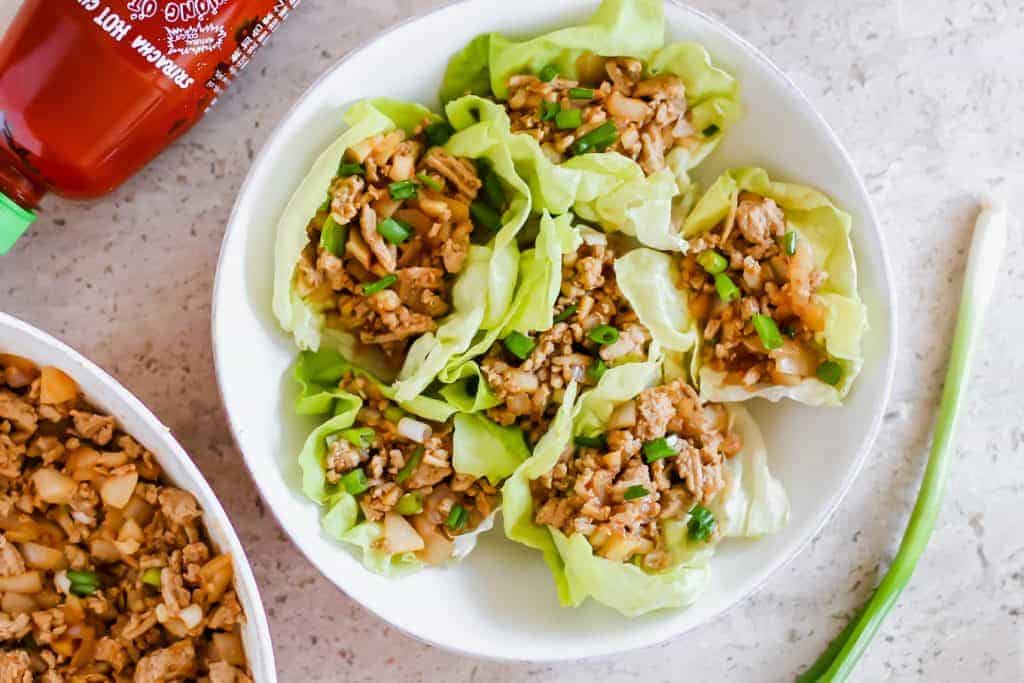 Bookmark this page so you can visit it frequently to get some of the best ground turkey healthy recipes to add the variety at the dinner table you love to serve your family.