Couscous vs quinoa is a great question for those of us just starting to eat healthier after 40. It was mashed potatoes and pasta as staples until a few years ago at our house. As I have transitioned to healthier meals, couscous and quinoa have made it to my shopping lists. What should you be serving your family, couscous or quinoa?
I hope Spring has arrived for you as it has here in gorgeous Southern Utah! We had a fabulous weekend of great weather, great food and fun outdoor activities sprinkled with just the right amount of making progress around the house. I also learned a little more about couscous vs quinoa to help when planning meals.

After a very active week, once again the exhaustion hit me this week like a tons of bricks. It was my 4th week of Chalean Extreme workouts and combined with the horseback riding, I burned an average of 750 calories each workout day. I have learned an even greater lesson on why it's important to take the rest days through this workout program. This workout is so fun, it is hard to force myself to take a rest day! In addition, I am also learning to make sure to eat enough calories!
Saturday morning, Andrew and I were invited to play pickleball with some friends. If you aren't familiar with pickleball (we had never heard of it until moving here) it is a mix between tennis and pingpong. So much fun, even though I am not very good. I have never been the ball playing athletic type, but thankfully with Andrew's natural ability on our team, I don't think I embarrassed us.
Saturday afternoon Andrew was a saint as we visited numerous patio/pool furniture stores around St. George. After coming full circle back to Costco, we decided on a great sectional sofa for under our gazebo (our next item to choose) poolside and after a couple of trips with the suburban, it is now sitting in our garage awaiting it's big debut. Slowly but surely, all of the details of our pool are coming together. We can't wait for it to warm up enough to start swimming.
Now, you are probably anxious to hear about the couscous vs quinoa. I have to admit, I haven't cooked either very much until recently. We found that we like the taste of couscous better than quinoa but which is best for our health? I did some reading up on the health benefits. Here's what I found out…
Couscous vs Quinoa
Health Benefits of Couscous
Couscous is a not technically a grain, but it is made from semolina wheat and water to create a pasta like food. It is sugar and fat free, however it is NOT recommended for diabetics. It boasts 66% of the recommended daily dose of selenium – an antioxidant nutrient that also helps to build muscle mass, helps heart health by reducing the build up of plaque, boosts the immune system and high fiber for a longer feeling of satiety. The couscous health benefits are certainly higher than our old standby of potatoes.
Health Benefits of Quinoa (pronounced "KEEN-wah")
Quinoa is a gluten-free grain with complete protein (contains all of the essential amino acids needed for good health). Quinoa is an antioxidant rich grain high in iron and magnesium that also provides a great source of daily fiber. Studies have shown it to be a great risk reducer for type 2 diabetes. Quinoa provides many health benefits that traditional grains lack.
Benefits of Couscous and Quinoa
Both couscous and quinoa are versatile enough to create almost any dish you want. Both can handle almost any ingredient mixed with it to enhance the flavors. Such a bonus, especially if you are serving to picky teenagers or kids. By adding in some of their favorite flavors, you can entice them to eat it easier.
In my opinion, both couscous and quinoa provide some similar as well as individual health benefits for adding to your nutrition. Of course, if you are gluten intolerant or a diabetic, the choice between the two is simple. If you don't have to be concerned with the adverse reactions, both couscous and quinoa have some amazing health benefits. In my opinion, it would be a good decision to incorporate both into your meal plans, however, I do prefer the taste of couscous!
Couscous Recipes for Family
Here are a couple of couscous recipes we have had recently. Super quick & easy!
Mediterranean Couscous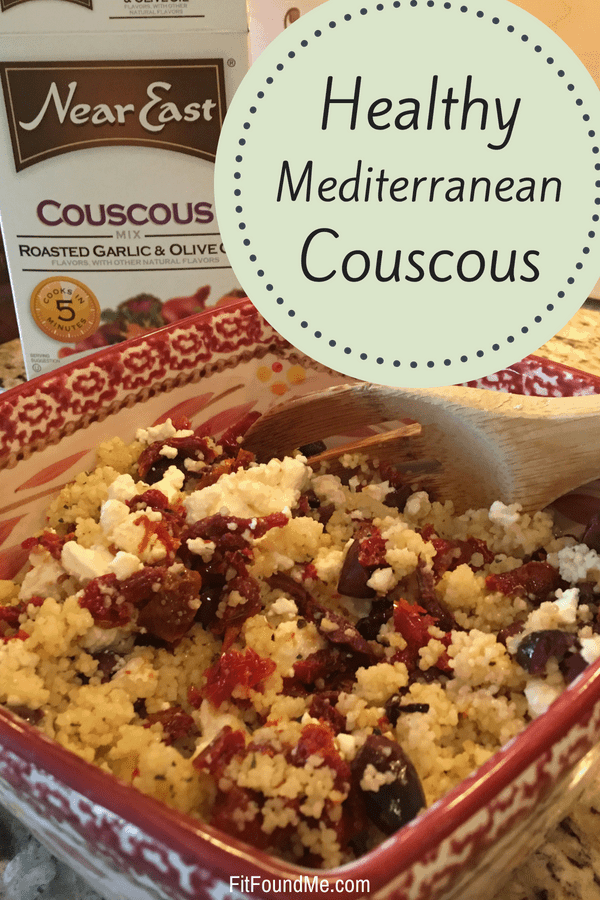 One of my absolute favorites! This meets all of my good recipes requirements…fast, healthy and so tasty!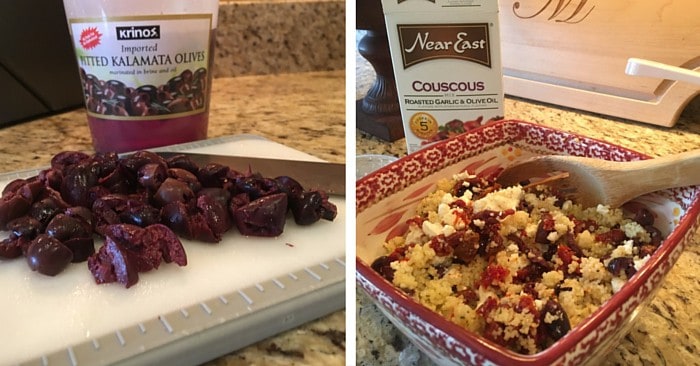 1 box Near East Roasted Garlic & Olive Oil Couscous
1/2 – 1 cup of chopped Kalamata olives
1/4 cup Feta cheese, crumbled
3/4 cup sundried tomatoes, chopped
Cook couscous according to package. (Note: after water is boiling it only takes 5 min) Stir in olives, cheese and tomatoes. Serve warm.
Couscous with Apples & Cranberries
1 box Near East Couscous, plain
1/2 cup of an apple, chopped
1/2 cup dried cranberries
1/2 sliced almonds
1 tab parsley
Cook couscous according to directions. Mix apple, cranberries, almonds and parsley together with couscous. Serve warm.
If you haven't given couscous it's fair shake yet, you've got to add it to your grocery list to try tonight. Let me know how you like it!
Which do you prefer couscous vs quinoa?