Think weight training for women over 40 is only for the gym rats? Think again. It's a fact of life that after 40, your body decides it's going to go through a bunch of changes. Due to hormone changes, women experience multiple changes in their bodies and their weight. While these changes take some time to adjust to, there's one change that you shouldn't ignore: muscle loss. Lifting weights can be very beneficial.
As you age, you begin to lose muscle tone. Even though it starts slowly, by around age 70, (sometimes much earlier) you will have lost more than half of your muscle tone. Your muscles are responsible for your balance, metabolism, and even your posture. When you make the decision to lift weights after age 40, you will help stabilize your joints, strengthen your joints, and slim down in new and unexpected ways.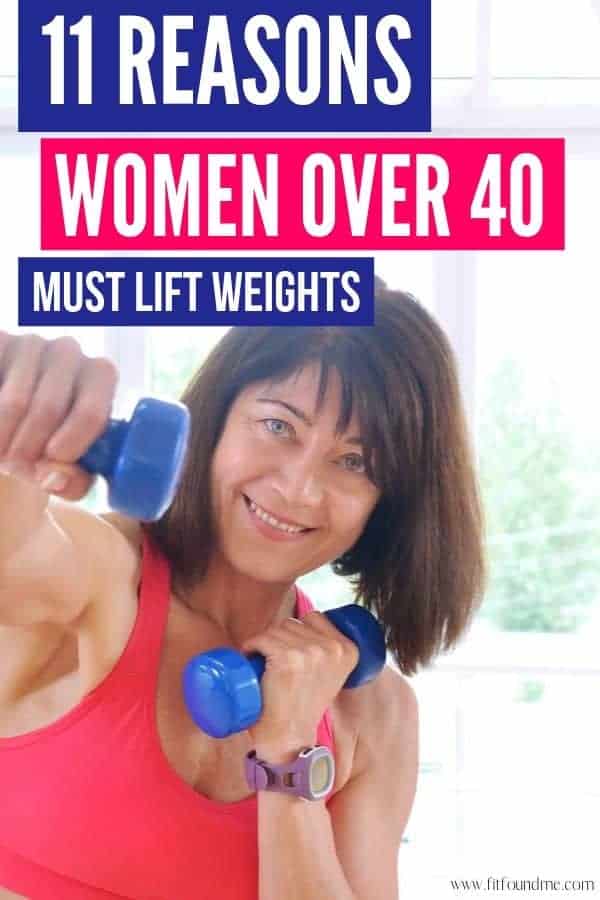 Benefits for Weight Training for Women Over 40
The majority of women over 40 are not looking to "beef up" when weight lifting. The benefits of weight lifting go far beyond the idea of bigger muscles.
Here's why every woman should be weight lifting after age 40:
Weight lifting will help with weight loss. Obviously, when you are working out, your metabolism increases the speed at which it burns calories. With weight lifting, your body will continue this faster burn a day or two after your workout as well.
Your bone density will improve. Strength training will improve the density of your bones, which helps fight osteoporosis.
Strengthen your joints. Our joints are a mix of bone, tendons, and ligaments. When you lift, you strengthen your bones (see number 2), tendons, and ligaments, and lubricate your joints. All of this will help you keep your joints in a healthy condition.
Increase your strength by lifting those weights! If you aren't excited about growing older and weaker, then keep your strength up by adding some bench pressing to your exercise routine.
Prevent fat from moving in. As your body starts to lose muscle mass, the fat will start to move in. If you want to keep the fat at bay, work on building and keeping your muscle mass.
You can greatly reduce your risk of injury. When you strengthen your muscles, your connective tissues (ligaments and tendons), and increase your bone density, your risk for injuries decreases significantly.
You also reduce the risk of arthritis. Arthritis is the swelling of your joints that make it difficult to move them. When you lift weights to benefit your joints, you help to prevent this disease as well!
You will begin to feel the effects of your efforts in your everyday life. Have you noticed that you aren't moving as fast as you used to? Are you starting to feel stiffness or pain in your lower back? Toning your muscles will prevent stiffness and soreness as you age.
Increase your energy level! Stop saying you could have done something in your 20's, when you had energy. The more you work on your muscles, the more efficiently they will work for you. You will notice more energy to get through your day and you will sleep better at night.
Come on, get happy! Lifting weights has been noted to help keep anxiety and stress in check, which results in a better mood for you.
Look younger! Yes, as we are aging, our skin tends to sag. Keeping our muscles toned will keep things in their place and help us look much younger.
Are you ready to get started? Don't just run over and try to bench press your own bodyweight! Make sure you have a plan that starts slowly and gradually increases weight over time.
My Favorite Weights for Small Home Gyms
In case you haven't purchased your weights yet, (Amazon affiliate link) take a look at these, especially if you have limited space. We bought these several years ago and have enjoyed having the flexibility of the weight range along with the compact equipment.
Weight lifting workouts to get you started
The 30 Day Challenge: Butt and Legs Toned, Lifted, Ready for Summer
This Planks for Beginners Challenge Will Help You with Weight Loss
Get Rid of Your Mom Butt with this Less Than 30 Minute Workout Video
It's Not Too Late Ab Workout for Women Over 40 + Printable Workout
Lose Weight with the 30 Day Plank Fat Burning Challenge
Tone and Strengthen Your Arms With This Quick 30 Day Arm Challenge
30 Day Fitness Challenge + Printable Calendar for Women Over 40