90 Degree by Reflex vs Lululemon – everyone is asking for the best Lululemon dupes and maybe we have found them. I'm a big believer that if you love something and you can afford it, then by all means, buy it! I know that many of you really love Lululemon leggings, but I also know that the price tag on Lululemons is just simply not in the budget for a lot of us.
I mean, it's not always realistic to spend upwards of $100 for workout wear and that's totally ok! You can buy some pretty great workout wear on a budget. Take 90 Degree by Reflex, for instance, they are really great looking leggings at less than half the cost of Lululemons.
You may be questioning whether the 90 Degree leggings can really compare. I mean, could a $25 pair of leggings really be as good as a pair that costs $100? I, like many of you, did not have high hopes that they could compare.
As it turns out, I find them to be a great alternative to a pair of Lululemon leggings. Still not convinced? Check out our comparison of the two below and see what you think.
How to Find The Best Leggings
Let's get real here, ladies. Leggings are a huge part of our wardrobes in this day and age. We may be wearing them to the gym, out on the town or just being comfy in the house. There is a big difference in some leggings though which makes them difficult to shop for sometimes. The following tips will help you find the best leggings for you and choose the winner of the 90 Degree by Reflex vs Lululemon.
Finding the Most Comfortable Leggings
There are different types of leggings out there, so be sure to look for the type that will go well with your activity of choice. Trust me, those $6 Walmart leggings may be soft, but they will not support you during any type of workout. You need to make sure your leggings will stand up to your activities.
Athletic Leggings – Athletics leggings are created for performance. If you plan to be active at all, you are going to want to go with athletic leggings. These leggings are made with athletic fabric which makes them better for fitness related activities. These types of fabric are stronger, more durable fabric that is breathable, flexible and supportive.
Fashion Leggings – Fashion leggings are meant for casual wear. These leggings are often designed to be worn with dresses or tunics and are therefore often thin and sheer (so beware!). While they are often cheaper, they are not made to be as durable or supportive as athletic leggings.
Sizes
As much as we would love to think so, all sizes aren't equal. Like many other women's clothing, sizes can be different depending on brand, so before you click order on your new leggings, be sure to check out the manufacturer's size chart so that you know the best size for you.
Length
Make sure to know what length you want your leggings to be. Leggings now come in a variety of lengths so be sure to pay attention to whether you are ordering capri length leggings, ankle length, ⅞ length, mid-calf, skimmer, etc.
Waist
I'm sure you have noticed that we have many different waistband styles available in women's pants these days and the same goes for leggings. You can expect to find low, medium or high rise waistbands on leggings and these will make all the difference in your workout if tummy control is important to you.
Color and Design
If you like to take your legging style beyond basic black, not to worry, there are many colors and designs out there to choose from. You can find solid colors, patterned designs and even extra features such as mesh blocks or criss cross patterns. Leggings are not at all boring, my friends.
Storage and/or Pockets
Okay, maybe storage isn't exactly the word I am looking for, but for many of us, pockets are important! If you are out for a run, you will likely need a place to store your phone, keys or maybe your credit card while you are out. You can find leggings with side pockets, waistband pockets or even hidden pockets.
How to Decide Which Leggings to Buy
You have probably discovered that you can easily spend all day long reading blog post after blog post on what the best lululemon alternatives are, but in my opinion, it's much easier when you are looking at a comparison between just 2-3 brands that way you don't become overwhelmed with information (it's easy to do). That's why today we are going to talk about the specific differences between 90 Degree by Reflex and Lululemon leggings.
Whether you are looking for a pair of affordable leggings for some new workout gear or if you just want a good option for high quality, casual wear this will hopefully help you decide on your next pair of great leggings.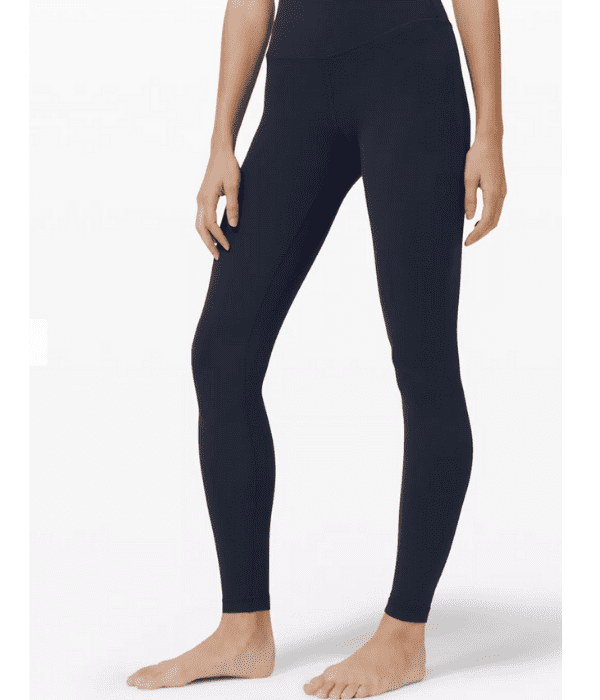 90 Degree by Reflex vs Lululemon Pants
Lululemon Align ii Review
Lululemon leggings have made a real name for themselves over the last couple of decades and if you haven't yet bought a pair of them, you undoubtedly know someone who has. Lululemons are well known for being comfortable, cute and also, expensive. Some will say that they are worth the price tag, some say they aren't. I think that this is a question best left to budget and personal preference.
Let's talk about some pros and cons of Lululemons. For this comparison, I'm going to be talking about the Lululemon Align ii Leggings which seem to be a pretty popular choice among Lululemon wearers.
Pros
One of the biggest pros of Lululemon leggings is the "buttery" soft fabric. You'll see that "buttery" word often when researching Lulus. The fact is, these leggings are soft! They are also quite breathable making them comfortable for just about any workout. They come in many different lengths and styles so you'll be hard pressed to not find the style you are looking for.
Cons
The Lululemon Aligns are made for yoga so they tend to be thinner, which often means that pilling can happen relatively quickly in these leggings. One way to prevent this from happening too quickly is to hand wash your leggings.
Another con of Lulus is that price tag. Not everyone can afford paying $75 to $100 for leggings, especially when there are affordable options that are just as good.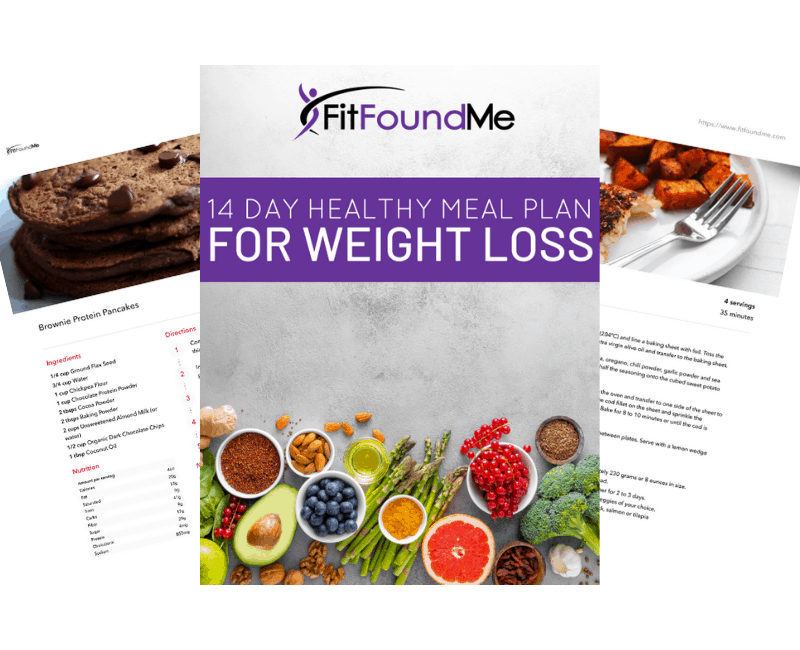 14-Day Healthy Eating Meal Plans: 1500 Calories
Take the guess work out of healthy eating. No more searching for healthy recipes. 78 pages of recipes with calories, macros, and shopping lists — all included!
Bottom Line for LuluLemon Align
There is no doubt that these are great leggings. Whether they are worth the price though, I don't really know. If you have the money to buy them, go for it! If you are on a budget, don't strain your finances and stress yourself over a pair of leggings because there are some great, affordable leggings out there that really are the best lululemon dupes.
*BEFORE YOU BUY* If you have decided to splurge and buy a pair of Lululemons, make sure that you are buying the real thing. Lululemon is one of those brands that you'll often see counterfeited. I have heard one too many stories of women saving up for a long time to buy a pair of lulus only to discover that they aren't the real thing.
90 Degree by Reflex – aka Best Lululemon Align ii Dupe
You'll be happy to know that 90 Degree by Reflex has some really great leggings that are a more affordable option than Lululemon Leggings, but still offer great extra features such as hidden pockets and tummy control. I know I keep mentioning the affordability of these leggings, but it's worth mentioning again, because a quick scan of Nordstrom Rack recently showed that you can sometimes grab these leggings for less than $20 each!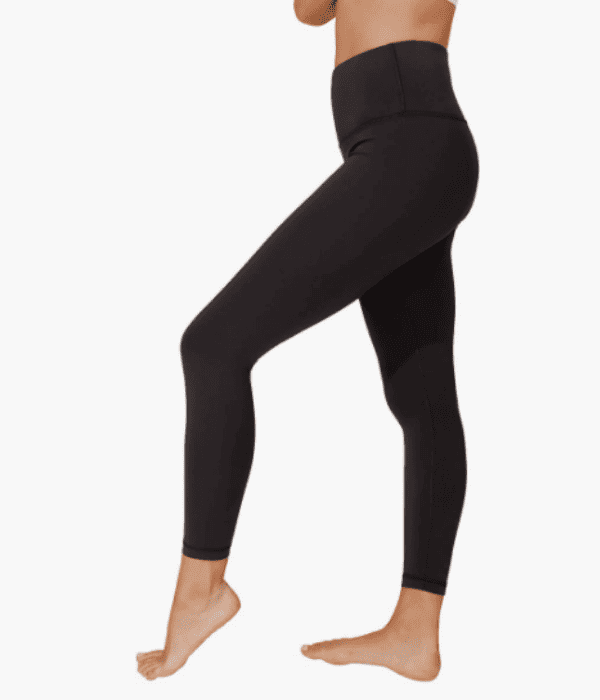 Truth be told, there are a couple of things that you may find preferable about Lulus (more on that later), you would be hard pressed to find any bad reviews of these leggings. I think you will find that the price will more than make up for it.
I mean, at the Nordstrom Rack rate I mentioned earlier, you can buy 4 pairs of 90 Degree by Reflex Leggings instead of one pair of Lululemons. I know that you can also often find deals on them at Amazon, and I've even spotted them at TJ Maxx and other offer price retailers.
Anyone that has worn these leggings can attest that they have the same high-waist design you find on many Lululemons. Many people find the material to be equally as soft too. Some things are noticeably different though, such as the stitching.
It is more noticeable and less seamless than the Lulus, because these leggings definitely put more focus on tummy control. Some of us may prefer this in leggings in general, but this is especially helpful if you like to feel more support in all the right places while working out.
Pros
The overall fit of 90 Degree by Reflex is very similar to that of Lululemon leggings, without the high price. They are comfortable enough to use as day wear, yet supportive enough to become your new favorite workout clothes. They are great for any body type, you can find them in many different colors, and they are even great for repelling pet hair (a must for dog and cat owners). Oh, and did I mention that you can find similarly priced, matching sports bras to go with them?!
Cons
On the downside, these leggings do seem to be a little less breathable than the Lululemons. This is not to say that they aren't breathable at all, but if you are joining a hot yoga class or you tend to sweat a lot, you can expect to show off your sweat marks just a bit. Also, while I haven't experienced this myself, I have read other complaints of these leggings showing wear a little quicker than the Lulus.
Bottom Line – 90 Degree by Reflex vs Lululemon – Which is Best?
For the price, 90 Degree leggings are great! In my opinion, they are a great option for Lululemon dupes and can easily become your favorite pair of leggings. So, if you are looking for a new pair of cheap leggings that are created more like pricey leggings, these are a great option.
Grab your favorite leggings and start this 30 day plank challenge!
Whatever leggings you choose, I hope that you love them!