I love a fast moving workout that burns max calories. This 30 minute no equipment needed cardio workout for women over 40 will burn calories and melt fat away every time. Most of us love to hate cardio and often avoid them using our arsenal of excuses. This cardio workout for women is designed to be fast moving (literally) and the exercises are great for beginners and more advanced alike.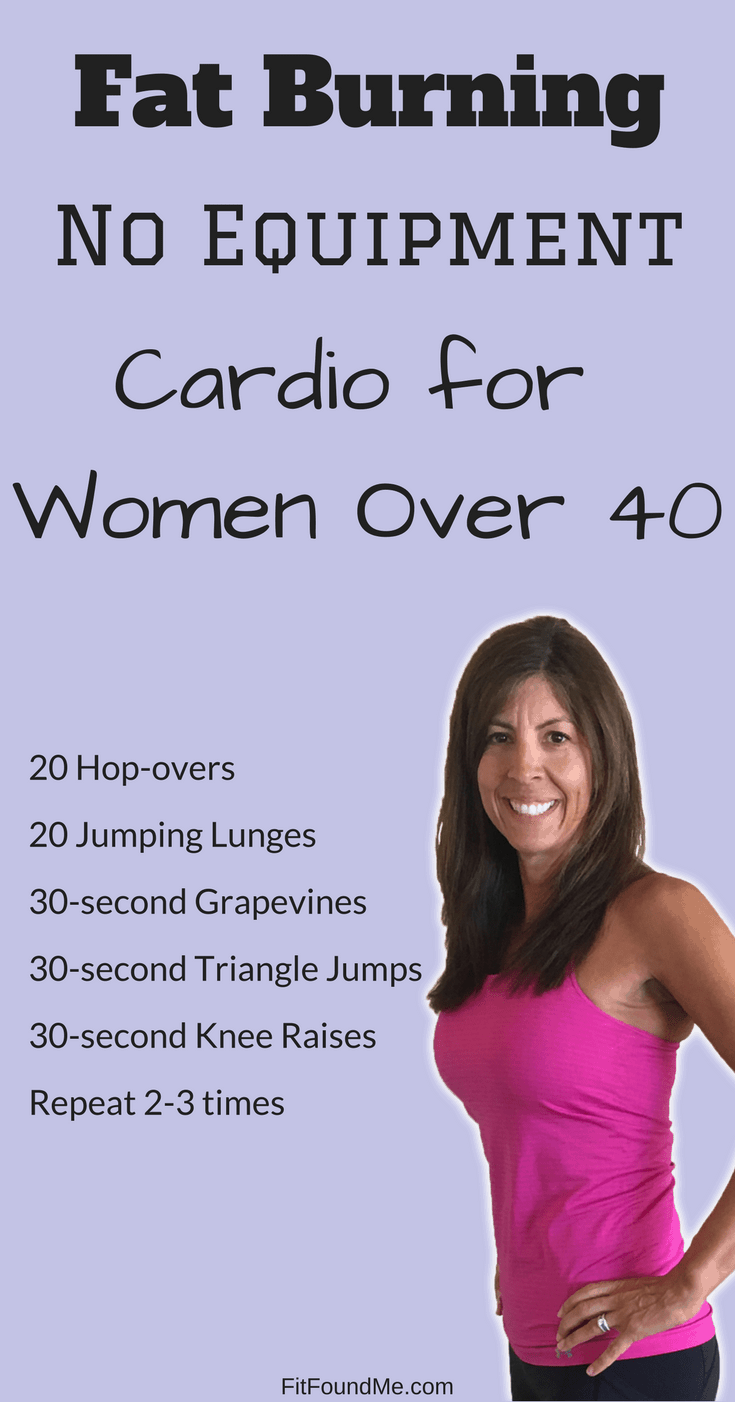 While I love the strength training workouts, I know cardio workouts are a necessary evil…and let's face it, we feel great afterward!
Cardio workouts get our heart racing and metabolism boosted to burn energy and fat. Cardio workouts are a great compliment to strength training for women over 40 trying to lose weight. Together the two types of exercises are great for burning fat and building muscles. Your muscle tone has a direct effect on your metabolism and so cardio alone isn't a good idea for women over 40.
This beginner cardio workout is loved by many because of the short intervals in each exercise. Everyone can do something for 30 seconds, right? Each exercise is 20 reps or 30 seconds and then you move to the next exercise. Take a mini-break or breather when necessary, and then jump right back in to give your best.
Unlike many cardio workouts, this no equipment cardio workout can be done in any space, any location. Outside, in a gym, any room or space where you have a few feet of clear floor. No excuses here!
You can feel free to adjust the time on this workout as needed, but make sure to start with a warm-up and end with a relaxing cool down to allow your muscles and heart rate to adjust.
30 Minute No Equipment Needed Cardio Workout for Women Over 40
30 Min Cardio Workout Exercises
20 hopovers
20 jumping lunges
30 second grapevines
30 second triangle jumps
30 second knee raises
Repeat 4 – 5 times, or until 30 minutes
This beginner cardio workout can be done 2-3 times per week if you'd like to consistently burn calories to lose weight. Women over 40 require the consistent workouts for cardio and toning muscles to raise metabolism and lose weight.
If those exercises are too difficult for you to start with, a good walking program can be a good start also. Walking for weight loss can be helpful as long as it is combined with other weekly exercises as soon as you can manage them.
For more Fit Found Me workouts for beginners or intermediates, visit and subscribe to the Fit Found Me YouTube Channel and join the FFM Team for women over 40.
Modified Cardio Workout for Beginners
If you are a beginner and not quite sure about the exercises, they are all able to be modified until you work up to the full movement. I go over the modifications in the workout video, but basically, each exercise is toned down by not jumping, moving a little slower, using a chair for balance when needed and not raising the knee up as high.
Comment below and let me know how you did with this 30 Minute No Equipment Needed Cardio Workout for Women Over 40!
---
Other Workouts You Might Enjoy
Beginner's HIIT Fat Burning, No Equipment Needed
15 Min No Equipment Beginner Cardio Workout for Women Over 40