A home workout room is truly where ever you can find a corner sometimes. It can be in your family room, a bedroom, an open loft, even in the hallway if needed. If you have a place to stand, there is room to do some exercises.
As many of you know from past posts, we moved across the country a few months ago. We are transforming one of the rooms into a workout room!
We are excited to have a dedicated workout room now. That doesn't mean that's where I always workout though. I somehow often navigate to the kitchen counter, prop my laptop up (right now it is on a Fig Bar box from Costco) and do a few leg/glute exercises off and on while I work. That's the good thing about staying in my workout clothes most of the day!
We have added a few pieces of equipment to our gym. Excuse the empty boxes…and the equipment isn't placed where we want them just yet.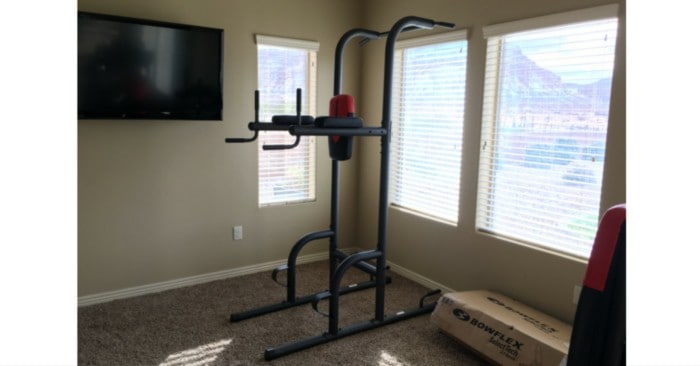 This is such a fun piece! There are multiple stations for several different types of exercises. Whenever I climb up to do the vertical knee raise, I feel like the girl version of Robert Downey Jr in Iron Man, like Iron Woman.
This goes with our new Bowflex SelectTech dumbbells also recently purchased.
I haven't started fully utilizing the dumbbells yet but hope to in the next couple of days. You know those weeks when everyday you have a 20 hour must-do list? That's been my week! It happens though. We do everything we can, and move on from there. It all works out in the end.
I have continued to multi-task on the elliptical every day so far. How do I rest my computer on it? Many have asked…it's not pretty but this is how I do it.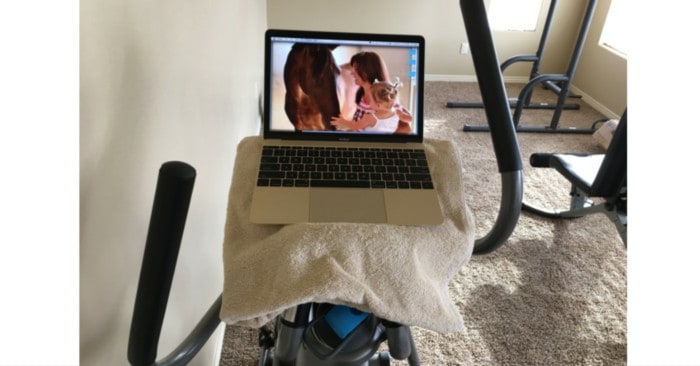 Next change will be to put in some type of cushioned flooring. The room is in the basement, even though there is carpet and padding, the foundation is cement…not ideal for a home workout room. Suggestions?