Ellipticals under $1000 can be a great addition to a home gym and a great place to start exercising if you're out of shape. Elliptical machines can vary from model to model both in features and price.
It can be incredibly overwhelming to look for the right fitness machine to fit your needs when there are so many to choose from. You may have considered a treadmill vs bike, a stair machine, a row machine, or some other type of the many home gym options.
Now that you have decided on an elliptical, we've helped you by narrowing down your list to the top 8 ellipticals for $1000 or less.
Ellipticals vary in price, features, and quality. When choosing the best elliptical for you, it is important to consider what you want out of your machine. If you are just starting out, you may want to choose an elliptical with more basic features.
If you are more experienced, you may want to look for an elliptical with more challenging features. Of course, you also need to consider your price range when you are searching for the best elliptical machines on the market today.
Features to Consider when Buying an Elliptical
Ellipticals are a great option for those looking for a cardio workout. They provide a low-impact, effective workout for your entire body that is easy on your joints and can be tailored to fit your needs and help you reach your fitness goals.
When you are looking for an elliptical for at home gym, there are a few things you should consider before purchasing one.
Does it fit your budget?
Does it have the important features that you are looking for?
Does it offer multiple resistance levels?
Does it come with various workout programs?
You may be worried that your price point of $1000 and under will give you limited options, but you may be surprised to learn that you will still be able to find some great machines at this price point.
You'll be able to find machines with great options and quality that will work perfectly for your home gym at this price point.
When it comes to ellipticals, there are a lot of them on the market. It can be tough to decide which one is best for you and your needs. That's why we've put together a list of the 8 best elliptical trainers under $1000 and features to look at.
Budget
Of course, your budget will be a huge factor in your decision to buy an elliptical machine. Elliptical machines can range in price from a few hundred dollars to several thousand dollars. If you are on a tight budget, there are many affordable elliptical machines available. However, if you have the money to spend, you may want to consider investing in a higher-end model that offers more features and durability.
Space
If you are looking for an elliptical machine to have in your home to create a home gym, you may be working with limited space. You will want to consider the space that you have and where your elliptical machine will be placed. You may need to move around a lot when using an elliptical machine. It is helpful to take measurements before choosing a model to ensure it will fit properly in your desired location.
Comfort
Comfort is important even if you are planning to use your elliptical machine at home. You will want to consider the number of workout programs, resistance levels, and any other comfort features that are available. It is also helpful to choose an elliptical machine with a screen so you can easily adjust different settings.
Stride Length
The stride length is one of the most important features of an elliptical machine. If the stride length on an elliptical feels unnatural to you, it will be much more difficult to use and you are likely to become frustrated. A natural stride is an important factor in your search for the best choice machine for you. Elliptical machines with adjustable stride length features can be a huge help in finding the right stride length for you. Whether you need longer or shorter strides, adjustable stride lengths make all the difference.
Resistance Levels
Elliptical machines with adjustable resistance levels can also be a great help, especially if you are looking to increase the intensity of your elliptical workouts over time.
When researching the resistance on these machines, be sure to look for the key words, magnetic elliptical trainer. Magnetic elliptical trainers are plentiful on the market today, which means that most of the trainers will provide the resistance of the elliptical workout intensity that you are looking for.
Durability and Reliability
Elliptical trainers in this price range can be expected to last for several years before they need to be serviced or have any repairs done. This is because you are looking for higher end machines that are made of metal rather than plastic and you'll find higher end electronics instead of cheap ones that are often used in the manufacturing of these machines.
Programmability
The ability to program and track your workout on the machine itself (and not just on a computer or a smartwatch or fitness tracker). If you are going to be making an investment such as this, you don't want to have to do everything manually. The ability to have workouts or your exercise history programmed will also save you time, which will help encourage more workouts. If you can just hit a button and start your workout, it's much easier.
Adjustments can be Made
Adjustments are a huge factor when it comes to ellipticals. You won't want to hop onto a machine that has no options to adjust the resistance or include. Even if these adjustments are made manually, you'll at least have the option to adjust things. Look for a machine with resistance levels that can be tweaked by use of tension knobs or buttons.
A Real, Enjoyable Experience
Again, if you're going to invest in an elliptical, make sure it offers as close as possible to the real running or biking experience (hills, for example). Often variety is not only beneficial to strength training and weight loss, but it is also good for keeping our interest. Having the features that peaks your interest could be worth spending a little extra if needed.
Additional Important Features to Consider
While you are examining ellipticals, make sure to watch for the following functions and extra features before you buy a new machine:
Higher maximum weight capacities (at least 50 pounds higher than the weight of the heaviest user and 250 pounds minimum). This is because you'll be pushing your machine to it's limits every day which could wear it out quicker.
Heart rate sensors. Any high-quality elliptical trainer will offer one or more heart sensors to allow you to track your heart rate which is important for calorie burn, weight loss and just about any other fitness goals.
A longer warranty. High quality, durable machines will often come with a warranty of a year or more.
Good reviews. A quick search with the buttons under each image will help you find user reviews on each machine.
Adjustable Incline. An adjustable incline is an important feature when looking for a fitness machine that will work different muscle groups and give you the best low impact workout.
Steel frame. Steel frames elliptical machines are incredibly important when it comes to reliability and durability.
Where can you buy an elliptical machine?
You may be surprised to find that many department stores, sporting goods stores, fitness centers, and health equipment retailers sell elliptical machines. If you are on a budget, it is helpful to check out online retailers for affordable models. You can also find refurbished elliptical machines at a lower price.
Now that you know more about elliptical machines, you can decide if one is the right investment for you. An elliptical machine is a great way to get a cardio workout while avoiding high impact on your joints. Elliptical machines are available in a variety of prices and sizes. Now that we know what to look for when buying a new elliptical and you know exactly what your budget is, let's get started on our list of the best machines under $1000.
Our Top Picks for Elliptical Machines Less than $1000
1. Schwinn Compact 470 Elliptical
The Schwinn 470 is at the top of the price point, but has some really great features that make it seem even more expensive than that. It's a great all around elliptical machine that features close to 30 different programs and even allows you to save the profiles for four different users.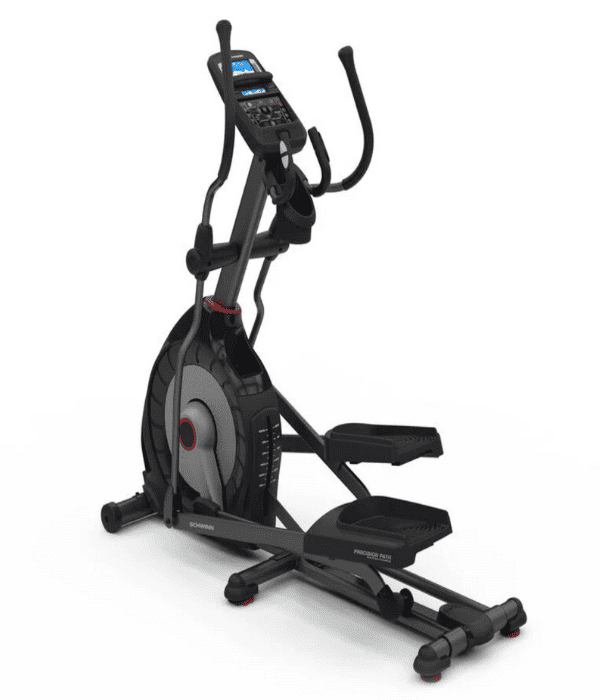 Here are just some of the features included in the Schwinn 470:
Calorie Tracker
Distance Tracker
Heart Rate Monitor
25 Different Levels of Resistance
Bluetooth Connectivity
USB Port for Charging Your Phone or Tablet
Syncs with multiple fitness apps (myfitnesspal, etc)
2 LED Displays
The Schwinn 470 has a weight limit of up to 300 pounds, which is sufficient for most users, however heavy users may wish to look at a machine with a larger weight capacity.
The machine itself weighs less than 170 pounds, so while it is heavy, it is easier than many ellipticals to move around.
The Schwinn 470 comes with a 90 day parts and labor warranty with a 1 year warranty on the frame.
2. Schwinn Fitness 430 Elliptical
The Schwinn Fitness 430 Elliptical is a high quality machine with a slightly lower price than it's more expensive Schwinn counterpart. So, if you find yourself liking the more expensive Schwinn 470 elliptical, but you aren't sure you can afford it, this is a great option.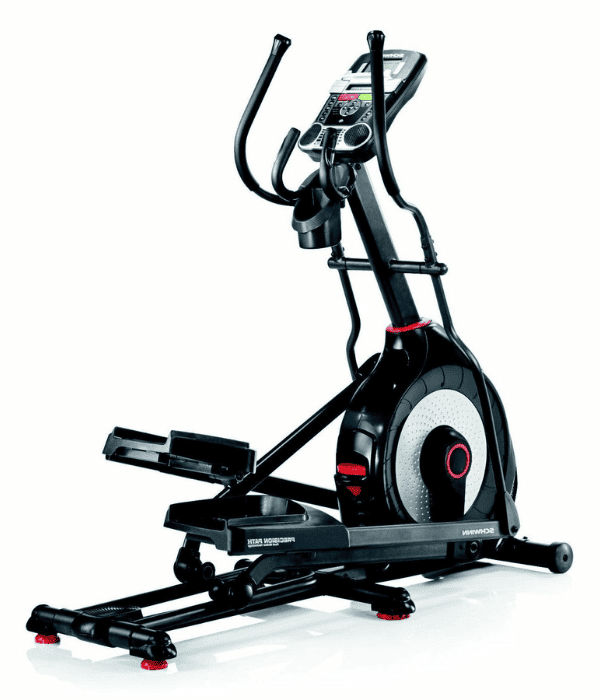 Here are some great features of the Schwinn 430 Elliptical:
20″ inch stride
20 adjustable resistance levels
22 preset workout programs
2 user profiles
Manually adjustable incline
Heart rate sensors
DualTrack 2 LCD screen console
Media tray
Speakers
Cooling fans
Bluetooth capability
USB Port
Distance, Calorie, Time log
Fitness tests
Transport wheels
Water bottle holder
This machine has a max weight of 300 pounds. Also, it comes with a 10 year frame warranty with a 2 year parts warranty, and a 1 year electronics warranty.
3. Sole E25 Elliptical Machine
At the upper end of this price range ($999), you'll find the Sole E25 Elliptical, which is a great option. This machine is known for its durability and has earned a lot of positive reviews from customers because of that. You'll find it to be really easy to assemble and use which is always a plus when it comes building your home gym.
This elliptical is well known for it's heavy flywheel (25 pound) that provides a smooth, high quality workout. With forward and reverse functions, this machine offers a great full-body workout. You will find that this machine has often been compared to commercial machines, without the commercial machine cost.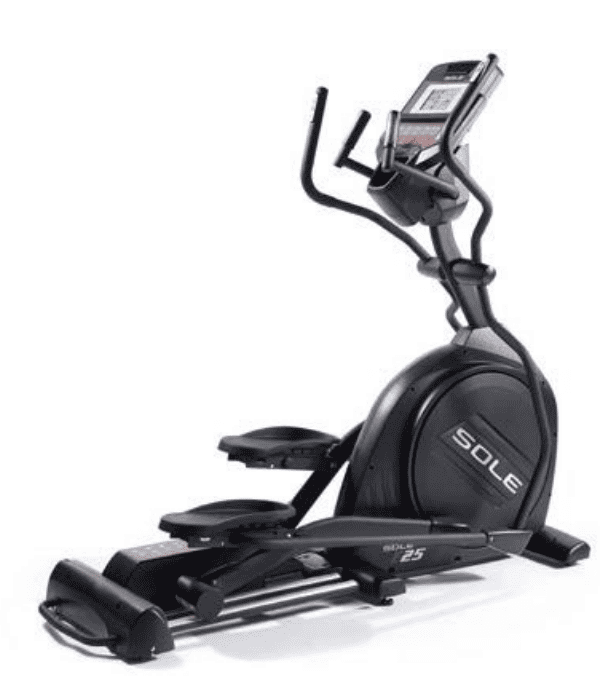 The Sole E25 elliptical machine offers a number of features that you may not find on lower end machines. For example, you'll find that it comes with:
30 preloaded workout programs
25 levels of resistance
Chest strap heart rate monitoring and pulse grip
An adjustable fan for keeping you cool
A water bottle holder
Built in speakers
Media tray
Heavy flywheel for a smooth glide
Power incline
Magnetic Resistance
LCD display
Time, Distance, Calorie tracker
This machine weighs more than other ellipticals at 189 pounds so moving it around in the house tends to be a little bit more work. However, it does have a higher weight limit of 350 pounds, so the construction would be expected to be a bit heavier.
An addition to all of the other great features, Sole ellipticals are known for their great warranty, which includes Lifetime on the frame, 3 years parts (electronics included), and 1 year labor.
4. Horizon EX-59 Elliptical
The Horizon EX-59 elliptical is among the best options for best elliptical under $1000. It's a high-quality machine that is built to last. It has a 20″ stride length and 8 levels of resistance, making it perfect for anyone from beginners to experienced athletes. This machine is a great elliptical for anyone, not just those looking for ellipticals under $1000.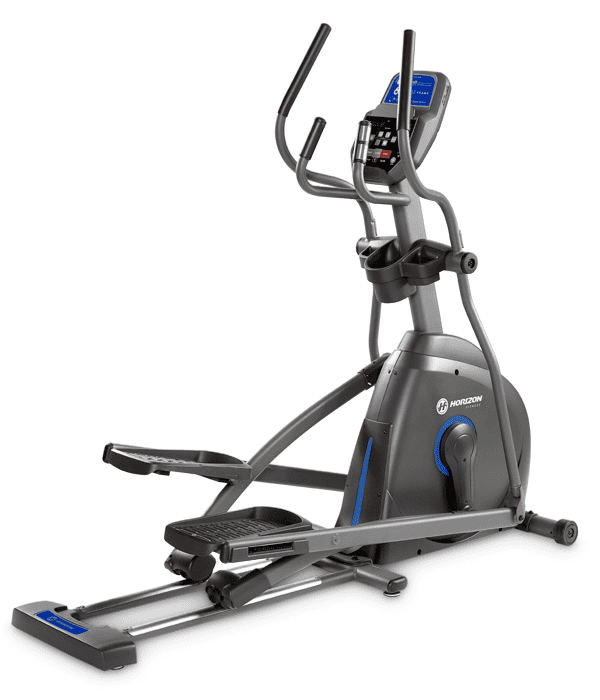 Here are some of the options available when you purchase this elliptical:
20″ Stride Length
8 Resistance Levels
Heart Rate Monitor
Calorie Counter
Reading Rack
Water Bottle Holder
Bluetooth Connectability
Tablet Holder
USB Port
Pivot Point Foot Pedal Flex
The Horizon Fitness EX-57 Elliptical Trainer is a quiet machine that offers you the ability to input one of three goals with your distance, calories and time. You can also create intense workouts by choosing different terrains such as hills, manual, etc. It features an LCD display which is a great way to help you to create an intense workout that fits your needs.
The Horizon EX-59 Elliptical is at the mid-point of this price range, and is a good choice for the average user or even a fitness enthusiast.
5. Nautilus E616 Elliptical
If you are looking for a sturdy, reliable machine, the Nautilus E616 might just be the best option for you. This machine has a huge selection of workout programs and profiles, which come preloaded on the machine. You'll also find a great selection of resistance levels and the dual track computer which is often found on higher end elliptical machines.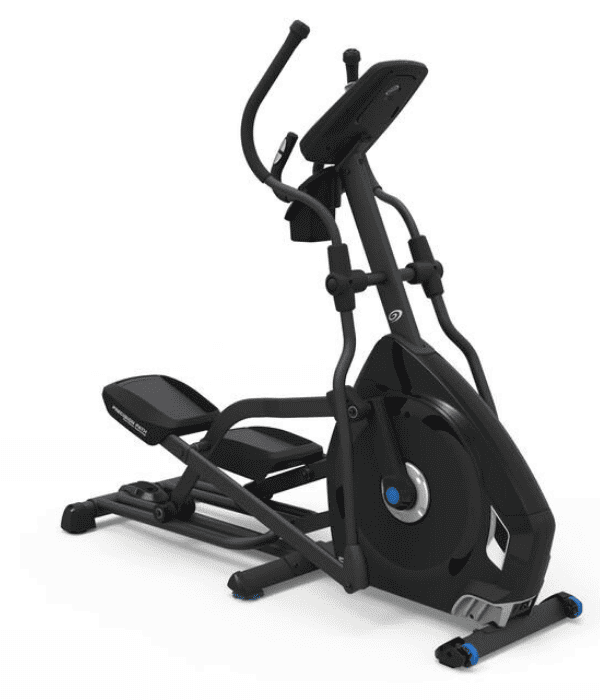 Here are some of the best features available on this machine:
29 pre-loaded workout programs
25 resistance levels
Acoustic speakers
Bluetooth capability
The ability to download your workout information to your phone to keep track of progress
12 different workout profiles
Heart rate sensors
Multiple fitness test options
Dual LCD screen console
USB charging port
10 degree power incline
Quiet, magnetic resistance system
Syncs with multiple fitness apps such as Myfitnesspal, Nautilus connect, etc.
Transport wheels
The Nautilus E616 features a 10 year warranty on the frame with a lighter flywheel weight at 17 pounds. The oversized foot pedals are a great addition for user comfort. Additionally, the handlebar movement allows for a great full body workout.
With the variety of workout programs, this is a great machine for anyone that gets bored easily or simply likes to shake up their workout a bit.
6. Teeter Freestep Recumbent Cross Trainer
The Teeter FreeStep Recumbent Cross Trainer is a great option for someone who may not otherwise be able to live an active lifestyle. For anyone that may be recovering from injury or just getting started in their fitness journey, this elliptical machine might be something that you look for.
Because of your body's position during your workout, you won't necessarily get to work different muscle groups such as your core, but you are still moving and that is what is important! As is with recumbent machines, you'll be sitting down with this workout, so it is definitely a low impact workout, but you are moving your arms and legs. While the intensity of your workout might not be at the higher end, you'll find that all fitness levels can benefit from this machine.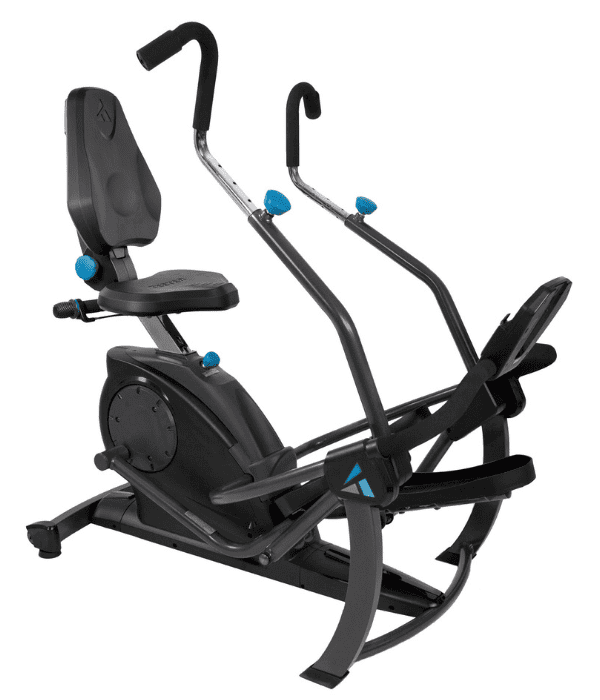 Here are some of the features of this fitness machine:
Compact in size. The Teeter Freestep Recumbent Cross Trainer is another exercise machine that offers a compact size which means it's great for those that have limited space available for their home gym.
Transport wheels. In addition to its compact size, this trainer offers transport wheels for easy movement within your space.
Magnetic resistance. The quiet, magnetic resistance makes your exercise time even easier to accomplish.
Adjustable handle and seats. The adjustable handle and seats allow for comfort and also make it easy for various users to use this machine.
Media tray. This machine offers little in the form of electronics and programs, but you can use your own device using the media tray available.
The Teeter Freestep Recumbent Cross Trainer is at the higher end of this price point, but the ability to have a zero impact workout is a great benefit for those that need it.
7. Bowflex Max Trainer
While the Bowflex Max Trainer isn't technically an elliptical, many people include it in their search for an elliptical since they have some similar benefits. This machine is designed for an ultra low impact workout that is beneficial for people of all fitness levels.
The Bowflex Max Trainer is at the higher end or even over the price range here, but you can find some of the Max Trainer models around $1000. This trainer offers a full-body workout in a compact machine. Perfect for fitting into your home gym if you are limited in space.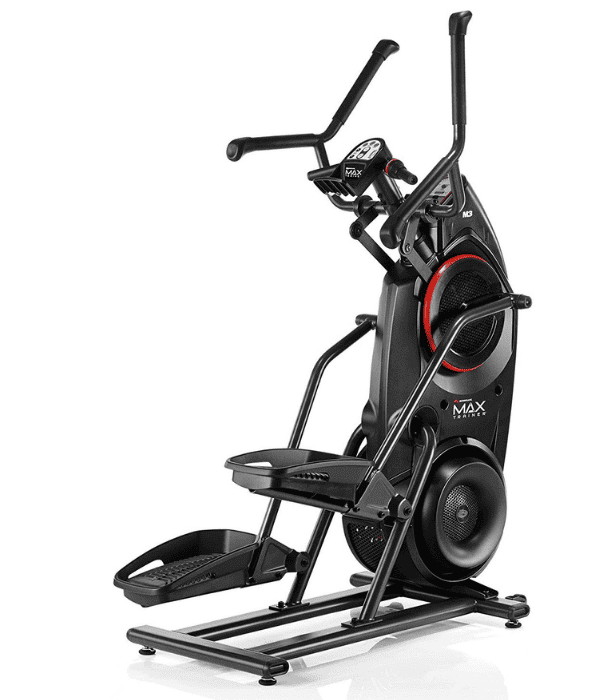 If you are considering the Bowflex Max Trainer as your fitness machine, here are some of the benefits that it features:
8 resistance levels
Multiple fitness profiles
Pre-programmed workouts
Heart rate sensor
The Bowflex Max Trainer features handlebars and foot pedals that move back and forth so you have full body movement which gives you slightly more of a workout than the elliptical offers, while still maintaining that low impact workout that is easy on your joints.
8. Sunny Health & Fitness Magnetic Elliptical Trainer Machine
The most budget friendly elliptical in this list, the Sunny SF-E905 Magnetic Elliptical Trainer is a great choice for those that are looking for a compact elliptical trainer that will fit into small spaces. The compact design of this elliptical is good news for those that have less space to use for their home gym.
This elliptical trainer is at the lower end of the price point, so it is a great option for anyone that is working with a smaller budget. Even at a smaller budget, the Sunny Health & Fitness Magnetic Elliptical Trainer Machine provides a great workout for both your upper body and lower body.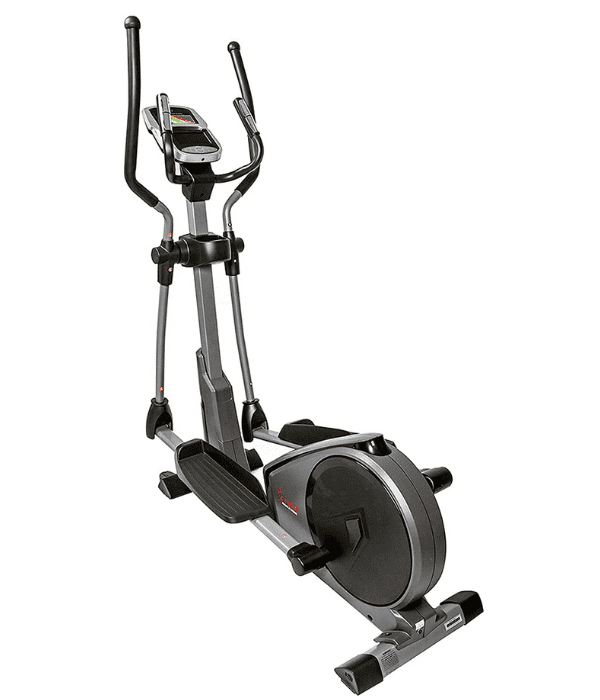 Even though this machine is on the lower end of the budget you will find features of more expensive machines, such as:
Magnetic resistance
Oversized pedals with anti-slip platforms
Heart rate sensors
Time, calorie, distance monitors
Media Shelf
Of the ellipticals under $1000, this is on the lower end of the price point, this machine has a lower weight limit than others, but on the flip side of that, it is also incredibly lightweight compared to other machines on this list.
Summary of Best Ellipticals Under $1000
Many of the machines mentioned in this list have programed workout options available for you that range from a few minutes to a long time (30+ minutes), they are all easy on your joints, and give you multiple options for the intensity levels of your workout from easy to more advanced. So, if you are looking for a workout machine to help improve your cardiovascular health, lose weight, or just tone up, any of these machines could be perfect for you.