This post is sponsored by my friends at Simple Squares and includes 2 awesome giveaways. Read on for the details!
Pure bliss is what this healthy snack bar is and I knew it from the moment I saw it. I discovered these unique blissful snack bars at the Idea World Fitness Convention. It was in the expo at a booth, cut up into samples like you get while shopping at Costco. Just once glance and I knew I needed them in my life.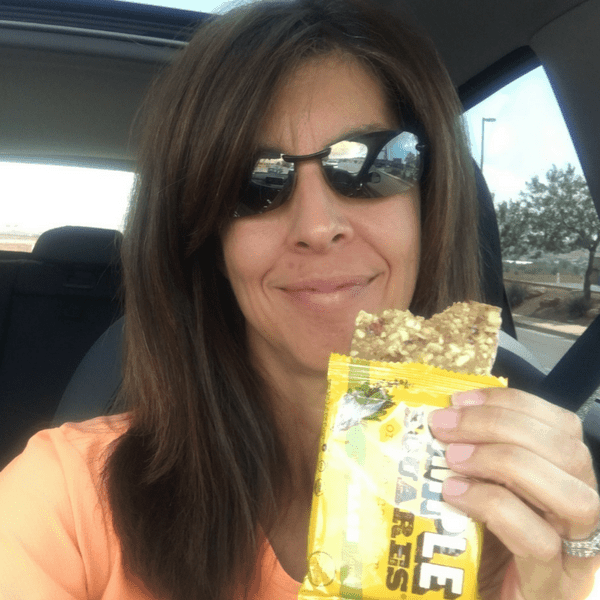 If you read What is the Best Tasting Protein Bar for Women Over 40, you know how much I enjoy a great tasting and nutritional snack bar. It is refreshing to see a company not adding another processed cardboard protein bar to the table. This healthy snack bar is so natural, you could memorize – and easily pronounce the ingredients in about 30 seconds flat. In fact, it is no less natural than if you made them in your kitchen yourself!
There are several unique flavors, some that may sound a little strange, but trust me, they are all delicious. It's one of those products that you can't go wrong by choosing the wrong flavor because these healthy snack bars are all outstanding in flavor and quality!
Now, if you don't like cashews, natural sweetness such as honey, coconut, or chewy goodness and more – all organic – these may not be the healthy snack bar for you.
Simple Squares Healthy Snack Bar Flavors
Currently, the flavors are: Coconut, Rosemary, Cho-Coco, Chili Pep, Sage, Cinna-Clove, Ginger and Coffee. I have tried all except Coffee and Rosemary.
While they all have some distinct flavor differences, the base ingredients of cashews, almonds, honey, coconut, vanilla extract and sea salt seems to remain the same in most. But don't think that makes them boring at all. The other added ingredients give each flavor their own personal party in your mouth.
Take a look at this yummy goodness picture below. I'm just sorry you can't grab it right now and have a taste…or the entire bar because you can't stop at just one bite!
This is something you could have made earlier today in your kitchen, it is that natural and delicious! That's the goodness of all natural, less is more thought behind the Simple Squares health snack bars. Simple, not bland, 100% uniquely delicious.
The ingredients and nutritional label, plain simple goodness. It is perfect for keeping in your purse for a snack while you are out running errands!
Simple Squares kindly offered to give 2 lucky winners a box of their healthy snack bar treats! You will love to have these at your fingertips while tackling your errand to-do lists!
Enter via the widget below! Good luck!
Have you seen the details of the weight loss group? Be sure to email me at [email protected] if interested in joining the next group starting soon!