Saturdays are great! But for me, they need a schedule of all their own. It is a fun day because we can include the family in an activity! I really enjoy the laid back mornings without the strict schedules to keep. But it is NOT a wasted workout day! There are other things you can do over the weekend to meet healthy lifestyle goals AND have fun with your family and friends.
How to include the family
With usually everyone in the family home, it's a great opportunity to get some house projects completed in the morning and do something fun in the afternoon. As I posted recently, one activity we did together was a hike.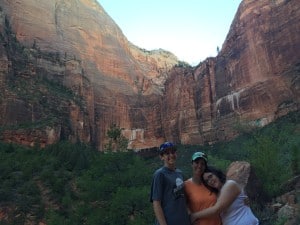 There are so many things you can do that will get everyone up and moving together for fun. Be creative and look for things in your area to get everyone up and moving!
Weekly Meal Planning
A really great way to spend some of your Saturday is planning a week of meals. There are so many great resources for meal planning on the web. Some of the benefits of meal planning include:
Helps to stay within your budget
More likely to prevent the fall back of eating out when the day slips up and no meal is planned
Less to stress about during the week
Some people prep their meals to store in daily containers for ease of grab and go out the door. If interested, here is a great how-to video. It would very beneficial for those working outside the home. One thing I have realized is healthy food isn't always the easiest to grab in a hurry. When taking a little time to plan and prepare, your meal choices could be so much more healthy than when you are rushed.
Evaluate Workouts & Adjust If Needed
Take a little time to think about what worked and didn't work last week with your workouts/exercise. If you have hit a plateau, perhaps it is time to change your workout just a bit. How much cardio and strength training have you incorporated into your routine?
At my house today, we are so excited to be making last minute preparations for my son, daughter-in-law and 2 grandchildren to visit for a few days. We will do our normal Saturday events like grocery shopping and household chores first. Then this afternoon we are planning on exploring a new hiking trail in our area.
No matter the details of your Saturday, remember to stay moving and enjoy your friends, family, and pets today so…
Fit Can Find ALL OF YOU!
Leave a comment below to share what your activity plans are today!
Subscribe to get Fit Found Me's posts delivered right to your inbox!