What is…
always with me, my motivator, my coach, my side-kick, my fitness compass, my enforcer, my drill sergeant, my cheerleader, my fitness biographer, my favorite fitness gadget…
My Polar Loop Activity Tracker!
This is truly the most amazing technology! This Polar Loop fitness band has so many wonderful features that make it my favorite fitness gadget!
App for Smartphone
Heart Rate Monitor
Pedometer display
Activity Goal display
Calories burned display
Time display
Sleep Tracker
Online Goal Diary
Online Community
Smartphone App – Polar Flow
This is my absolute, no doubt about it, favorite feature of my favorite fitness gadget! Wow, progress is so easy evaluate in just a few seconds by the ease of a circle graph, color coding and summary of milestones! Look below at the ingenious tool Polar uses to categorize different activity levels. The color coding and "shadow person" easily differentiating the time spent in laying down, sitting, standing, walking or running. When the heart rate monitor is used, it applies a heart symbol to the circle graph with the ability to touch it to gain more insight of the workout.
Polar Loop Heart Rate Monitor
This is by far one of my favorite features of my favorite fitness gadget! When I was doing my extensive research of fitness trackers, a heart rate monitor was a must have it, gotta have it, no way without it kind of thing. The benefit of having a heart rate monitor is to accurately track the activity level in detail. This waterproof heart rate monitor connects to the fitness band through bluetooth very easily. The monitor's strap fits comfortably for hours of use.
Pedometer
Not the most exciting features, but an important feature nonetheless. Again, this is fairly accurate. It measures steps through forward movement, not a swinging arm. I ride my horse several days a week so that does create a false reading on steps, but not a big deal since I am still burning energy/calories anyway.
Activity Bar
If you have an ounce of competitiveness within you, this will be the motivator bar! This bar fills in with digital dots as it records your activity. It will also display length of time options to complete your goal in 3 areas, jogging, walking or standing. Once your personal goal has been met, it adds a little fireworks type display. I really enjoy watching the activity bar throughout the day and making sure my goal has been met. I doubt I am the only person who has been known to walk through the house at bedtime to meet goal for the day when the band reads only 1 or 2 minutes left of walking to meet goal.
Calories Burned
Again, this is an exciting feature to watch climb as the day progresses. The My all time high is 3200, however, my average is 2400 on my normal active days. Not a lot to report on this feature, it is pretty straightforward. The Polar fitness software seems to be accurately calculated by utilizing factors such as age, sex, weight, resting heart rate, etc.
Sleep Tracker
I am so tired today. It seemed like I slept well last night, but oh no, I looked at my Polar Flow App and it makes sense. I only had 5 hours of restful sleep, 1 hour restless sleep. I am an 8-9 hour restful sleep kind of girl. So, if you choose to sleep in your very lightweight Polar Band, it will record your sleep into 2 categories, restful sleep and restless sleep. Personally, it does not bother me to sleep with it on, however, my husband chooses not to sleep in his.
Online Diary & Community
The Polar Flow site has a lot to offer that I admittedly don't take full advantage of yet. It syncs automatically with the fitness band several times daily. There are many different detailed reports to view and compare past weeks and months. It also gives the opportunity to share your activity with others in the Polar Flow community. This is where you enter information into your profile and set the goals that feed into the features of the band.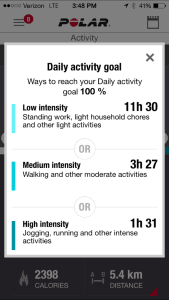 Now you can see why the Polar Loop Fitness Band is my favorite fitness gadget!
This band has all of the features needed to motivate anyone to get moving! It is extremely user-friendly and customizes to your personal goals. There really are more features and details in the reports and app than I could go into here. If you are serious about getting in shape, this is a must have. I purchased mine together with the heart rate monitor from Amazon. The accomplishment felt when the band displays your goal met will motivate the couchiest couch potato to get up and move so that…
Fit will find you!
Update: Polar has a second generation Polar Loop Activity band that looks to be another great product. Definitely worth trying out. I will let you know if I upgrade!